Crossmaglen Rangers Club Notes 29/04/19
Man of great faith, courage, compassion but above all, a family man.
Pic Below; Gerry pictured with the Gerry Fagan Cup, enjoying the celebrations in Hanratty's Bar, October 2018.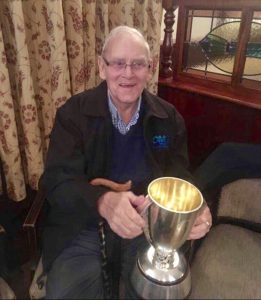 When news broke late
on Friday 
night
that Gerry has passed away we were all deeply saddened. Gerry Moley was a true Gael and a devoted Crossmaglen Rangers man. Born in Cregganduff on the seventh of April 1935, he had four sisters and four brothers. Gerry is survived by sisters Kathleen and Mary and Brother Gene.
Gerry married Rose McShane and they settled and reared their five boys in the centre of Cross, The Square where they opened their cafe 'The  Glen Cafe'. Rose and Gerry were devoted to their children , Gerard, Miceal, Francis, Paddy and Paul. We all have fond memories of getting delicious burgers and chips from Rose who often could be heard singing while she cooked! Gerry and Rose's other business was Moley Coaches which made them a household name the length and breadth of the country and it was here that so many of us have such fond memories of Gerry, wether it was driving the school bus, driving teams to matches (sometimes a very difficult and dangerous job when the troubles were at their height) or driving bus loads of young revellers to places like the Oasis in Carrickmacross. I think everyone would agree he had the patience of a saint and was always so pleasant and helpful, reassuring to players when things didn't go right on the football field or to children if they had a bad day at school. I can recall victorious teams returning to Cross with the silverware on board, Gerry doing the laps of the Square, the bus horn blowing and the occupants shouting "just one more lap Gerry"!
He loved a good yarn and easily could of went down the road of storytelling. Rose and Gerry both had deep faith and went on many pilgrimages even venturing as far as the Holy Land where I believe they prayed a lot but that the craic was ninety in Jerusalem!
Gerry was a true Irish man, he loved Ireland, its people, culture and above all its music.
One of the highs in Gerry's life which we he recalled in recent years was driving the bus to the All Ireland Club final in 1997, Gerry had never before drove a team to an All Ireland final in Croke Park. Gerry's two sons, Miceal and Patrick were both part of the squad and as Gerry said himself, he was at the helm. This was to be the biggest bus journey of Gerry's life, not to be remembered for the distance but the significance of the occasion and what a proud evening it was for him to drive into the Rangers Hall escorted by the fire brigade with Andy Merrigan on board. History had been made that day and it also was the start of an amazing journey in our club history which Gerry was an inaugural part of. Another success that pleased Gerry immensely was when Armagh lifted Sam in 2002.
Gerry was devastated when his soul mate and best friend, Rose took ill. His dedication, love and care for Rose was phenomenal and he was broken-hearted when Rose died in April, 2012.
Gerry enjoyed the craic with his beloved thirteen grandchildren and three step grandchildren who he doted on and Granda Gerry to them was a legend.
The outpouring of sympathy from near and far, all the beautiful comments which have been posted online since news broke of Gerry's passing are truly well deserved and fitting for a true gentleman who touched so many lives and a life lived so well. We hope that all these kind gestures and beautiful words will give comfort and strength to Gerry's family in the days ahead. Gerry you will be sorely missed but your legacy will live on and will remain an inspiration to us all.
We thank Gerry for his dedication, hard work, passion and commitment to Crossmaglen Rangers.
Ar dheis Dé go raibh a anam dillis.
Cross V Maghery 
Due to the passing of Gerry Moley, all games and activities in the club were suspended. A new date and time for the Maghery game has not yet been confirmed.
Lorraine Donaghy Murphy will sponsor the ball for our Senior league fixture against Silverbridge
on Friday evening
. Many thanks to Lorraine for your sponsorship and ongoing support for the club.
U10.5 (B) Rd 2
Cross V Peadar Ó Doirnín Foirceal, Cross 
IFL B Rd 5
Cross V Carrickcruppen, Cross. TBC.
U16.5 Div 1 Rd 4
SFL A Rd 5
Silverbridge V Cross, Silverbridge @7.30pm
U8.5 (C) Rd 2
Cross V Dromintee, Cross @11pm
U8.5 (D), Rd 2
Cross V Killeavy 
Crossmaglen Rangers Presentation Night 
The organisers of "The 60's Remembered " are hosting the first of what they hope will be an annual event to celebrate the club's sporting achievements throughout our illustrious history.
This year we will be remembering the 50th anniversary of the glorious era from the 1960's when our senior team claimed five senior league and championship titles during that time.
We will remember, pay tribute to and honour all those who played a part in making our club great and those who today continue on the proud traditions and represent Crossmaglen Rangers at all levels on the football fields.
Special guests, team catch ups, old friends reunited, good food and craic will be the order of the evening.
No doubt, the spirit and camaraderie of our wonderful history will be relived by the players, many of whom have become legends and household names in the folklore of Crossmaglen Rangers and Armagh football.
A lot of hard work and preparation has being put into organising this special occasion which promises to be a fantastic night, where there will something for young and old, club members past and present. We hope to see as many as possible making it to the club to enjoy a night reminiscing among friends, family and the wider community.
Tickets cost £20 and are on sale now.
Our 2018 Armagh Senior & Minor Championship Winning teams will also be honoured on the night.
Everyone welcome.
Photographic/Video Slideshow On The Big Screen-7.30-10.00pm
Drinks Reception-7.30pm-8.00pm
Chairman's Address/Welcome 8.15pm-8.30pm
Dinner; 8.30pm-9.30pm
60's Q & A; 9.30pm-9.45pm
Awards; 9.45pm-10.45pm
Music; 11pm-late
We will have a raffle 
on 16th May
 (Mícheál Ó Muircheartaigh Evevning) where you can win;
1st Prize; Signed Ireland International Rules Jersey (donated by Joe Kernan, many thanks Joe)
2nd Prize; Kerry Jersey (Signed by Mícheál)
3rd Prize; A signed copy of Micheal's bestselling book;
'From Booroloola to Mangerton Mountain'
Tickets cost £5, all monies raised from the raffle will go towards the All Ireland Feile Fund. Tickets on sale now from Crossmaglen Camogie or Róisín.
Tickets are still available for St Joseph's High School Pre-Championship Chat Night which  takes place
this Thursday, 2nd May
 in the school assembly hall. The panel on the night will be four top GAA men, Benny Tierney, Dan McCartan, Joe Brolly and our very own, Aaron Kernan.
All proceeds will go towards the Cambodia Humanity Trip which takes place in 2020. It promises to be a mighty night of chat and craic and it's all for a very worthy cause.
Tickets cost £12/€15 and are available from the school, McEntees Shop, Caseys supermarket or Áine Cumiskey.
On Easter Monday we travelled to Derry. Many thanks to Dermot Casey (bus driver)  Garvin, tour guide from City walking tours for a very informative and interesting tour of Derry City. Huge thanks to the Chairman and treasurer of Derry Gaa, Brian Smith and Michael Hassan, also Colin and Peter for the warm welcome and hospitality we received at Celtic Park, it was greatly appreciated and a true example of what is good about the GAA.
Finally many thanks to Raymond and staff, The Old Coach In for the beautiful meal and excellent service we received on our return to Castleblayney.
We look forward to our next trip.
Róisín,
Ciara
and coordinator Pauline are volunteers from Armagh with Mary's Meals, Armagh and Benburb. They will give a short PowerPoint presentation on the work of this charity
on Wednesday 1st May at 8.00pm
in the Rangers Hall. The group which are based in Armagh were recently on RTÉ's Nationwide where they spoke about the amazing work that Mary's Meals does, feeding 1.6 million children daily in some of the  poorest countries around the world.
To support Mary's Meals we will be having a backpack collection. They discovered that in these poor countries where children are getting a chance to be educated and to receive a meal daily that they had no school bag. Mary's Meals will give details about the backpacks (they don't need to be new as long as the zip and straps are still intact) plus what basic items you can place in the backpack if you wish.
Please come along
on Wednesday evening
and hear first hand the marvellous work Mary's Meals are doing.
With less than two weeks until, Crossmaglen Darkness Into Light takes place, the final preparations are being put in place. We are proud and honoured to be part of this amazing event where all monies raised will go to Pieta House, Preventing Suicide and Self Harm & PIPS Newry & Mourne.
Crossmaglen Rangers will lead the warm up prior to the walk commencing ( I may get practising!) and we also need some people to volunteer as stewards.
All help greatly appreciated, please contact me if you wish to help.
Mr Gerry Moley, Cregganduff, formerly The Square
The committee, players and members of Crossmaglen Rangers GFC deeply regret the death of Gerry (Moley Coaches), lifelong committee member, supporter, generous sponsor, proud club man and a true Gael. We extend our deepest condolences to Gerry's sons, Gerard, (Sponsor, former player), Miceal (Vice Chairman, Senior Manager & former player), Francis (former player), Patrick (former player) & Paul, Sisters Kathleen & Mary, Brother Gene and the entire family circle at this sad time. The Moley family have along affiliation with the club.
Ar  dheis  de go raibh a anam.
Keep up to date with all the latest news, photos and match information from the club by following us on Twitter @crossrangers, Facebook Cross Rangers or by visiting our club web page, www.crossrangers.com
We would greatly appreciate if club members could share information with members who may not have social media accounts.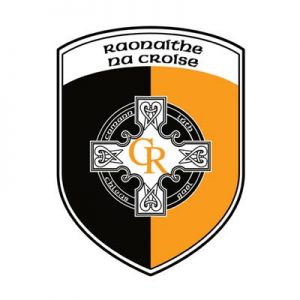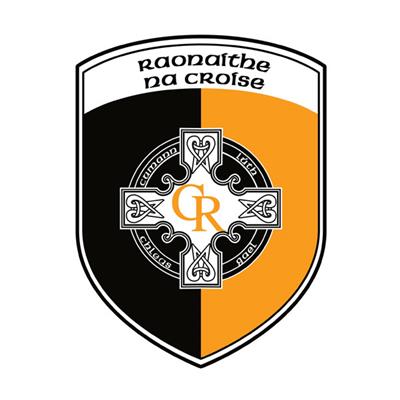 Posted: April 28th, 2019 under Club News.