Cross Rangers Club Notes 12/04/21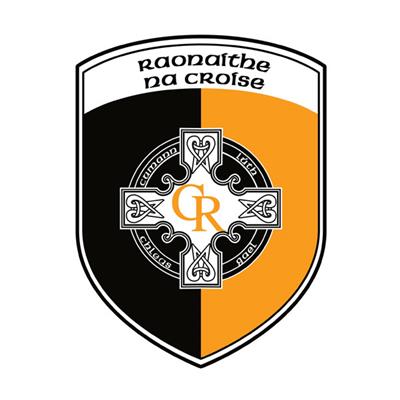 Message From Chairman Gene
This week sees the return to training for everyone. I'd like to remind everyone about the GAA and public health restrictions that are in place, and to enjoy a safe and enjoyable return. Every player needs to be registered. Membership can be paid to any committee member or pay online via Klubfunder
Registration form and link to online membership payment below;
https://www.klubfunder.com/Clubs/Crossmaglen%20Rangers/Membership#MembershipOptions
Membership Form
https://drive.google.com/file/d/1RHrmAtmfl7_1lNRHAx11iJ2EYwI8g4mh/view?usp=sharing

U13
Mickey and Tony would like to say thank you to the U13 boys squad and their families for their  huge effort in the virtual tour of Ireland and they hope the event helped to motivate you all!
They send their thanks to the local businesses who supported them;
Milo
Egg
Nanny Hughes
Superbites
Shorts Bureau De Change
Armagh Club Draw 2021
The club must sell a minimum of  25 tickets Armagh club draw tickets. Once we reach this target, every ticket we sell we receive £80. Tickets available from Gene Hanratty, Danielle Morris or Roisin Murtagh. There is four monthly draws, May, June, July and August. Tickets cost £100 and we are giving members an option of paying 4 x £25 instalments. It is important we support this draw as it raises vital funds for the club in these difficult times.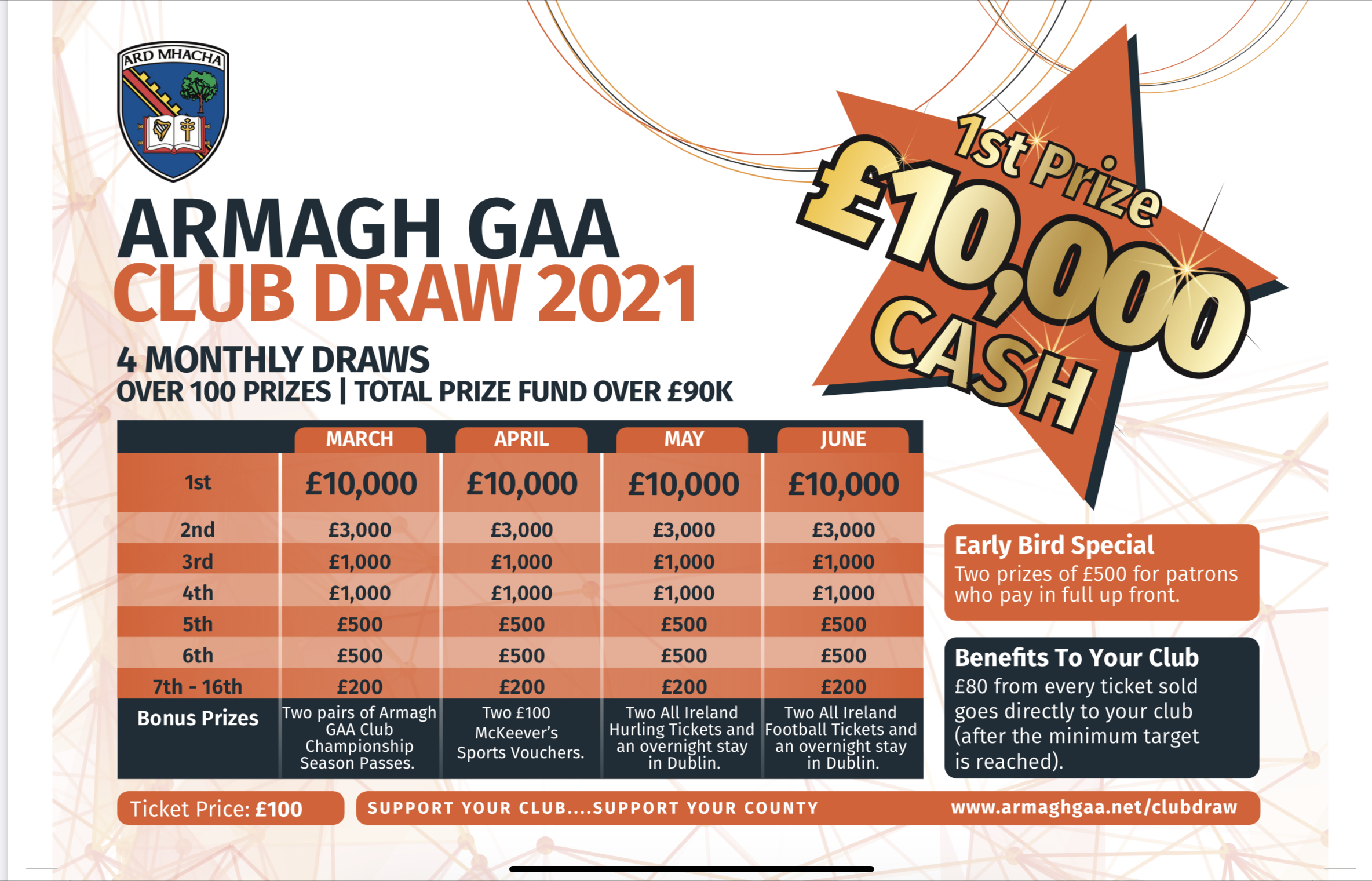 Draw Date; 11/04/21
Numbers Drawn; 1  4  22  26 
No Jackpot Winner 
1 Match 3 numbers; Briege McEntee, c/o Jos Gregory who wins £100. Well done Briege.
Jackpot; £5000/€6000
Next Lotto Draw; 18/04/21
Crossmaglen Rangers Golf Classic 2021
Our annual golf classic will take place in Ashfield Golf Course from 19th-21st August. We send our sincere thanks to our golf sponsor, Shelbourne Financial Solutions for your sponsorship and ongoing support
Tee-slots must be pre-booked. To book, please contact
Gene Duffy, Joe Kernan, Donal Murtagh, Peter Byrne or Michael McEntegart.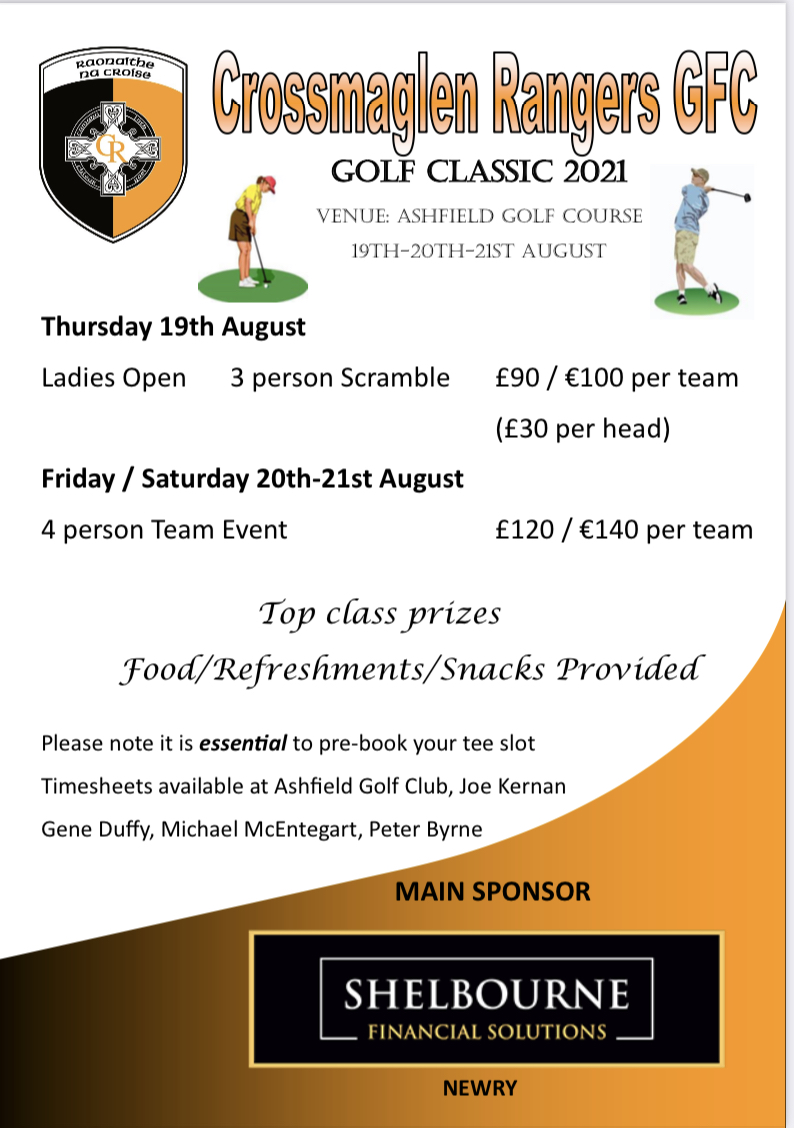 Condolence
James Reel, Silverbridge
Crossmaglen Rangers GFC send our deepest condolences to Patricia Hughes, the extended Reel family and our fellow gaels, Silverbridge Harps,  on the sudden passing of James. Ar dheis Dé go raibh a anam.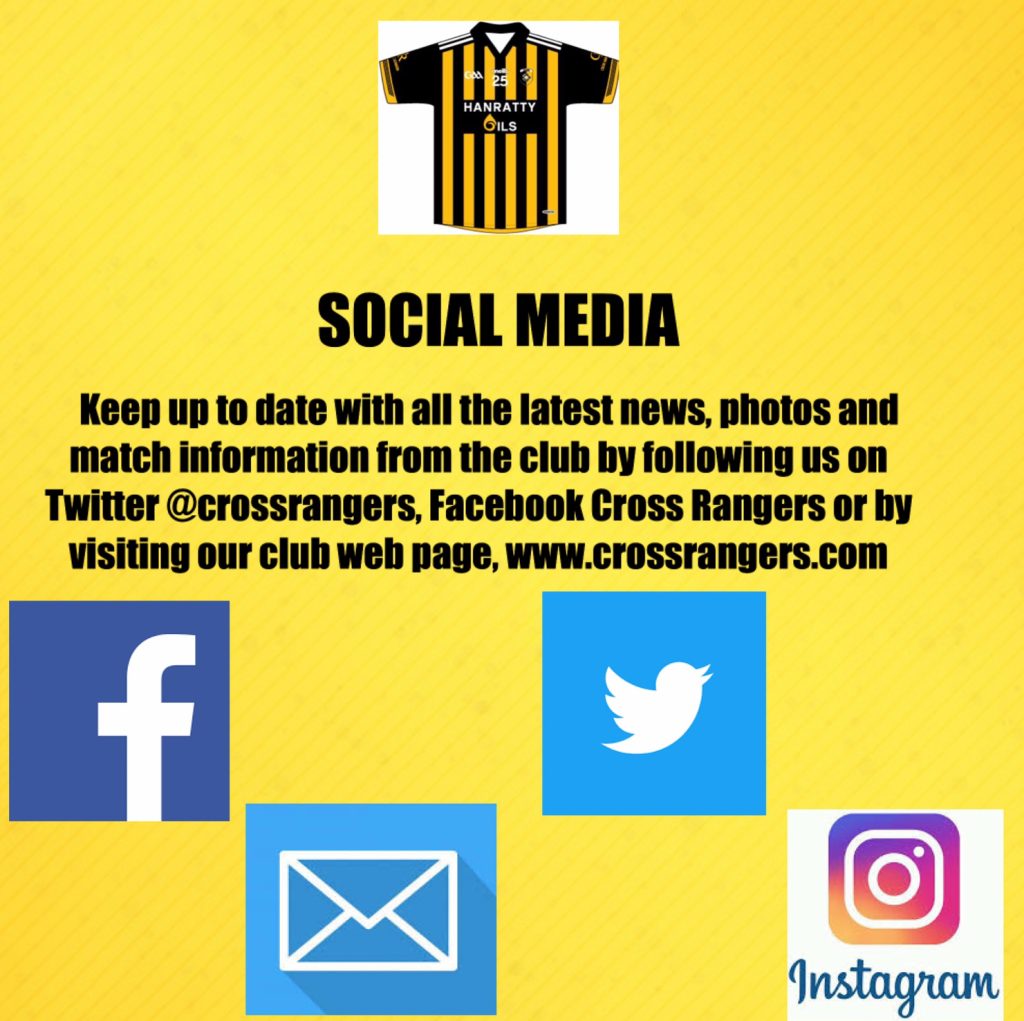 Posted: April 11th, 2021 under Club News.