Crossmaglen Rangers Club Notes 02/11/20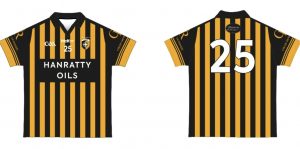 Well done 
It was a hugely successful weekend for the orange and white! Well done to all Rangers involved, Ladies, Camogs and Men's teams. Good luck in your next games.
Crossmaglen Rangers Spartan Challenge 2020:
This weekend seen the completion of our inaugural Spartan Challenge.  We had almost 50 of our members and supporters to demonstrate great courage and self discipline to complete 300 km virtual challenge.  It began on the 1st October and run for 30 consecutive days, participants had to log their weekly totals and get to 300km in the 30 days.
Throughout the 30 days, we run spot prize challenges, to motivate and keep the moral high among the group. A big thank you to all the local businesses who donated spot prizes, including Mc's Grocery, AMPT meals, Acushla Yoga Studio, MAC fitness, McNamee's Butchers & The Conditioning room Crossmaglen.
They shared their individual achievements and smashed personal bests along the way.  A special shout out to all those who dug deep and completed the challenge.
Anyone who would still like to donate to this fundraiser, can do
by dropping your donation to any LGFA committee member or using our PayPal
[email protected]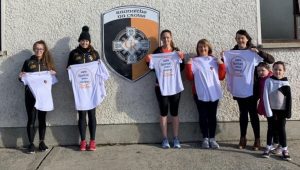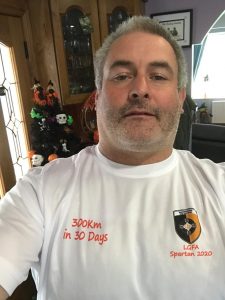 Cross Rangers Irish Classes & Singing lessons  via Zoom 
Both our Irish classes and singing lessons continue this week. It is not too late to get involved.
Irish Classes;
Monday; Bunrang; (Beginners) & Meanrang (Improvers) 7.00pm
Zoom Singing Lessons 
Thursday, 6.30pm-7.15pm
The classes are free and are suitable for beginners and improvers and open to everyone in the community. For more details, please contact Johanne Donnelly; [email protected]
Halloween Colouring Time!
We were overwhelmed by the response to our 'Rangers Halloween Colouring'. Over one hundred pictures were submitted and each one was brilliant! It was a privilege
 to share them on our social media sites. Thanks tho Colm Devlin, Centra who sponsored the treats. If you didn't collect your sweets on Friday evening,  you can collect them in Centra.
Movember
Paul Sweeney, Cathal McNamee, Caolan Dillon and Patrick McEneaney are all taking part in Movember to raise awareness around around mental health. I will check in with them in a few weeks and get a few photos when they are hairier! All donations welcome. Please use  the  link below to donate;
https://movember.com/m/14382802?mc=1
Cross Rangers Lotto
Draw Date; 01/11/20
Numbers Drawn; 6 20 25 30 
No Jackpot Winner 
1 matched 3 numbers winning £100, Master Tadhg McShane, RVP
Well done Tadhg!
Jackpot; £2800/€3800
St Vincent De Paul/Crossmaglen Rangers 
Thanks to Una & Brendan Garvey who will also collect items for our Christmas appeal in Garvey's Bar on Sunday 15th November from 10am. We will be in the Rangers hall car park from 11am on the 15th. Thank you so much to everyone who has donated so far. This is a community initiative and we will be helping families in Cross and the surrounding area. If you may be in need or know someone who may need assistance this Christmas, please contact Róisín or Aidan Murtagh where all requests will be dealt with in strict confidence.
Stocking Fillers!
We will have more key rings and rangers scarves for sale at the weekend. There is also a few dvds of our last three All Ireland wins, face masks and badges for sale. Update on facebook during the week.


Luxury Hotel Break
Any who has tickets, can they please be returned by the weekend. We hope to hold the raffle soon. If you wish to purchase a ticket, please PM Cross Rangers (PayPal option available) or contact Róisín, 0876659126.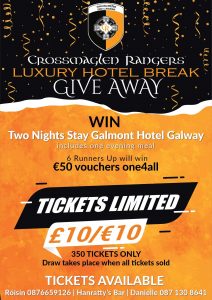 Congratulations
Congratulations to Kieran and Helen McShane on the recent birth of their baby body,  Tadhg. We are delighted that  Tadhg was lucky in our club lotto tonight!
Posted: November 1st, 2020 under Club News.