Crossmaglen Rangers Club Notes 02/12/19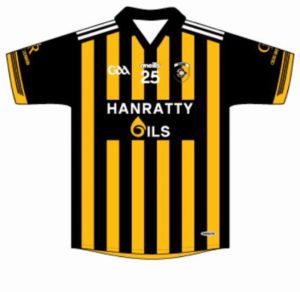 Armagh LGFA  2019 All Stars
We are delighted to report that we have another All Star in the club. The entire club congratulate senior player, Aveen Bellew (Donaldson), who received an All-Star award at a gala event on Saturday night.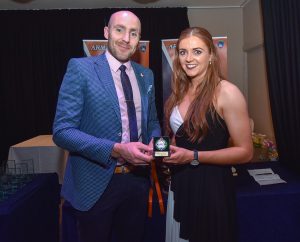 Our annual general meeting takes place
this Tuesday at 7pm
. All members are encouraged to attend.
Crossmaglen Rangers LGFA
Annual General Meeting, Friday 6th December at 8pm. This is a date for our diaries. We will have a short meeting to wrap up the year and prepare for 2020. All senior players andcParents are asked to attend.
Looking forward to the 2020 season, we will host a fundamentals course on the 11th of January. This course is a perfect opportunity for experienced and not so experienced team helpers to up-skill themselves and support the development of Ladies Football in our club and community. The course will be held in Rangers Hall, and more details will be available nearer the time.

Christmas Party Night
Crossmaglen Rangers Christmas Party night takes place
this Saturday
. Mulled wine/Prosecco reception
at 7pm
, scrumptious meal
at 8pm
followed by the fabulous 'The Timekeepers' playing live in the Rangers Hall.
Tickets cost £30 and are available from any committee member.
Please see Cross Rangers FB page for your chance to win two tickets.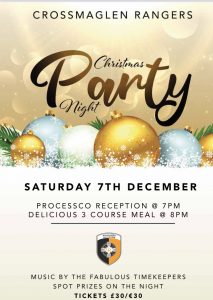 Santa Run
This Sunday
the annual Christmas Run organised by our camogs takes place. With a choice of 5k or 3.5k, there is no pressure on finish times. All participants are encouraged to don Christmas arttire wether it be a hat, jumper or the full Santa Claus outfit.
There will be a Christmas Run medal for all those who take part. The cost is £10 per person or £20 per family with all proceeds in aid of Crossmaglen Rangers camogie. The event begins and ends at the Rangers Hall with registration
from 9.45am
and a start time of
11am
.
It promises to be a festive fun morning!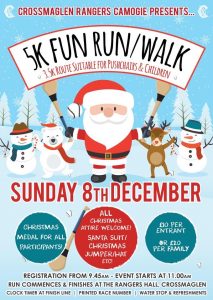 Following the fun run we will have host a 'Santa Party' for all our little and not so little Rangers.
From Midday until 2pm
, Santa will be  in residence in the Rangers Hall in his grotto. There will be a Santa post box, kiddies disco, lessons on making gingerbread men and reindeer food. Plenty of festive fun for all the family.
Everyone welcome.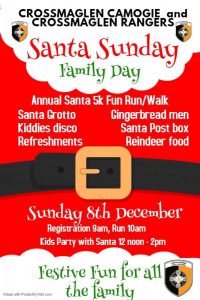 Christmas Fayre
Friday night our Christmas Fayre which took place in the Rangers Hall. Thanks to everyone who had stalls at the Fayre and to everyone who attended for your support. Well done to Sarah Jane Carville Mcgrath who organised the event.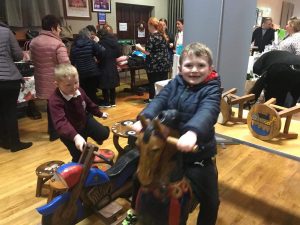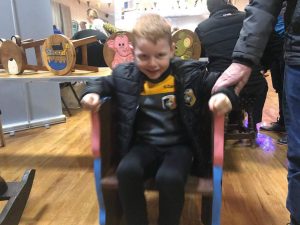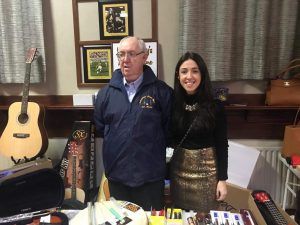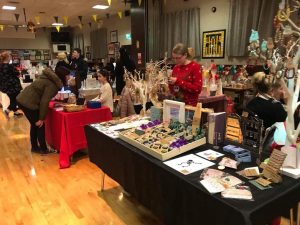 GAA National Draw 
The GAA National Draw tickets are now on sale. There are super prizes to be won and we have added four bonus prizes; meal vouchers for local hotels/restaurants. Tickets cost €10 and the draw will take place 
on Thursday 12th March 2020
.  Please support the draw as all funds raised will be retained by the club.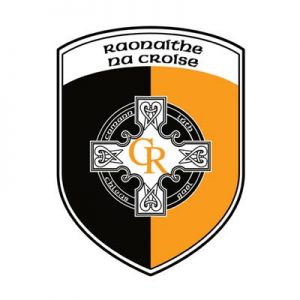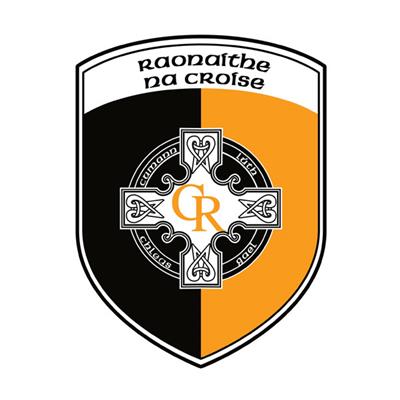 Posted: December 1st, 2019 under Club News.