Crossmaglen Rangers Club Notes 03/06/19
Valuing the Volunteer – Margaret McShane Crossmaglen Rangers
I was asked by Ulster GAA to pick a volunteer in the club who I feel should receive recognition for their hard-work, dedication and passion for Crossmaglen Rangers. The piece appeared in the match programme, Armagh V Cavan.
I picked the one and only Margaret McShane.

Mahatma Gandhi once said, "The future depends on what we do in the present."  This is a true saying when we think of all the volunteers across the island of Ireland who give up their time, put all their energy and passion into our national game and who will leave a legacy for the next generation to come who will carry on the good work.
 
Crossmaglen Rangers are no different, we have had and continue to have so many willing volunteers who over the years their contribution and passion for Gaelic Games and in particular Cross Rangers has made our club what it is today.  One of these special people is Margaret McShane.  Margaret(nee McKee) from Ballymacnab married Pat McShane in April 1973, the McShane family have a long affiliation with the club and so began Margaret's journey with CrossmaglenRangers.

Margaret is a true Gael, her commitment, passion and dedication for the Rangers is phenomenal.  She was widowed young when her husband Pat collapsed on the training field on the 18th September 1984. Pat's teammates carried him off the field but unfortunately he died aged only thirty-two and his sudden passing left a huge void in Margaret and their children's lives which has never been filled.

Margaret devoted her life to their four children, Annemarie, Michael, Donna & Leon who were very young when their daddy passed.  Each of Margaret's children were to follow in their footsteps with their great love for camogie and football and have all donned the black and amber with Michael, an All-Ireland medal winner which Margaret is immensely proud of along with all of Crossmaglen Rangers successes.
From every grade, underage to senior level Margaret never misses a match, sitting on the same seat in the stand for home games, travelling the length and breadth of the countycheering them on, offering support and sometimes she can be heard before she is seen!  Having been an avid supporter for decades, she is an excellent reader of the game, she could easily secure a pundit position on the Sunday Game alongside Mr Brolly.

Behind the scenes, Margaret is a tireless worker, a key member of the Executive and Lotto Committees.  Rarely misses a meeting and is always on hand every Sunday night to check the lotto numbers. Margaret is always at the ready when help is needed or advice sought.  At all the fundraising events she is to the fore, giving sound advice, willing to help with no task too big and she keeps everyone entertained with her wit and humour.

When hosting home games and refreshments have to be served, Margaret, along with Margaret McConville and Bernie Hughes, two more long-standing and loyal volunteers, the teapot is at the ready and all visitors are guaranteed a hot cup of tea, a warm welcome and above all, plenty of craic!
The Margaret's of the GAA make our association what it is and we pay tribute and honour Margaret and all volunteers who do what they do for the love of the game.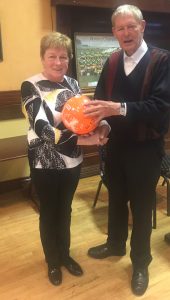 Pic Below; U10 Squad
The entire club send our best wishes and good luck to our U14 camogs, their mentors and families who will be flying the flag at the Feile in Cork this weekend.
We hope you all have a lovely time and enjoy the experience.
Safe travels.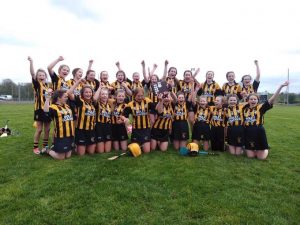 Many thanks to all who donated to Mary's Meals. All goods were delivered on Tuesday to Armagh.
Next weekend we will host a double header in St Oliver Plunkett park,
London V Donegal, Christy Ring Cup
Monaghan V Louth, Nicky Rackard Cup
Can all available members please assist with stewarding.
More details during the week.
Posted: June 2nd, 2019 under Club News.