Crossmaglen Rangers Club Notes 04/04/22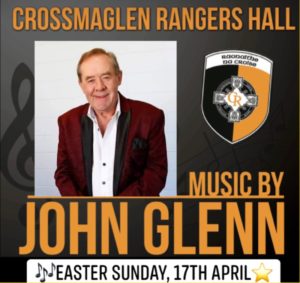 Field Rota Wk 04/04/22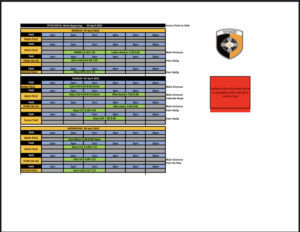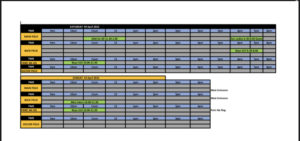 Armagh SFL rd 1
Cross V Granemore
The second game of the afternoon saw our seniors up against Granemore. Martin Conroy was the man in the middle. A minute's silence preceded  the throw in. Two great Gaels' were remembered, Jack McEntee and Jim Haughey. We got off to a dream start, an Odhran Kieran goal was the first score registered when the game was only minutes old,  giving us an early lead. Granemore's opening score came in the seventh minute, a point from play. Seanie McConville's  point was matched seconds later when the visitors scored a point from a free. The second quarter, we scored two points in quick succession before Granemore scored a goal to leave just the bare minimum the difference and ten to go until the break. Those final minutes of the half, we had our best spell, five points without reply and at the mid way point, the score was;
Cross 1-8 Granemore 1-2 
The opening third quarter was an even affair, two points a piece and our lead was very much in tact as we entered the last quarter. The last quarter saw a fight back from Granemore, five points one after another and once again, one was all that separated the sides as the game headed for injury time. A fantastic strike from Cian McConville, his fifth point of the day, helped to steady the ship and we won on a score line of;
Cross 1-11 Granemore 1-9 
Well done to the entire team and management. Next up, away to Clan Eireann, next Sunday at 2pm.
1. Conor Deery 2. Daniel Cunningham 3. Aidan Rushe 4. Tony O'Callaghan 5. Paul Hughes
6. Aaron Kernan 7. Garvan Carragher 8. Stephen Morris 9. Alan Farrelly 10. Patsy Finnegan
11. Callum Cumiskey 12. Odhran Kieran 13. Cian McConville 14. Declan Stuttard 15. Seanie McConville
Subs; Thomas Og Duffy for Stephen Morris,  Caolan Finnegan for Declan Stuttard, Orin  McKeown for Daniel Cunningham, Dara O'Callaghan for Patsy Finnegan,  Bernard Cassidy for Seannie McConville 
Thanks to Mary & team, A Few Scoops for sponsoring the ball.
Armagh IFL Rd 1
Cross V Ballyhegan 
The first game of the afternoon saw us welcome Ballyhegan to St Oliver Plunkett Park for the first round of the Intermediate league. A bright sunny afternoon left conditions ideal. We were quick out of the blocks, three points registered, all scored from play (Ronan Finnegan, Liam Blessing & Diarmuid McConville) before the visitors had their opening score of the match, a point in the eight minute. We had a number of missed opportunities in the minutes that followed. Both sides traded points as the first quarter drew to a close. Again, both teams had missed chances and just as half time approached, a super pass from Shane Gallagher to Colin O'Connor who fisted the ball into the opposition's net. Ballyhegan converted a free in injury time to leave the score at the break;
Cross 1-4 Ballyhegan 0-3
Substitute, Ruairi O'Neill got his name on the scoresheet shortly after play resumed, Ballyhegan followed suit with a point. We pushed on, three points without reply, Ronan Finnegan (2,1F) &  Colin O'Connor  put us in a commanding position with the finishing line in sight. Ballyhegan scored a point from a free and a super strike from Colin O'Connor sailed over the bar to bring the scoring of the day to a close.
Cross 1-9 Ballyhegan 0-5
Well done lads and management.
1. Jamie Carlisle 2. Liam Finnegan 3. Ryan Duffy 4. Pearse Hanratty 5. Cormac Donnelly 6. Tomás Hughes 7. Liam Blessing (C) 8.Thomas Cassidy 9. Harry Cumiskey 10. Colin O'Connnor 11. Ronan Finnegan 12.Pearse Blessing 13. Shane Gallagher 14. Diarmuid McConville 15. Ryan Conlon
Subs; Ruairi O'Neill for Diarmuid McConville
Paul mc Keown for Ronan Finnegan
Dan O'Malley for Shane Gallagher
Thanks to Danielle, LA Nails, Dundalk for sponsoring their ball.
Sponsor A Ball Senior League
Our second game in the Armagh Senior league, will be away to Clann Eireann, Sunday, 10th April, throw in time of 2pm.
Phil Duffy will Sponsor the ball V Clan Eireann. Thanks Phil and Bridie for your ongoing support.
Phil presents the ball to Declan.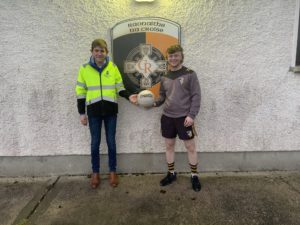 Crossmaglen LGFA Notes:
Get your county colours up for Armagh Ladies!
We would like all club members to show there support for Armagh Ladies teaching the National League Final by getting their county flags up. The final takes place
on Sunday 10th April
, in Croke Park
at 2pm
.
We are delighted to have so many club members involved on and off the field. We wish them luck with their preparations in the coming weeks.
The supporters bus will leave the club
at 12.15pm
sharp on Sunday, this is to allow for parking.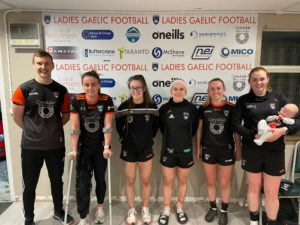 Cara is an Ulster Champion: 
A massive congratulations to Armagh U14 side, which includes our club member Cara Rooney. They took on Down in the Ulster Platinum final on Saturday 2nd April in St. Oliver Plunkett Park. Down took the lead early and ahead at half time. However, Armagh came back with a a goal, and narrowed the lead to a point. The last seven minutes of the game showed the difference between the teams. Armagh tightened their defence and made good use of the ball to come away with the win. The final score was
3.08 to 2.06
. Massive congratulations to all involved.
Gaelic for Teens Programme:
As part of the Gaelic4Teens programme, players and parents tuned into a session with Sharon Courtney on diet and nutrition. To follow up on this, we encourage parents/guardians to explore the information available on how best support your daughter as she navigates through the challenging teenage years.
Discover how physical activity and communication can make all the difference when it matters most. Learn more from our e-book, which is available at this page:
https://bit.ly/3tzKjVc
A direct link to the e-book is here:
https://bit.ly/3qsxSZx
Training for our teams this week:
Senior and Minor players are training Monday and Saturday this week. If you are interested in getting back to football, please contact Peter McMahon or Maria O'Donnell
U16.5 team
: Training continues on Monday and
Thursday evening
. There will be an update sent to parents, or get in touch with Caoimhe Dooley, Ciara Conway or Colm Dooley for more information.
The league is starting in coming weeks, so it's important all player are attending training, once per week.
U14.5 team
:  This week training will be Monday and
Thursday evening
, for more information contact Eilis Short, Martin Aherne, Lisa Jennings or Mickey Finnegan
U12.5
: Training continues
on Wednesday evening at 6pm
, this week, we are on Pairc na Og. We are due to play Cullyhanna at the weekend, but this game has been brought forward to
Wednesday evening
. All players are asked to come ready to play, and meet in Cullyhanna
at 7pm
.
U10.5
: This training is aimed at our P5 & P6 players, and will be Wednesday evenings
615- 7.15pm
in the Pairc Na Og For more details contact Eddie Hill, James Carragher, Andrew Keegan or Micky Kane.
Gaelic4Mothers&Others
are back out on the field Monday nights
at 6.15pm
. All players are reminded to have their boots and gum shields.
Registration is to be completed through the Foireann website, and payment should be made online.
Fixtures
U15 League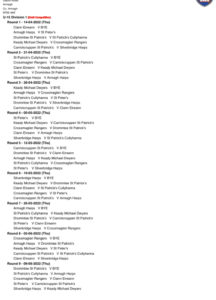 U13 Fixtures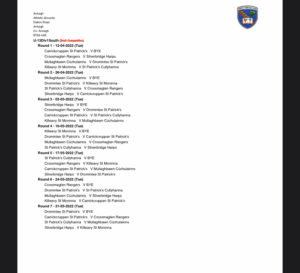 Cross Rangers Club Lotto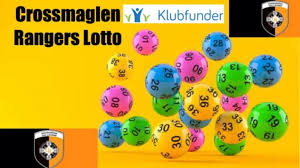 Draw Date; 03/04/22
Numbers Drawn; 5 11 17 30
No Jackpot Winner; 
2 match 3 numbers; Mary Duffy, Cairde & Peter Byrne, Pinewood Glen win £50 each. Well done to our match three winners.
Next Lotto Draw; 10/04/ 22
Jackpot; £4700/€5700
Magnet Youth services
Our U15 boys will attend this weeks drugs and alcohol awareness evening with the Magnet. Wednesday, 6.45pm-8pm.
Football Club Meeting
All club members are invited to a football club meeting. It will take place on Wednesday evening at 8pm, Rangers Hall
Kilmainham Trip
I will be collecting deposits for the upcoming trip on Monday 11th April at 7pm, back room. There is still availability.
Social Dancing
Social dancing next Sunday at 8pm, Rangers Hall. Music by Curtis Magee.
Sponsor A Ball
Anyone who would like to sponsor a ball, pleased get in touch.
Defibrillator
Thanks to personnel from NI Ambulance who carried out a check on our defibrillator. Our defibrillator is registered with NI Ambulance and if you need to access the defib, ring 999 and the operator will give you the access code.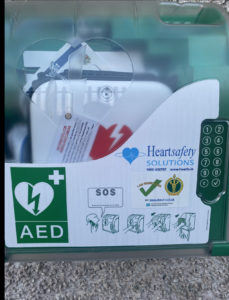 Condolence
Jim Haughey, Granemore
Our sincere condolences to Junior Haughey and the Haughey family on the sad passing of his Uncle, Jim. Ar dheis Dé go raibh a anam.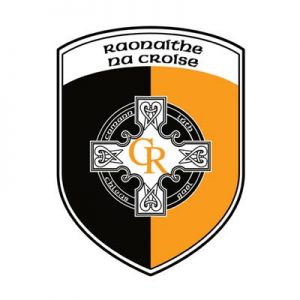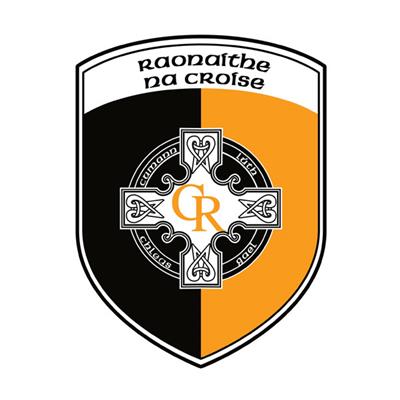 Posted: April 3rd, 2022 under Club News.