Crossmaglen Rangers Club Notes 04/05/20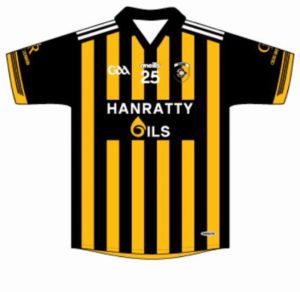 This week's reminiscing with a Ranger is Josie Gregory. I'm delighted that Josie is my first female Ranger to reminisce with.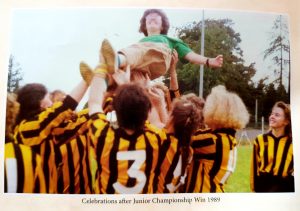 Pic Below; Tim, Josie & Jarlath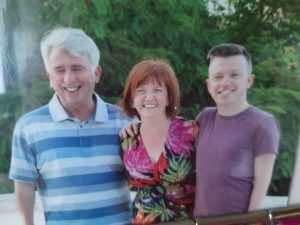 RM; Josie, many thanks for reminiscing with me. Josephine O'Reilly Gregory, can you tell me about your early years?
JG; Desi and I were joint second last of seven boys and four girls born to Alice (nee Boyle Tullydonnell and Joey O'Reilly from Urker). We were then followed by Kathleen and Dick  (two sets of twins) and were affectionately known as the 'four wee ones' in the family. Looking back at our childhood in Urker, I realise it is easy to be sentimental and see everything as rose tinted, the summers always hot and the winters very cold requiring another blanket on the bed or the odd coat. We weren't averse to licking the icicles that formed on the outside windows but the telling off would be light. We played football on the former pitch, the Grey Island beside our cottage and we girls were relegated to nets so no change there. We played rounders or put sticks up and pretended it was cricket _ blame the comics. Games were seasonal and in Autumn it was usually skittles which I think were cut from old trees in Wright's Planting or Kieran's bog. We knew the 'Minister' was the hard one to get but getting clear of the butt for us younger ones was hard enough. In winter we threw water on the road to make slides and I can still remember learning to hunker. We complained about walking to school in the winter but when we got to Monug hill it didn't stop us having a couple of slides before we got there! We played cards usually 25 with our Uncle Patrick, daddy's brother who lived with us and God help anyone who held onto the 'fingers'.  If we got to the matinee on Saturday it was a shilling a family so can't say not value for money. We cheered the cowboys and passed no remarks if the 'Phantom' got caught in quicksand and the following week he was miraculously free. On a serious note, I can remember Paddy and Tommy emigrating to England at sixteen and mammy chopping onions so we wouldn't know she was crying.  We had great neighbours on the Monug Road who all seemed like family. In 1961 we moved to our present address where we had electricity (no tilly lamp) running water and four bedrooms, it must have been heaven for mammy but we stilled missed Urker.  The only advantage, we were near the football field and games beckoned.
Pic Below; Josie's Parents; Alice and Joey O'Reilly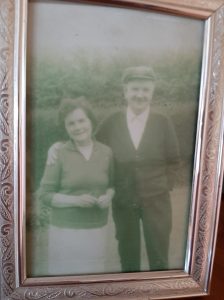 Pic Below; Desi and Josie on the front step of Urker Cottage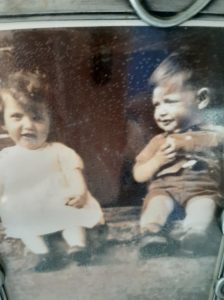 Pic Below; (From the back);  John, Joseph, Paddy, Tommy, Anne, Phyllis &  Gerry. (two sets of twins are missing)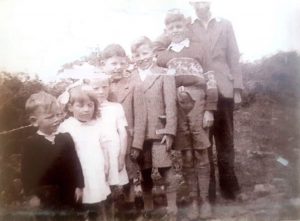 RM;  Josie, the O'Reilly family have been at the very heartbeat of Crossmaglen Rangers since our club was founded, can you share with us the O'Reilly involvement with the Rangers and the GAA in general?
JG; Our home was a meeting place for footballers and neighbours alike and this was mainly influenced by our older Brother, John. I can remember the Caseys, Brian Morgan, Bernard Nugent, the late Gene Larkin and of course, John Martin. I remember tales of the Inniskeen Tournament where teams like Inniskeen Donaghmoyne, Magheracloone and Ballybay were discussed but not always in a very positive manner! John held posts from club to national level and we as a family were immensely proud when John was appointed Ulster GAA President but we all knew he got the most satisfaction from his term as President of Crossmaglen Rangers. Joseph and Gerry always helped in the club, they were members of the Amusement Committee who raised funds for the new St Oliver Plunkett park. Phyllis was treasurer for the youth club which was started by Crossmaglen Rangers and it was located in the Rangers Hall. On a personal level, John's influence on us younger people was exceptional and he was the touchstone for how we conducted and lived our lives.
Pic Below; Bernard Nugent home for Crossmaglen's First All Ireland with Josie, Mammy, Paddy and Joseph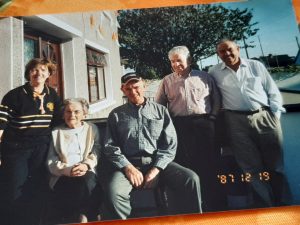 Pic Below; Josie, John & Kate, family reunion, May 2017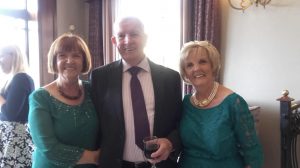 Pic Below; Josie's Brother, Paddy's 80th birthday in October.
Dick, Anne, Kate, Paddy,  Phyllis, Josie and Joseph.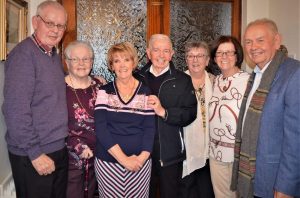 RM; Your own association, hardwork , support and passion for the club and in particular camogie, has been phenomenal Josie, can you tell us about those early years when you introduced camogie and what it meant to the girls of our area at the time? Any special moments?
JG; Believe it or not Roisin we tried to start camogie in the late 1960s. Carrickcruppen were one of the best teams in Armagh at that time, and my best friend Teresa Kane (nee Kearney) played for them. We had Clare Dale (nee McMahon) come to help us out with coaching but we failed in having consistent numbers. When Sheila King mentioned that Rita Carragher was starting camogie in St. Joseph's it was an opportunity to be seized. The 1980s were naturally a different time in Cross with transport more readily available giving access to more country areas (but Tim and Maura were always available if need be). The fact that camogie was played in the 1940s was not something I was aware of coming from a football orientated home and whilst I had heard of footballers of that era, camogie in general was not spoken about. It was a big challenge and learning curve for us and whilst people speak, quite rightly of the disparity between women and men in sport, our Club gave us unconditional support without which we would have struggled. Malachy McGeeney if I can remember correctly was Armagh Youth Officer at the time and was trying to promote hurling and he assisted us in obtaining hurls and gave us every encouragement. We started off with a small number of girls but within two years, 1989, we had registered ninety girls ranging from primary to Junior thereby demonstrating the gap for girls in sport was being filled. We led the way then for further clubs to affiliate to Cumman Camogaiochta na nGael.  Cullyhanna, Culloville, Mullaghbawn, Belleeks, Killeavy, Silverbridge, Forkhill and Dromintee. Again mainly catchment areas for St. Joseph's and I am not too sure if the Grammar Schools, as they do now, promoted camogie. The imput from schools in promoting our national game from primary up is invaluable. When I conducted a survey in the mid 1990s the most important aspect at underage level of participating in sport was friendship and the Club. The girls felt no different to their brothers or friends who played football.  At a more senior level friendships were still to the fore but they noticed the difference in support at games. What was also evident from the survey was a more competitive attitude all round which is what it should be.

Pic Below; Josie (sitting, R) &  Technical College,  winners of the Northern Ireland Technical College Schoolgirls' Cup by defeating Magherfelt in the final. (Also in the pic, the twins Jacintha and Bernadette Hearty and on bottom left Christine Finnegan also from Creggan)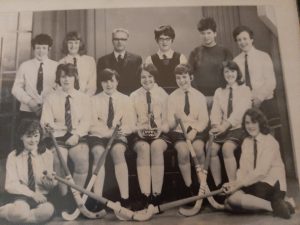 Pic Below; Josie & Ladies football team. Josie played football with a very young Patricia McAvoy.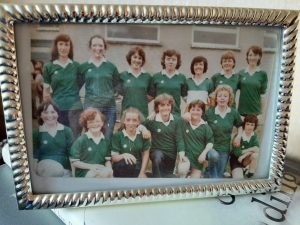 Pic Below; A selection of photos of Josie & camogs.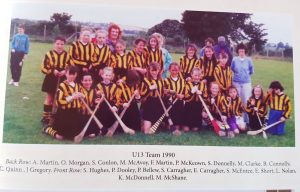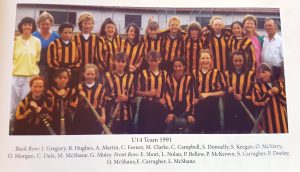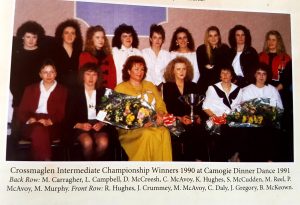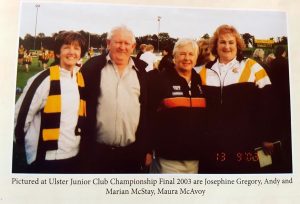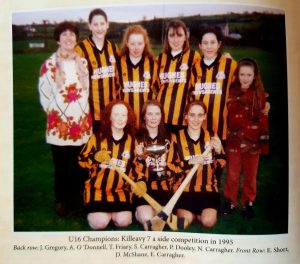 RM; Many years you have worked closely with the girls, any special or outstanding moments?
JG; A good question Roisin and whilst there have been outstanding moments it is not always on the bigger stage it occurs. When watching a game it is the littlest of things that may catch the eye. E.g. someone trying lifting and clearing the ball; a successful hand pass or the run on for receiving same. Things you had them practice coming to fruition. On a more personal note it could be someone developing confidence in their own ability or simply making friends. I remember when Eimear Carragher scored a point from the back line in our Post Primary Championship against St. Brigids that we won for the first time and this team went onto win U14, U16 and was to become the base for our successful Senior team. Patricia bearing down at nets in our first junior Championship final against Derrynoose and thinking if that was me I wouldn't bother trying to stop her! Yet I guess two really outstanding games were against Keady in the Senior County Final and Laoitrim in the Ulster. We had been knocking on the door of the Senior Championship for a number of years being beaten narrowly on all occasions so had no illusions about the task ahead. Against Keady the team played as a complete unit, every ball was amber and black and when things got really tight Donna McShane doubled on a ball, you could hear the gasp of the crowd, again doubled on by one of the twin O'Donnells and up to Patricia and history was made. We were Armagh Senior Champions. The formidable  Liatroim  was another outstanding game. Played on a very hot day it was a very tight game and with ten minutes to go it was nip and tuck, but Patricia came out of the forward line and steadied mid field and the backline showing true leadership. When we lifted the Phil McBride cup (it's inaugural year) it seemed only fitting that it was an Armagh team that lifted it made sweeter by being our own Club to do so. It was s very proud moment for me and I know for those remaining Camogs from the 1940s like Kathleen and Margaret Morgan to be there. Yet again on a personal level for me it was having Philip Harvey as part of the management team with Maura Gene and ……Philip is married to one of our former camogs, Bernie Mckeown, a very stylish and natural player who I no doubt would have graced this team.
RM; Who would you say was the best camogie player you ever witnessed?
JG; That's a very difficult question as camogie didn't get the media coverage Gaelic football got and as a result many heroes such as Bernadette King who are not forgotten but didn't receive the recognition they deserved. Another example is Rosie Quinn Fitzpatrick, who is remembered as an outstanding camog and thankfully her Great Granddaughters Faye and Grace who are following in her footsteps can avail of the recognition that was so hard fought for.
RM; Had you any childhood heroes?
JG; Reading, as well as sport, played a large part of our family life, and the late Paddy McGuinness use to say 'those Reillys are reading in their pram!'.  Paddy would visit us in the evening, before we went to bed and tell us fairy tales  especially The Goat With The Golden Horns and ghost stories. When looking back at this oral tradition it was like a Dicken's serial, he would get to the most exciting part and stop leaving us on tenderhooks until he came back. Most of my heroes were heroines e.g. Jo from Little Women; Anne with an e from Anne of Green Gables; Katie from What Katie Did and what Katie Did Next and from the comics The Four Mary's each with their own talent. Yet in maturity when I look back, I am full of admiration for my mother and the women of her generation.
RM; Josie, when and where did you meet Tim? (Was it love at first sight?)
With Tim's huge involvement also in the club Josie, married life must of centred around Crossmaglen Rangers?

JG; Ah now Roisin if you listened to Tim he would say I had my eye on him from primary school when he was made sit between me and my best friend Renee Hughes (her and I were known as bubble and squeak) and the fact that I remember this is all the evidence he needs!
I said it was probably because he was so annoying. When St. Joseph's opened, we were in the same class and then we went to Bessbrook Tech. together. We use to exchange books when the travelling library came and became good friends. We started going out when we were sixteen and we got married on April 3rd 1976 and our son Jarlath was born on 27th October 1977. Our lives did indeed revolve around football for as well as playing, Tim coached the underage teams. I use to say it was a good job he married someone as mad about the Rangers as he was! Tim used to tell the boys to marry somebody who loved the smell of wintergreen!
JG; Just a wee bit of craic about our wedding day the late Fr. Sweeney had booked another wedding for the same day and time. Mary Meegan and Eamon Clarke so we had to get word to everyone that our wedding was now at 10 o'clock all our family had already made their way home from England so we went earlier. A weddings at that time had to be over before confessions at 12.

Pic Below; Tim and Josie on their Wedding day.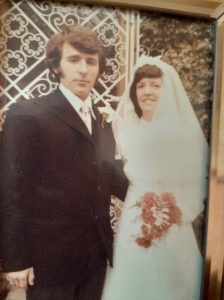 Pic Below; Back Row; Gerry, Tommy,  Dick,  John, Desi, Joseph. Front Row; Paddy, Mammy, Tim, Josie, Kathleen, Anne and Phyllis.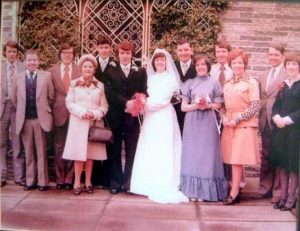 RM; Society has changed so much, young people are under a lot of pressure, any advice you would give young people today?
JG; The pressure of conforming to one's peer is something common among  most young people. Constantly preaching is not always the best way to get a message across as it finally falls on deaf ears. Sometimes the craic after training or a game can open up a discussion on general issues and how best to handle them.
Young people irrespective of generational  differences and attitudes have basically the same worries as those before them. Unfortunately this has become impacted by the rise of social media and the Club has been to the forefront in confronting the issues of bullying online, drink, drugs gambling etc.
Therefore I was disappointed to see in the national press Camogs depicted as 'Chicks with sticks' and a similar sound bite applied to the ladies football. These throw away lines to me are retrograde and fail to value the skill, determination and dedication these young women put into their chosen sports
Promoting a positive body image for our young girls (and boys) has to be seen in the above context and the idea that somehow in order to promote our game we need to 'sex' it up is something that negates the ethos of the Association.
RM; For any  girl who may be thinking of taking up camogie or ladies football, what would you say to her.
JG; My main advice to young people starting out in sport is to have fun and enjoy it. Enjoy the freedom to express oneself on the pitch and the privilege in participating win, lose or draw. Hopefully with fun, discipline and the friendships of shared experiences the potential for self growth will manifest itself.
RM; Josie, is there anything else you would like to add?
JG; On a personal level, camogie has  given a lot to me, it manifested the strength of women in their continuation of promotion of our national game. I cannot forget Sally McCone and Mary Donnelly, Ballymacnab, young women who played for club and County but volunteered their time on a Saturday to coach us in the art and skills of camogie. Marie McStay, our County President whose help and support at the start of our journey cannot be under estimated, likewise Mrs Phil McBride, Sheila Sherry, Anne Grimley, Nora Vallely and the late Kitty McDowell who helped us get established as a camogie club. And lastly, to all our Parents for their continuing support which ensures our club goes from strength to strength.
RM; Thanks very much to Josie for sharing such wonderful memories and photographs and for all her hardwork, dedication and commitment for Crossmaglen Rangers and in particular, Crossmaglen Camogie.

Rangers Zoom Cooking Demo
Cross Rangers Health and Well being team had planned to host a cooking demo in the Rangers Hall but covid  19 put a stop to these plans and we had to rethink.
We are delighted to have our inaugural zoom cooking demo this Thursday  at 7.30pm, hosted by Michelle McConville
Admission is £5 and all proceeds from the event will go to the Southern Area Hospice.
On the Menu will be;
Italian Meatballs with chorizo
Garlic bread
profiteroles and salted caramel sauce.
(Choc sauce also available)
 Everyone welcome as we support the Southern Area Hospice who has supported and supports so many of us.
Register your attendance; Name & Contact Num;
WhatsApp; Róisín 0876659126,
Michelle 087 758 7988
Danielle; 087 130 8641
Once registered, you will receive two links; one for zoom to join the event & one for PayPal.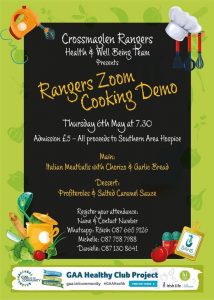 Rangers Children's Story time
Starting, Monday 4th May, we are excited to announce that every day next week we will have a special 'Rangers Story Time' for all our little people. Rangers will become storytellers and it promises to be lots of fun.
Tune into Cross Rangers FB page daily at 7pm for a bedtime story!
Thanks to all our storytellers. Anyone who would like to be a storyteller, please contact me.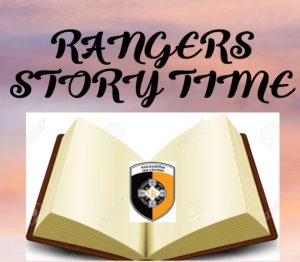 Since lockdown, as many of you know, we have hosted an online quiz on a Saturday night. We thought it was time our younger Rangers were included. Wednesday evening at 7pm, we will host our first online kids quiz on Cross Rangers FB page.

DVD update 
We hope to have the dvds ready for collection next Saturday. The collection point will be the Rangers Hall car park. I will confirm later in the week if they are ready for collection and pick up times.
BBC Sport 
During the week, Stephen Watson from the BBC spoke to Joe and Oisin about their memories of the 2005 Ulster Final draw and replay in Croke Park,  Armagh V Tyrone. This will be aired on the 10th May.
Armagh GAA
Armagh GAA's first Club/County draw will take place on Thursday 14th May at 7.30pm. There is still time to purchase a ticket, please contact, Chairman Gene Hanratty or any committee member.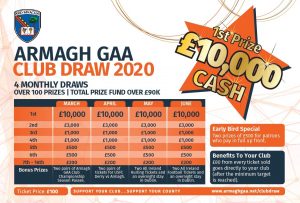 Thanks
Thanks and well done to our Club members  who recorded 'Stay Home, Stay Safe' videos. The videos posted daily over a week saw a total audience of over 87,000 on Facebook and 37,000 on twitter, phenomenal numbers and very uplifting.
Social Media
Please check out our social media  sites for updates, information, puzzles, quizzes, trips down memory lane, recipes and much more. As I said before, social media is the most important tool we have at the minute, it's both connecting and engaging people in our community and beyond. We continue to deliver groceries from Centra daily and any club member or member of our community who need any assistance at these difficult times, please get in touch. #inthistogether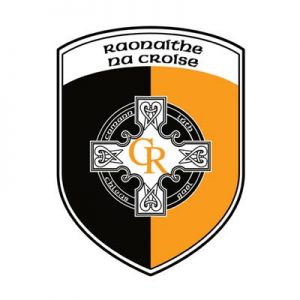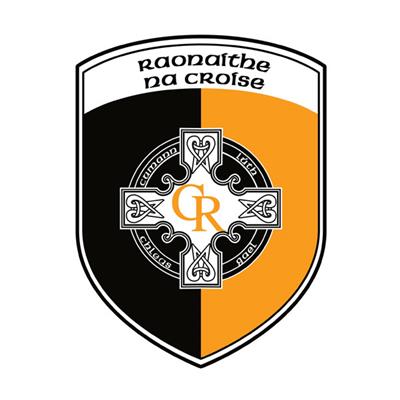 Posted: May 3rd, 2020 under Club News.