Crossmaglen Rangers Club Notes 04/10/21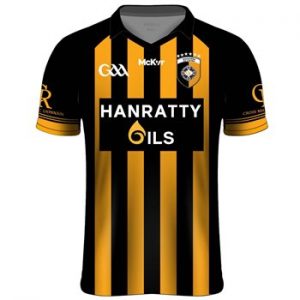 Congratulations
Congratulations and well done to our U15 team and management who captured the U15 Division 2 League Cup today. The opposition was St Peter's of Lurgan and the venue was Collegeland. Heavy rain had left conditions difficult. The Lurgan boys played with a strong  wind on their back in the first half and had built up a strong lead by the midway point; (Ben Cumiskey the goal scorer)
Cross 1-3 Eire Og 1-8
The second half had only just begun when we had two points registered to narrow the gap. St Peter's added a point from play to bring it back to a four point game. We dug deep and a terrific response from the lads, saw them score three unanswered points to leave just the bare minimum separating the sides and an exciting finale was on the cards.  St Peters added a point but in what was our best spell of the match, four points one after another put us firmly in the driving seat as normal time approached. As the game entered injury time, Aaron Haughey lobbed in a high ball which landed in the Peters net to seal the victory. St Peter's scored a goal just before the full time whistle;
Cross 2-12 St Peter's 2-10
Well done lads on a great win and hard luck to St Peters. It was a very sporting match with super scores from both sides.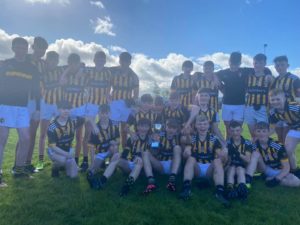 Well done
Well done to our seconds squad and a management who beat Eire Og in the QF of the junior championship. The game was played on Friday night at the Athletic Grounds. The first half was highly entertaining  and by the end of  first period of play, the sides couldn't be separated, all square at the water break, 1-2 to 0-5, Caolan Dooley the goal scorer. As play resumed, both sides traded points before Eire Og scored four points without response who give them the edge as half time approached. Points from Shane McConville (F) and Johnny Mckeever (F) narrowed the gap to leave the game at the midway point;
Cross 1-5  Eire Og 0-10
We opened the scoring of the second half with a superb score from Orin McKeown followed by an Eoin Keenan point and once again, the game was level. The opposition side slotted over a point to gain advantage before our second goal came thanks to Shane McConville, we pushed on from that score, scoring a further ten points to Eire Og's single point to leave the score at full time;
Cross 2-17 Eire Og 0-12 
Well done lads and management on a fantastic performance. Our seconds now play Derrynoose in the SF of the junior championship. This game will be played on the 15-17th October.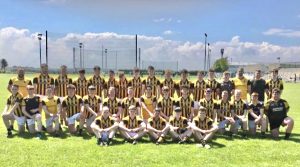 Rangers Sponsor A Ball
If you would like to sponsor the ball, Armagh Junior Championship SF V Derrynoose, please contact Roisin, 0876659126.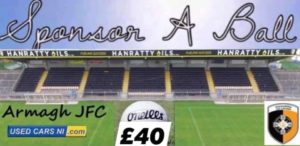 Good Luck
Good luck to our senior team and management, who play Killeavy in the Armagh SFC QF. The game will be played in the Athletic Grounds next Sunday, throw in is 4pm. Once again, it will be an all ticket game and tickets will be for sale on the MyTicketApp.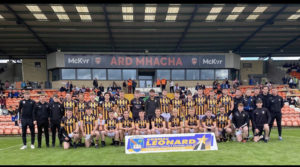 Rangers Sponsor A Ball; Armagh SFC QF
Margerite McCooey, Luxury Garlands will sponsor the ball, SFC V Killeavy. Thanks to Margerite for your support.
John Murtagh, on behalf of Margerite, presents the ball to Odhran Kieran.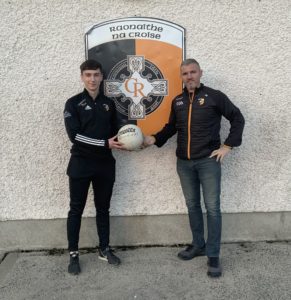 U17 League Final
Best wishes and good luck to our minor team and management who play Clan na Gael in the Armagh U17 Division 1 League Final. The game will be played on Thursday evening in Ballymacnab at 7.30pm.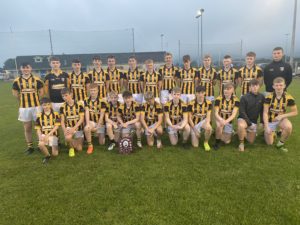 Pitch Rota Wk 04/10/21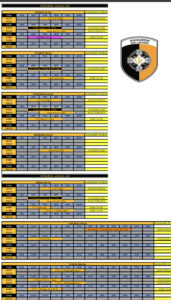 2021 TG4 Ladies Football All Stars Nominees.
Congratulations to Lauren McConville who has been nominated for a 2021 TG4 Ladies Football All Star award. The All Star team will be announced at a gala banquet at Dublin's Bonnington Hotel on Saturday, November 13. Good luck Lauren.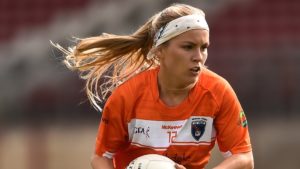 Cross Rangers Club Lotto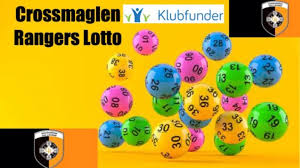 Draw Date; 03/10/21
Numbers Drawn; 9  12  16  18
No Jackpot Winner;
4 matched 3 numbers; Ann Morgan, c/o KlubFunder, Pat Hughes, c/o Margaret McShane, Con O'Neill, c/o Margaret McShane & Seamus Murtagh, Tullyard who win £25 each. Well done to our match three winners.
Next Lotto Draw; 10/10/21
Jackpot; £2300/€3300
Scor is back!
Junior Scor is back in January. Anyone aged U17 and interested in participating, please contact Johanne.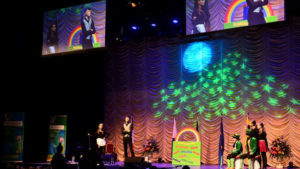 Reminder; Action Cancer; The Big Bus
The Big Bus is scheduled to visit the club this Friday and Saturday. If you can no longer attend your appointment, please cancel it immediately by contacting action cancer directly (there is a waiting list). Those who have appointments on Saturday, our stewards will be on site to assist with parking as we are hosting a championship fixture.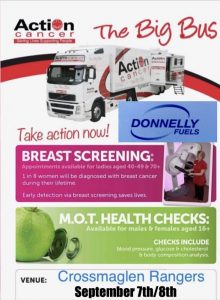 Championship Saturday
It will be all hands on deck again next Saturday as we host the senior championship QF fixture, Silverbridge V Cullyhanna. Can all available stewards, please be at the changing rooms at 2pm.
GAA Healthy Clubs My Mind Matters Challenge 
During the week, cameras visited the club to create a video for the launch of the latest GAA Healthy Club challenge. We are delighted to have been the club chosen to help launch this fantastic initiative where all the family, young and old, can get involved. All the details about the challenge are below and we encourage all our members and friends to get involved, your involvement is supporting the wonderful charity, The Samaritans.
The GAA Healthy Club Project is once more partnering with Irish Life to encourage club members this October to participate in a wellbeing challenge via the MyLife App that has the potential to raise €10,000 for Samaritans Ireland.
The three-week 'GAA Healthy Clubs My Mind Matters' challenge throws-in on October 10th, World Mental Health Day, and aims to inspire participants to set aside 30 minutes five-days-a-week for an activity that boosts their mental health. If participants collectively record 30,000 days of activity on the MyLife App (each 30 minutes of activity recorded counts as one day) between October 10th-30th then Irish Life will donate €10,000 to Samaritans Ireland, the GAA's official mental health partners since 2015. But that's not all. Participants can also donate their MyLife points to Samaritans through the MyLife rewards store, resulting in more welcome funds for one of Ireland's hardest working charities.
The challenge target is very achievable with your support. Last Spring, over 28,000 participants from GAA clubs across the country took part in the 'Every Step Counts Challenge' making it one of the biggest physical activity challenges ever delivered in Ireland.
This time around any activity that boosts your mental wellbeing, such as walking, running, or cycling, yoga, meditation, gardening, or swimming etc. can be recorded and added to your personal and the collective tally. We also know from research that giving is another great way to improve your wellbeing, so the opportunity to support Samaritans Ireland while doing something for your own mental health makes this a win-win opportunity.
Niall Mulligan, Executive Director for Samaritans Ireland, said: "Samaritans is the only charity offering emotional support 24 hours a day, 365 days a year, for anyone who needs someone to talk to across the island of Ireland.
"Our organisation and our branches have been to the forefront of the national response to Covid-19 restrictions, with our volunteers answering over half a million calls for help in 2020.
"We are delighted to be the mental health partner of the GAA and this generous donation from the volunteers that drive the GAA Healthy Club Project and Irish Life will make a real difference to the lives of so many people, allowing us to answer over 3,300 calls or train 50 new volunteers."
Any participant who achieves our weekly targets will be entered into our weekly draws for:
Week 1: 25x £50 Amazon.co.uk Gift Cards
Week 2: 30x Fitbit Charge 4
Week 3: 5x €500 Ireland's Blue Book Voucher
One lucky participant will be drawn at random to win an expert coaching session & wellbeing event with one of the GAA's most decorated players, Oisín McConville for their local GAA club.
Oisín McConville said: "I've always been a fan of the Healthy Club Project and was delighted when my own club Crossmaglen Rangers got involved. The benefits for our members and the wider community are clear to see. I'm delighted to support this challenge and look forward to setting aside a little more time for my wellbeing during the three weeks while supporting a great charity like Samaritans Ireland."
Further information on the challenge can be found here
https://mylife.irishlife.ie/gaa-my-mind-matters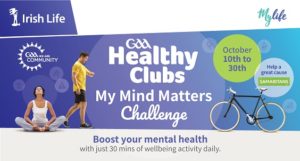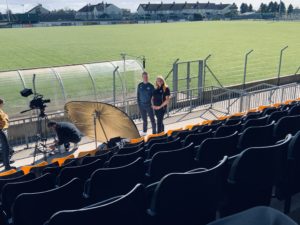 Glasnevin Trip
Over half of the seats are booked  for our upcoming trip to Glasnevin Museum & Cemetery on Wednesday 27th October. The bus will depart the Rangers Hall at 9.30am. The cost is; Adult £25, OAP; £20, Child; £15. We will be going to the Old Coach Inn for a meal on the way home, this is optional and is extra.
To Book; 0876659126 or email [email protected]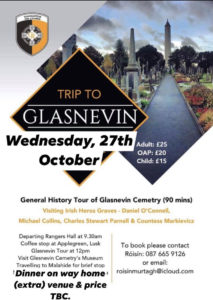 Condolence
Gene Moley, formerly Cregganduff.
Our deepest condolences to the Moley family on the recent sad passing of Gene. Ar dheis Dé go raibh a anam.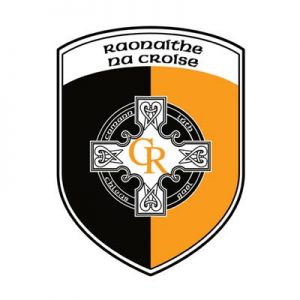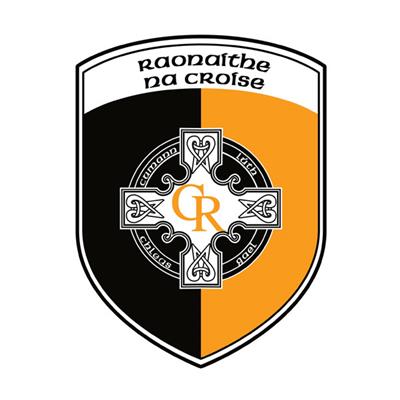 Posted: October 3rd, 2021 under Club News.