Crossmaglen Rangers Club Notes 06/07/20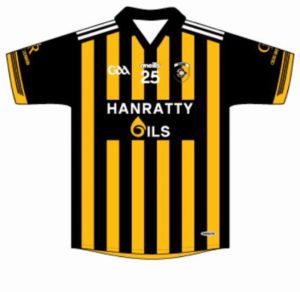 Reminiscing With A Ranger
This week's 'Reminiscing With A Ranger' is five times County Championship winner, Jack McEntee.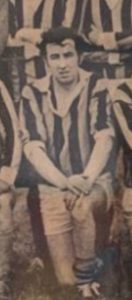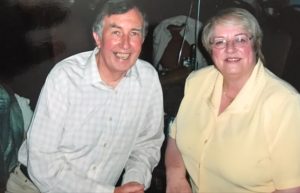 RM; Jack, can you tell me where you were born and about your family.
JMcE; I was born and raised on the Dundalk Rd. My Parents were Jack & Nan McEntee and I had three Brothers and three Sisters, Louis,
Dessie, Francis, Bridie, Pearl and Genieve.
RM; What age where you when you started playing and what position did you play?
JMcE; From a very early age, I kicked a ball and learnt my trade on the Square in Cross. Myself, Michael & Oliver Hughes, Patsy Cassidy and others would kick the ball from morning to night. When big matches were being played and broadcast on the radio, Peggy Martin would put the radio outside for us to listen and when the radio coverage finished,  we replayed the match on the square! They were good times and created a love for football which continues to this day. I also played midfield  for the school team in the school leagues. Jack McGee was our manager and those school leagues created great rivalry but also we learnt how to play the game.
My first game in a Rangers jersey was the 1959 Armagh championship SF. I was only seventeen years old when I lined out at corner forward but unfortunately we were beat by a couple of points that day by a strong Clan Éireann side. A year later, and after much controversy, short notice meant we couldn't field a team for the final, Clann Éireann had been awarded the championship but after an appeal, it was deemed the final should be played. A draw sent the game to a replay and eventually, I had my first taste of success when we beat Clan Éireann comfortably to win the Armagh championship.
RM; Jack, who were your idols when you were playing?
JMcE; When I was playing my favourite player was Mick O'Connell. In the Cross team we had many great players during the successful sixties, Gene Larkin and Brendan Donaghy in particular, they were phenomenal footballers who would of got their place on any team.
When I look at the greats of the game down through the decades, an all time favourite player of mine is Maurice Fitzgerald.
RM; Did you win much silverware?
JMcE; I won Armagh senior championships in 1960 and 1962. Due to work, I relocated to Cavan in the mid sixties and won a championship medal with Cavan Gaels in 1965.
Pictured below; Jack and his teammates, Cavan Gaels, 1965  Cavan County Senior champions. Thanks to my fellow Gaels, Cavan Gaels  for sending me the photos.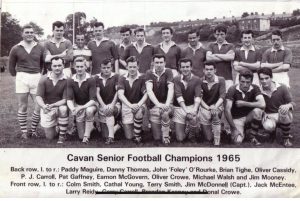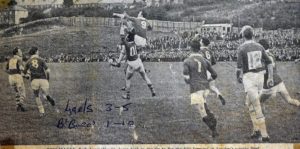 Pictured below; This newspaper cutting reporting on the 1965 Cavan county final mentions the fine midfield display by team captain, Jim McDonnell and  his partner, Jack McEntee.

I returned to Cross  in 1966 and added a further three county medals to my tally. I also won league and tournament medals during my time playing. I was lucky to be part of such a fantastic team who achieved so much during the golden era.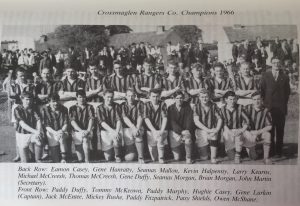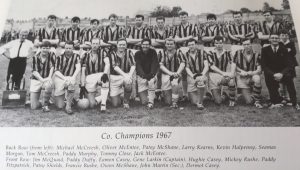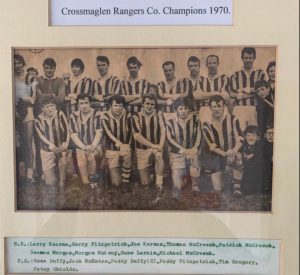 RM; Is there any game in particular that stands out in your mind as special or significant?
JMcE; For me, it had to be my first County championship win in 1960. I was only eighteen years old. We beat Clann Éireann in the replay and again I was on the half forward  line. You never forget your first championship win but this was extra special due to the controversy before the final.
I'll share a funny story with you Roisin. It was the early 60's and we were playing the Wolfe Tones in Lurgan. The dressing room was a good wee bit from the field. I was with Michael McQuaid who carried the box or as we would say today, our kit man. We were leaving the dressing room after the game was over, there was wasps everywhere and a group of young lads were  hitting the wasps away. Michael said to the young fellas
" Don't hit them wasps" one of the young people  replied
"They will sting you Mr" and Michael replied
"They won't sting us, they are dead rangers who follow us everywhere"!
Mick was a great character, great craic and many a song he give us on the bus!
RM; Would you like to play the game today and three players you would have in your team.
JMcE; No I wouldn't like to be playing the game today. For me, the game is now too defensive. Also, there is a lot more pressure to preform compared to when I played the game. Three players I'd like on my team are three men who no longer play but their impact when they played was significant and they will always be remembered as three of the best to ever have played the game; Oisin McConville, Maurice Fitzgerald and Matt Connor.
RM; Is there any advice you would give young players today?
JMcE; Even though I don't like the way the game is played today, I would encourage all young people to play. The most important thing  is that they enjoy it, it is the best days of their lives. I think they should all learn to play with both feet, that will always come in handy!

RM; Jack, Is there anything else you would like to add?
JMcE; From growing up to this present day, Rangers has meant everything to me. From getting my place on the Senior team to being a supporter of Crossmaglen Rangers has brought me a lot of enjoyment. Unfortunately, like so many other families, we suffered a huge loss in 1990 when our Son/ Brother Mark died tragically. There are no words to describe our loss but thankfully my interest in football and supporting Cross has helped me down through the years. I wish the Rangers continued success both on and off the field.

Pictured below; Jack's Son, Mark RIP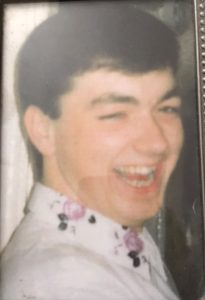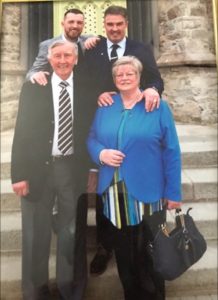 Thank you Jack for reminiscing with me. We send our best wishes to you, Mary and all the family. 

Crossmaglen LGFA Notes
Safe Return to Play:
We are all delighted to see the return for football this week. Most teams have got back out training, in some capacity, and fixtures have been released to clubs with leagues to start in the coming weeks.  We encourage all our members to ensure the keep in touch with their managers to keep all information ad recorded up to day, as per the GAAs guidelines.
Please see below the training times for the various age groups for the week ahead. This will be re-evaluated when the games begin, in the next few weeks.
U10 & U12 training times this week:
Monday 6.15-7.30pm
will be for our older crew, this is aimed at the more experienced players or girls who have completed P6/R6, P7/R7 & 1st year of secondary school.
Saturday 12-1.15pm will be targeted at our younger players. We are inviting all girls, who have just completed P3/R3, P4/R4 & P5/R5 to attend stage this time.
U14 & U16 training information: 
Wednesday 6pm to 7.15pm
: All players,  including those who have just completedP7/R7, should attend this training session.
Minors & Seniors continue to train to gather with Maria & Peter. They will keep in touch with you on arrangements.
Registration information:
Registrations are now due and can be paid online or to your coach. All players need to be registered in order to train and play for the coming season. Thank you for your cooperation.
Pitch Rota 06/07/20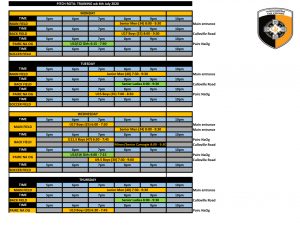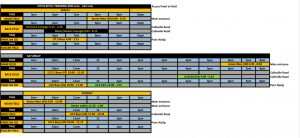 Draw Date; 05/07/20
Numbers Drawn; 7  9  14  21 
No jackpot winner 
8 matched  3 numbers winning £15 each; Róisín Morrison, Geraldine Murtagh, Mickey Morgan, Caroline Hughes, Stephen Finnegan, Jennifer Hughes, Patricia Carragher & Bernard McDonnell.

Well done to our match three winners.
Jackpot; £1100/€2100
Play online; https://www.klubfunder.com/Clubs/Crossmaglen_Rangers/lotto
Sponsor A Ball
During the week, a revised Armagh Senior & Junior League fixture was published. It costs £40 ( Senior League ) & £25 (Junior League) to sponsor a ball.  Anyone who wishes to sponsor a ball;
Text Róisín  0876659126 or email [email protected] Before lockdown, a number of people had expressed an interest in sponsoring a ball, if you still wish too, please contact me.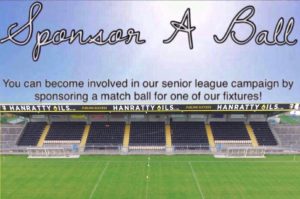 Congratulations
Congratulations to Callum Kieran and Shannon Jennings who got engaged recently
Get Well Soon
The entire club send our best wishes to Eamonn McMahon. Wishing you a speedy recovery Eamonn!
Mass
Mass resumes in St Patrick's Church this week. Fr Dermot asked me to inform everyone that there will a short meeting on Wednesday evening at 7pm in the church to organise stewards for the weekend masses. Numbers permitted into the church are limited to fifty/fifty five. The webcam and loudspeaker will be on during mass and Eucharist Ministers will take communion to both side doors for those who are standing outside.
Social Media
Please check out our social media sites for updates, information, puzzles, quizzes, trips down memory lane, recipes and much more!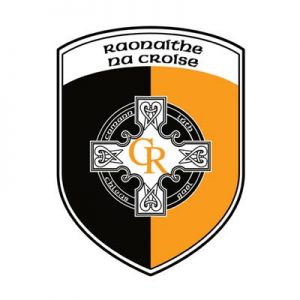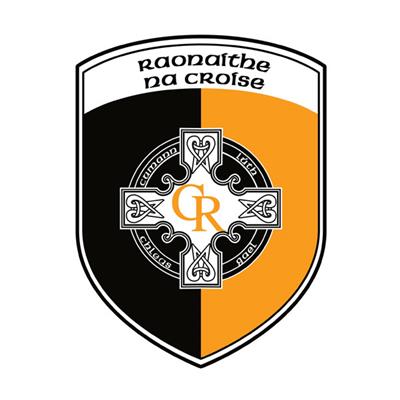 Posted: July 5th, 2020 under Club News.