Crossmaglen Rangers Club Notes 08/03/21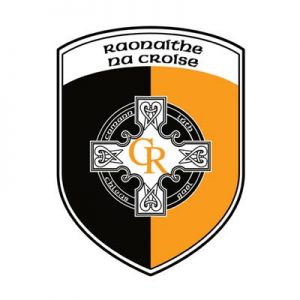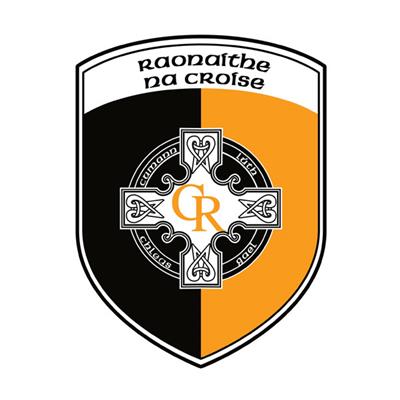 Cross Rangers Virtual Tour Of Ireland
 Our virtual tour departed  last Monday and what a journey it has been so far!  To date, we have visited Down, Antrim, Derry, Donegal and Fermanagh. Keep up the good work everyone and don't forget to submit your miles/steps/kms via your team group or the Microsoft form.
Please forward photos from your rambles.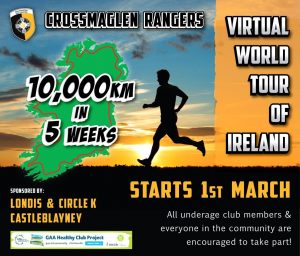 Cross Rangers- This Os Your Life 
This Tuesday night we  will welcome our last guest, Crossmaglen Rangers, This Is Your Life. The Queen of country, Philomena Begley will be in the hot seat at 7.30pm, we cant wait! It promises to be an amazing show. Rod from Friends  of Daisy Hill will also join us to speak about the marvellous work 'Friends of Daisy Hill Hospital' carry out and where the money donated will be used. We may have a surprise or two for Philomena. Tune in at 7.30pm, you don't want to miss it.
We have shared the link to join the event on our social media platforms. Please be aware of the following;
You must download the Teams app.
As Danielle and I will be busy preparing for the show, we will not be answering any queries or requests for the link to join the event after 6.30pm on Tuesday evening. 
Don't forget to donate. Buckets in local shops or online;
https://www.klubfunder.com/Clubs/Crossmaglen%20Rangers/GeneralPayment
Donations close on Friday 12th March. Thanks to everyone who has donated.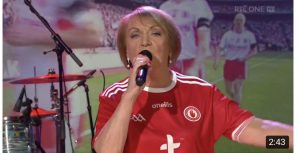 Thanks
Traditionally, guests on 'This Is Your Life' received a red book, not this time!
Thanks to Carville & McGrath speciality Confectionery who have created a unique & wonderful chocolate 'This Is Your Life' book for each of our five guests. Well done Sarah Jane, they look delicious1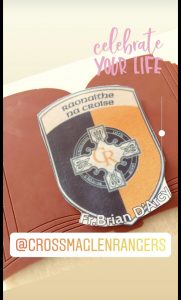 Cross Rangers Lotto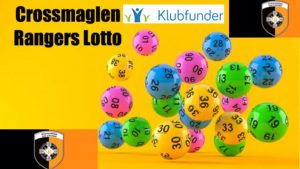 Draw Date; 07/03/21
Numbers Drawn; 11 20 24 26 
No Jackpot Winner 
3 matched 3 numbers; Paddy Moley, c/o KlubFunder, Tom McKay, Cairde & Caela McKeown, c/o Murtagh's who wins £35 each. Well done to our winners.
Jackpot; £4500/€5500
Next Lotto Draw; 14/03/21
Crossmaglen LGFA Notes
We are immensely proud of all the young players who recently participated in Armagh LGFA's TikTok Challenge. Big shout out to Aimee Lee Hatzer and Jessica McCreesh who featured on the Armagh Ladies social media accounts as finalists, and congratulations to Jessica McCreesh who was overall winner of the competition. Jessica will receive a county kit for her efforts. Keep an eye on Armagh LGFA social media for more competitions in March.
Annual General Meeting (AGM) 2021
The AGM took place and the committee was appointed as follows:
Chairperson: Paul Duffy
Secretary: Marion McMahon
Assistant Secretary: Teresa Bellew
Treasurer: Frank Shields
Registrar: Shannon Clarke
Committee Members: Shauna Dooley, Michelle McConville, Maria O'Donnell, Peter McMahon, Caoimhe Dooley, Aislinn McMahon
Lidl Jersey Competition 
We are asking members who have been shopping in any Lidl store (NI or ROI) to help us win a set of jerseys. Simple visit
www.Lidl-ni.co.Uk/serioussupport
, and enter the code at the bottom left of the receipt. Any issues contact a member of the committee.
Return to Play
We continue to follow the GAA and Northern Ireland guidelines, and encourage players to keep active within their family circles.
We are in the process of appointing coaching teams for the 2021 season, and we welcome anyone who is interested is coaching or assisting with a team this season to contact any member of the committee.
On Friday, 19th March at 6pm, we have a wonderful event for the whole family via zoom, Mr Bucky will entertain young and old, children, parents and grannies can all get involved. Bucky will lead the way, exercise in a fun way which is good for the body and mind. It promises to be lots of fun. More details to follow.
This event is funded by the Rural Health Partnership.
Condolence
Mr Paddy Daly, Glassdrummond Rd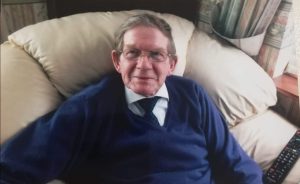 Crossmaglen Rangers are saddened to learn of the passing of Paddy, a lifelong supporter of Crossmaglen Rangers and  grandfather of current players, Ryan, Thomas Og and CaelanDuffy and Colin Daly. Paddy grew up in Carron and from an early age he followed the black and amber. We send our sincere condolences to Paddy's Wife, Kathleen, Daughters, Paula (Duffy) and Christina (Rooney), Sons' PJ, Oliver and Noel , Brother, Gerard, Sister, Peg and the extended Daly family who have strong links to Crossmaglen Rangers.
Paddy was extremely proud of all his grandchildren. Below is Ryan, Thomas Og, Caelan Tiarnan and Colin togged out in the black and amber.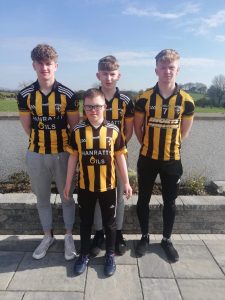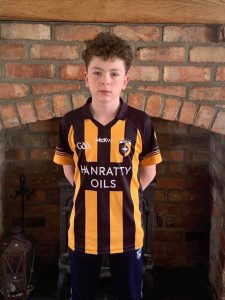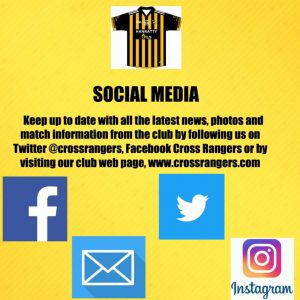 Posted: March 7th, 2021 under Club News.