Crossmaglen Rangers Club Notes 08/06/20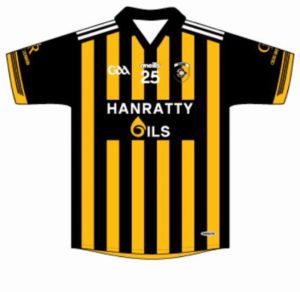 This weeks 'Reminiscing With A Ranger' is a lady who has dedicated her whole life to Crossmaglen Rangers and the GAA. I am and proud and honoured to call her my friend, the legend that is Margaret McConville.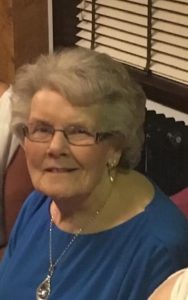 RM; Margaret, can you tell me about growing up in Crossmaglen.
MMcC; I was born in Crossmaglen on the ninth of May, 1936. My Parents were James and Mary Morgan (nee Keegan). I had ten siblings, six Brothers and four Sisters; James, Fr Pat, Maura (Watters), Gene, Annie (Shannon), Kathleen (Eardley), Tommy, John, Brian and Jeanette (O'Callaghan). I was the third youngest.
Pictured Below; Margaret (L) and her Sister, Maura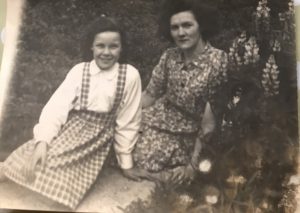 Pictured Below; Annie, Margaret and Kathleen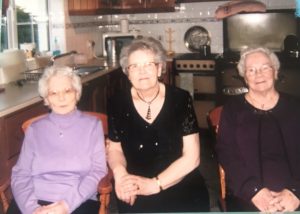 Pictured Below ; Jeanette, Margaret, Maura, Brian, Annie and Kathleen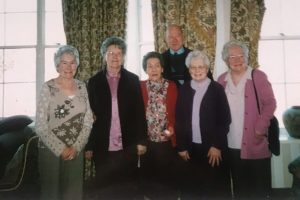 The highlight of events in my own family had to be the ordination to the Priesthood of my Brother, Pat. He was ordained on the 19th June, 1949. It was a great honour for the family. He said his first mass in St Patrick's Church, Crossmaglen on the 20th June. The ordination itself was confined to family who only got four tickets but the next day, the public could attend the mass and he spent half the day giving people his first blessing. That was a very happy time. Fr Pat died on the 2nd June 1986 as P.P of Termonfeckin, Co.Louth and is buried there. May he rest in peace.
Pictured Below; Fr Pat at his ordination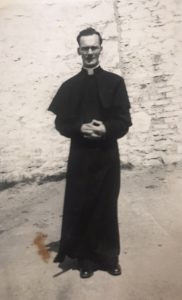 Pictured Below; Fr Pat with his Parents, Mary & James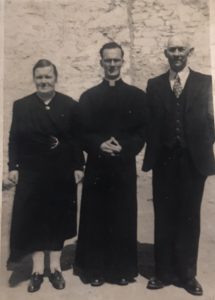 Pictured Below; Dora celebrating her communion with her Granny and Uncle, Fr Pat.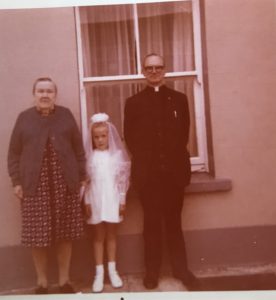 Out of that big family, John is the only boy alive and he lives in England. I have three sisters still living, Annie, Kathleen and Jeanette. Janette lives in Bessbrook and Annie and Kathleen are residents of the local nurising home, The Glencarn, where they receive excellent care and I want to thank the staff there for all they do for them.
Annie is ninety two and Kathleen is ninety.
Cross was a good place to grow up in, it was quiet and everybody knew everybody and the establishments were trading for hundreds of years. Looking back we had a cinema and local dance halls, mind you, we had to be a certain age before you were allowed to the dance halls. I remember crying to get to a big dance in Mobane hall, only to be told I was too young for ballroom dancing! I would have been allowed to go to the ceili dances, so you can work that one out for yourselves!
RM; The Morgan family have been associated and involved with Crossmaglen Rangers for over a hundred years. Can you tell me briefly about the Morgan family's long affiliation and association with the club.
MMcC; Yes, the family are associated with the Rangers for as long as I can remember. My Father played on the very successful team of the 20's. My Mother used to tell me they were married in 1919 and he arrived on the morning of the wedding with a black eye after promising not to play the day before but it was obvious he had! Two Uncles played on that team too, Tommy Morgan (Anthony Cunningham's Grandfather) and Pete Morgan. Oweny Harvesy captained that team. As the years passed, the boys all became involved and the Morgan household was a fantastic ceile house. The boys used to gather and play the games all over again and everyone had a different version of events! Cards would also be played. My Mother loved the craic and anyone who came to the house to wait on a lift to training especially county players, would go to 8 o'clock mass and when they returned my Mother would be swinging the pan! Brian, Tommy and Gene played for the county with Gene playing in the 1953 All Ireland final.
RM; I'm sure in those early days, there is many a story to be told?
MMcC; Yes there was many a story told. Mickey Shields who lived on the Culloville Rd told me one time some of the boys travelled to a match in Camlough by horse and trap. When they arrived the horse was missing a shoe and my Father being a blacksmith said he would put it on at half time. Someone was sent back up the road to find the shoe which was located on Sturgan Brae.
Another time, the forge faced out on to the street on the end of the square. The young fellows used to pass up and down and there was alot of banter. One day a young fellow shouted
"Hello Baldy Morgan".
My Father played it cool for a few days, then he saw the lads and called one of them to give him a hand with something. He had just taken the head of the hammer out of the fire and it was on the ground cooling and he asked your man to hand it to him, it burned his hand. That finished the carry-on , if you did that now a days you would be jailed!

RM; You met Patsy McConville whose background was also steeped in Crossmaglen Rangers and the GAA, excuse the pun but a 'match made in heaven'.
Can you tell me where you met Patsy, when you got married and setting up home where family life centred around football.
MMcC; We lived next door to the technical school and I attended there for a few years after leaving primary school. The cook at the technical school was Mary McEntee who was leaving her job and I was just finishing school, so I was asked would I be interested in taking her job. I had other things on my mind like nursing or accounts. However the teacher spoke to my Mother and as she ran a cafe, it was ideal. I would also be able to help out at home. I did that job for two years and then I went to the nursing in Armagh. It was very awkward to get to Armagh in those days as there was no direct bus service to Armagh but for the good will of the Reel Sisters from Drumill, I got regular lifts or someone would leave me to Newtown to get the bus. The club started running a tournament each year which attracted teams from Monaghan, Armagh and further a field. The games very competitive and drew large crowds. I got involved in the tea making and my love affair with the tea pot continues to this day!
Pictured Below; Oisin, Margaret and the teapot!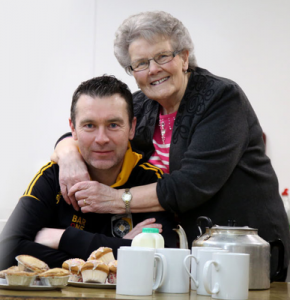 After the games, a good nights craic would be had in the hall.
An amateur dramatic society was set up and I got involved and we did several productions, the first one was
'The New Gasoon'.
We played to a packed house in the Market house which is now the community centre.
This brought much needed funds to the club. Paddy Short brought in Jonny Griffin to give us a run down on stage presentation etc. Eva Cassidy came and produced for a couple of years. Eva knew her stuff, it was done correctly or it wasn't done at all. This was an extremely enjoyable time as we got to places we might never have got to. Patsy was part of this too, along with my dear friend Joan Duffy, Pat Duffy, Fr Halpenny and a long list of people.
Pictured Below; Crossmaglen Rangers Dramatic Society. Margaret, front (Centre) with the shawl  wrapped around her.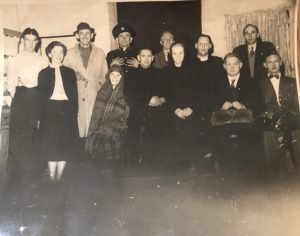 We performed a play "Is the Priest at home" and on the way home, Pat Duffy said to Patsy
"That's an awful night for that gasha to be walking up the street on her own " and as they say the rest is history!
We got married in 1958 and had our first child in 1959, we had six children in eight years. Anne was the first to arrive, then Thomas, Mairead, Jarlath, Jim, Dora, Sean and Oisin in 1975. The boys achievements are well documented. It was a bonus that Patsy was into football. He played for the Rangers at full back for many years and on his last few outings, he played in goals. Patsy won his last championship medal in 1960.
Pictured Below; Margaret and Patsy on their wedding day.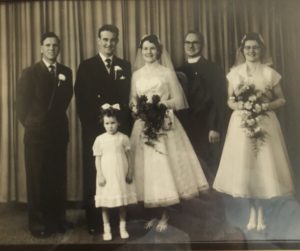 Pictured Below; Margaret, Patsy and six of their children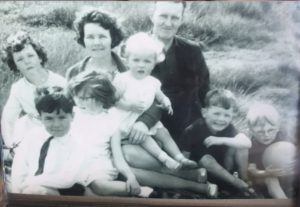 Pictured Below; Oisin and Sean with their Daddy, Patsy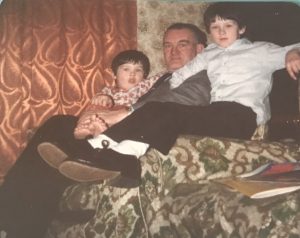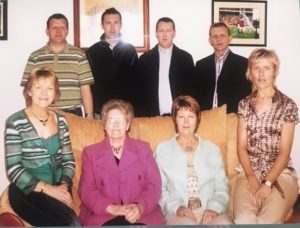 RM; Margaret, you all suffered an unmeasurable loss in 1976 when you lost your Son Thomas. Your lives changed for ever but I believe football and a strong faith helped you all to deal with losing a much loved Son and Brother.
MMcC; Yes Roisin, that was a terrible time. The troubles were very bad and I thought Thomas was safe in Donegal. You know when you get older, it's hard to talk about it, I can feel the pen trembling as I write this. I don't think his Dad ever got over it. Mairead was in Donegal also, the worry about her so far away was a nightmare. One consolation was, Teresa Nugent was teaching down there and she took Mairead under her wing and looked after her until we got there. I'll always be so grateful to her.
We had to pull ourselves together quickly because the other children were very young and they had to be looked after. Thomas was playing minor football and in 1977, Cross won minor, U21 and senior championships, we had started to bring the children to the matches. It was a killer to watch Thomas's friends coming out to play and him not with them. The day of the senior final, the first man I met was Thomas Cassidy and he said you go in there and get yourselves seats, he could see we were struggling, wee things like that you remember.
Also in 1977, Armagh got to the All Ireland final and a few days before the match, Con Short knocked the door and said to Patsy
"You and the children will be at the match". He handed Patsy tickets.
Aidan Short was at the Irish college too and Aidan along his Mum, Rosaleen were a tremendous support. Mrs Short made sure I got Thomas's bits and pieces home which was so important.
The support we received was out of this world. My Sister, Maura's family were a great source of strength as well as all my siblings families, Patsy family, the McConvilles, North Street and The Square and my wonderful neighbours on the Culloville Rd who did so much for us. A special mention for the late Pat McShane who kept us all grounded at that difficult time.
Pictured Below; Thomas, RIP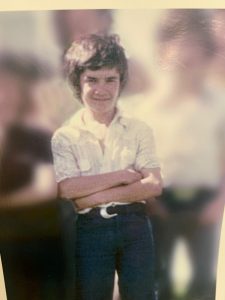 Pictured Below; Thomas and Anne.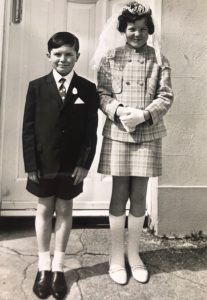 RM; Thankfully Margaret, you have witnessed many victories and celebrations which I'm sure helped you all when you were missing and grieving for Thomas. Is there any in particular that stands out as extra special?
MMcC; Yes, the success of the club, the boys growing up, playing, going to watch and support them helped us immensely. I would go to Thomas's grave and say
"Thomas, we are playing today, look after the lads and keep them safe"
Pictured Below; Jim prepares to lift the Andy Merrigan Cup as Oisin looks on with his Dad.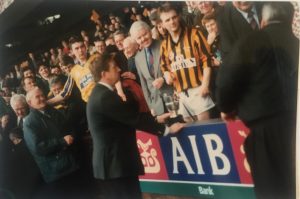 Pictured Below; Margaret and Patsy with Jarlath, Captain Jim and Oisin, March 1997.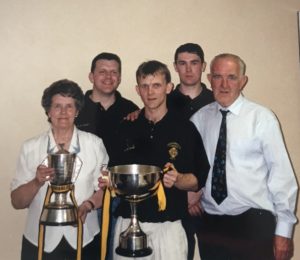 I am fast forwarding now, to see Armagh lift Sam was a dream come true. I am lucky that I survived that day after the penalty miss, I was very poorly. Oisin would of had to take a slow boat to China if Armagh hadn't of won! Armagh people never forget missed penalties!
Pictured Below; Oisin, Margaret and Sam!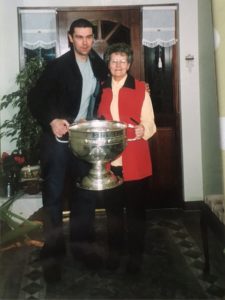 Pictured Below; Oisin kicks to beat Peter Canavan's  record, all time top Ulster scorer in the championship with a tally of 11-197.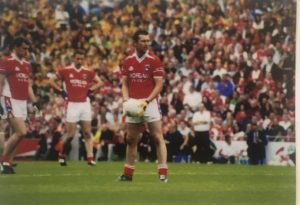 RM; Again, you and your family suffered a huge loss when Patsy took ill and passed away leaving a huge void in your lives.
MMcC; I lost Patsy in 1999, he death was expected as he battled cancer for two years. I still miss him so much. You know he said to me the week before he died
"Weren't we a good team" Patsy was a true Ranger, a true Gael. Dare anyone say a word against the Rangers. Patsy and I were both members of the Armagh supporters club and we travelled the length and breadth of Ireland supporting Armagh, what a pity Patsy did not see them lifting Sam, he would of been so proud.
Pictured Below; Patsy and Margaret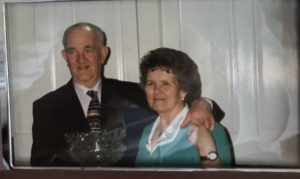 Pictured  Below; Patsy with fellow legends, John Martin, Tom McCreesh and John O'Reilly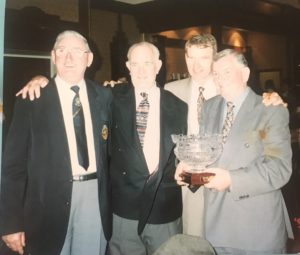 Pictured Below; Patsy and John McArdle celebrate!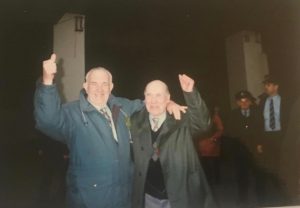 RM; When you go to matches now, you are watching your Grandchildren playing. Can you tell me what that feels like?
MMcC; The Grandchildren producing the goods for Cross keeps me in touch with the football. They grew up watching our seniors doing so well and that's what they aspired to. They were born with a football in their hands. James, my grand nephew is doing well with club and county.
Pictured Below; Margaret and James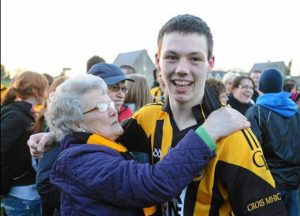 Another grand nephew, Donal O'Hare who plays for Burren and Down, we have a great admiration for Donal and the skill he possesses. I have four grandchildren who strutted their stuff for Granemore, Aoife is a skilled camogie player and the three boys excelled at football. We have cousins playing for Pearse Ogs especially Charlie who wouldn't miss a cross match. Tommy's grandsons are playing down in Longford and on it goes!
Not to forget my granddaughters, Lauren played with distinction for club and county and also played football in Australia. I'm glad she is home and I hope to see her in action soon.
Aoibheann is also back home after finishing college and is back playing. So, if that's not something to keep you occupied, what can I say! Shauna got married recently and lives with her Husband, Anthony in Mayo. She rings me every day and Frances and Aisling call to see me regularly.
Pictured Below; Margaret and her grandchildren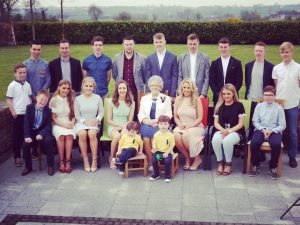 Pictured below; Margaret's Granddaughter, Frances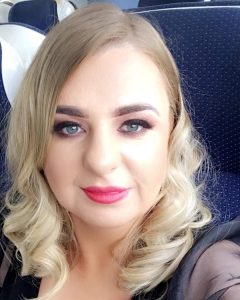 Pictured below; Margaret's Granddaughter, Freya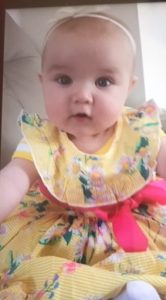 Pictured below; Margaret's Great Grandson, Tadhg Conroy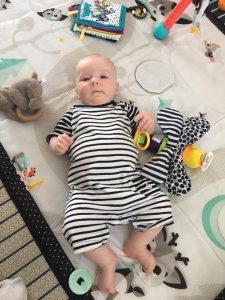 Pictured Below; Margaret and her Grandsons celebrating!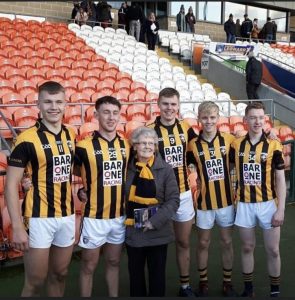 Pictured Below; Margaret sponsors the ball!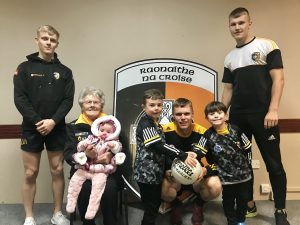 RM; Margaret, you are an inspiration to us all. You have worked tirelessly and passionately  for our club for decades. Can you tell us about the different roles you have held in the club?
MMcC; When the children got older, I got involved in the club again and it has been my life every since. I am involved with the lotto for almost thirty years. I became secretary in 1995, I didn't want the job but no one else wanted it, I thought I was a bit long in the tooth. I remained in the position for six or seven years. I got to know so many people during that time as we won the county title every year, three Ulsters and three All Irelands, you could not ask or question the commitment of management or players, I was so proud.

RM;  Women in the GAA are no longer just the 'Jersey washers or the tea makers', you have led the way Margaret and are an excellent role model to us all. Any advice for the GAA women of today?
MMcC; It is great to see the women getting involved. I have to mention yourself Róisín, you have kept us in touch with everything that is going on in the club and kept us entertained during this bad time, not only the club but the community as well.
I would like to see more women getting involved especially Parents.
I work at the lotto every Sunday night this past thirty years and have made some special friends, Maura, Margaret, Benny, Bernie, Mary and Peadar. They are and have been a tower of strength to me in difficult times. It is a true saying, GAA is family.
RM; Finally Margaret, is there anything you would like to add?
MMcC; I would like to thank my own family for the way they have looked after me especially during the lock down, it is a big change for them to be issuing instructions instead of the other way around! I want to thank the boys wives, Geraldine, Michelle, Tina and Darina for all their kindness. Thanks to my daughter Dora. Dora has become a hairdresser, medic and advisor all rolled into one!
Anne and Mairead miss the visits home but please god it will not last much longer.
The thing I miss most, is the hugs with the little ones, Ryan, Conall and Freya.
It has been a pleasure being part of my club and finishing up as President is a great honour and I am joined now by another true Gael, Gene Duffy.

Pictured Below; Our honorary Presidents, Margaret and Gene.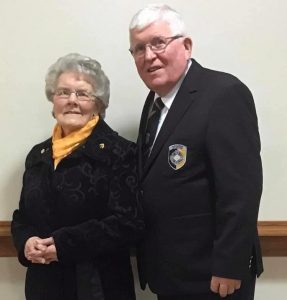 Lastly, for over twenty years, Friday nights before championship matches, the ritual is a cup of tea, cream bun and a meeting. Then I get a hug from thirty plus players, I must be the envy of all the women in the country!
I hope I didn't rant on too much and bore you reading this!
I wish the teams well for the future and success in all you do in your lives.
"Come on the Rangers is the cry of every girl and boy. Each hero of the past, we all remember, to Crossmaglen, they're true and to Armagh football too. Up the Rangers, May god bless the black and amber".
RM; At a special banquet in Croke Park on the 16th March, 2011, Margaret received the Presidents award. Margaret was honoured for her lifelong dedication and commitment to the GAA.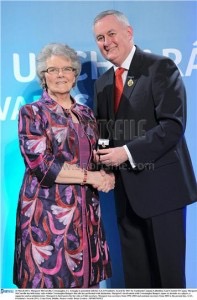 Pictured Below;Margaret and her fellow award winners were also presented to the crowd at the Club finals in Croke Park on St Patrick's Day, 2011.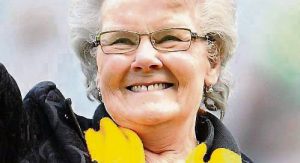 Thank  you so much Margaret for sharing such wonderful memories of your family, friends and your great passion for Crossmaglen Rangers. The entire club thank you for your long, dedicated and  loyal commitment. We wish you and your family, good health and happiness.
Walking Track
The walking track remains closed. The appropriate provisions are being put in place to ensure the health and safety of everyone in our community. An update will be posted online later in the week.
We are in the final stages of relaunching the club lotto. We ask everyone to please support the lotto in these difficult times as funds raised from the club lotto are vitally important for the everyday running of the club.
2007, 2011 & 2012 All Ireland victories
I hope to have copies of the last three All Ireland victories on dvds in the next couple of weeks. Club key rings and club pins will also be for sale. I'll post an update online when they are available to buy.
Please check out our social media sites for updates, information, puzzles, quizzes, trips down memory lane, recipes and much more!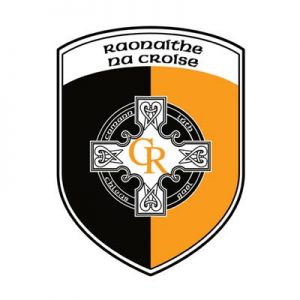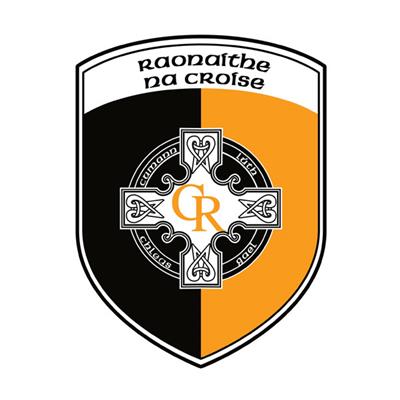 Posted: June 7th, 2020 under Club News.