Crossmaglen Rangers Club Notes 09/03/20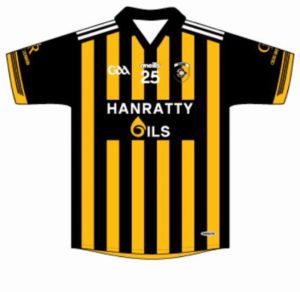 Aislinn McMahon receives NMD Young Sportsperson of the year.
We are immensely proud to report that Aislinn McMahon was awarded the young sportsperson of the year in the recent Newry, Mourne and Down sports awards. Aislinn is a dual player in our club, and has been extremely successful at all levels. She not only plays for the club but also represents her school and county.  Her talent and true dedication to her sport has been recognised over the last few years, having been awarded two school's All-Stars for her Camogie.  She is a modest player, who let's her talent on the field do the talking. I also know Aislinn appreciates her individual awards such as these however she is always keen to point out that her sport is a team effort, and every score, game, tournament won comes for the collective efforts of those around her. We would like to congratulate Aislinn again, on representing our club and being a fantastic role model for our young players coming through. Well done and good luck with your recovery from your recent injury.
Pic Below; Aislinn receiving her award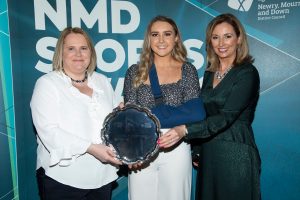 Drugs awareness educational workshops
On Tuesday and Thursday evenings, we held drugs awareness educational workshops in conjunction with The Magnet Centre, Newry. U13 boys and U15 girls on Tuesday and U13 girls and U15 boys on Thursday. Many thanks to Michelle McKeever and Lizzie Smith who delivered the workshops which were highly informative and well received by the girls and boys who fully engaged in all the activities.
Our last drugs awareness evening, which is for our players who are in P7 takes place on Thursday at 730pm.
Pic. Below; U13 Boys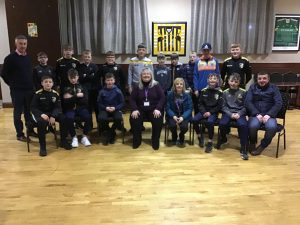 A very successful Dianchursa was held in the club
on Saturday morning
as part of our Seachtain na Gaeilge events.
Irish classes continue every Tuesday for both beginners and improvers in St. Patricks P.S. Crossmaglen.
6.30pm
.
Newcomers always welcome.
Irish Comhrá Workshop 
Next Friday
we are hosting a GCSE Irish Comhrá workshop.
This is an Irish conversation class to support GCSE students who are preparing for the oral element of the exam.
The class will be on
from 6.00pm-8.00pm
in the Rangers hall. There is no charge and it is open to all students in year
11/12
regardless of your club or where you live.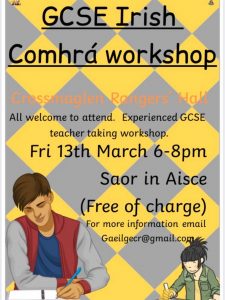 Launch of Crossmaglen Conradh na Gaeilge 
Following on from our comhrá workshop, we will launch the Crossmaglen branch of Conradh na Gaeilge in the Rangers Hall
at 8.30pm
. Everyone is welcome for 'Ceol, caint and craic'!.
More details to follow during the week on our social media platforms.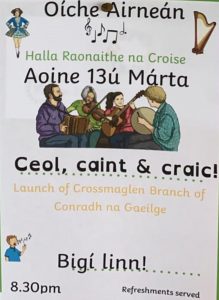 Gaeltacht
Tá muid ag eagrú imeachta do scoláireachtaí Gaeltachta. Má tá  tú ag dul chun na Gaeltachta i mbliana, gabh i dteagmháil linn roimh 13ú Márta. Scaipígí an scéal a chairde!
We are organising events for Gaeltacht Scholarships. If you are a member of Crossmaglen Rangers club and you intend going to the Gaeltacht this year please email [email protected] before 13th March.
Crossmaglen LGFA Notes
Crossmaglen Rangers LGFA Pre-season 7s 2020–
One week to go until our 11th Annual Pre-season 7s tournament. The aim of this event is to promote the participation of females in our national games, and also provide an opportunity for us to showcase in our club and community. This year we welcome 16 teams from across Ireland to our club, which means we have about 300-400 people involved in the day.
The tournament will
start at 10am
sharp, with games in the council and training pitch. The group stages will
finish around 12
, with finals scheduled for
3pm
. It is truest a great day of sport in our club.
We are looking for volunteers to help out, just get in touch with Marion, if you are available. #cantseeitcantbeit
U10 &12 team information:
Well done to our 35 girls who braved the wild weather to participate in our first training session. We focused for functional movement and our hand passing this week. Remember everyone is P3/R3- 1st year is welcome, and we will be training from 6/7pm in St. Joseph's Sport Hall.
Well done to Siobhan Sheilds and Lily O'Hara who represented our club in the 1/2 time game in the Athletic Grounds on Sunday.
U14 & 16 team information:
We have entered a team into the feile competition, the dates of this competition is the 21st &
24th March
. Training will begin for the Feile team & U16s at the end of February. Management will be in touch with details soon.
Membership
Membership is closing shortly. We will host a membership morning on Sunday 22nd March from 10am-12pm in the Rangers Hall.
Please note; Players must be registered to participate.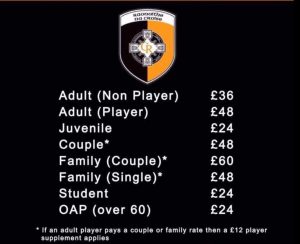 Safeguarding 1 Training
This is a compulsory aspect of volunteering in the GAA and must be completed every three years. Training will take place in Mullaghbawn on Friday 20th March at 7pm sharp. (Reg 6.45pm)
Places are limited, please contact Marian, telephone 07730578786 to secure your place.

Armagh GAA Club Draw
The closing date for buying a ticket in the Armagh GAA Club draw 2020 is the 10th March.
There will be four monthly draws  beginning in late March. Total prize fund is over 90K. Tickets cost £100. You can buy a ticket online;
www.armaghgaa.net/clubdraw, selecting Cross Rangers
Tickets are also available from all committee members with the option of paying four monthly instalments of £25 per month.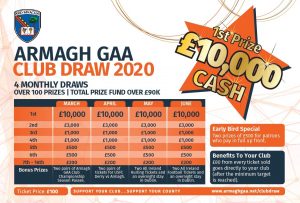 Cairde
A very important meeting regarding cairde will take place on Tuesday night at 8.30pm. All club members are welcome to attend.

Sponsor A Ball 
There are a few fixtures left to be sponsored in the upcoming Armagh senior league.
This is the first year we will have sponsor a ball in the junior league.
To sponsor a ball in the senior league is £40 and the junior league is £25.
Anyway who would like to sponsor in either the senior or junior league, please contact Róisín.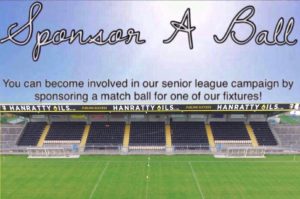 Crossmaglen Rangers Golf Classic 2020
During the week we launched Crossmaglen Rangers Golf Classic 2020.
We were delighted to welcome our new sponsor, Shelbourne Bureau, Newry.
Thanks to Peter Creegan, Hugh Boyle and staff for their generous sponsorship and support. We thank our outgoing sponsor, Killycard Developments and the Hanratty family for their generosity over the past three years.

Spring Fayre  
Following on from the success of the Christmas fayre, we will host a Spring Fayre on Sunday 29th March from 12-5 pm in the Rangers Hall. Any traders who are interested in having a stall at the Fayre , please contact Sarah Jane Carville. Full payment at booking is required to secure your slot.

GAA Healthy Club Challenge 
Calling all club members to get involved.
Register by;
Downloading My Life by Irish Life App
Select Crossmaglen Rangers.
We need at least fifteen club members on board to participate and the club in Ulster with the highest steps on average per club wins a £2500 O'Neills voucher.

Date for your diary 
Crossmaglen Rangers Gala evening remembering & celebrating the winning teams of the 70's and our 2019 Armagh senior championship winning team takes place
on Friday 15th May.
More details to follow in the coming weeks.

Get Well Soon

The entire club send our very best wishes for a speedy recovery to Aaron King who sustained an injury last week.
Get well soon Aaron.
Crossmaglen Darkness Into Light 
You can avail of a reduced price if you register in the next two weeks.Please hit on the link below to register.
A reminder to everyone who may have family away from home, you can play our lotto online by clicking on the following link;
Draw; 08/03/20
Numbers Drawn; 11  15  16  25 
4 matched 3 numbers; John McEntee, The Square, Jarlath McConville, Sean Hoey,  Cullyhanna & Owenie Lambe, C/O keenans Bar win £25 each. Well done to our match three  winners 
Jackpot; £1100/€2100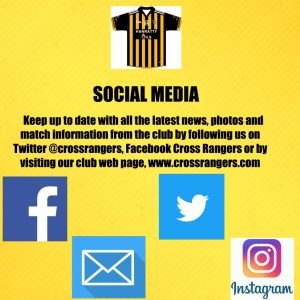 Posted: March 8th, 2020 under Club News.