Crossmaglen Rangers Club Notes 11/04/22
John Glenn
A night not too be missed, John Glenn, live in the rangers Hall, Easter Sunday night. Admission, £12/€12, pay at the door.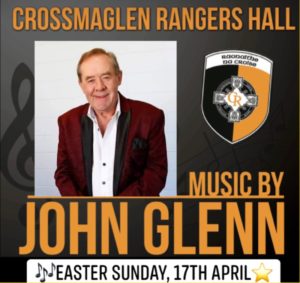 Armagh SFL Rd 2
Clann EireannV Cross
On Sunday, we travelled to Clann Eireann, Lurgan, for the  second round of the Armagh Senior Football league. Kevin Falloon was the man in the middle. We were quick out of the blocks, three points in as many minutes, (Seannie McConville, Caolan Finnegan & Daniel Cumiskey)  to give us an early lead. The home side slotted over a point in the tenth minute to get their scoring underway. We had a number of missed opportunities and should of been further ahead at the half way point of the first half. The start of the second quarter both sides traded points, (Seannie McConville) two was the difference with the clock ticking down to half time. Clann Eireann scored their third point to bring it down to a one point game but just before the half time whistle blew, Callum Cumiskey converted a free,  to leave the score at the mid way point;
Clann Eireann 0-3 Cross 0-5
Seconds after the ball was thrown in, the lurgan men had a point registered and once again the bare minimum separated the sides. Callum Cumiskey got our opening score of the half, a point  (F) followed quickly by a point a piece from play from Dara O'Callaghan and Paul Hughes to stretch our lead to four. A Clan Eireann point from play brought it back to three and ensured an exciting last quarter was on the cards. Callum Cumiskey recorded his third point of the day and Aaron Kernan his first, to put us in a commanding position with only minutes remaining  but the home side weren't finished yet, a goal just as the game hit the sixtieth minute left two the deficit as the game entered injury time. A super strike from substitute, Aodhan O'Callaghan sailed over the cross bar and Ronan Fitzpatrick got his name on the scoresheet to bring the scoring of the game to a close. Well done lads and management.
Clann Eireann 1-5 Cross 0-12 
1. Conor Deery 2. Daniel Cunningham 3. Aidan Rushe  4. Tony O'Callaghan 5. Paul Hughes (0-1) 6. Aaron Kernan (0-1) 7. Garvan Carragher 8. Ronan Fitzpatrick (0-1) 9. Daniel Cumiskey (0-1) 10. Patsy Finnegan 11. Callum Cumiskey (0-3) 12. Dara O'Callaghan (0-1) 13. Caolan Finnegan (0-1)  14. Declan Stuttard 15. Seanie McConville (0-2)
Subs; Orin Mckeown for Daniel Cunningham, Bernard Cassidy for Aidan Rushe, Tommy Og Duffy for Garvan Carragher, Aodhan O'Callaghan (0-1) for Patsy Finnegan & Caolan Dillion for Declan Stuttard.
Match ball sponsored by Phil Duffy
Field rota Wk 11/04/22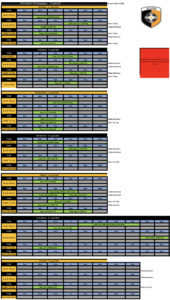 Fixtures
Monday 11th April
Cross V Carrickcruppen, Cross,  6.45pm
Tuesday 12th April
U13 League Div 1 South
Cross V Silverbridge, Cross, @6.45pm
Wednesday 13th April
Reserve League Group 3 Rd 1
Killeavy V Cross, Killeavy, @7pm
Crossmaglen LGFA Notes:
Hard Luck Armagh Ladies!  We would like to commend all members who represented our club Sunday. We had over 70 supporters travel by bus, and it was a great day out. A big thank you to everyone who helped with supervision, to ensure all the supporters had a great day out.
Ulster Minor Final

Sat 16th April

:
We are hosting the Ulster Minor finals
this Saturday
, this is a double header. We are reaching out to all available volunteers, to help out on the day. We need stewards and support with refreshments. If you are available, please let Marion know.
Training for our teams this week:
Senior and Minor players are training Monday and Saturday this week. If you are interested in getting back to football, please contact Peter McMahon or Maria O'Donnell
U16.5 team: Training continues on Monday and
Thursday evening
. There will be an update sent to parents, or get in touch with Caoimhe Dooley, Ciara Conway or Colm Dooley for more information.
The league is starting in coming weeks, so it's important all player are attending training, once per week.
U14.5 team:  This week's  training will be Monday and
Thursday evening
, for more information contact Eilis Short, Martin Aherne or Lisa Jennings. This group had a great outing in the league against Mullabrack, keep up the hard work.
U12.5: Training continues
on Wednesday evening at 6pm
, this week, we are on Pairc na Og. We are delighted that this group have two wins from two, so far in the league. We have no official fixture this week, but details of a challenge match will be shared in the next few days.
U10.5: This training is aimed at our P5 & P6 players, and will be Wednesday evenings
615- 7.15pm
in Pairc Na Og. For more details,  contact Eddie Hill, James Carragher, Andrew Keegan or Micky Kane.
Gaelic4Mothers&Others are back out on the field Monday nights
at 6.15pm
. All players are reminded to have their boots and gum shields.
Registration is to be completed through the Foireann website, and payment should be made online.
Cross Rangers Lotto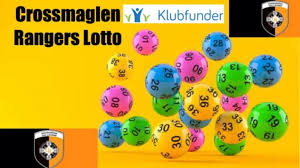 Draw Date; 10/04/22
Numbers Drawn; 7 19 20 25
No Jackpot Winner; 
1 match 3 numbers; Patrick Murphy McShane c/o Benny McShane wins £100. Well done Patrick.
Next Lotto Draw; 17/04/ 22
Jackpot; £4800/€5800
Irish GCSE Revision Course
An Irish GCSE revision course will take place on Wednesday, 20th April. Please use the link below to register
https://www.klubfunder.com/Clubs/Crossmaglen_Rangers/EventRegistration#EventRegistrationOptions?prod=Irish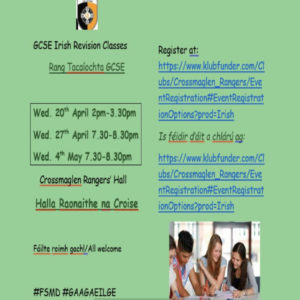 Irish Dancing Lessons
Irish dancing with Majella continuers on Monday, 4-5pm, Rangers Hall. New faces welcome.
Drug & Alcohol Awareness Evening
This week, U17 boys will attend the workshop on Wednesday evening, starting  at 6.45pm and finishing  at 8pm.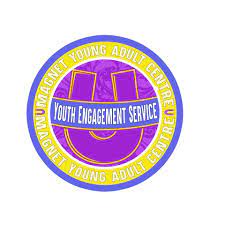 Cross Rangers Golf Classic 2022
Cross Rangers Golf Classic will take place on Friday, 8th July at Concra Wood. Book your tee time by contacting Joe Kernan or Gene Duffy. Sponsoring  a Tee box is an ideal way of supporting our classic, it costs £100/€100 and we will provide the sign which will displayed at the classic, on our social media sites and our media wall at the club after the golf classic is over.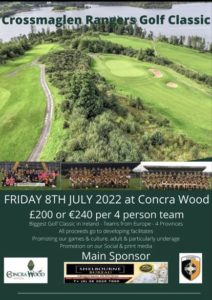 Finally, its is unfortunate that we have  to post this again. People are  taking their dogs for a walk on the track. We have new signs in place on all entrances to our grounds and we ask everyone for their cooperation. Also, please use the bins provided or take your rubbish home.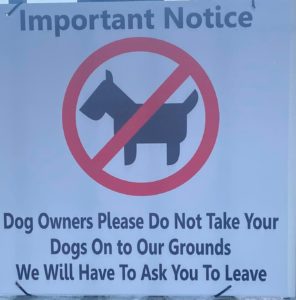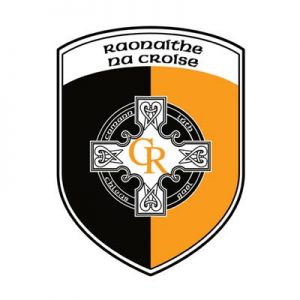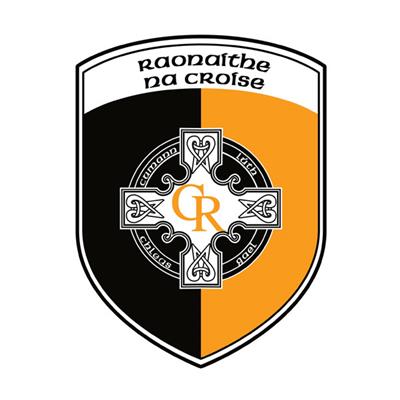 Posted: April 10th, 2022 under Club News.