Crossmaglen Rangers Club Notes 10/08/20
Senior team sponsored by Hanratty Oils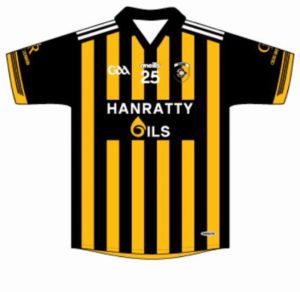 Armagh SFC Rd1; Cross V Silverbridge
A sultry Athletic Grounds was the setting for our first round clash of the Armagh senior football championship against neighbours, Silverbridge Harps. Before referee Ollie Hearty threw the ball in, a minutes silence was observed for the late Goretti Campbell, Silverbridge. It was the opposition who settled  quickly, three points in as many minutes to give them an early lead. Cian converted a free in the seventh minute to get us off the mark. A number of missed opportunities for us followed in what was a very fast moving encounter. Two super strikes, one from Oisin and the other from his Brother, Rian sailed over the bar to level matters  for a brief period before Silverbridge edged in front once more with a point, the result of a free. Just before the first water break, we moved the ball well down the field, a super pass from Oisin to Mel to Oisin who struck the ball into the Bridge net to give us our first goal of the afternoon. Seconds after play resumed following the water break, Silverbridge had a point registered to leave just the bare minimum between the sides. Again both sides had a number of wides, as the game entered the last ten minutes of the half, both sides traded points, Dara O'Callaghan our scorer. As the half drew to a close, two unanswered points, Rian and Cian (F) meant the goal was the difference at the break.
Cross 1-06 Silverbridge 0-06
A Rian point was the opening score of the second half, a half which we dominated. Two goals from the Kernan Brothers, Tony's goal coming first,  Mels shot was stopped by the Bridge goalie, the ball rebounded to Tony who struck it well to give us our second goal of the match. Less than a minute later, a fantastic pass from Oisin to Aaron who hit a rasper of a shot to register our third goal on the scoreboard and to put us in a commanding position. Both teams scored a point a piece . As we entered the final quarter of the match, Silverbridge were awarded a penalty which they scored to reduce the deficit. A point each from Kyle and Chris brought our scoring of the day to a close and as the game entered injury time, Silverbridge slotted over a point to leave the score at full time;
Cross 3-10  Silverbridge 1-08
Well done lads and management. We now play Mullaghbawn in the quarter final of the Armagh championship next Saturday at 5pm, venue tbc. Club members, please be aware, we will post details regarding tickets etc as soon as we receive the information. 
Well done to Caitlín Lenaghan who sang Amhrán na bhFiann before today's game. 
Armagh junior football league Rd 4 
Eire Óg V Cross
Saturday evening our seconds travelled to Craigavon for their round 4 game of the junior league. The opening minutes were an even enough affair, only one separated the sides with ten minutes gone. Two points a piece and as the game headed for half team, only the bare minimum was the difference. Two points from Eire Óg in the final minutes of the half extended their lead to leave the score at the break
Eire Óg 0-7 Cross 0-4
The second half was low scoring and evenly matched, three points for the home side and four for us but we had a number of missed opportunities in the final minutes of the game and it was Eire Óg who hung onto their lead to secure the points and win on a score line of;
Eire Óg 0-10 Cross 0-8
Hard luck lads and management.
Sponsor A Ball Armagh SFC QF
Hanratty's Bar will sponsor the ball for our Armagh senior football championship fixture against Mullaghbawn which takes place next Saturday. Many thanks to Eugene, Teresa and the Hanratty family for your sponsorship and ongoing support.
Pictured below; Eugene presents the ball to Dara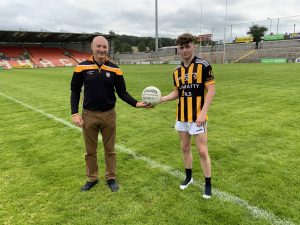 Sponsor A Ball Armagh JFC Rd1
Brendan Watters, Watters Hygiene Supplies will sponsor the ball for our Armagh junior football championship fixture against Redmond O'Hanlon's which takes place in Silverbridge on Sunday. Many thanks to Brendy for your sponsorship and support. For all enquires about Watters Hygiene Supplies, contact
[email protected]
or www.wattershygiene.com
Pictured below; Brendan presents the ball to Shane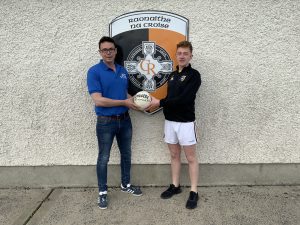 Good luck to the entire squad and management.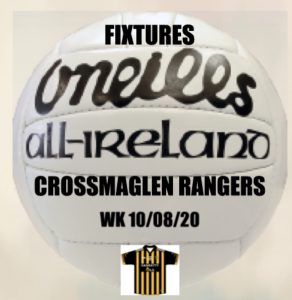 U13 League South Div 1 Rd 3
Cross V Keady, Cross, 7.15pm
Sunday 16th August
Armagh JFC Rd1
Cross V Redmond O'Hanlons, Silverbridge, 2pm. Referee; Kevin Gallogly

Pitch Rota Wk 10/08/20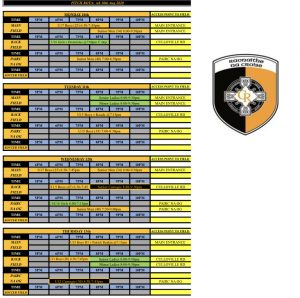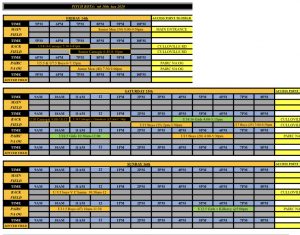 Safe Return to Play:
We are all delighted to have all teams got back out training, and fixtures have been began with leagues. We encourage all our members to ensure the keep in touch with their managers to keep all information and records up to date as per the GAAs guidelines.
Reminder for all parents and players, please ensure that all players bring and wearing their gumshields to all football.  This is compulsory in the GAA.  Also players should have their own water and gloves with them to training to ensure everyone's safety at this time.
U10 & U12 training times this week:
There will be no training
on Monday night
.  The next game is against Kileavy,
next Sunday
. It is a home fixture. We will have more details during the week.
All U10.5 players will train on Pairc Na Og.  We are encouraging all girls for P3/R3 and up to attend this training.
U14 & U16 training information: 
The U16s had a fantastic game against Mullaghbawn
on Monday evening
 past, and came away with their first win in this season's league.
This week is the start of the Championship for the U16 squad.  The girls will take on Dromintee, at home
on Monday evening at 7pm
. Restrictions remain in place regarding supporters, but we encourage those who can attend to come out and show your support.  Good luck to the girls and their management.
Wednesday 6pm to 7.15pm
: All players,  including those who have just completed 1st year of secondary school should attend this training session.
Minors & Seniors
came up against Lissummon
on Saturday night
. This was a big game for the girls, as it was an away fixture and we have struggled to get a win against Lissummon in their field.  However, we are delighted to report that this did not put the team off and after a really competitive game of football, we came away victorious. That is three for three for our senior team.
They continue to train together with Maria & Peter. They will keep in touch with you on arrangements.
Registration information:
Registrations are now due and can be paid online or to your coach. All players need to be registered in order to train and play for the coming season. Thank you for your cooperation.

DVD's All Ireland victories, 07,11 & 12
We hope to have copies of the above victories for sale next weekend.  There will be three discs, which contain the five games and will cost £15. No pre-ordering this time. I'll post on our social media sites when they will be for sale. We will also be selling club badges and key rings costing £3.50 each or two for £6.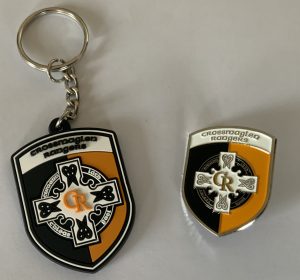 Draw Date; 09/08/20
Numbers Drawn; 13  14  19  21 
No jackpot winner 
5 matched 3 numbers winning £20 each; Anna Duffy, Teer, John Hand, Marguerite Donaghy, Mags Short & Ryan McCudden-Carr 
Jackpot; £1600/€2600
Play online; https://www.klubfunder.com/Clubs/Crossmaglen_Rangers/lotto or tickets available in a number of local retail outlets.
Casey's Cash For Clubs 
This week Casey's Supermarket Crossmaglen are launching a loyalty scheme with all local GAA clubs. By joining the scheme and shopping local,  you will not only earn points and get access to special offers but you will also be supporting Cross Rangers. Representatives from Casey's will be in the Rangers Hall on Thursday 13th August from 4-8pm to discuss this new scheme and to distribute loyalty cards.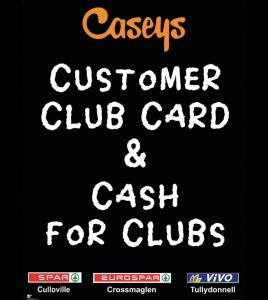 Mrs Elizabeth Matthews, Tubbercurry, Sligo
Crossmaglen Rangers GFC send our deepest condolences s to Hillary, Martin, Sean Óg, Martin Óg & Adam Shields and the extended family circle on the sad passing of Hillary's Mother, Elizabeth.
Ar dheis Dé go raibh a hanam.
Posted: August 9th, 2020 under Club News.