Crossmaglen Rangers Club Notes 11/05/20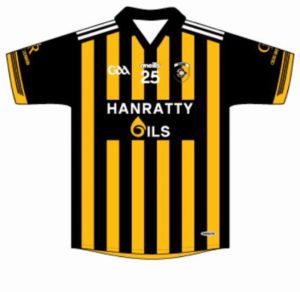 Reminiscing About A Ranger 
This weeks, Reminiscing with a Ranger is different, we are reminiscing about a very special person, a Ranger no longer with us but who left an everlasting legacy, the late Gene Larkin. Thanks to Sinéad, her Mother Margaret, Sister Mary, Brothers Peter, Paul and Eugene for sharing wonderful stories, memories and photographs of a much loved husband and Father.
Pictured Below; Gene Larkin RIP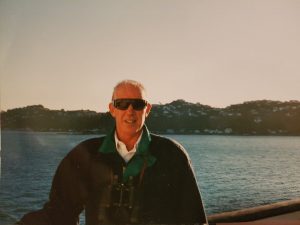 RM; Sinéad, thanks for taking the time to talk to me about your late Daddy, Gene.
Can you tell me about his childhood and any memories he shared with the family of him growing up?
SL; Daddy grew up in Drummuck in the house beside where we live. He was the youngest of 11 children – 8 boys and 3 girls – of Peter and Brigid (Rooney). Like many families in those days, children emigrated and settled abroad. Mickey, John, Peter and Kathleen all moved to England. Paddy, Jim and Terry went to New Zealand initially, with Jim settling in Rotorua, NZ and Paddy and Terry later returning home. Daddy and his sister, Annie (Hearty), remained at home in Ireland and in the parish. After his mother passed away, Daddy took over the small family farm. The Larkins have been on the same farm in Drummuck since at least the 18th century. In the old days they kept a variety of livestock but mostly produced vegetables that were sold on the market square in Crossmaglen. Naturally, in big families there are plenty of stories. The boys had a large loft room with outside step that allowed them to slip in and out. Often they would be out with their Rooney cousins from Clarnagh or some of the neighbours, theConnollys, Conlons or Nugents. It was always great when relatives came home to visit; you would often hearnew stories but you also saw the connection between the siblings and their ties to their birthplace. We were told heonce got in trouble for something and took off running so fast, John Joe Barry the Olympian wouldn't have caught him! He never lost that speed – challenging Peter, Paul and Eugene to a race and beating them despite their youth and ample head starts! Like anything an evening of storytelling could not go by without a fair share of football stories, great players or tough games.
Pictured Below; A young Gene Larkin RIP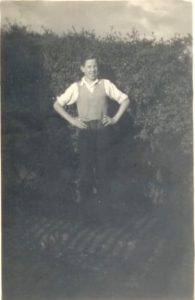 RM; What age did he start playing football and do you know if he showed any signs at an early age of the immense talent he had?

SL; He would have started kicking a ball around with his brothers in the farmyard. There were no fancy O'Neill's size 5s back then! The ball would be made from a pig's bladder and with plenty of boys in the house, there was always a game on the go.If not, they were playing handball in ball alley in Mobane. He did mention that he played as a goalkeeper at school and there is a picture of this school team hanging in the Rangers hall. We found a school report card from his primary school days where he was first in almost every running or sporting event. Naturally, when you grew up on a farm, you developed a strong physique and he was blessed with large hands, which further added to his ability to catch the ball. He received a scholarship to go the Abbey Grammar School in Newry,but instead stayed at home to work the farm, so he missed out on a chance to play colleges football. He went on to study Agriculture in Greenmount College, going on to work in the Department of Agriculture in Tyrone and then Keady. Prior to getting married, Daddy had lived for a while in Ballygawley, where he often trained with some of the Tyrone players, the McGirrs and the Harte brothers, the start of a lifelong friendship with Pete Harte. 
Pictured Below; Gene at his graduation.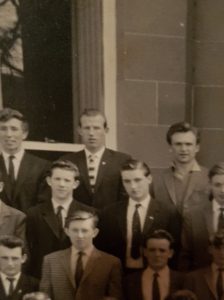 RM; Can you tell us about the many achievements your Dad won on the field and also, when his playing days were over, can you tell us about the Trojan work he did for Crossmaglen Rangers and the GAA?

SL; In his playing days, Daddy represented the Rangers, Armagh and Ulster and he also played for Mobane Emmett's, who only existed for a few years but included former greats Gene Morgan and Kevin Callaghan to name just a few. Mobane lost the Junior championship final to Ballyhegan in the mid-50s when he was still in his teens. He played for Armagh minors for 3 years and won 2 Ulster minor championship medals in 1953, as a defender at 15 and again in 1954 at 16, when he played midfield along with Jimmy Whan from Madden.Unfortunately, these two wins were his soul successes from playing with the Armagh county teams over a total of 17 years. However, the story was the opposite with the Crossmaglen Rangers Senior team. From the late 1950s there was a revival starting, leading to the great team of the 1960s who went on a very successful run. He was captain of the first team to win the McKillop cup for the Armagh Senior football championship since 1947 in 1960 and again in 1962. The team won three in a row from 1965 to 1967 where he captained the team for his 3rd and 4th winning years, before his sixth senior championship medal in 1970. We were honoured to be part of the recent celebrationsfor the teams of 1960s on his behalf and to hear from his team mates of his athletic ability and how much they thought of him as a player. Of all these successes, he talked about the great people he played with such as the McCreeshs, Nugents, Caseys and the Morgans to name just a few locally, as well as the McKnights, Kevin Halpenny, Jimmy Whan and Brendan Donaghy with Armagh. It was amazing listening to stories of tournaments all over the country, but most importantly, of the friends he made over the years as a result of playing football. Daddy told the funny stories about the supporters and skirmishes, some which were almost unbelievable but weheard years later from John Martin and Ollie McEntee the same, word for word! He played football in the USA at the end of the 1960s with Tom McCreesh and there was a story about meeting a subway conductor in New York who, as it turned out, knew everyone about the town of Crossmaglen and the Rangers football club. Yet he had never been out of the country! It unfolded that Father Halpenny showed photos and videos and told stories about Crossmaglen when he was visiting friends in America and everyone was fascinated by what an incredible place Crossmaglen was!
Pictured Below; Gene & his teammates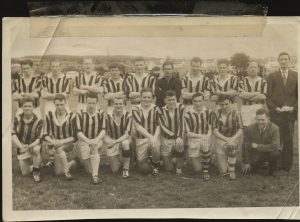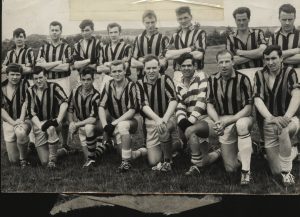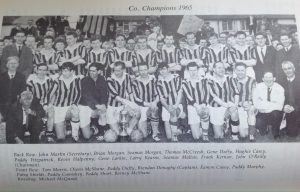 Pictured Below; Peter & the victorious 1960's team which were honoured at a gala night in 2019.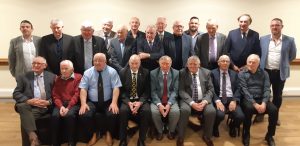 SL; I suppose other achievements that we are proud of is when Daddy placed in midfield for Ulster in the Railway Cup final on St Patricks day in 1962, alongside Jimmy Whan and many of the Down greats of the 1960s such as James McCartan Senior, Dan McCartan, Paddy Doherty and Sean O' Neill. This was the first live televised Gaelic football match in Croke Park. 
Pictured Below; Gene Larkin & Ulster team, Railway Cup Final, 17th March, 1962.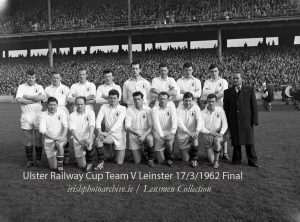 When he had played for Armagh Seniors they only once reached the Ulster Final. He played middle of the field in the classic final against Down in Casement Park in 1961. From accounts we were told by many, in the dying minutes, he launched the ball into the square and the ball went in for a goal, only to be disallowed and Down won through by a goal,2-10 to 1-10. Daddy was always commended for his sportsmanship on the pitch and was never sent off during his 17-year county career. After Daddy retired from playing around 1971 he became more involved in management and administration from the outset, including for a brief time as Armagh county manager in 1973. Alongside John Martin and John O'Reilly he was involved with representing or fighting for Cross Rangers at County Board level from the 1960s and by the time he retired he was no stranger to Administrative matters in the GAA.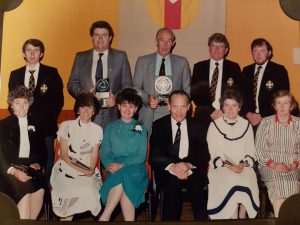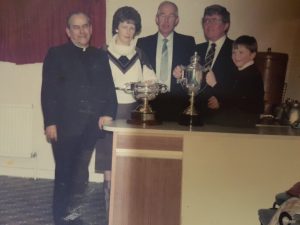 SL; Fighting for the field; When the British Army moved to requisition parts of the ground Daddy spoke on the motions to Congress from 1971/72 until the time he passed away. Indeed, in the late 1980s he remarked in his plea to Congress for support that his eldest son, Peter, who was the Armagh youth delegate at the time, was not even born when the field had first been requisitioned. From the 1970s our house was a stream of GAA presidents and provincial and county stalwarts and the great Croke Park Committee, led by my father's close friends Cardinal Tomás Ó Fiaich, GAA president Con Murphy and Ulster President Peter Harte, as well as Tommy Walsh, Liverpool, Donal Ó Faolain, Waterford, Aidan McGowan, Leitrim and Gene Duffy and Daddy from the Rangers.  Weremember once, we believe it was 6 past and future presidents of the GAA, Ard Stiurthoir Liam Mulvihill and people from Irish foreign affairs all on a visit to see the damage at the field. The "two Genes" worked tirelessly on it. Every influential and available person was sought to support the releasing of the ground from the occupation of the British Army. Alas, he did not live to see the peace process and the St Oliver Plunkett Park being handed back.
Pictured Below; Gene with other Croke Park committee members speaking at the rally held to show support for the club.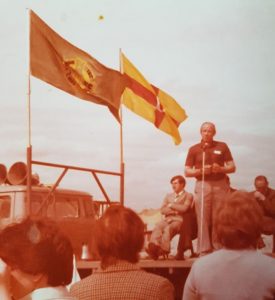 SL; For us it was great! We got to meet journalists andcommentators, like Mícheál Ó Muircheartaigh, Michael ÓHehir, Mick Dunne and Jimmy Magee and hear our father on the radio or on TV interviews, including on The Late Late Show for the centenary of the GAA. Looking back, it was a lifetime commitment to our games and past times, our heritage and our culture. Later he served on the Ulster Council as Treasurer and Vice President and was chairperson of the Ulster Hurling committee when Ulster won the Interprovincial Hurling Shield. Going off to matches early on Sundays to see the Ulster championship was brilliant. Ballybofey, Irvinestown, Clones, Casement and Omagh. Our Sundays and summers revolved around games and holidays planned around the Ulster final! We lost count of the great players that we met growing up, including Mick Higgins from Cavan, who he viewed as one of the all-time greats of the game. He seemed to know them all. Daddy was also selector of the Ulster team with Manager Brian McEniff in the mid-80s, with the boys meeting many of the Ulster greats, Joe Kernan, Eugene McKenna, Kevin McCabe, Nudie Hughes and Greg Blaney. Great memories for all of us. 
Pictured Below; Gene presenting the winning cup to Dermot McNicholl – Ulster U21 Champions Derry.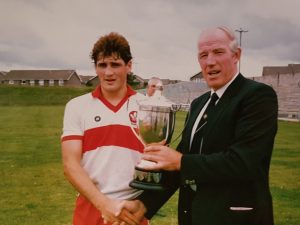 RM; How did your Mum and Dad meet?
SL; My mother and father met in 1965 at a dance in Blackrock, Co Louth, which was the dancing capital of the times in the area. She said he talked for an hour and that was it! Luckily she liked football and hurling too, as needless to say, he was late to many a date because of a match! Together they were a great team! After three years they married and settled in Donaghmore, Co. Tyrone near where Daddy was working. They built our house and returned to Drummuck in 1972 after Mary and Peter were born. 
Pictured Below; Gene & Margaret on their Wedding Day.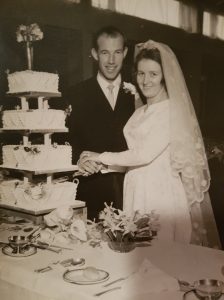 Pictured Below; A family photo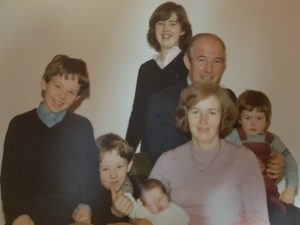 SL; There are five children in the family, two girls and three boys in between. 
Mary is the eldest and has been based in the US for the last 25 years where she is President of the US division of her company. She works in the trade show industry and travels the world over. She is the current President of the Global Trade Show Exhibitions Association.
Peter has continued the Larkin farming tradition and runs an agricultural shop. He crossed parish boundaries to Lower Creggan and married Maureen (Mackin) from Cullyhanna. They have 3 children, all of whom have played underage camogie or football for the Rangers, Deirbhile, Pearse and Shea. 
Paul works as an engineer and lives in Herrsching in Germany. He has 3 children, Briana, Ciarán and Rían, all of whom love sport, especially handball. Paul followed Daddy into the administration side of the GAA after his playing days, helping set up the Munich Colmcilles GAA club and serving as Chairperson of the European County Board of the GAA back in 2003.
Eugene, (also known as the golden child of the family!) is living in Killinchy, Co. Down with his fiancée, Joanne, and working for Citibank in Belfast. Locally, he has served in many positions in the Credit Union, currently as Chairperson. 
I am the baby of the family! I've recently moved home to Drummuck after 15 years in Dublin, although I still commute. I am currently working in finance and asset management for a US datacentre company. 

RM; What was it like growing up in a house where life revolved around Gaelic football?
SL; It was normal for us; we didn't know any different to be honest! From a young age, we were all mad into football. I was always too young to go, but I drove Mammy crazy asking until she made Daddy take me! If we weren't at games, we were watching games and then the highlights after! Mary still talks about how Daddy used to always write down the scores on a Sunday night, sometimes with her eyeliner! Like many, the GAA was a central part of our lives. Part of our family identity. If it was not at football or camogie, it was something else.Some of us played schools handball in Croke Park. We all took Irish classes in the loft in the old Rangers hall, taught by Henry Savage from Cullyhanna. The children's classeswere first and then the adults, with Daddy studying along with Minnie Clarke and Paddy Cumiskey. We saw closely the amount of work that goes in as well from the administration side. The meetings, the phone calls, the dinner dances that had to be attended. Even though Daddy was side-lined at one point with surgery, some meetings would go ahead, but they would be in our sitting room! He lived and breathed the GAA and we did that with him. You couldn't get away from it! Daddy loved to talk and as he knew everyone, every time he met someone, you'd be there for an hour and most of it was football! 
RM; Sinéad, your family, our club, the community and the GAA world suffered an immeasurable loss with the sudden and untimely passing of your Daddy. I'm sure there are no words to adequately describe what it meant to lose a much loved Husband and Father?
SL; That's it Roisin, no words can describe the pain at losing Daddy while he was so young.I remember the shockwave around the club and the town at the time at his loss, especially given it was a year from the day the Cardinal had passed. It was 29 years ago on Friday, but it seems like yesterday at times. We were all quite young, all still at school and university.It was hardest on Mammy as she was left to raise the 5 of us on her own and she carried us all through. Our parents were the rock that held our family together. From the moment Fr Sweeney called at the house to tell us he had passed, Mammy took over that role alone.  When we all look back, we appreciate and understand the strength and character she had, getting all 5 of us through school and university and keeping the family farm running. Even through the years, where she had to attend our milestones on her own, it was tough on her and also us, knowing he missed out on things. I think that is probably the hardest bit. He'd be immensely proud of Mammy andour achievements.He'd love the fact that his grandkids are bilingual in Irish or German, their involvement in traditional music and that they all play for the club, even Paul's joining the summer scheme when home. We may only have had a short time with him, but we made great memories as a family. He loved to travel and luckily made his trip to New Zealand to see his brother Jim and his family before he died, although got caught in the San Francisco earthquake on the way!He loved France especially, where we spent many summer holidays. It may also have been something to do with being a massive fan of Sean Kelly and the Tour de France! He and Mammy instilled the values they held dear into us and if we are held in half the esteem he is, I think we will be doing well.
Pictured Below; Gene and his good friend and fellow Gael, Cardinal Tomas O'Fiaich  who died suddenly, exactly one year before Gene. Gene & Cardinal O'Fiaich in Rome  
Pictured Below; Gene, Chairman, Crossmaglen Rangers  makes a presentation to Monsignor O'Fiaich in 1974.
Pictured Below; Gene with his Brother Jim in New Zealand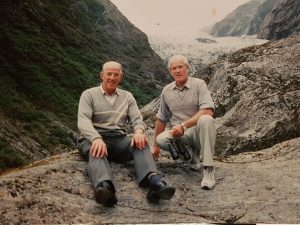 Pictured Below; Gene in  San Francisco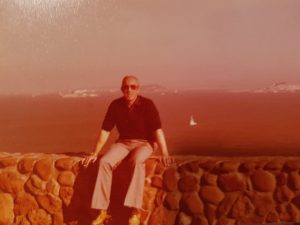 RM; I'm sure all the lovely memories, support and all the beautiful messages the family received helped you all in those dark days following his sudden passing?
SL; The support received from the minute we found out he had passed was incredible. Family, neighbours, the community and in particular the Rangers family rallied round us and that's what gets you through it. It was so uplifting to hear the high esteem that Daddy was held in, in every aspect of life, in the community, the club, the wider GAA and just as a person. There were many lovely tributes written across the country, stories told at his wake and afterwards. I just remember the sea of people that called to the house, cards and messages streaming in and people who travelled the length of the country and from abroad to be with us. You can never thank people enough for the support during times like that and the years after. Even now, no matter where we go, if someone hears you are Larkin from Crossmaglen, you're asked are you any relation to Gene? The boys sometimes joke that their name is really – "Are you a son of Gene Larkin?" And then the stories startagain!He'd love to be there to hear them and join in! 
RM; Your Daddy's dedication and passion for Cross Rangers will be forever remembered, men like Gene lay the foundations for the great club we have today, can you tell us what Cross Rangers means to you and your family?
SL; It's amazing to see the renown of the Rangers club outside the county. When people hear you are from Cross, whether they're from Kerry, Dublin, Galway or Donegal, they are mad to talk about our achievements, the invites they received to thetournaments or blitzes, who they met at a match and what a great club we are.Young or old, in business or socially, GAA people love to talk about the club and it's great to know we are all a part of it. It is true what they say, that club is family. Daddy would be fiercely proud of the achievements of the club, both on and off the pitch, since he died. It's unfortunate that he and some of our great stalwarts didn't live to see both Cross and Armagh winning All-Irelands, although I'd say they caught & kicked every ball with them! I remember standing in front of the team when they came home in 1997 after winning their first All-Ireland and thinking this is what he was fighting for, days like this, when the whole town gets to celebrate together. The club is the backbone of every small town in the country, and one of the most important things is that the games are for everyone; we hold them in trust in our time and then we pass them on to the next generation, for them to enjoy participating in and sharing with the generation after. That's what makes the GAA the great association it is. It's sad to see the number of great stalwarts of the GAA mentioned that have passed away, both in the Rangers and further afield, but as you said, they helped lay the foundations for the great clubs we have and it's up to us to keep building on them for the generations to come.

Crossmaglen Rangers Zoom Cooking Demo
During the week we held our inaugural 'Rangers Zoom Cooking Demo' and what a super evening it was!  These strange times have saw us move away from the conventional way of doing things and this was a prime example of how adapting the so called 'norm' can be so successful. Huge praise for our hostess, Michelle McConville and her assistants, Aoibheann and Lauren. Many thanks to Kevin McNamee and Fergal McMahon who sponsored a delicious food hamper.
The winners of the hamper were;
First Prize; Johanne Donnelly
Second Prize; Valerie Courtney.
Well done Johanne and Valerie.
A total of £500 was raised from the event and this will go to the Southern Area Hospice. We look forward to our next zoom cooking demo.
Pictured Below; First Prize; Johanne Donnelly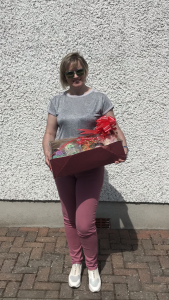 Pictured below; Second Prize; Valerie Courtney 
Due to the covid 19 virus, we regret we have to cancel this years golf classic.
FACTORS IN OUR DECISION
Health/safety and well being of our three hundred golfers, guests and concra wood staff.
 We could not guarantee accommodation, catering or hospitality.
There was no guarantee of flights for friends coming from abroad, especially from Spain.
 PLEASE SUPPORT OUR LOCAL BUSINESSES.
We would urge everyone to support our local business community now and when this crisis is over.
Our local community and from further afield have been fantastic supporters over many years.
The sponsorship is much appreciated
GOLF CLASSIC 2021
Dates for your diary; GOLF CLASSIC 2021;
Friday 9th July
sponsored by Newry Bureau De Change.
Rangers Children's Story time
Rangers story time continues this week
Tune into Cross Rangers FB page daily at 7pm for a bedtime story!
Thanks to all our storytellers during the week, it has been a roaring success! Anyone who would like to be a storyteller, please contact me.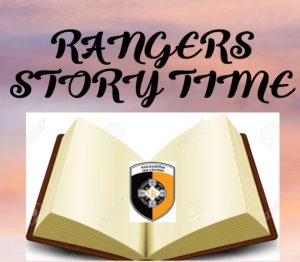 Our second children's quiz takes place this Wednesday evening after story time, Cross Rangers FB page. Thank you to Johanne who will once again set the questions.
Don't forget, our online quiz on Saturday evening at 7.15pm.
Condolences
Gerard McKeown, Manchester 
Crossmaglen Rangers GFC send our sincere condolences to the McKeown family following the recent sad passing of Gerard. Ar dheis Dé go raibh a anam.

Marie Keegan, New York 
The entire club send our sympathies to John & the Keegan family, formerly Creggan on the recent sad passing of John's Wife, Marie. John, Kevin and Margaret Keegan are lifelong supporters and generous sponsors of Crossmaglen Rangers. Ar dheis Dé go raibh a hanam.
Social Media
Please check out our social media sites for updates, information, puzzles, quizzes, trips down memory lane, recipes and much more. As I said before, social media is the most important tool we have at the minute, it's both connecting and engaging people in our community and beyond. We continue to deliver groceries from Centra daily and any club member or member of our community who need any assistance at these difficult times, please get in touch. #inthistogether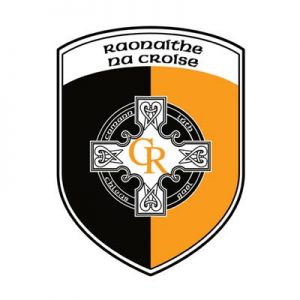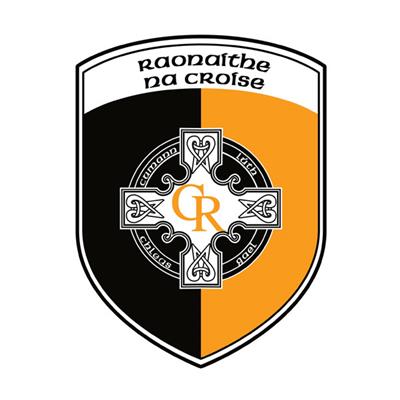 Posted: May 10th, 2020 under Club News.