Crossmaglen Rangers Club Notes 13/04/20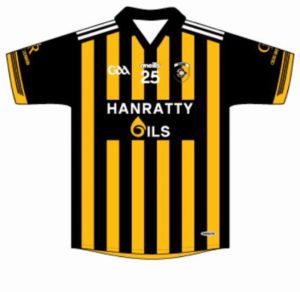 Reminiscing With A Ranger 
This week for Reminiscing With A Ranger, I spoke to Anthony Hearty, originally from the Dundalk rd but has lived in Liverpool for over six decades. Anthony has never forgotten his roots, is a proud Rangers man and this weekend, he celebrates a big birthday, he is 93 years old and like so many at this time, he is in isolation.
Anthony celebrates his birthday on the eleventh of April every year but it's quite possible that he was born on either the 9th  or the 10th because in 1927, Sunday 10th April was a Palm Sunday and there would have been no way of registering his birth. Anthony said that he was taken to Newry to be registered on the Monday and that's why his birth certificate says the eleventh.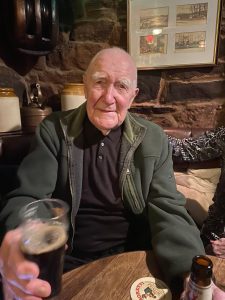 Anthony, can you tell me about your younger life in Crossmaglen, your Parents and siblings etc
Was football a big thing in your house growing up?
I have lots of happy memories of growing up as a youngster around Crossmaglen. My parents were James Joseph Hearty and Catherine Duffy. I was one of 10 children. My five sisters were Mary Therese , Liz, Anne, Kay and Margaret, sadly Margaret died in childhood at the age of three. My four brothers were Coleman, Jodie, Michael and Pat. The family home was Mountain View on the Dundalk Road. Growing up I worked on farms in the areas surrounding Crossmaglen. I'd lift potatoes and cut hay. My father James Joseph was a postman and used to deliver the post to the townlands surrounding Cross on a bicycle; I would carry his bag for him occasionally. They were happy times and of course football and sport were always a topic of conversation amongst the men of the house.
Why did you decide to go to England?
There was a lack of work in Ireland at the time. I would have done anything but most of the work was seasonal. I came to England for the first time in October 1945 with my brother Pat and got a job as a stoker in the gasworks. Most of the men were still away due to the war so they were looking for people like me and my brother. I was 17 at the time. Pat managed to get a job in the office. I was really homesick and came back to Ireland for the Christmas of 1946. I then trained and played for the Rangers until I left again in 1948.
You played for Armagh, so you must of been a good player, what position did you play?
I played at right half back for Cross. Some of the lads on the team said that I was the best catcher of the ball at that time. I went on to play for Armagh and got my first call up for the seniors in a game in Newcastle against Down; I scored a goal that day. I was one of the younger players and me and Benny Cassidy got the call up to play because Armagh were short of players.
Anthony, what about your achievements on the football field?
After this I got my Junior Ulster Medal in 1948. We weren't sure whether they would still let us participate as some of us had played for the Seniors, but a decision must have been made that I was still eligible, unfortunately two great players, Gene Morgan and Paddy Cumiskey were not allowed to play. Myself, Owenie Kearney, Tom Clarke, Bertie Regan and Kevin O'Callaghan all featured at different stages throughout the Ulster campaign. We beat Monaghan easily in the first round, Down were trickier, it took a replay and we still just won by a point. We beat  Cavan well in the semi final and in the Final we beat Antrim on a score line of 1-12 to 3-2 which gave Armagh their first Ulster championship win since 1935. There was jubilant scenes and it was brilliant that so many Rangers had played a part in this victory. I had left for England and missed the semi and final, the semi final was against Galway, Bertie Regan and Kevin O'Callaghan were on the starting 15 and a good win booked us a place in the All Ireland  junior final against Dublin which was played in Dundalk on 19th September. The final  generated huge excitement and large  crowds travelled to Dundalk for the final. Dublin has some super players including Kevin Heffernan and Jim Tunney. Surprisingly only Tom Clarke, playing corner forward was the only Ranger playing. With minutes remaining, Armagh scored a goal, the umpire disallowed it but an Armagh forward raised the green flag, the spectators raced on to the field and the game had to be abandoned. The replay was in Croke Park, the sidelines was closed to spectators but a better side beat us on the day.
Pic Below; Anthony, 3rd in from the R (Top Row)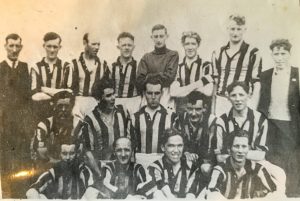 Pic Below; The victorious team of 1947, Anthony 2nd from the R,  front row (sitting).
Pic Below; Anthony's Ulster junior championship medal he won with Armagh in 1948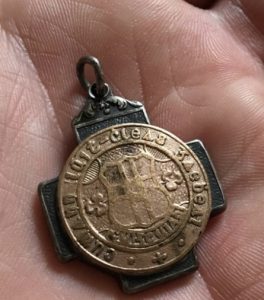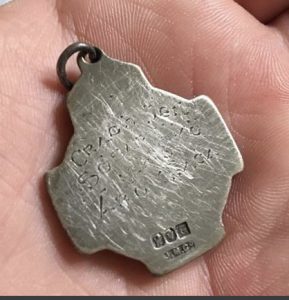 Who were your idols or who was the best on your team?
The best player on the team that I played with was Tom 'The Hawk' Clarke. There were two Tom Clarkes on the team at that time so they used to call him 'Hawk'.
I believe you married a girl from Liverpool but her Parents were from Crossmaglen?
In the Summer of 1948 I met Jane McArdle. Jane was born in 1927 in West Kirby on the Wirral, over the Mersey from Liverpool. However, her parents were from Crossmaglen. Her father was Jimmy McArdle and her mother's maiden name was Jane Cumiskey. Their family home was also on the Dundalk Road. Jane's father Jimmy had brought her back to Ireland for the summer; she was engaged to be married at the time. I asked her if I could take her for an ice cream and she accepted. When she went back to West Kirby I followed her over. Initially I couldn't find any work in and around Liverpool so I went down to London for work and later worked on the Hydroelectric Power Stations in Scotland. Later I managed to get work with her father doing general building work. Jane and I were married on the 2nd August 1951. We made our home here in West Kirby and never left. Sadly, Jane passed away in 1993. Jane and I had seven children together: Anthony, Terry, Catherine, Theresa, Joseph, James and Simon. We have 14 grandchildren and 15 great grandchildren so far, with another on the way.
Pic Below; Anthony & Jane Hearty on their wedding day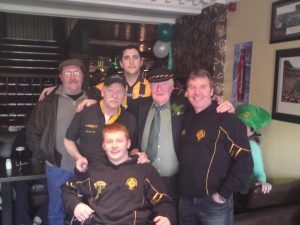 Thanks very much to Anthony for sharing these special memories, to Mike, his Grandson for contacting me. Men like Anthony Hearty have made our club what it is today.

Pic Below; Three generations, Anthony, Joseph & Mike Hearty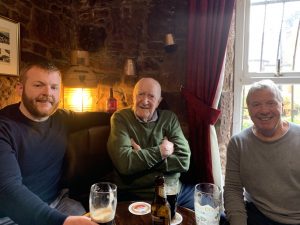 Thanks so much to all the boys and girls who sent in their drawings of their favourite players.
They were all amazing. Many thanks to Colm Devlin, Centra. Every child who sent in a drawing received an Easter egg, courtesy of Centra, Cross. It was tough to judge the drawings but four drawings got a special mention;
Romy Carthy drew her favourite player, her Uncle Kyle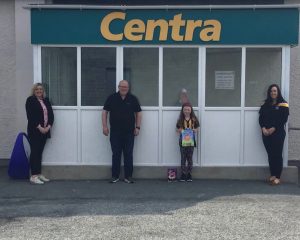 Keelan McEntee drew his Dad & Uncle John lifting the Sam Maguire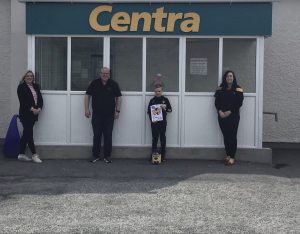 Cairde
Soon we will relaunch Cairde. Below is some information about Cairde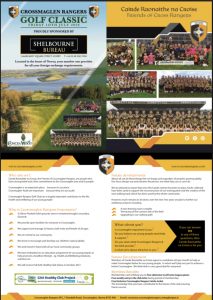 Rangers Rhyme, Song Or Verse!
This next challenge is to write a poem, verse or few words why Crossmaglen Rangers is important to you, maybe it's because you play, you support, you love running out on the field, you have a favourite player or it is that it is a big part of your family life. You decide and I'll share them on social media. Again we will have a few prizes up for grabs. Thanks to our generous sponsor, Raymond Watters, who has given us vouchers for Londis, Castleblayney. WhatsApp your piece, 0876659126, or take a screenshot. (Please remember to put your name on the article). Winners announced next Sunday.

Thanks 
Thanks once again to renowned quiz master, Gene McGinn who set the questions for our quiz on Saturday night. We will do it all again next Saturday at 7pm.
This past few days we have been sharing videos of key people in the club delivering a very important message during these difficult days. Watch our for more videos during the week!

Condolence
Oweny Farrell, Lisseraw
Crossmaglen Rangers GFC send our deepest condolences to Kevin, Lorraine, Jim and the extended Farrell and Teelan families on the sad loss of their father/Grandfather, Oweny. Ar dheis Dé go raibh a anam.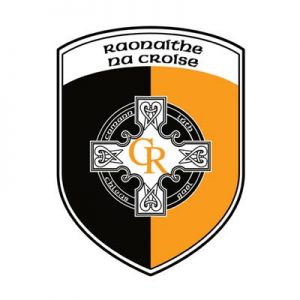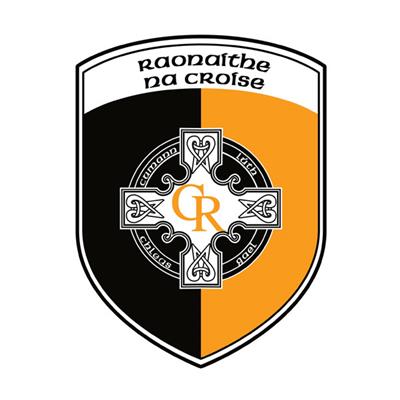 Posted: April 12th, 2020 under Club News.