Crossmaglen Rangers Club Notes 15/06/20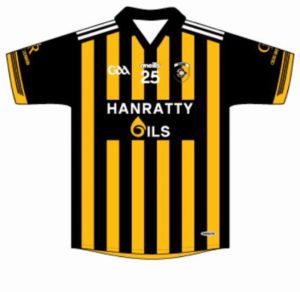 This week I reminisced with another Rangers legend who donned the black and amber jersey for Cross Seniors for twenty six seasons, the one and only, Larry Kearns.
Pictured Below;  Larry and Jim McKerr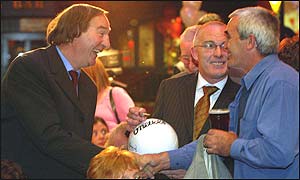 Pictured Below; Larry and his Wife, Angela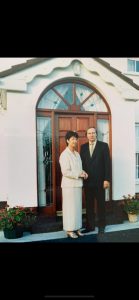 Pictured Below; Larry and Son,  Robert with Sam.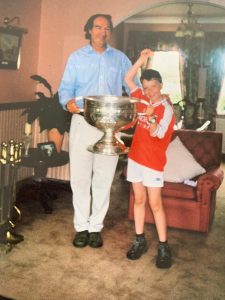 RM;  Larry, what age did you start playing football? Who were your heroes or who did you aspire to be like?
LK; Roisin, I made my debut for the Rangers senior team at the age of fifteen. My heroes as a young man were Frank Evers of Galway, and Mick O'Connell of Kerry. I always admired the ball catching ability of both men and tried to emulate their success as a midfielder.
RM; Is there any game that was extra special for you?
LK; It would have to be the All-Ireland final of '77. That year in general stands out, at club level, we won the county championship. When myself and three fellow Rangers, Thomas McCreesh, Joe Kernan and Thomas Cassidy lined out for the County and won our first Ulster title, I thought things couldn't get any better, but they did. In the All-Ireland semi final, we beat my father's county of Roscommon in two hard fought games, edging them out by a single point in the replay to secure our place in the final against the reigning All-Ireland champions, Dublin.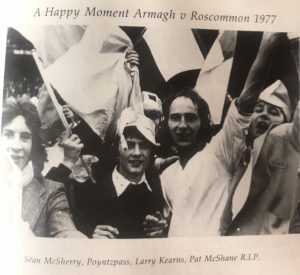 Pictured Below; Larry's Father, Paddy Kearns who played for Roscommon.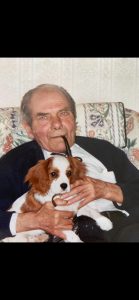 As it transpired, despite our valiant efforts, their experience won the day and it wasn't to be our day. Nonetheless, the build up to that final, is something I will cherish all my life.
Pictured Below; Larry and his Armagh teammates, 1977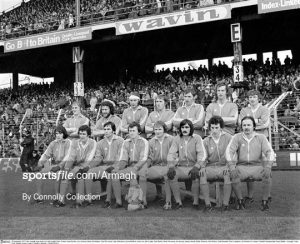 RM; Can you outline all your achievements?
LK; I had the privilege of lining out with the Rangers in twelve county Senior Championship finals, of which I won eight medals narrowly beaten may I add, in the other four. At least ten county league medals, I'm not sure of the exact amount, which speaks volumes of the great success I was honoured to have with the Rangers. A handful of O'Hare Cups, 1 Ulster County Championship medal and All Ireland runner's up.
Pictured Below; Larry in the black and amber.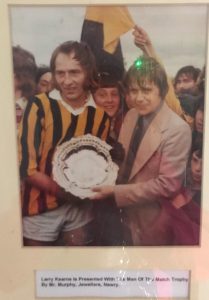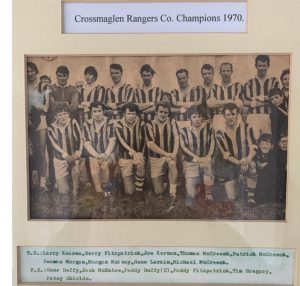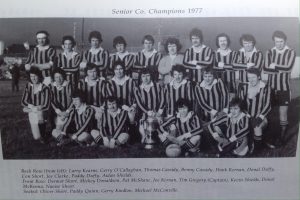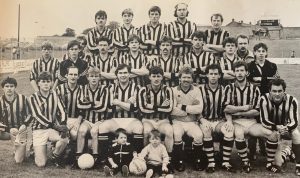 RM; What gave you the most enjoyment when you were playing? (Training, games or the craic!)
LK; Roisin, definitely not the former, I was not known for my enthusiasm towards training. My competitive nature would only come alive on match day. With regards to the craic, there were some great characters on the Rangers team of that era. Teammates such as Paddy Quinn and Donal Mckenna, with their quick wit, were capable of keeping the team in good humour, whether that be in victory or defeat.
RM; Larry. I've heard you took a butchers cap to games. Can you tell us about that?
LK; Roisin, In '77 I worked in F.M.C meat factory in Newry. At the time, one of my work colleagues was an ardent supporter of the Dubs. When he heard we were playing Dublin in a challenge match in Parnell Park (in preparation for our Ulster Final against Derry), he presented me with a white butcher's cap, and asked could I get it autographed by the Dublin team. After narrowly defeating us, I entered their changing room. Cap and hand, complete with marker, and the Dublin team duly obliged. The next day, I returned to work and presented it to him, now I have a friend for life. That was his All-Ireland medal.
RM; Was there any other incidents in games, did you lose something? I think the late great Dermot Earley might have been around when you were looking! Would you like to elaborate?
LK; Yes, I remember it well. In the run of play, I got into a tussle with the late great Dermot Earley. As a result of it my crown came lose. (Just to clarify, not the crown on my head, the crown on my tooth). When play was at the opposite end of the field, I seized my chance to discreetly scan the ground in a bid to find my crown. Little did I know, the camera had switched back on to me. I'm sure people were wondering why I was paying so much attention to the hollow turf of Croke Park.

RM; Larry, if you could play the game today, could you name five players you would like on your team?
LK; Roisin, I suppose in today's game, you would be hard pressed to look beyond the current Dublin starting 15, any one of them could be on my team. However, there are a few players from other counties that I would gladly like to play with. Aidan O'Shea of Mayo is a strong mid-fielder, The young David Clifford of Kerry is a superb forward with all the hallmarks to be a future all time great. In my opinion Conor McManus of Monaghan is one of the greatest forwards to come out of Ulster in decades. Moving down the country to Galway,Damien Comer and Shane Walsh are also excellent footballers.
RM;  Larry, can you name who you think were the greatest ever to play the game?
LK; It is a difficult task to whittle it down to a select few, however here's my selection (in no particular order) 1) Jack O'Shea of Kerry, 2) Brian Mullins of Dublin 3) Paddy Doherty of Down 4) Pauric Joyce of Galway 5) Peter Canavan of Tyrone. Last but certainly not least, our own Joe Kernan, who was a fabulous footballer, scoring 2-1 in an All- Ireland Final (not many have that honour). Along the way he collected 3 All-Stars and a number of inter-provincial titles with Ulster. After his playing days were over, he led Crossmaglen and Armagh to All-Ireland glory. He will go down as one of the greats in GAA history, and rightly so.
RM; Any advice for young players today?
LK; Not really Roisin, the modern game has become very taxing on players, I think first foremost young players should just enjoy their football.
RM; Is there anything else you would like to add?
LK; All I have to add, is I played for Crossmaglen seniors for twenty six seasons, and I loved every moment. My only regret is I couldn't play twenty six more with them!

Thanks Larry for reminiscing with me and sharing wonderful memories of a long and dedicated playing career.
Our club lotto will resume next Sunday night and there will be also be an opportunity to play online. More details to follow later in the week.
Sponsor A Ball
Thankfully, club football will return soon. We envisage there will be ten senior and ten intermediate league fixtures. Before lockdown, I had a list of those who were interested in sponsoring a ball. If you are still interested or anyone who wishes to sponsor a ball, please contact Roisin, Telephone, 0876659126.
Please check out our social media  sites for updates, information, puzzles, quizzes, trips down memory lane, recipes and much more!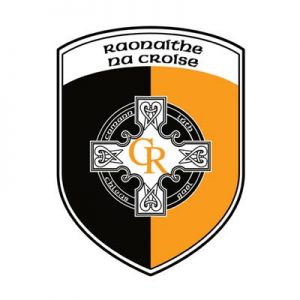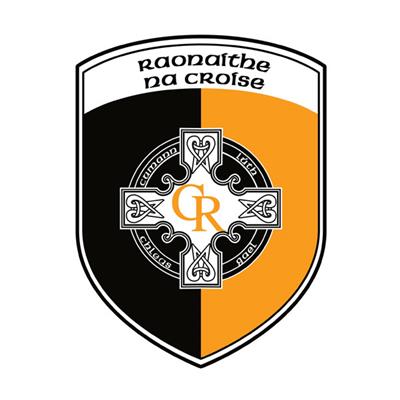 Posted: June 14th, 2020 under Club News.