Crossmaglen Rangers Club Notes 15/07/19

Armagh U18.5 Division 1 SF
Cross V Clan na Gael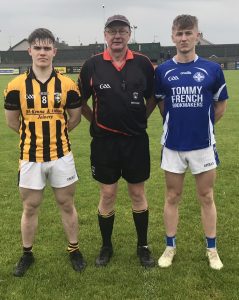 Lurgan side Clan na Gael travelled to St Oliver Plunkett Park on Monday night for the semi final of the minor league.
Killeavy and Silverbridge were contesting the other semi final.
Clans opened the scoring of the match, two points in as many minutes (1,F) to give them an early lead.
It took our boys a wee bit longer to settle, a Patsy Finnegan point was quickly followed by points from Caolan Dooley and Oisin Doyle to edge us in front.
Odhran Kieran slotted over point before high drama ensued, Stephen Morgan pulled off a super save, the ball rebounded and hit the post, Clans shot for goal again , Stephen saved, the ball rolled out and the Clans full forward managed to get his boot to the ball and land it in our net to put them in the lead once more with fifteen gone on the clock.
The next few minutes saw some super scores from both teams each registering three points a piece,  Dara O'Callaghan (0,2) and Orin  McKeown(1) our scorers.
The final minutes of the half saw us have a number of missed opportunities. Clan na Gael slotted over a point to stretch their lead to two but Patsy Finnegan scored a point just before the half time whistle to leave just one separating the sides at the break.
Cross 0-08 Clan na Gael 1-06
Caolan Dooley scored his second point of the match shortly after Brian Canavan  threw the ball in to get the second half underway.
Seconds later the opposite end of the field, Clans did the exact same and one was still the difference between  the teams.
Dara O'Callaghan converted a free to level matters which was quickly followed by an Oisín Doyle point which put us in front once more. A long range point from Clan saw it even stevens once more.
Dara O'Callaghan scored his fourth point of the match before Odhran Kieran scored our first goal of the contest to put us ahead by four as the game entered the last quarter.
A swizzer of a shot from the Lurgan boys landed in the roof of our net to bring it back to the narrowest of margins.
A fantastic run down the middle by Liam Finnegan resulted in our second goal, Liam struck the ball superbly to bring it back to a four point game with minutes remaining until full time.
We pushed on, Patsy Finnegan passed the ball to substitute Ruairi Kieran who shot the ball into the Clans  net to give us  a commanding lead with the finishing line in sight.
Points from Eighan Kelley, Caolan Dooley and Dara O'Callaghan brought the scoring of the match to a close.
Cross 3-15 Clan na Gael 2-08
The boys will play Killeavy in the league final on Monday night in Kileavy at 7.30pm
We ask everyone to come along and support the boys in the final.
Good luck lads and management.
Malachy Murdock Tournament Final
Cross V Clonduff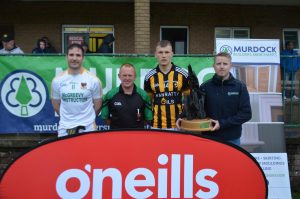 On Wednesday our Seniors were in action against Clonduff in the Malachy Murdoch Tournament final. Torrential and persistent rain left conditions extremely difficult.
Clonduff were quick off the mark, two points on the scoreboard with the game only a minute old. Rían passed the ball to Daniel Cunningham who struck the ball well into the oppositions net to get our opening score and to give us the lead. Clonduff converted a free with ten gone on the clock to leave it all square.
Four points without reply, Paudie, Rían (3,1F) give us a comfortable lead with half time fast approaching but it was Clonduff who finished the half strong, scoring 1-2 to give them a one point advantage before the score of the match , Cian McConville hit a super strike from a free awarded which sailed over the crossbar to leave the game all square at the break.
Cross 1-05 Clonduff 1-05
The opening minutes of the second period of play were an even encounter, two points a piece for each team, Cian (1,F) and Paul Hughes and with ten minutes played, the sides couldn't be separated.
Points from Johnny McKeever and Paudie edged us in front once more but the Co Down side replicated what we did , two points in as many minutes to bring it back to a draw and it looked like we could be heading to extra time.
With ten to go, three points one after another for us give us a comfortable lead before Rian passed the ball to Johnny Hanratty who scored our second goal of the match to secure the lead.
Each side scored a point in the dying minutes of the game, Paul Hughes the scorer before Oisin O'Neill registered our third goal of the night to leave the score at the full time whistle;
Cross 3-13 Clonduff 1-10
Well done lads and management. Thanks to Clonduff for a very sporting game, hosts Burren for the warm welcome, football & hospitality.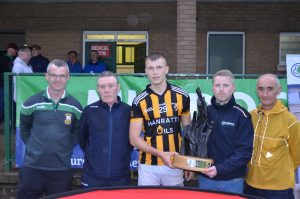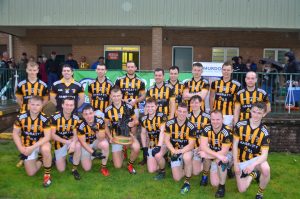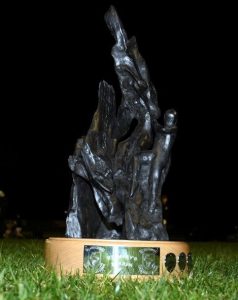 Fixture
Friday 19th July
IFL B Rd 12
An Port Mór V Cross, An Port Mór, 8.00pm
 Pairc na nÓg, raoinaithe na Croise 
As many of you are aware, huge work has being going on at the Council field and surrounding area. This voluntary work is being carried out by coaches and club members. Huge praise for everyone who has given up their spare time and has worked so hard.
To everyone who provided equipment and machinery, we send our sincere thanks.
Following on from last year when Uachtarán Chumann Lúthchleas Gael, John Horan visited the club and planted a tree to symbolise the youth of Crossmaglen Rangers, we are delighted and proud that the Council field will now be an extension of St Oliver Plunkett Park and will be known as Pairc na nÓg, raoinaithe na Croise. Pairc na nÓg, raoinaithe na Croise will be dedicated to the youth of Crossmaglen Rangers. We are dedicated and fully committed to continuing our work in developing facilities and promoting the well being of the young people of our great club who are the foundation stone for the generations to come who will don the black and amber.
The motto which will be displayed at Pairc na nÓg, raoinaithe na Croise  will be
"Mól an óige agus tiocfaidh sí  "nurture youth and it will flourish".
It will be under the auspices of Crossmaglen Rangers and Cumann Lúthchleas Gael and vested in the GAA.
On Sunday 28th July at 12.30pm we are delighted and honoured that Uachtarán Comhairle Uladh, Oliver Galligan will officially open Pairc na nÓg, raoinaithe na Croise
Following the official opening we will have a full sports day where everyone is very welcome to come along, particate  and celebrate this momentous occasion.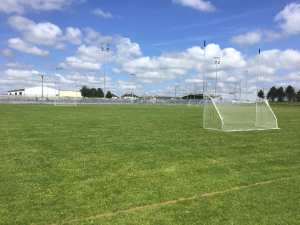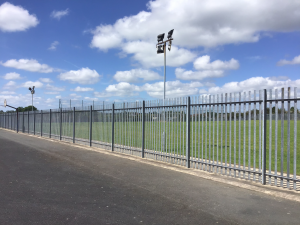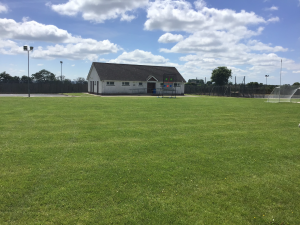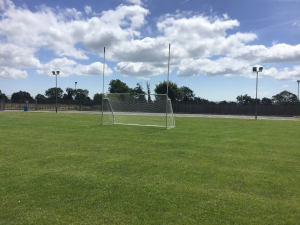 Crossmaglen  Rangers Summer Camp: In Association With Eugene Duffy Construction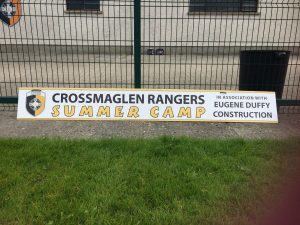 We are both delighted and thankful that once again our Summer Camp will be sponsored by Eugene Duffy construction. Thanks very much to Gene, Paul, Caroline and the Duffy family for your sponsorship and support.
The camp will be led by Tony Brady and Tony McEntee and is open to all children in our club and neighbouring clubs in the community
The camp will run from; 
Price: £22/€25 per child. Family Rates Available.
Please Note: U6 children must be accompanied by a Parent /Guardian .
Registration evening, Wednesday 6th August at 6.00pm, Pairc na nÓg, raoinaithe na Croise 
Sponsor A Ball
The Armagh senior championship gets underway in mid August. Anyone who would like to sponsor a ball for one of our three round robin ties, please contact Róisín, Telephone 0876659126. The cost is £50.
Sponsoring a ball is a great way of supporting the club and promoting your business.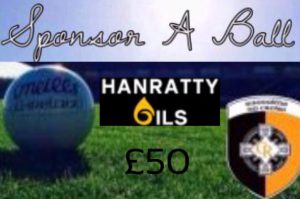 The Kick Company
On Thursday evening we welcomed the Kick Company to the club.
We are thrilled that we are now in possession of a sidekick which is a fantastic piece of equipment where players can develop their skills at their own pace, alone or in company but above all a sidekick is great fun. (I think I need more practice!!!!)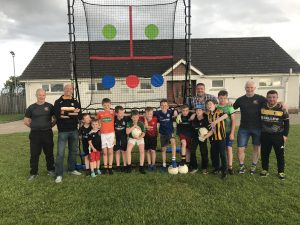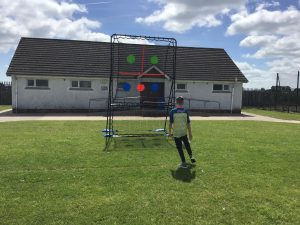 Trip to Tipp
On Thursday 8th August we will travel for an overnight trip to where the GAA all began, Thurles, Co Tipperary.
Itinerary
The bus will depart Rangers Hall after Nine.
We will have a light lunch in Treaceys, Portlaoise.
Guided tour of Holy Cross Abbey
Guided tour of the world renowned Rock Of Cashel
Visit to Farney Castle
Arrive at hotel ( Hayes Hotel/Anner Hotel)
Dinner in Hayes Hotel
Evening entertainment in the famous traditional Irish pub, 'Jimmy Of The Mills', Upperchurch.
'Jimmy Of The Mills' is the only Irish pub that opens just once a week, you must bring cash and talanted traditional musicians from across Ireland play here on a Thursday night. From reading the reviews, 'Jimmy Of The Mills' is an incredible experience!
On Friday morning there will be time to explore Thurles.
Tour of Glendalough and light lunch.
The cost is £140 for overnight trip, (DB&B) tours plus light lunch(2).
If you are interested in going please contact;
Places are limited.
Rockland Football Camp
Pic Below
Tiarnán and Brinán O'Sullivan off to Rockland Football summer camp, New York rocking the new Crossmaglen Rangers jersey.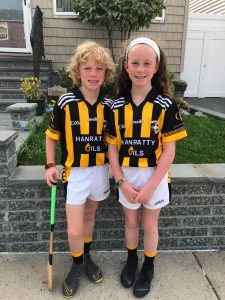 Ceol na Croise – Music Of Crossmaglen 
Celebrating the songs of Oriel from Crossmaglen
An important event is taking place in our community from 25-27th July.
Events include a lecture by Crossmaglen man Gearóid Trimble on the Gaelic Singers of Crossmaglen – their lives and their songs with live performances from local singers.
A bus tour with local historian Una Walsh on the Songs of Oriel.
A traditional singing workshop and a finale concert in Creggan Church by Armagh woman Ríoghnach Connolly. Tickets are available via Eventbrite or by contacting Colleen Savage on 078726025521.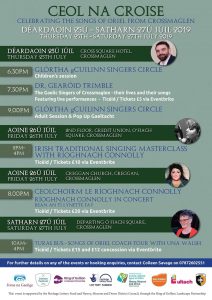 Lotto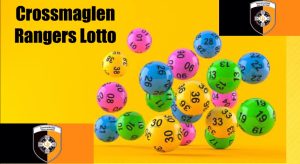 Draw; 14/07/19
Numbers Drawn;  9 13 16 21 
2 Matched 3 numbers winning £50 each.
Patrica Carragher c/o Benny McShane 
Francis O'Neill c/o Paudie Hughes
Well done to our winners.
Condolences
Jim Richardson, Dublin, formerly Mobane 
Crossmaglen Rangers GFC send our deepest condolences to Jim's Wife, Valerie, Daughters Louisa, Victoria and Sarah, Son James and the extended Richardson family on  the recent  sad passing of Jim.
Ar dheis Dé go raibh anam.
Mrs Helen O'Hare, Dromintee 
We send our deepest sympathies to Sheila, Declan, Nicole, Padraig (Senior Player), Declan (Minor Player), Ronan (U14 Player) Stuttard and the extended O'Hare family on the recent passing of Sheila's Mother, Helen.
Ar dheis Dé go raibh hanam.
Keep up to date with all the latest news, photos and match information from the club by following us on Twitter @crossrangers, Facebook Cross Rangers or by visiting our club web page, 
www.crossrangers.com
We would greatly appreciate if club members could share information with members who may not have social media accounts.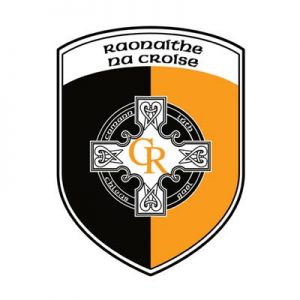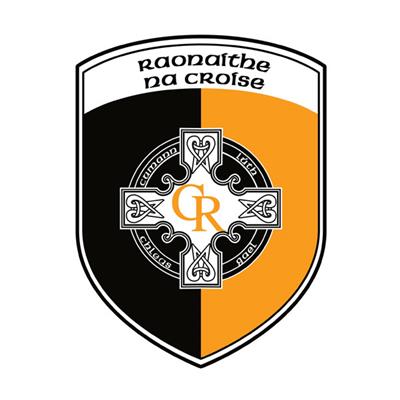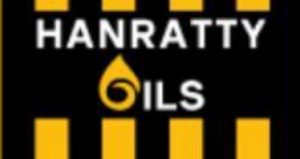 Posted: July 14th, 2019 under Club News.