Crossmaglen Rangers Club Notes 16/11/20
Crossmaglen Christmas Run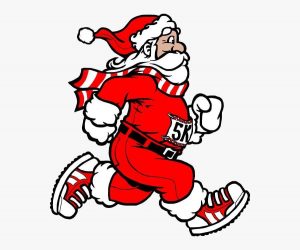 Our Camog's are hosting their Annual Christmas Run, but this year it will be 'virtual'. They are inviting you to join them in completing the usual 3.5k or 5k walk/run, but at a place and time of your choosing, before Sunday 20th December.
All participants will receive a unique Christmas medal, which can be collected at a 'Drive-By Medal Ceremony'. The entry fee is £10 per person or £20 per family (1 or 2 adults + child/children). To register for the event you can make payment by PayPal https://paypal.me/CrossmaglenCamogie or for more details simply contact the Cross Rangers or Crossmaglen Camogie Facebook pages.
The deadline for guaranteeing your Christmas Medal (and trust us you won't want to miss out) is Friday 20th November at 10pm – Get Signed Up & Get Moving!
Lights On!
To coincide with our Camog's Christmas Run, the field lights will be switched on two evenings a week, Tuesday and Thursday from 7-9pm.
Zoom Irish Classes/ Singing lessons
Our Irish Cultural  officer, Johanne,  gave us some feedback on our Irish classes and singing lessons;
Our popular Irish language classes had to temporarily cease, due to Covid restrictions. But our learners were so keen we decided to offer classes via Zoom. Theese have been hugely successful with learners joining us every Monday evening from all over South Armagh and beyond. While we miss meeting up it was great to be able to have the craic and speak cupla focail. Congratulations to those who joined. We look forward to seeing you again soon. Many thanks to Niamh Ní Bhroin who taught the improvers class.
We were delighted to have Pearse Larkin host a programme of singing classes for our younger members. Pearse is a well renowned singer having won many accolades for his traditional singing. His weekly online singing classes, were very well received by the children, who joined in enthusiastically. Well done to all the children- we look forward to seeing (and hearing more from) you in the future. Many thanks to Pearse for his work in preparing and hosting these sessions.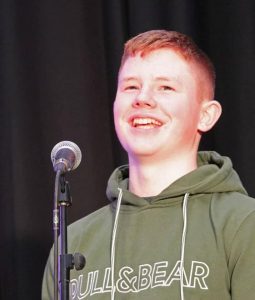 Huge congratulations to Armagh ladies and in particular, Aveen, Alex and Mairead on their epic win on Saturday against Mayo which booked them a place in the All Ireland SF.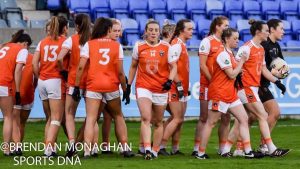 Cross Rangers Lotto
Draw Date; 15/11/20
Numbers Drawn; 2  4  20  24 
No Jackpot Winner 
2 matched 3 numbers  Anne Kelly, C/O Bernie Hughes & Anthony Loye, C/O Patsy Donnelly winning £50 each. Well done Anne & Anthony.
Jackpot; £3000/€4000
Cross  Rangers/ St Vincent De Paul collection
Thanks to everyone who donated on Sunday. It is not too late to donate, please contact Aidan Murtagh, Roisin Murtagh or Brendan Garvey. Thanks to Cllr Aoife and the community association who will assist us delivering the goods to families.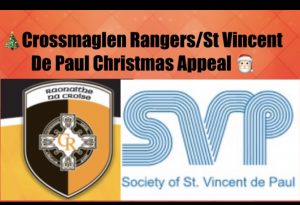 Club Scarves, Keyrings
Club scarves and key rings will available to buy early in the week. We also have a few dvds and club badges for sale. More details will be posted on our social media platforms.

Posted: November 15th, 2020 under Club News.