Crossmaglen Rangers Club Notes 16/12/19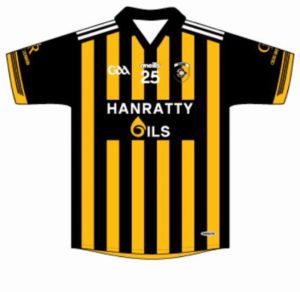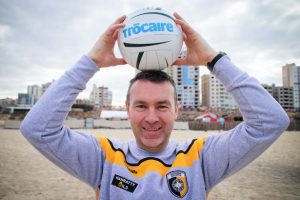 Recently Oisin McConville travelled to Gaza with Trocaire.
I met Oisin when he returned home to hear first hand what it was like to travel to one of the most suppressed and troubled lands in the world.
RM; It was a remarkable journey you undertook, how did it all come about?
OMcC; The opportunity came about when I was asked last year. Freya had just arrived so the timing wasn't ideal and I had to decline. Trocaire came back to me in August. I discussed it with my family at home and because of a previous interest in Palestine, I decided to go.
RM; I'm sure you had many apprehensions about travelling to a highly volatile and dangerous area?
OMcC; To be honest I had no safety concerns heading out as I had a lot of assurances and had gone through thorough security protocols. I think it's only when you get there that you realise how volatile the situation is and flare ups can just come out of nowhere like they had in mid November before I had gone out.
RM; Can you explain briefly what your initial impressions where when you landed?
OMcC; When we flew in to Tel Aviv,  I could immediately see the level of security and that was to be a recurring theme for the week. Getting in to Gaza itself is a pretty tough process also, that took hours and the same questions were answered countless times. The most dramatic thing initially was going from Israel in to Gaza. Israel feels very much like a thriving society, road infrastructure is very good and buildings are very impressive. When we got to Gaza, road network is poor, no traffic lights, no roundabouts and it's every person for themselves but they get by, traffic is busy because you have 2 million people living in an area smaller than Louth, lots of horse and carts, donkeys, motorbikes etc, the driving itself is not for the faint hearted. Gaza structurally has been decimated by the attacks and pretty much resembles a war zone, so the pictures and videos we see are very accurate regards the way it looks.
RM; Trocaire are a long established Irish charity who have brought such hope to areas around the globe who have been touched by war and natural disaster, can you tell us briefly about their work in Gaza;
OMcC; Trocaire fund a number of projects in Gaza and the West Bank, they include supporting fishermen who's industry has been destroyed by the blockade and have  limited resources as regards the areas they are allowed to fish, not just that but they are in threat of their lives every day they go to catch fish.
We visited a mental health project also, they deal with a multitude of issues including gender based violence which is a major issue in all conflict zones but in particular in Gaza. Interestingly they had a huge number of men engaging in the services which was a huge cultural shift and the results were proving extraordinarily positive.
I also visited one of the schools and met girls who had been part of a soccer team who had travelled to Norway to play in a tournament there, very rare can people leave Gaza, so they had so much positivity around their sport and were happy to try Gaelic football also and weren't too bad, Hala who you might see in the photos took to it particularly well.
RM; Oisin would you like to return to a land whose troubles bear a striking similarity to our own?
OMcC; A lot of what Is going on there reflects the cross of old surely, the oppression, the intimidation and the trauma is not something I would personally like to see again for myself or my family.
RM; If there was one memory you could take from the trip, what would it be?
OMcC; The memory which is so vivid for me was the family who had just got their farming land just outside Bethlehem after 18 years fighting for it, again to a project aided by Trocaire and we got to the land for them to show me and within minutes there was a drone over head and minutes later the army arrived telling them to get off the land, we had a lawyer with us who explained what had happened and eventually and reluctantly they let us go about our business. Again a clear indication of the intimidation and how that outcome could have been a lot different had we not been there. Which for a lot of people in this area will be an all too familiar tale.
RM; As an ambassador for Trocaire, can you tell us a little about their Christmas appeal 2019?
OMcC; Trocaire  are endeavouring to help these families and communities this Christmas, so please donate regardless how small that donation may be. Thank you.
Oisin, the entire club congratulate you on your humanitarian work, we are extremely proud and honoured to call you one of our own.
What an ambassador you are for our club, County and Country!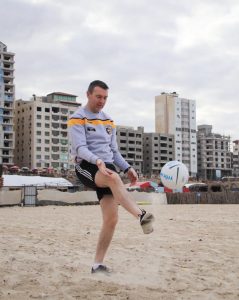 Christmas Bingo Special
On Monday 23rd December, there will be an extra game 'on the house' with a prize fund of; £50 line and £100 a house. All bingo goers on the night will be entered into a free raffle to win two festive hampers. Eyes down at 8.30pm
Texas Hold'em 
Buyback €20 (max 2 per player)
Please contact Paddy Kindlon or Tony Brady about purchasing tickets.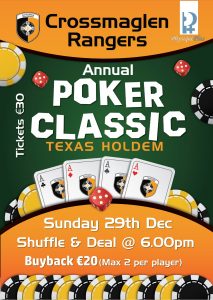 Christmas greetings   
For any Rangers who may be away from home this Christmas and would like to send greetings you can send  a message or a short video to [email protected] or PM Cross Rangers FB page and I'll share them on the Cross Rangers social media platforms on Christmas  Eve. Alternatively any families at home who are missing loved ones, you can also send your good wishes and I'll share them.

Dates For Your Diaries
'The Farm Families Health Check Van'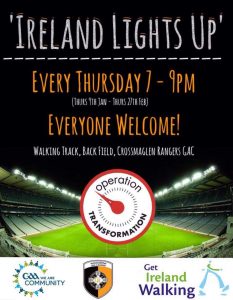 Saturday 11th January; AIB All Ireland Intermediate Football SF; Magheracloone V Mattock Rangers, St Oliver Plunkett Park @1.30pm. All hands on deck that day!

Club mass
;
Tuesday 4th February
;  Mass will be celebrated by club Chaplin, Fr Kevin in The Rangers Hall. All deceased members and friends  will be remembered.
Easter Monday; 13th April; 
Glasnevin Cemetery Museum Tour. More details after Christmas.
Condolence
Mrs Ann McArdle, Drogheda
We send our deepest sympathies to Lucy, Paddy, Andrew, Nathan, Alex & Pheobe Deery and the extended McArdle family on the recent passing of Lucy's Mother, Ann.
Ar Dheis Dé go raibh a hanam
Lotto
A reminder to everyone who may have family away from home, you can play our lotto online by clicking on the following link;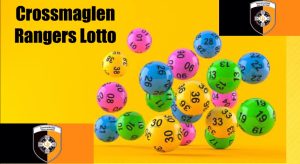 Draw; 15/12/19
Numbers Drawn; 7  11  13  25 
No Jackpot winner
8 match 3 numbers; Gareth O'Neill, Joanne Brady, Jason Gavin, John Carragher, Malachy Duffy, Larry Gavin, Kathleen Quinn & Gerard Moley Jnr win  £15 each. Well done to our match three winners. 
Jackpot; £3700/€4700
Next Draw; 05/1/20

Christmas Special;  15/12/19
10 x £25 Christmas Bonus Prizes

Aaron Smith X 2
Gavin Rooney
Patrick McConville
Benny Cassidy
Eoin Meegan
Malachy Duffy
Ann Morgan, Dundalk
Jim Teelan
Gerard, Superbites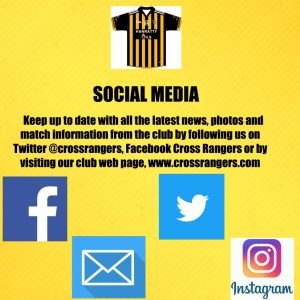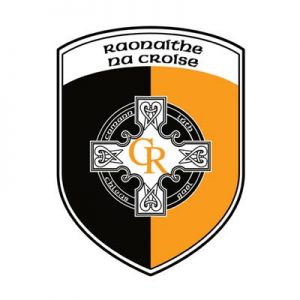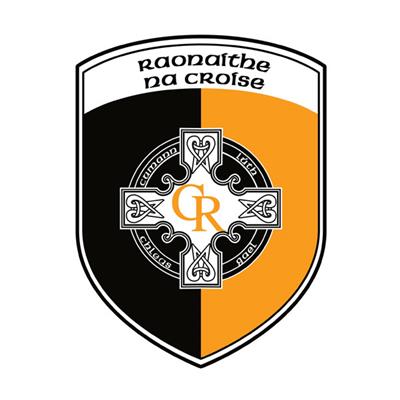 Posted: December 15th, 2019 under Club News.