Crossmaglen Rangers Club Notes 17/02/20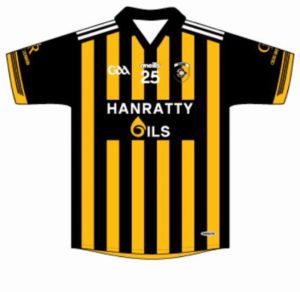 Crossmaglen Rangers Golf Classic
We send our sincere thanks to Hanratty's Oils and Killycard Developments for their generous sponsorship of Crossmaglen Rangers Golf Classic, 2017-2019.
The golf classic would not be the the success that it is without the unwavering support and generosity of the Hanratty family. This years Golf Classic will once again take place in Concra Wood Golf Club, Castleblayney 
on Friday 10th July
.
This Sunday, our juvenile players and their mentors are hosting a yummy pancake breakfast morning. Please support as all monies raised go towards our underage structure.
Pic Below; Keelan flipping pancakes at our launch.
Well done Keelan!

Operation Transformation 'Ireland Lights Up'
Well done to all who participated
on Thursday night
. We are down to the final two weeks. Time flies when your having fun!
On the last
night, the 27th February
we will serve refreshments in the back room. You must complete laps before qualifying for refreshments!
More details to follow.
National Draw Tickets
Thanks ; We must upload national draw tickets to the data base by 9pm on Monday. If you wish to buy a ticket please contact any committee member ASAP. Thanks to all who bought tickets and to our ticket sellers. The draw takes place in Dublin on Thursday 12th March and we will post results on all our social media platforms. We have added bonus prizes of vouchers for local businesses and this draw will take place In the Rangers Hall after our drug awareness evening on the 28th February. Good luck to everyone in the draw.
Crossmaglen LGFA Notes
Cross Square 100 postponed

Unfortunately  we had to postpone this event, as Storm Dennis was forecast.  We hope to have an alternative date for this event in coming weeks.   Anyone who had already sponsored a lap or made a contribution will be honoured as part of the new date.   More information coming soon.
Crossmaglen Rangers LGFA Pre-season 7s 2020–
We are in the process of organising and promoting our annual pre-season 7 a side competition. This competition is in its 11th year. The aim of this event is to promote the participation of females in our national games, and also provide an opportunity for us to showcase in our club and community. Each year we welcome 16-20 teams from across Ireland and the UK to our club, which means we have over 400 people involved in the day.
We are looking for volunteers to help out, just get in touch with Marion, if you are available.
U10 &12 team information
 Well done to our 35 girls who braved the wild weather to participate in our first training session. We focused for functional movement and our hand passing this week. Remember everyone is P3/R3- 1st year is welcome, and we will be training from 6/7pm in St. Joseph's Sport Hall.
U14 & 16 team information
We have entered a team into the feile competition, the dates of this competition is the 21st &
24th March
. Training will begin for the Feile team & U16s at the end of February. Management will be in touch with details soon.

Eamon Mallie ; Face To Face 
Tune into Eamon's show this Tuesday on UTV at 10.45pm where the special guest this week is Oisin McConville.


Advertising Signs
We are erecting new advertising signs. If you would like to advertise your business, a sign costs £400 for five years including the sign. This is an ideal opportunity to promote your business and support the club. Thank you to all the businesses who have purchased advertising signs, they are all looking fantastic. Please contact Joe Kernan for more details.

Pic Below;  Paul McEntee & Chairman Gene at MAC fitness sign.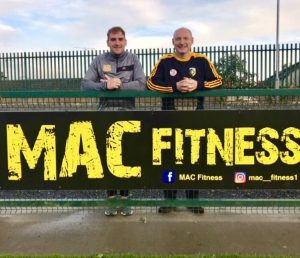 Drug Awareness Evening; Guest Speaker; Ms Grainne Hearty
Remember to keep
the 28th February
free, we are hosting a drug awareness evening where the guest speaker will be Grainne Hearty from Dundalk  and representatives from the magnet centre, Newry will also be in attendance. This is a community initiative and is open to everyone in the locality and beyond and in particular other GAA clubs and organisations where young people play a key role.
Admission is free but donations on the night will go to Crossmaglen Community First Responders.
Please Note; This event is for age 12 plus. All children must accompanied by an Adult.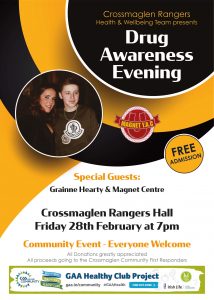 Dianchursa/ Intensive Irish Course

Congratulations 
Sending best wishes to all the boys and girls who will be confirmed in St Patrick's Church on Saturday. We hope you all have a lovely day.
Margaret McConville recently became a Great Grandmother.
Congratulations to Caolan and Michaela Conroy on the birth of their wee boy, Tadhg and congratulations also to Granny Margaret!
Get Well
Get well to Luke  Murphy who is in hospital. We hope it won't be long until your home again Luke!

Condolences 
Mrs Bridgid Rafferty, Mullaghbawn
Crossmaglen Rangers GFC send our deepest condolences to Veronica and Ken Mackin and the extended family circle on the sad passing of Verionca's Mother, Bridgid.
Ar dheis Dé go raibh hanam.
Mrs Alice McDermott, Rassan
We send our deepest condolences to Alices Husband Michael, Son Peter, Daughters Geraldine and Ann and the extended McDermott and Kieran families on the sad passing of Alice.
Ar dheis Dé go raibh hanam.
A reminder to everyone who may have family away from home, you can play our lotto online by clicking on the following link;
Draw; 16/02/20
Numbers Drawn; 4  12  23  29 
No Jackpot winner
1 matched 3 numbers & wins £100. Well done Mickey McCoy, Foxfield Rd. 
Jackpot; £4300/€5300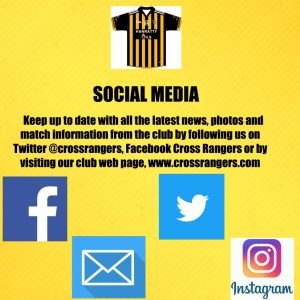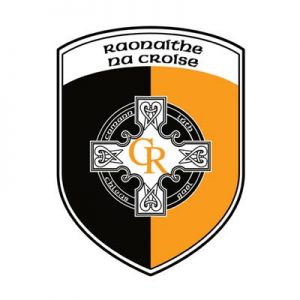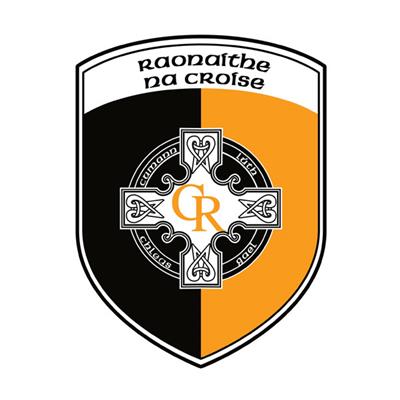 Posted: February 16th, 2020 under Club News.