Crossmaglen Rangers Club Notes 17/08/20
Senior team sponsored by Hanratty Oils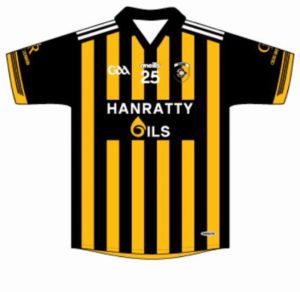 Armagh SFC QF;
Cross V Mullaghbawn
Our seniors had an early start in the Athletic Grounds, a half one throw in with Tony O'Hare the man in the middle. An Oisin O'Neill point opened the scoring of the contest in the fourth minute which was quickly followed by a Mullaghbawn score to level matters. This was to be the only time the game would be level. A super score from Dara O'Callaghan signalled the start of a scoring spree, which saw us register 2-2 before Mullaghbawn scored their second point, (Oisin and Tony K, the goal scorers) to give us a commanding lead. As the minutes ticked down to the break, it was all one way traffic, a further 1-3 scored to a single point from Mullaghbawn, Mel the scorer of our third goal, to leave the score at the break;
Cross 3-07 Mullaghbawn 0-03
With the second half just seconds old, Rian had slotted over a point which was quickly followed by points from Cian and Mel. Mullaghbawn scored two points in as many minutes to reduce the deficit. Another trio of points (Oisin, Rían and Cian) and as the game entered the last quarter, we were firmly in the driving seat. Mullaghbawn added two points, both from frees. An Oisin O' Neill point preceded a penalty awarded to us, Cian struck the penalty, the goalkeeper saved it, the ball rebounded and Cian finished it into the back of the net. The final minutes saw us score four points, two points coming from the boot of substitute, Odhran Kieran. Mullaghbawn scored three points, two the result of frees awarded.
Cross 4-18 Mullaghbawn 0-10
A draw will take place on Monday night to decide the semi final pairings.
Armagh Junior Football Championship Rd 1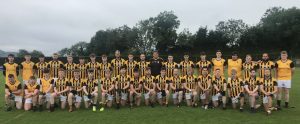 Cross V Redmond O'Hanlons
From the Athletic Grounds, all roads led to Silverbridge for our opening game in the Armagh junior championship. The opening minutes were an even, tense affair, the sides level at three a piece after eleven minutes of play, Callum Kieran (2) and Shane McConville (1). Callum converted a free to edge us in front and two points in quick succession from Shane left the score at the first water break,  6-3. As play resumed, we had a number of missed opportunities but the lads got to grips with the game, four points one after another, Franny, Shane and Callum (2) to strengthen our lead as half time approached. It was the opposition to finished the half the strongest, three points, two from frees to leave the score at the midway point;
Cross 0-10  Redmond O'Hanlon's 0-6
O'Hanlon's got the first two scores of the second half to make it a two point game. We scored  our opening score in the sixth minute before O'Hanlon's had their brightest spell of the game , three points without reply to level the game and as we entered the last fifteen minutes we were in for an exciting finale. The game remained all square for a short period, we stepped up a gear, five points one after another, Shane, James Teelan (3) and Paul Mckeown to put us in a comfortable position with the finishing line in sight but O'Hanlon's didn't throw in the towel, three points in as many minutes  and once again it was a two point game. A fantastic score from Callum give us some breathing space but O'Hanlon's matched it and as the game entered injury time, two was still the difference, a Redmond O'Hanlon's point brought it back to the bare minimum but we hung on to our lead with some super defending and we got the final score of the game, a point, the result of a free converted which brought the scoring of the evening to a close.
Cross 0-18  Redmond O'Hanlon's 0-16
Well done to our senior & junior teams/managements, it was a great day for the black and amber!
Sponsor A Ball Armagh SFC QF
McConville's Funeral Directors will sponsor the ball for our Armagh senior football league fixture against Killeavy which takes place next in Killeavy next Sunday. Many thanks to Brendan and the Garvey family for your sponsorship and support.
Pictured below; Brendan presents the ball to Tony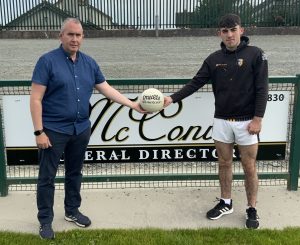 Sponsor A Ball Armagh JFC QF
Micko Caisde will sponsor the ball for our Armagh JFC QF fixture V Derrynoose, date, venue & time tbc. Huge thanks to Micko for your sponsorship and ongoing support.
Pictured below; Micko presents the ball to Ruáirí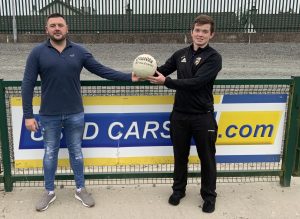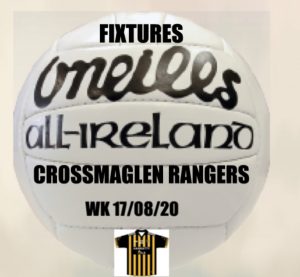 U13 League South Div 1 Rd 3
Dromintee V Cross, Dromintee, 7.15pm
Sunday 23rd August
Armagh SFL Rd4
Kileavy V Cross, Kileavy, 2pm
Safe Return to Play: We are all delighted to have all teams got back out training, and fixtures have been began with leagues. We encourage all our members to ensure the keep in touch with their managers to keep all information and records up to date as per the GAAs guidelines.
Reminder for all parents and players, please ensure that all players bring and wearing their gumshields to all football.  This is compulsory in the GAA.  Also players should have their own water and gloves with them to training to ensure everyone's safety at this time.
U10 & U12 training times this week:
Training continues
on Monday night
, meeting
at 6.15pm
on the council field. The next game is against Silverbridge ,
next Monday
 It is a home fixture. We will have more details during the week.
Saturday 10.30am
: All U10.5 players will train on Pairc Na Og.  We are encouraging all girls for P3/R3 and up to attend this training.
U14 & U16 training information: 
The U16s participated in championship last
Monday night
and came away with a victory. Unfortunately, the squad sustained a blow, with Clodagh Conway getting injured during the match. We wish her all the best in her recovery.
This week is the start of the Championship for the U14s squad.  The girls will take on Middletown, at home
on Thursday evening at 6.45pm
. Restrictions remain in place regarding supporters, but we encourage those who can attend to come out and show your support.  Good luck to the girls and their management.
Wednesday 6pm to 7.15pm
: All players,  including those who have just completed 1st year of secondary school should attend this training session.
Registration information:
Registrations are now due and can be paid online or to your coach. All players need to be registered in order to train and play for the coming season. Thank you for your cooperation.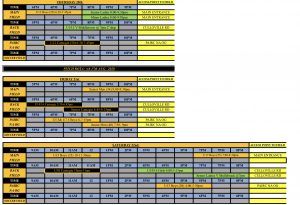 Draw Date; 16/08/20
Numbers Drawn; 4  14  18  30 
No jackpot winner 
3 matched 3 numbers winning £35 each; Anthony Martin, Francie McVerry & Liz Mooney, c/o Larry Gavin 
Jackpot; £1700/€2700
Play online; https://www.klubfunder.com/Clubs/Crossmaglen_Rangers/lotto or tickets available in a number of local retail outlets.
DVD's All Ireland victories, 07,11 & 12
DVDS, club badges/ key rings and face masks for sale.
DVDS; £15, Club badges/ key rings; £3.50 or 2 for £6, face masks; £10 (P&P EXTRA)
What's App Róisín, 0876659126 or email [email protected] for more details.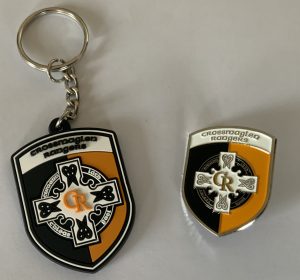 Posted: August 16th, 2020 under Club News.