Crossmaglen Rangers Club Notes 20/04/20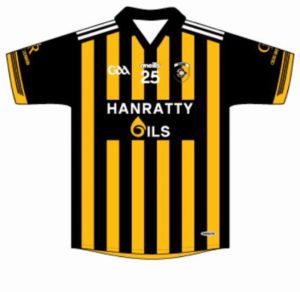 Reminiscing With A Ranger 
During the week, I'm very proud, delighted and honoured to have spoken to one of the greats of Gaelic Games, Tom McCreesh. Many thanks to Tom and his wife, Kathleen.

Pic Below; Tom & Kathleen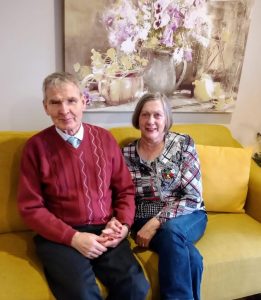 RM; Tom, can you tell me about your early years and at what age you started playing football and who was your biggest influence on you footballing career?
TMcC; I was born in the Townland of Drumbee in 1943. We were surrounded by the borders of Louth and Monaghan.  Football and Handball were the only recreational outlets we had. I went to National School in Magoney – this School was in the Parish of Inniskeen. We were fortunate to have as our Teacher a man named Leo Carolan, RIP who was a great GAA man He ignited in me an interest and a love of the game.  He coached us in the skills of the game.  He organised competitions between the four Schools in the Parish and it was here that I won my very first medal – a medal I treasured and carried around with me in my pocket for months.  At home myself and my late brother Michael and my Brother, Pat would spend hours practising our skills by kicking the ball against the wall and trying to catch the rebound.  We lived close to the O'Neill family who were a family of 7 boys.  Owen O'Neill, RIP was a carpenter by trade and went to work in England.  He came home on holiday every year and he would bring with him a proper O'Neill's full size ball.  When we heard the sound of the ball we knew that Ownie was home.  We spent many hours with the O'Neills kicking, catching and solo running into the late hours of the evening.  On Sundays we could have a large gathering of the local lads and we would organise 2 teams and have a very competitive game. After primary school I went to the CBS in Dundalk where I played on the various school teams from 1956 to 1961 without much success. I was still at the CBS when I won my first Senior Championship Medal with Crossmaglen at the age of 16. In 1959 I was asked to play with the Culloville Minors.This was an amalgamation between Culloville and Mullaghbawn. They had a number of very good players at the time and I didn't get many games. The following year there was no Minor team in Culloville and the late John Martin who was the Secretary of Crossmaglen approached myself and my brother Michael to join the Rangers. We played in the Minor Championship in 1960 and '61. We won in 1960.
RM; You were known as a formidable full back Tom, is there any games that you participated in that sticks out in your mind as very special?
TMcC; I was also selected to play for the Armagh Minors in 1960 but we were defeated by Down in the first round 1 – 5 to 0 – 6. Down went on to win the Ulster Championship. I was also selected again in 1961 at right full back.  We played Cavan in a replay in the First Round and went on to beat Monaghan by 3 – 8 to 1 – 4 in the Ulster Final. This was also a very memorable day in Casement Park because Armagh Seniors were playing Down in the Ulster  Final and were very unlucky to be beaten by a goal on a scoreline of 2 – 10 to 1 – 10.  Armagh seemed to have scored an equalising goal but the Referee disallowed it. In the All Ireland Minor Semi-final we met a very talented Cork side and we lost by 0 – 12 to 1 – 6.  This was my first time to be in Croke Park and it was a marvellous experience.  On the same day the Senior Semi-final was between Kerry and Down and it was one of the best games I have every seen.  Down won and went on to win their 2nd All Ireland Title.
Pic Below; Tom, in action against Cork in the All Ireland Minor SF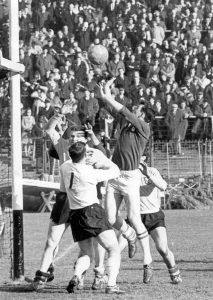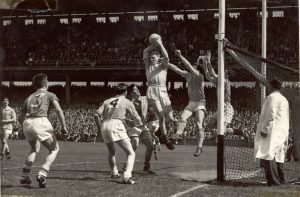 TMcC; In 1962 I was added to the Armagh Senior panel and I was a sub at a very stormy match between Armagh and Cavan in Breffni Park. The game was stopped for about 15 minutes and order was eventually restored.  Cavan went on to win.   Armagh's record in the 1970's was dismal and it wasn't until 1976 Armagh defeated Clare to win Division 3 of the National Football League.  In 1977 Armagh won the Division 2 by beating Offaly in the final. In 1977 success came our way when we beat Cavan, Monaghan and Derry to clinch the Ulster Title.  This was an amazing experience and now I felt that there might be a chance that I could fulfil my lifelong dream of playing in an All Ireland Final and maybe even winning an All Ireland Medal.  The first part of my dream came true when we beat Roscommon in a replay in Croke Park and were now in an All Ireland Final.  Unfortunately that was the end of the dream when we were well beaten by a super fit Dublin team in the final. 
Pic Below; 1977, Tom is congratulated by fans in Croke Park  after Semi-final re-play win against Roscommon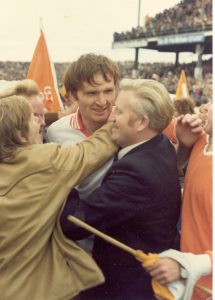 Pic Below; The Armagh squad that reached the 1977 All Ireland Final. Front L-R: Paddy Moriarty; Raymond Kelly; Denis Stevenson; Peter Trainor; Jimmy Smyth; Jim Finnegan; Redmond Scullion; Frank Toman; Peter Loughran. Middle L-R: Jim McKerr; Noel Marley; Jim Loughran; TOM MC CREESH; Larry Kearns; Colm McKinstry; Joe Kernan; Thomas Cassidy; Fran McMahon; Noel O'Hagan; Sean Daly. Back L-R: Eamonn O'Neill; Brian McAlinden; John Donnelly; Malachy Heeney; Kevin Rafferty.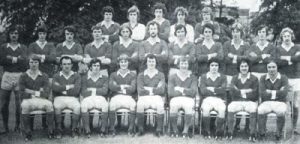 TMcC; Despite the fact that Armagh weren't  having much success Crossmaglen Rangers on the other hand were having a great run of winning during the 60's despite the difficulties we encountered training and playing due to the Northern Ireland troubles and the occupation of our Playing Field by the British Army. I played in my first Senior Championship Match with Cross against Maghery Shamrocks which we won.  Between 1960 and 1970 we played in 8 County Finals and we won 6 of those and of course we conceded one in 1964 – we felt that we had been treated very unfairly by the Referee and we withdrew from the Championship that year.  We had an amazing amount of talent in our Club during those years.  So much has been written about those times but I am sure it is still hard for todays young players to truly understand how difficult it was back then going to training and to games.  However, Crossmaglen kept going and never gave up and when I look around at their Clubrooms and Playing Fields today they are a testament to the hard work and dedication put in by so many wonderful people.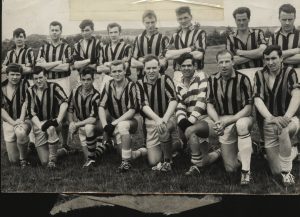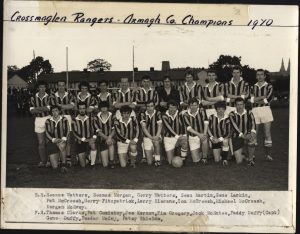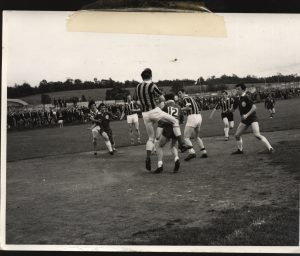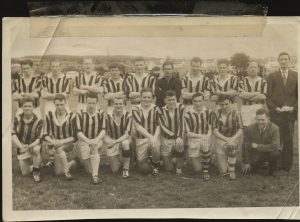 RM; Tom, can you tell me about your working life and how you met Kathleen?

TMcC; From the start of my working life I had always been travelling long distances to and from training and games as I first worked and lived in Derry for two years and then in 1966 I moved to Cavan.  While in Cavan I met and married my wife the then Kathleen Lyons in 1971 and we set up home in Virginia. Kathleen and I have five  children, Martin, Patricia, Karen, Deirdre and Ciarán and sixteen Grandchildren.

Pic Below; Tom & Kathleen on their wedding day, 29th September, 1971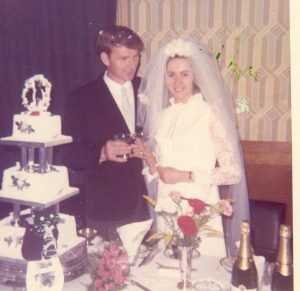 TMcC; In 1972 I changed jobs and came back to work in Suttons Seeds in Dundalk.  I was now commuting daily from Virginia to Dundalk.  In 1973 our first child was born and by 1974 it became obvious to me that I couldn't continue to commute daily to Dundalk and still continue to travel back to Crossmaglen at weekends for games so I made the decision to throw in my lot with the local team Ramor United.  We were successful in winning the Cavan Senior Championship  in 1974 and the Intermediate Championship in 1975.
Pic Below; Ramor United, 1974, Cavan Senior Champions. Thanks to Dermot Tyan, Ramor United for sending me this photo. Dermot's Dad, Frank, played midfield and Tom wore the number 6 jersey.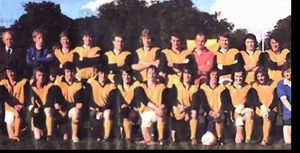 RM; Tom, can you tell me about your impressive medal collection?
TMcC; I have won;
4 Railway Cup Medals
1 Ulster Championship Senior Medal
1 Ulster Championship Minor Medal
1 National League Medal
6 Armagh Senior Championship Medals
5 Armagh Senior League Medals
1 Cavan Senior Championship Medal 
1 Cavan Intermediate League Medal
RM; Tom, you were presented with the Hall Of Fame award in 1995, how did you feel?
TMcC; It was one of my proudest moments when I was awarded the "Hall of Fame Award"  in 1995 and the late John O'Reilly made the presentation. On that night I felt very honoured to have addressed a very talented underage Team who went on to outdo the feats of the great 60's teams by a mile

Pic Below; Tom (Kathleen) receives the Hall Of Fame Award from  John O'Reilly and John Martin,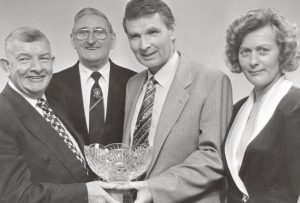 RM; Stand out game?
TMcC; In 1965, second round of the championship against Cavan in a very wet Clones as I had one of my best games

RM; If you were to play the game today, who would you like to mark?
TMcC; I would have to say it would be Michael Murphy of Donegal, a super player and I think he definitely would be a challenge.
RM; Would you like to be playing today, do you think the game has impoved over the year?
TMcC; No
I don't think so – it's a very different game – too professional and I think the hand pass is overly done

RM; Tom, can you name who you think were the greatest ever to play the game?
TMcC; I fancy Kerry this year.
RM; Is there anything else you would like to add Tom?
TMcC; I am very proud to be a Crossmaglen Rangers man and honoured to have worn the black and amber for many wonderful years. I was very fortunate to have joined the Rangers at a time when a lot of very good young talent was emerging.  Sadly since my playing days, a number of my team mates have passed away.  Today Crossmaglen Rangers is the envy of so many Clubs around the Country with their very many successes. Not only have the Rangers great teams on the field,  they have an equally great number of volunteers  off the field and that is the key to their success.  Cross leaves nothing to chance – with them its hard work and a great community spirit.  Crossmaglen truly is a wonderful GAA community. Long may that spirit continue. I continue to follow the fortunes of the Rangers and get great enjoyment from their successes.  I wish the Club, its Officers and Players continued success in the years ahead.
Pic Below; Joe and Tom, All Ireland Final night in the City West.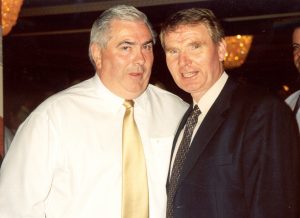 Pic Below; At our gala evening to celebrate and honour the victorious teams of the 60s, Tom reminisces with fellow Rangers, Miceal, Paddy & Brendan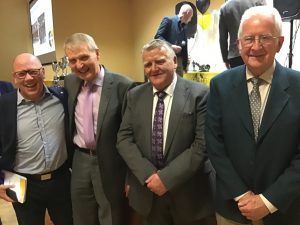 Pic below; Tom & his teammates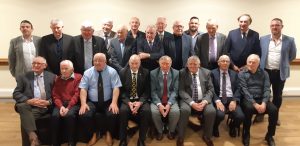 Message from Margaret.
Margaret wishes to extend her sincere thanks to all who sympathised with her following the recent death of her Brother, Brian.
"To all who sent cards, telephoned  and to my colleagues in the club for their messages of sympathy, the beautiful tribute to Brian which appeared in the Irish News and the guard of honour at the funeral, it was very appreciated by all the family. Brian never forgot where he came from, Tim Gregory told me, there would never have been underage football in the club, only for Brian. Brian saw a group of lads on the field, he said to Tim why don't we start underage football and the rest is history. I would also like to pay tribute to Patsy Kieran. Patsy was just two months younger than me, I remember when he was a Minor, a reporter stated how Patsy had a unique style of playing and the way he would step up to take the free; he would step back, walk forward and then brush back his blonde hair before  kicking  the ball and it would sail over the ball. Patsy was a classy footballer and I send my sympathies to Patsy's Sons' and the whole family circle on their sad loss. May Patsy rest in peace."
DVD Collection
If you wish to order a dvd set of our first three All Ireland wins, text 0876659126. More details to follow during the week.
Community Clean Up
Due to the current situation, our annual community clean up won't be taking place.
We are appealing to all our members, can you lift any litter or rubbish that has been dumped on your road or the area you live in.
We have been informed that disposable gloves have been thrown out of cars on a number of roads in the area. Those who are litter picking, please bring the appropriate equipment and at all times, be mindful of protecting yourself and your safety.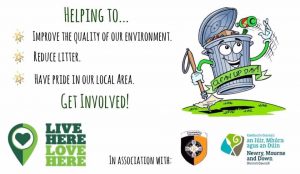 Congratulations
Congratulations to Aaron, Marianne, James and Joe Kernan on the recent arrival of baby, Miss Mollie Olivia Kernan.
Condolences
Pascal Allen, London, formerly Armagh
Crossmaglen Rangers GFC send our deepest condolences to Paddy, Mary and the entire Allen family on the recent sad passing of Paddy's Brother, Pascal. Ar dheis Dé go raibh a anam.
Jimmy McCooey, Camlough
The entire Crossmaglen Rangers club send our deepest condolences to Conor, Patrick, Eimear, Maeve, James, Lorcan and the extended  McCooey family on the passing of their father, Jimmy. Ar dheis Dé go raibh a anam.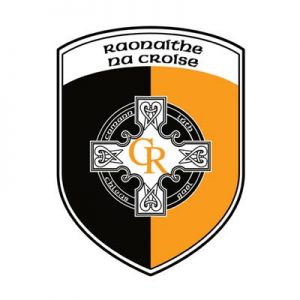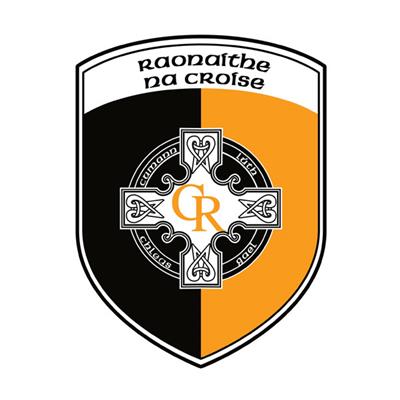 Posted: April 19th, 2020 under Club News.