Crossmaglen Rangers Club Notes 20/07/20
Armagh Senior League 1 Rd 1
Senior team sponsored by Hanratty Oils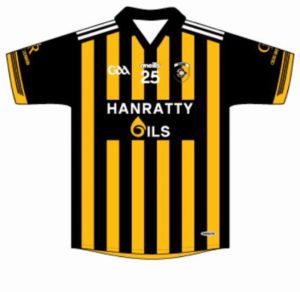 Maghery V Cross
Sunday afternoon Stephen Kernan's men had their first outing of the 2020 Armagh league when they travelled to Maghery. A very different situation than what we are used to, with no spectators being allowed into the ground. Johnny McKeever registered the first score of the afternoon with a point in the second minute. Seconds later, at the oppositie end of the pitch, Maghery were awarded a penalty which they scored to give them an early lead. An Oisin O'Neill point brought it back to one. Both sides had a number of missed opportunities before one point for each team left at the score at the midway point of the first half;
Maghery 1-1 Cross 0-3
Not long after the game had resumed following the water break, Maghery had the ball in our net once again to extend their lead. The final minutes of the first half were an even affair with some super scores coming from both sides, points from Rian (2), Johnny and Oisin (2) were matched by the home side to leave the score at the break:
Maghery 2-6 Cross 0-8
With the second half  only seconds old, Stefan Forker slotted the ball over the bar to strengthen their lead. We responded, four points without reply. Dara O'Callaghan (2F), Tony & Oisin and   with less than ten minutes to go, the bare minimum once again separated the sides. In the dying minutes, Maghery scored a point from a '45, Paul Hughes scored a point in injury time but we just couldn't get the equaliser and it was Maghery to secured the points. Hard luck to the entire squad.
Maghery 2-08 Cross 0-13
Thanks to Bernie Kiernan, Street's Ahead who sponsored the ball.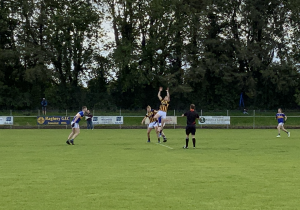 Armagh Junior League Rd 1
Seconds team sponsored by Used Car Ni .com 

Forkhill V Cross
Friday night we played Forkhill in our opening round of the junior league. A wet dismal evening in Forkhill left conditions very slippy. It was the home-side who settled quickly registering two points (1F) before a Ruairi O'Neill point from a free converted got us off the mark in the eight minute. Both sides traded points, both from frees and at the midway point, only one separated the sides. Two points in quick succession from Forkhill extended their lead. Ryan Conlon registered his second score with a superb point as the minutes began to tick down to half  time. Again Forkhill responded with three points one after another, (1F) to leave it a five point game. Ruairi O'Neill slotted over his second point (F) before the first goal of the night came on the thirtieth minute, thanks to substitute Miceal McNamee and as Leo Dougan blew the whistle for half time, It was anyone's game.
Forkhill 0-08 Cross 1-04
Forkhill were quick off the blocks once again, scoring the first score of the second half seconds after the ball was thrown in. Two super strikes from the boot of Ruairi O'Neill sailed over the bar to level matters for the first time but this was to be short lived, Forkhill edged in front once more adding two more points to their tally, a Ryan Duffy point reduced the deficit once more and with twenty to go,  it looked like the game would go right down to the wire. Just after the water break in the second half, a point for each team preceded what was the turning point in the game, Forkhill scored a goal to put them four ahead. Ruairi O'Neill scored a point on the fiftieth minute but with the finishing line in sight, Forkhill pushed on scoring a further two points to stretch their lead. There was a ray of hope in the dying minutes when we awarded a penalty but it wasn't to be our night, after this missed opportunity, Forkhill brought the scoring of the night to a close with a point to leave the score at full time;
Forkhill 1-15 Cross 1-09
Hard luck lads and management on a gallant effort. Thanks to Kevin McShane who sponsored the ball.
Sponsor A Ball
Oil4u.ie will sponsor the ball for our Senior league fixture against Ballymacnab which takes place in Cross on Friday night. Many thanks to Kyle, Garvan and the Carragher family for your sponsorship and ongoing support.
Pictured below; Kyle and Garvan present the ball to Captain, James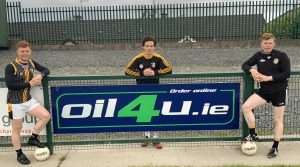 Aaron McShane will sponsor the ball for our junior league fixture against Thomas Davis which also takes place in Cross on Friday night. Huge thanks to Aaron and his Mammy Leon for their support.
Pictured below; Leon, Aaron and best friends, Caela, Micheal and Lily present the ball to Paul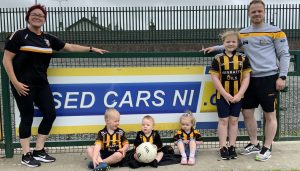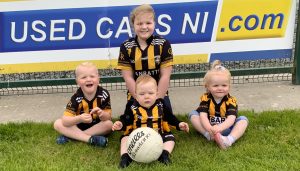 There are still a few fixtures left to be sponsored in the Junior league. The cost is £25. Please contact Roisin for more details.
Crossmaglen LGFA Notes
Safe Return to Play: We are all delighted to have all teams got back out training, and fixtures have began with leagues. We encourage all our members to ensure the keep in touch with their managers to keep all information ad recorded up to date as per the GAAs guidelines.
Please see below the training times and matches  for the various age groups for the week ahead. This will be re-evaluated when the games begin, in the next few weeks.
U10 & U12 training times this week:
Our younger squad had their first match on Saturday against Carrickcruppen. This was the first competitive match of the year, for these young players. We were extremely proud of all the individual efforts, and also the progress they have made, in just a few weeks.
Training continues
on Monday at 6.15-7.30pm
.  All players who have just completed P3/R3 to P7/R7 should attend. Everyone is welcome, whether you have played football before or you would just like to give it a go.
Our next game will take place
on Saturday At 11am
.  All U10.5 & U12.5 squad will play Dromintee, this is our first home fixture.
U14 & U16 training information: 
This group will take on Silverbridge in their first league fixture,
on Monday evening
 at home. Good luck to the girls and their management.
Wednesday 6pm to 7.15pm
: All players,  including those who have just completed 1st year of secondary school should attend this training session.
Minor & Senior News:
Our seniors
got off to an amazing start in their league campaign.  They travelled to Granemore
on Saturday evening
and came away with a win. The score line at full time, was
4:19
v 5:9.
They continue to train to gather with Maria & Peter. They will keep in touch with you on arrangements.
Registration information:
Registrations are now due and can be paid online or to your coach. All players need to be registered in order to train and play for the coming season. Thank you for your cooperation.
Pictured below; Our U15 squad sporting their new  jerseys. Many thanks to sponsor, Mona and the McEntee family for your generous sponsorship and ongoing support. 
Draw Date; 19/07/20
Numbers Drawn; 12  15  17  21 
No jackpot winner 
3 matched  3 numbers winning £35;
Patrick Martin Hughes, Cairde, Margaret McConville, Cairde and Callum Murphy, c/o David Donaldson 
Well done to our match three winners. 
Jackpot; £1300/€2300
Play online; https://www.klubfunder.com/Clubs/Crossmaglen_Rangers/lotto
Step by step to feed the next child
The annual Mary's Meals sponsored walk will arrive into Armagh on the 6th August. The second day,  the walkers will leave Armagh in the morning and will arrive into Blaney at 4.30pm approximately. To show our support for this marvellous initiative which raises much needed funds for those less fortunate, I will be joining the the walk outside Keady as they head for Blaney. I'd love if others would join me wearing club colours. Please let me know if you would like to get involved. Anyone who wises to donate, please visit Mary's Meals Armagh & Benburb Facebook page.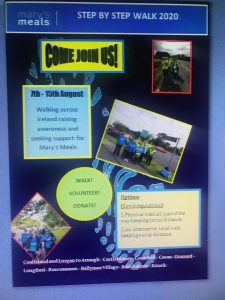 Post Office; Community Engagement Category
During the lockdown, we worked closely with Colm, Martin and Centra Crossmaglen delivering groceries and checking in with those most vulnerable and alone. This joint effort was recognised and Crossmaglen Post Office was awarded the Post Office's 'We're Stronger Together' award for the NI & Wales region. Post Officer Area Manager Timmy Grant said
'Crossmaglen won this category as they have really gone the extra mile for their community during this pandemic'.
A fantastic recognition for a community effort.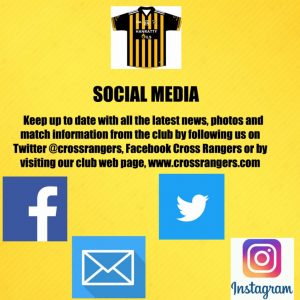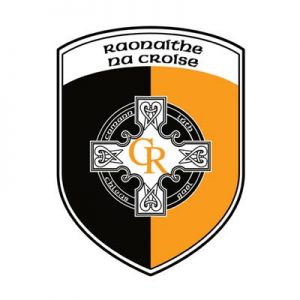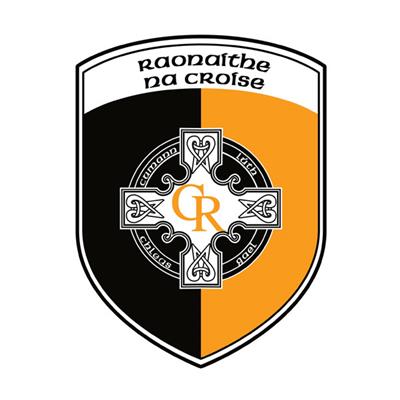 Posted: July 19th, 2020 under Club News.