Crossmaglen Rangers Club Notes 21/06/21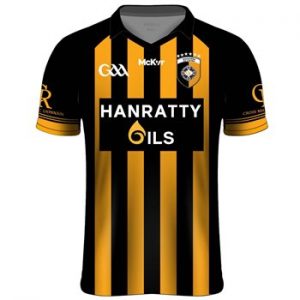 Armagh SFL Rd 9
Cross V Granemore
Shortly after Stephen Murray had thrown the ball in, we had a point on the board. This set the precedent for the first quarter, it was all one way traffic and by the first water break, we had seven points registered (Cian, 2(f), Caolan Finnegan 1, Tony Kernan, (3f), Stephen Morris, 1) and the visitors had yet to score. After play resumed, we extended our lead with three points (Cian,2, Paudie,1) one after another before Granemore got their first score of the game, a point from a free converted. Both sides traded points (Caolan) and with only minutes remaining until half time, a Granemore point preceded a super ball from Dara O'Callaghan into James Teelan who fisted the ball into the Granemore net and by the mid way point we had a commanding lead.
Cross 1-11 Granemore 0-3
Granemore opened the scoring of the second half. Points from Dara O'Callaghan and Cian McConville (2) strengthened our lead.  Ronan Fitzpatrick slotted over a point and seconds later Granemore replicated this. The last quarter saw Granemore score four points without reply to reduce the deficit. The  last score of the match, a Ronan Fitzpatrick point brought the scoring of the day to a close.
Cross 1-16 Granemore 0-9 
Well done lads and management
Half Time Draw
Well done to Lauren Wallace, Culloville Rd who won the half time draw at the senior match.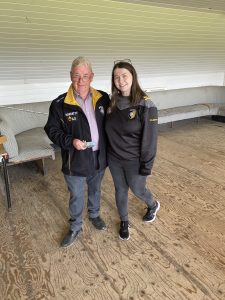 Fixtures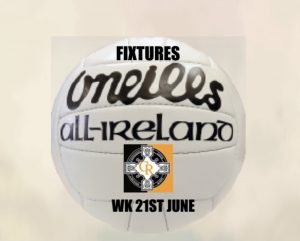 Good luck to all teams/managements.
Monday 21st June
U17 Div 1 Rd 6
Killeavy V Cross,  Killeavy, 7.30pm
Tuesday 22nd June
U13 Div 1, Rd 7
Cross V St Patrick's, Cross, 7.30pm
Thursday 24th June
U15 Division 2 Championship Prelim Rd
Cross V Carrickcruppen, Cross, 7.15pm
U19 Div 1 Championship Prelim
Cross V Mullaghbawn, Cross, 8pm
Cross V Maghery, Cross, 2pm
JFL 2020 Rd12
Dorsey V Cross, Dorsey, 2pm
Sponsor A Ball Senior League
Seamus Murtagh will sponsor the ball for our senior league game V Maghery. Many thanks to  Seamus for your ongoing support.
Seamus presents the ball to Daniel Cunningham.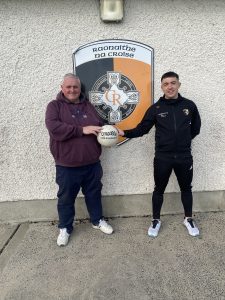 Junior League Sponsor A Ball
Centra will sponsor the ball for our junior league game V Dorsey. Thanks to Colm & the team at Centra for your sponsorship.
Colm presents the ball to Shane McConville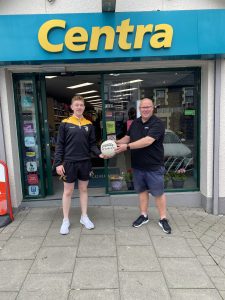 Crossmaglen LGFA Notes
Another successful Cross Square 100, was completed on Sunday, in delightful sunshine.  A massive thank you to all who dig deep and sponsored a lap, we were overwhelmed with your generosity. Also, thank you to all who volunteered and made the event run smoothly. It's great to be able to organise events, in safety and sunshine which the whole community can enjoy!
Team News! 
Under 10.5s-  another brilliant performance from all our younger players, travelling to Kileavy. These matches are really helping with our skill development and confidence.
Training continues for all players
6-7.15pm on Monday
.
We have out second mini hub for our u10.5   (p4 r4 / p5 r5 / p6 r6)
on Saturday 26th June
in killeavy.  We are to met in Kileavy at 1.30 and will play against Kileavy,  Whitecross and Dromintee.
Under 12.5s- No matches this weekend, and we are waiting to hear about the next round of fixtures.
Training will continue
on Monday night
as normal.
Under 14.5 & 16.5- 
This session is for all secondary school players. Training is every 
Wednesday  6pm-7.15pm
, on Pairc Na Og and
Saturday 4-5.30pm
on the Back Field.
Seniors
– They are training
at Thursday 8pm
 and 
Saturday 6pm
. For more information contact Maria or Peter.
A reminder that all players must be registered with the LGFA, in order to train or play. If you are unsure how to do this, just contact a coach or committee member.
Calling all Mothers & Others!!!
There has been a fantastic response to our come and try sessions. Now it is time to register for the season ahead. Training continues
on Monday at 6.15pm
, in Pairc Na Og. Everyone is welcome!
Armagh LGFA Fixtures for the Week Ahead:
Gaelic for Mother's & Others
v Silverbridge
U14.5 Division 2 League
Thursday 24th June @ 7.30pm
v Armagh Harps (Home)
Cross Rangers Summer Camp Sponsored By Eugene Duffy Construction
Our annual summer camp will take place from Monday 16th – Friday 20th August.
Registration is now open online via KlubFunder.
Please use the following link to register;
https://www.klubfunder.com/Clubs/Crossmaglen_Rangers
A maximum of four children can be registered online. (Please contact us if you have more than four children to be registered)
The cost will be £30 per child and a family discount will apply; third child +; £15 each.
U6.5- 10am – 12pm (A Parent/Guardian must stay with their child. The teddy  bear's  picnic will take place during the camp, more details to follow.)
U7.5-U15- 10am-2pm.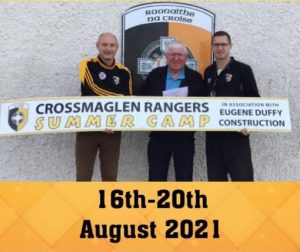 Club Lotto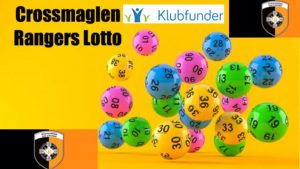 Draw Date; 20/06/21
Numbers Drawn; 14  22  28  30 
No Jackpot Winner 
4 matched 3 numbers; Gerard Moley, c/o Miceal Moley, Blaithin Cooney, c/o Patricia Hughes, Nuala Murtagh, c/o Seamus Murtagh & Oliver Donaldson, c/o Peadar McCoy win £25 each. Well done to our winners. 
Jackpot; £6000/€7000
Next Lotto Draw; 27/06/21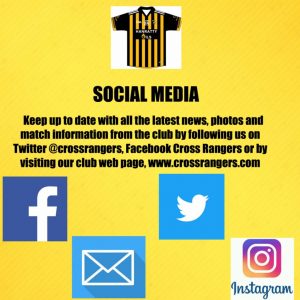 Posted: June 20th, 2021 under Club News.