Crossmaglen Rangers Club Notes 22/02/21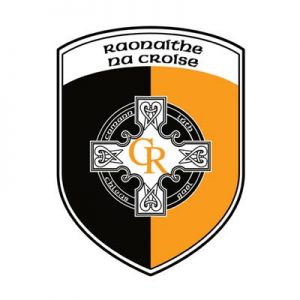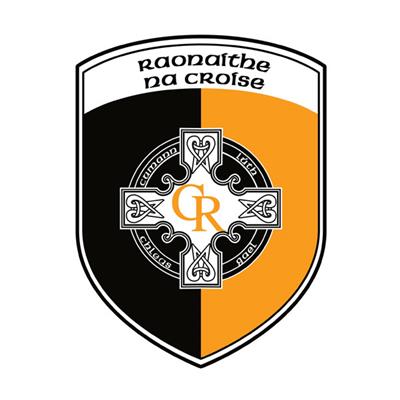 Townlands Around Crossmaglen
On Monday night at 7pm, local historian, Una Walsh will host a talk via zoom, 'Townlands Around Crossmaglen' Thanks Una for facilitating this. Everyone welcome to join the event.
Please use the following link;
https://zoom.us/j/92645561629?pwd=M3BDRllHck9JdjZUK1ZNQWFBWHlkUT09
During the week, we will be calling on more volunteers to erect the new townlands stones. We have a detailed map which will help with placing the stones in the correct locations.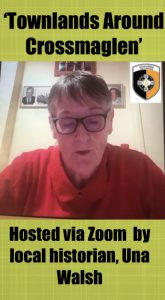 Cross Rangers – This Is Your Life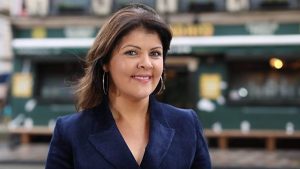 This Tuesday night we will welcome Tyrone's finest. Lynette Fay. Lynette is the first of two Tyrone female guests who will be in the hot seat, 'Cross Rangers This Is Your Life' hosted by Oisin McConville.  To join us, please download the teams app and hit on the link shared on our social media platforms. The throw time is 7.30pm. Everyone welcome to join us, from near and far! We are proud and honoured to have had Sean Boylan as our guest last Tuesday evening, thanks Sean and Oran!
Next week we look forward to welcoming Niall McNamee. 
Thanks to all the businesses  who have placed donation buckets in their shops. You can also donate online via KlubFunder.
Donations can be made via Klubfunder
https://www.klubfunder.com/Clubs/Crossmaglen%20Rangers/GeneralPayment
Rangers Virtual Tour Of Ireland
On Wednesday, 24th February  we will launch the 'Rangers Virtual Tour Of Ireland' which will begin On Monday, 1st March and finish on Sunday, 4th April. This exciting endeavour for the young and not so young will see us all get off our couches, get motivated and get moving! Starting with out little Rangers, U7.5  right up to our senior squad, along with supporters, members and friends,  we want you all to get involved, as an individual, a family, a workplace team, whichever suits best but adhering to the current health guideline and restrictions. This  virtual adventure will see us visit every county in Ireland. As we ramble the high roads and low roads of each county, we will receive a céad míle fáilte  from a famous citizen of that county, they will encourage us to keep going and they will share some information about the County they call home. It is going to be an epic journey and we will be with you every step of the way, sharing videos, photos and we will post regular updates. There will also be spot prizes as we clock up the miles/kilometres/steps. We send our sincere thanks to Padraig and Raymond Watters, Londis and Circle K, Castleblaney for their generous sponsorship of this event.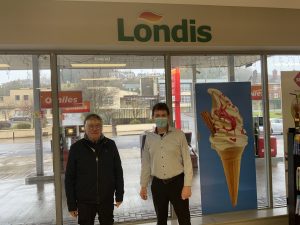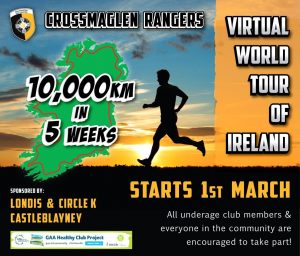 Cross Rangers Lotto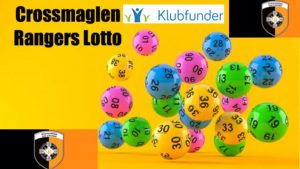 Draw Date; 21/02/21
Numbers Drawn; 3 7 11 24 
No Jackpot Winner 
11 matched 3 numbers; Oisin O'Neill, KlubFunder, Martina Rice, KlubFunder, Roisin Murtagh, Cairde, Marie McArdle, Gerard Moley, Tom McKay, Maureen Murphy, Patrica Quinn, Eamonn McDermot, Sally McEntee & James McAvoy who win £10 each.
Well done to our winners.
Jackpot; £4300/€5300
Next Lotto Draw; 28/02/21
Club Mass
Due to the current restrictions, we can't have our club mass in the Rangers Hall. When restrictions ease and churches reopens, our club mass will take place in St Patrick's and will be broadcast via the Upper Creggan parish webcam. All those deceased who were associated with Cross Rangers will be remembered at the mass, in particular, those who sadly passed away in 2020.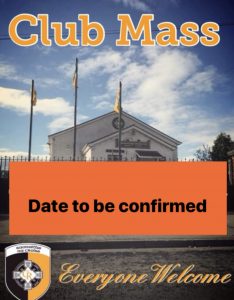 Armagh Club Draw 2021
The club must sell a minimum of  25 tickets Armagh club draw tickets. Once we reach this target, every ticket we sell we receive £80. Tickets available from Gene Hanratty, Danielle Morris or Roisin Murtagh. There is four monthly draws. March, April, May and June. Tickets cost £100 and we are giving members an option of paying 4 x £25 instalments. It is important we support this draw as it raises vital funds for the club in these difficult times.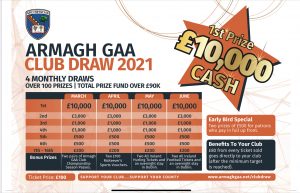 Field Sign 
We have three new field signs in St Oliver Plunkett Park. Thanks to all the businesses who have sponsored a field sign.
Sponsoring a sign is an ideal way of promoting your business as well as supporting the club.
A field sign costs £400 for five years. (We will provide the sign).
Please contact Joe Kernan or any committee member for more details.
Condolence
Joseph O'Reilly, Cheshire, formerly Urker
During the week we heard the sad news that former player & committee member, loyal supporter and friend, Joseph O'Reilly had passed away. Joseph was the Son of the late, Joseph & Alice O'Reilly and was reared in Urker. He played for the Rangers in the fifties and was an active member of the club from a young age. Joseph's role in the club in the early sixties was to book bands for the hall. He worked in Quinns, the Milestone and he played for their team alongside, Tom McKay. In the mid sixties, he married Pauline Hamill originally from Broomfield but her family had emigrated to Crewe. Pauline had family connections in Cross, Owenie McGeough who ran the local drapery shop was related to the Hamills'. When home on holidays from Crewe, Pauline met Joseph  at a dance in Blaney. They married in June 1965 and they set up home in Crewe. Joseph was a very successful  businessman and his business, Cornwallis Group, Paper and packaging company continues to thrive today.
Joseph never forgot his roots, always keeping up to date with what was going on at home, regular contact with his family  and supporting the black and amber, wether it be from afar or when he could get home to attend games, usually accompanying his life long friend, Bernard Nugent. The O'Reilly family have a long association with Crossmaglen Rangers.
We extended our deepest  sympathy  to Joseph's Children, Kieran, Jarlath, Catherine, Joseph and Declan, Grandchildren, Maisie, Ben, Mollie & Gabriel, Brothers' Paddy & Francis (Dick), Sisters' Anne, Phyllis, Josephine & Kathleen.
(John, Tommy, Gerry and Desi pre-deceased)
Ar dheis Dé go raibh a anam.
Pic Below; Joseph and Pauline O'Reilly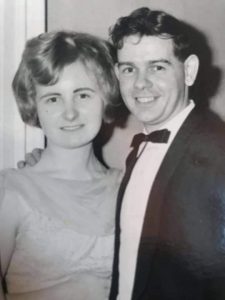 Pic Below; Josie, Mrs O'Reilly, Bernard Nugent, Paddy and Joseph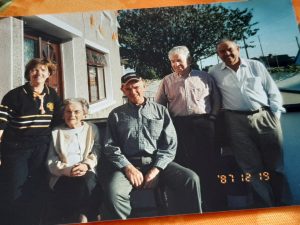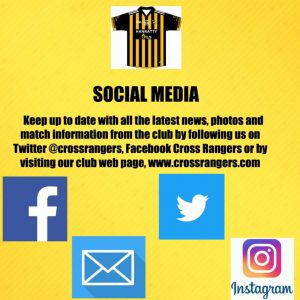 Posted: February 21st, 2021 under Club News.