Crossmaglen Rangers Club Notes 22/07/19

The opening minutes of the contest saw both sides registering a point, the home sides score coming from a free converted, ours coming thanks to Caolan Dooley.
With only five gone on the clock, we were unfortunate to concede a goal, Referee Damian Shields consulted the umpires after there was a scramble on our goalmouth and after consultation, Killeavy were awarded a goal which give them an early lead.
Two points for Oisin Doyle (1,F) and one for Kileaavy left the margin two as the game entered the second quarter.
Tony O'Callagan got his name on the scoresheet, a super strike from  a '45 which was followed by an Odhran Kieran point to level matters as the game entered the final minutes of the half.
Killeavy finished the half on a scoring spree, four points without reply to leave the score at the break;
We got off to a dream start seconds after the ball was thrown in to get the second half underway, a fantastic pass from Patsy Finnegan to Odhran Kieran who hit the ball into the roof of the net to leave just one between the sides.
A minute later, an Oisin Doyle point left it all square once again. Both sides had missed opportunities and there was along spell where neither side scored.
Killeavy then scored two points in quick succession to regain the lead, an Oisin Doyle point brought it back to the narrowest of margins again. As the game entered injury time, the home side stretched it two  again, the point the result of a '45.
Once again, Oisin slotted over a point but we could not get the equaliser, it wasn't to be our night and Killeavy ran out winners on a score line of;
Hard luck lads and management on a gallant effort.
Congratulations to Killeavy, team and mentors.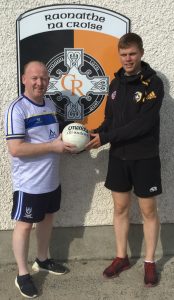 As many of you are aware, huge work has being going on at the Council field and surrounding area. This voluntary work is being carried out by coaches and club members. Huge praise for everyone who has given up their spare time and has worked so hard.
To everyone who provided equipment and machinery, we send our sincere thanks.
Following on from last year when Uachtarán Chumann Lúthchleas Gael, John Horan visited the club and planted a tree to symbolise the youth of Crossmaglen Rangers,
we are delighted and proud that the Council field will now be an extension of St Oliver Plunkett Park and will be known as Páirc na Raonaithe Óga. Pairc Raonaithe Óga will be dedicated to the youth of Crossmaglen Rangers. We are dedicated and fully committed to continuing our work in developing facilities and promoting the well being of the young people of our great club who are the foundation stone for the generations to come who will don the black and amber.
The motto which will be displayed at Páirc Raonaithe Óga will be
"Mól an óige agus tiocfaidh sí  "nurture youth and it will flourish".
It will be under the auspices of Crossmaglen Rangers and Cumann Lúthchleas Gael and vested in the GAA.
Following the official opening we will have a full sports day where everyone is very welcome to come along, particate and celebrate this momentous occasion in Crossmaglen Rangers Club history.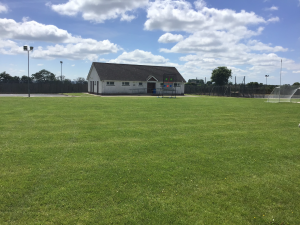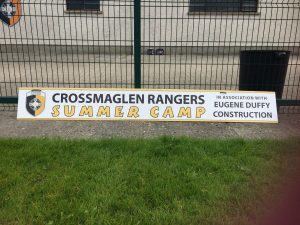 Many thanks to Barney Quinn, Cullington Property, Eugene Duffy Construction & Alan Hearty, New York who each will sponsor a ball in the upcoming round robin fixtures of the Armagh Senior Championship.
Congratulations to Jamie Carisle and partner, Danielle on the birth of their son, Dáithí.
Huge congratulations to Aveen Donaldson and Dermot Bellew who got married on Friday.
Wishing you both many years of good health and happiness, Aveen and Dermot.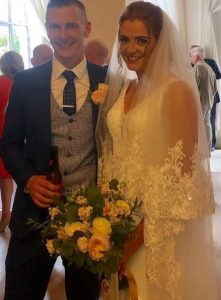 Pic Below; The girls get ready to do a guard of honour for the new Mrs & Mrs Bellew.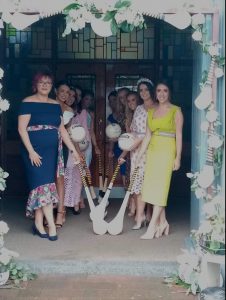 Congratulations to Ryan and Grace Gumley who celebrated their wedding with a reception in the Rangers Hall on Saturday.
Wishing you a lifetime of good health and happiness.
Posted: July 21st, 2019 under Club News.