Crossmaglen Rangers Club Notes 23/03/20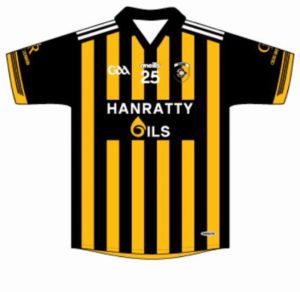 It has been a sad week in the club with the huge loss of two former players who will be forever remembered as two of the greatest players who have ever donned the black and amber, Patsy Kieran and Brian Morgan.
Due to the current situation, their funerals had to be restricted and neither men got the send off they both truly deserved.
Patsy Kieran
Pictured Below; The late Patsy Kieran RIP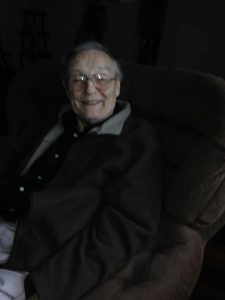 Patsy Kieran was born on 20th December, 1935. From an early age, it was evident that Patsy was a classy footballer. His footballing career really took off in the early fifties.
1953 was a busy year for him, at just eighteen years old, Patsy lined out at midfield for Armagh against Antrim in the first round of the Ulster Championship. The same year, he captained Armagh minor team who beat Tyrone, 2-15 to 3-02 to win the Ulster Minor Championship and he was also captain, St Pats's, Armagh team who won the MacRory Cup. He represented Ulster in a schoolboys league in an All Ireland series.
Following on from their Ulster success, Armagh minors played Mayo in the All Ireland SF, Patsy got injured when the game was only five minutes old. This was a huge blow to the Armagh side and Mayo went on to win the match.
Due to injury, Patsy played no more football in '53 in what was a huge year for Armagh, who reached the All Ireland Final but unfortunately were beaten by Kerry. How it might of been different if Patsy had of played.
1954 saw Patsy and club mates, Gene Morgan and Frank Kernan win an Ulster medal when Armagh beat Cavan in the Ulster Final, 2-10 to 2-05.
The following years were tough, emigration was rife and Cross suffered like so many other clubs. 1957 saw Patsy McConville, Eamon Casey and Tommy Morgan all emigrate. Patsy suffered a number of injuries in these years and his footballing career ended in 1958.
Most of all Patsy was a family man, devoted to his Wife Paula and their three Sons, Thomas, Paddy and Stephen. Patsy knew first hand how cruel life can be, their only daughter Siobhean died in infancy and he suffered an immeasurable loss in 1991 when Paula died in a road accident leaving a huge void in his and their three Sons lives.
In later years, Patsy's life was centred around his Grandchildren who he doted on. He remained all through the years a dedicated and loyal supporter of Crossmaglen Rangers and was delighted with all the successes.
The messages of sympathy that have written and tributes posted about Patsy over the past few days are truly fitting to a life so fulfilled and well lived, we hope that these tributes gave his Sons and extended family some comfort in the weeks and months ahead, thinking particularly of his Son, Thomas, who we wish continued good health to. Ar dheis Dé go raibh a anam.
Pictured below;  The late Brian Morgan with his Wife Ann, Sister Margaret, Daughter Annette, Son In Law Derek and Grandchildren, Rachel and Aaron Teather
Pictured below; Brian and team enjoying success in 1965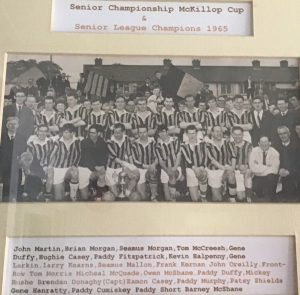 Brian Morgan was born in September, 1937, Son of the late James and Mary Morgan. Brian was one of eleven children, Fr Pat (RIP), James (RIP), Tommy (RIP), Gene (RIP), John, Maura (RIP), Margaret McConville, Kathleen Eardley, Annie Shannon and Jeanette O'Callaghan. The Morgan family have along association and affiliation with Crossmaglen Rangers. In 1953, aged just sixteen years old, Brian lined out for Cross seniors for the first time. The following year, Brian along with Gene Larkin and Eamon Casey won an Ulster medal with Armagh minors when Armagh beat Down, 2-8 to 0-9. 1956, Brian joined the Armagh senior panel following in his Brother, Gene's footsteps. His debut match for Armagh was in 1957 when Armagh beat Tyrone by one point in the Ulster Championship. St Oliver Plunkett Park was officially opened in 1959, two matches were played in the new field that day and Brian was a member of the Armagh team who played Monaghan. The sixties were glorious years for the club and Brian featured strongly on theses teams, winning Armagh Senior Championship medals in 1960,62,65,66 and 67. As was the norm for a lot of Irish young men on the 60's, Brian emigrated to England. It was here he met his wife, Ann who was a nurse and from Wales. They retuned to Ireland, bought a house in Cherryvale, Dundalk and this is where they reared their three children, Damian, Geraldine and Annette and is still the family home today. Brian worked for the Catholic Book Club which was based in Greenbank, Newry and his job moved to Dundalk when the CBC opened a base there.  A man of great faith, Brian was heavily involved in Parish work in Dundalk. A lifelong member, supporter and friend of Cross Rangers, Brian never forgot his roots. He travelled near and far to support the Rangers and was exceptionally proud of all the Morgan family connections who played. Like his Sister Margaret, 'Faith, Family and Football ' defined Brian's life. Brian was truly devoted to family, his Wife , children and grandchildren and he never forgot his Cross family, religiously visiting his Sisters every Wednesday. Last May, we hosted a gala evening honouring the victorious teams of the sixties and we were delighted  that Brian, Ann, Daughter Annette, Son in law Derek,  Grandchildren, Aaron and Rachel joined us. It was lovely to see old team mates reunited and reminisce about the golden days of the 60s which they all played a part in. Memories were created and photos were taken on that special evening which will treasured by families forever. We send our sincere condolences to Ann, Damian, Geraldine, Annette, Grandchildren, Rachel, Megan, Conor, Emma, Aaron & Aoibheann, Brother and Sisters and the Morgan family circle.
Pictured Below; A young Brian in this photo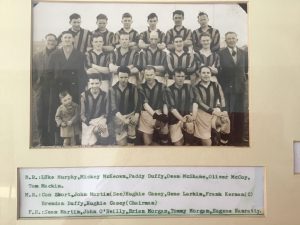 Community
In these uncertain times, we ask all our members to please follow all NHS guidelines in relation to Covid-19, in particular social distancing.
We hear a lot about the negativity of social media but at this minute in time, it is one of the most important and positive resources we have. Social media is communication, it will keep families in touch especially Grandparents who are missing Grandchildren, it will connect you with people who might be feeling isolated, lonely or vulnerable and our young people can interact with their friends. GAA is at the heart of every community in Ireland. We are here to help anyone who may need assistance. Can we ask that people check in with elderly neighbours or friends, a simple phone call or text to see how they are doing or if they need anything, this small gesture could mean so much. And remember, you can't look out for anyone else unless you look after yourself!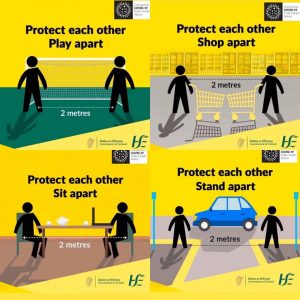 Rosary
Huge thanks to everyone who joined us reciting the rosary. The final night is Monday  at 9pm.

Old pics 
I am sharing old photos on our social media platforms, #flashbackfriday.
Anyone who would like a photo to be included, WhatsApp
0876659126
.

St Patrick's Day Concert
Thanks to everyone who took part in our St Patrick's day concert online. The talent was amazing and it was very uplifting and entertaining to see all the young people performing. If you missed it, visit Cross Rangers FB  to see the wonderful talent we have in our area. I think Johanne has found some new acts to preform in Scór!
NMDC Irish Language Bursary Scheme
Newry, Mourne & Down Council's Irish Language Bursary Scheme 2020/21 is now open.
You can download an application pack by visiting;
Congratulations
Huge congratulations from all at Cross Rangers to Thomas Niblock and Kirstie Breen on their recent engagement.
I believe his new Wife to be resides in Lurgan Parish, so definitely wee bit of Armagh in her but I'm sure Thomas will be working on a transfer to Derry!
Wishing you many years of good health and happiness, Thomas and Kirstie.

Condolences
Mrs Leon Barron, Bessbrook
Crossmaglen Rangers  are saddened to learn of the recent passing of Leon, Wife of Dominic, lifelong member and supporter of Crossmaglen Rangers.
We extend our sympathies to Dominic, Daughters, Pauline and Caroline, Sons, Anthony, Nigel, Kieran and Gary and the entire family circle at this sad time.
Ar dheis Dé go raibh a hanam.
Mrs Chris Marron Carrick, Carrickmacross
The entire club send our deepest condolences to PJ, Stacia, Amanda (Morgan), Martin and Jacqueline Marron and the extended Marron family on the recent sad passing of PJ's Mother, Chris.
Ar dheis Dé go raibh a hanam
Paul Mulligan, Castleblayney 
We send our sincere condolences to Eilish, Eamon, Edmund, Sinead (Lenaghan), Eimear (McEntee) and Niamh Carragher and the extended Mulligan family on the recent sudden and sad passing of Eilish's nephew, Paul.
Ar dheis Dé go raibh a anam.
Teresa Donnelly, Culloville Rd
Sending our deepest sympathies to Husband Michael, Daughters, Siobhan, Michelle, Fiona and Anita, Son, Patsy, Grandchildren, Brother, Kevin, Sisters, Eileen, Eilish, Carmel, Gretta, Majella and Veronica and the entire Donnelly & Rowland families on the sudden passing of Teresa.
Ar dheis Dé go raibh a hanam.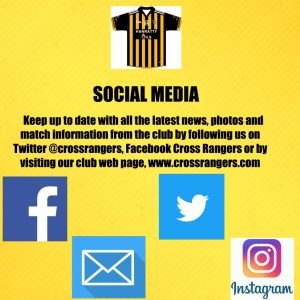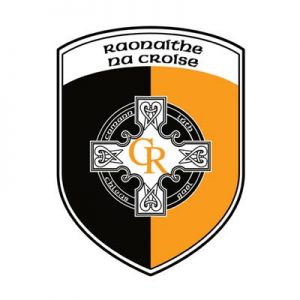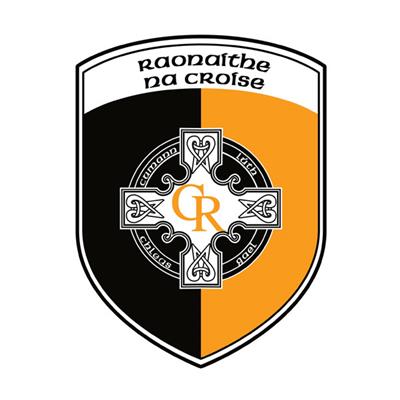 Posted: March 22nd, 2020 under Club News.