Crossmaglen Rangers Club Notes 27/01/20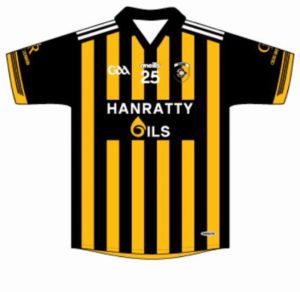 Registration
On Friday evening
we held our first registration evening, for the U11.5 team. Thanks to all the parents/guardians who attended.
Registration evenings continue this week with U15 Registration
on Wednesday evening
in the Rangers Hall and U13 Registration on Friday, upstairs in the changing rooms.
Both throw in
at 7pm
and we are delighted that representatives from Aware will speak to both squads.
There will be a chance for Parents/Guardians to meet and speak to the Mentors.
Anyone who wishes to pay their membership can also drop in.
U11.5 mentors
Anthony, Jonny and Shane with Tony Mc (missing from pic is Pete McGeown & Kevin Hughes)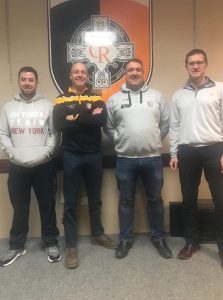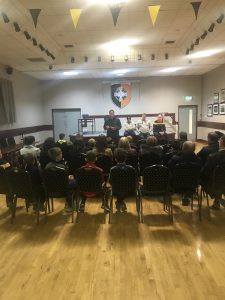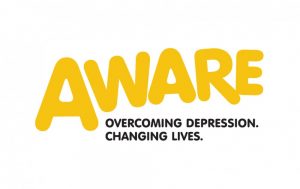 On Friday, a new field sign sponsored by Luke Murphy's chemist was unveiled.
Luke Murphy who will be ninety three in March celebrated forty years in business on the 20th January.
It was great to meet Luke on Friday and hear him reminisce about his life where Gaelic games has played a huge part.
Luke remembers vividly as a young boy travelling to Mullaghbawn to support Cross against Newtownhamilton in the Armagh County final. Newtown were ahead when the ball was kicked into in a corn field behind O'Hanlons bar. A search ensued but the ball was never found (this could yield another story but that is for another day!) and with only one ball on the day, the game was abandoned and Newtown were crowned County champions.
Luke was educated in St Patrick's college, Armagh and during his time here he was a key player on their team and won a MacRory Cup medal.
When his studies finished in Armagh, the war had just ended and what was common place in those days, Luke went to Belfast to serve his time in his chosen career, a pharmacist. Peter McCoy originally from Clonalig was the secretary with Belfast club, Patrick Morans who were located in King St. and this was the team Luke joined. Handball was also being introduced to clubs in Antrim at this time and Luke decided to try his hand at this also!
Luke's time in Belfast was very successful, he wore the colours of Antrim both on the Gaelic field and in the handball court. Returning to Cross in the late 50's, Luke transferred back to his home team and what was to be the highlight of his sporting life happened in 1960, Luke won a championship medal donning the black and amber.
We thank Luke and his Daughter Moria, Son Colm and the Murphy family for their ongoing and loyal support for Crossmaglen Rangers and we wish them continued success in their business.
Back L to R
Colum, Rachel Mackin ( Superintendent Pharmacist) Deirdre Mallon, Sandra McEneaney, Maire, Leah Mallon and Luke.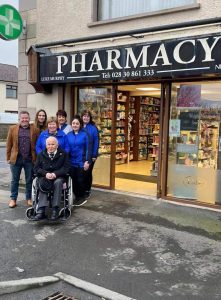 Field Sign 
Sponsoring a sign is an ideal way of promoting your business as well as supporting the club.
A field sign costs £400 for five years (We will provide the sign).
Please contact Joe Kernan or any committee member for more details.
Pic. Below
Maire and Colm beside their new sign in St Oliver Plunkett Park.
Crossmaglen LGFA Notes
Cross Square 100
will take place
on Sunday 16th Feb.
 We are delighted to host this community event for the 3rd year.   It is aimed at all levels of fitness, so everyone can get involved by completing at lap or more at your own pace. The square will be set up for walkers and runners
from 9.30am to 2pm
. Individuals or businesses can support this event by sponsoring a lap for £20, or you can make a donation on the day.
A reminder to everyone who may have family away from home, you can play our lotto online by clicking on the following link;
Draw; 26/01/20
Numbers Drawn; 3  13  16  24 
No Jackpot winner
3 matched  3 numbers;  Seaniie  McConville, Benny Duffy & Cormac Donnelly win £35 each. Well done to our match three winners. 
Jackpot; £4000/€5000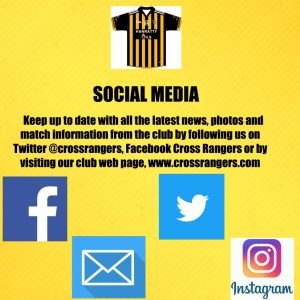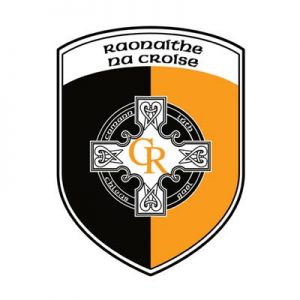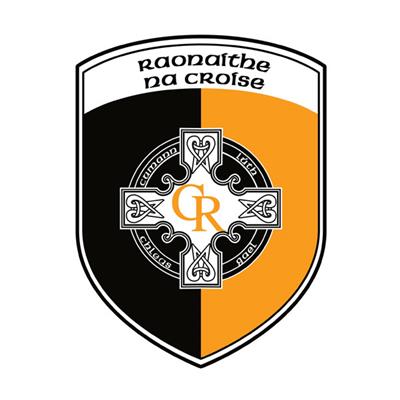 Posted: January 26th, 2020 under Club News.