Crossmaglen Rangers Club Notes 27/04/20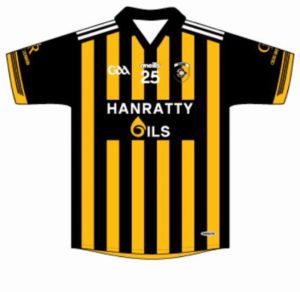 Reminiscing With A Ranger
This week I spoke to Oliver Short. So far, Oliver is my youngest Ranger to reminisce with! Thanks very much Oliver for reminiscing and for the photos.
Pic Below; Oliver and Mairead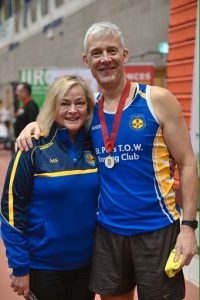 RM; Oliver, you were born into a footballing house. The Short family have a long affiliation and association with Crossmaglen Rangers and the GAA. Can you recall your earliest memories of going to games?
OS; I can remember going to Ulster and All Ireland games in Clones and Croke Park with my late father Paddy and quite often he was in the company of colourful characters like Bernard Murphy the Chemist and Pat Flanagan the Vet. I'm one of 5 brothers and 2 sisters and each of the boys have a County Minor medal and our lives revolved around Gaelic Games whether we played in the back yard of the old school or Rathview Park and the Rangers field. My father coached and managed successful teams of the 1960's so he would take us to see the greats of Tom McCreesh, Brendan Donaghy and a youthful Larry Kearns, who I had the honour of playing  with. A vivid memory is seeing Patsy Shields drop kick a goal from about 40 m into the goal in a game in Castleblayney, I thought that was unbelievable!! My parents Paddy and Rosaleen probably used the Rangers field as an open safe place for us to spend endless hours playing in because there was not much privacy or space in a busy North St pub. Gaelic Football was continually talked about, particularly in the pub, and many high stool managers would give their opinion on teams, players and managers whether you wanted to hear them or not and whether they were ever at any games was immaterial.
Pic Below; Oliver's Parents, Paddy, RIP & Rosaleen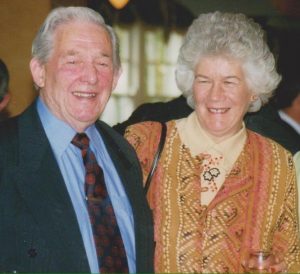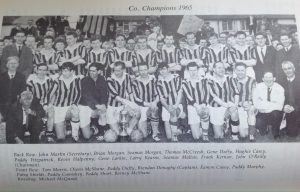 RM; Many members of your family including your late Father, Paddy, donned the black and amber, can you tell me about your Dad and other members of the Short family. (Any games or stories they told you about their playing days or their involvement with the club).
OS; My Grandfather James "The Boss " was the club Treasurer during the early years of the Rangers around 1911, obviously my Uncle Con who wrote a few books about the Rangers played in the amber and black and also was Ulster President but so too did my other Uncles Frank, Tom, Charlie and my God father Jim (Naoises father) who  was supposed to be an exceptional footballer. I have had cousins play for Louth and Antrim and various counties, sport, acting and politics seem to be a thread that binds the Short extended family.
However, it's the influence that my father Paddy had on me throughout my life that was the lasting one, his knowledge of the game (and indeed all types of sports) was immense. It was my ambition to emulate his achievements of both winning and coaching/managing a   Rangers Championship team and I was proud that he was alive to see that double double happen. All my brothers James, Patrick, Aidan, Cillian and myself won a County championship minor medal and the youngest four of us won U'21 and Senior medals also. The Shorts like all families in Cross were no exception, they were the norm, and I could name twenty families in and around our environs that contributed as much, if not more to the fabric of our community and quite often in difficult times. We all played for the County at different times and at different levels.
I can remember times in the early 80's when there would have been six or seven Shorts there or there abouts on the same team, Con, Naoise, Dermot, Patrick, Aidan myself and Cillian we were mainly defenders , some of us were probably aggressive (sometimes too aggressive) but we gave it our all.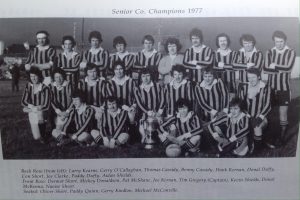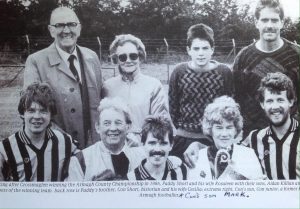 OS; My father told me stories of when they played against the Lurgan teams and the amount of personal slagging that went on even in the 1940's, the Lurgan boys would hold their noses as if the Cross boys were smelly farmers and the Cross boys would question the Lurgan boys work ethics etc!! Ironically when I married Mairead, her father Sean Haughey  (a championship winner with Clann Eireann) would tell similar stories.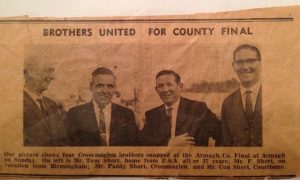 RM; When you were young, which Gaelic footballers where your heroes?
OS; On an All Ireland level I thought Tony Hanahoe (Dublin) was majestic and later the best player I ever witnessed was Kerry's Jack O'Shea, our own County players of Jimmy Smyth and Peter Loughran were truly special. On a club level I was in awe of Tom McCreesh, a local player that you recently profiled, I wanted to play with him and would have done so only he moved to play for Ramor in Co Cavan. On a local level I idolised Larry Kearns and of course Joe Kernan, but I equally looked up to Tim Gregory (who coached me to my first medal U'14), Naoise and Con Short, I thought Pat McShane and Pat Cumiskey were great strong athletes and Thomas Clarke was a underestimated but strong player. I was fortunate to win medals with these greats.Also during my playing days I was honoured to be on the same pitch as the youthful mercurial Jim McConville, the raw power of Hank Kernan, my brother Aidan, the Cassidy brothers Thomas and Benny and other players like Micky Donaldson , Seamy Albert  Gerry Zico Kindlon , Michael  McConville, Arthur McAvoy,  the Shields brothers etc. I have to say that in my final playing days a youthful Donal Murtagh was destined to be a great, he could play any position to the highest level and he fulfilled that talent. In Cross we were always fortunate that players wanted to play for us and their future partners and families came back to the club, players like Gareth O'Neill, John Donaldson and Joey Cunningham greatly enhanced our clubs profile and success.
Roisin you asked me who my favourite player was and I'd have to say it was the eldest of those great McConville boys of Jarlath, Jim, Sean and Oisin, he was Thomas who tragically died in 1976. He could do anything with a football and could handle himself on the field as well. I remember when we were at the Irish College in Omeath when we were playing Hurley that Thomas lost the hurl and toetapped the sliotar  the entire length of the field to score a goal. He was a true star that was lost to his family, his friends and his club.
Pic Below; Thomas McConville, RIP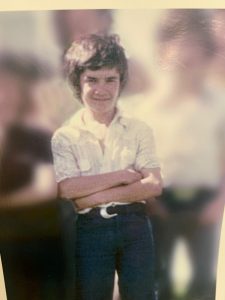 RM; What is your greatest Gaelic football memory?
OS; Obviously watching Cross win the many Ulster and AllIreland Club titles and Armaghs breakthrough in 2002 is a highlight that we all can share. On a personal note myself and 4 other Rangers became the first players in Cross to win 3 County Championships in one year the Minor ,U'21 and Senior in 1977. It is so long ago now but the memories of each game are still vivid. I was extremely fortunate with the talented players I played with and although St Colmans lost the Hogan in 1978 we won the McRoryCup that year, the following years I was privileged to play alongside many opponents from various counties as we banded together to win two University AllIreland titles. A great memory is when I was gifted an opportunity to coach 2 McRory teams from St Patrick's Maghera, led by Dermot McNicholl, Jonny McGurk, Damian Cassidy, Henry Downey, Danny Quinn and a plethora of stars that would go on to claim Co Derrys only All Ireland title. However it's my memories of coaching St Joseph's to the first of a number of Ulster College titles that pleases me most, to help locals win trophies from the school and local clubs was very rewarding, and all the club coaches from U6 to Seniors should share in any school success. Great teams need little coaching and great players need even less, Gaelic football should be all about the players and less about the management.
RM; Oliver, apart from your love for GAA, you are a record breaking and successful athlete in a sport which you took up after you finished playing Gaelic?
OS; My athletic career began as a Basketball player for St Patrick's Armagh before I ventured into Gaelic games, like Gaelic I was just average but I was tall and seemed to get in the way a lot and quite effectively. After I won my last medal for Cross, a County Junior Championship when I was 35 I turned my hand at the bike and running, I then graduated to Triathlon and after managing to conquer the swim I completed my first 70.3 Iron man in Galway at the age of 52! I may have finished 400th but I felt it was the greatest single achievement I ever made! Hugh Mor Conway had started a fitness club in Shelagh to compliment his Tug Of War and Boxing warriors and with the push of Sean Cowan and Eddie Carville I gave the indoor rowing a lash. I discovered that, like triathlons, everyone was pleased with you no matter what time or performance you did. After Gaelic football, where every fault can be analysed, the indoor rowing was personal and non judgemental however like Gaelic you meet some wonderful people who you can learn from. I've been blessed to have rowed alongside Olympians such as the O'Donovans and Sanita Purspur. I discovered that my long limbs athleticism and sheer thick wit were an advantage and I ended up winning numerous rowing medals at Provincial and All Ireland levelboth Irish and Scottish. Since I turned 60, rowing has been memorable (I'm now the youngest in my age group!) This year I was successful in National, European and World Championships, and I currently hold 6 national titles in various distances. It just proves that you are never too old to learn and never that good that you can't improve.
Pic Below; Oliver celebrating Scottish, Irish and European titles.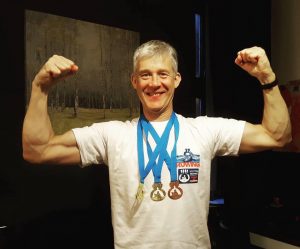 RM; Who were the influences in your sporting life?
OS; Obviously my parents Paddy and Rosaleen but I grew up in a club that promoted Gaelic culture through good times and bad. Over 50 years ago I attended the loft in the Rangers Hall to study Irish with Master Hanlon and the Rangers actively promoted opportunities to go to the Gaeltacht even then, the Rangers promoted Irish Dancing with Mona Ruddy and Athletics with Rory Kieran. My first coach and indeed most of Cross first coach was Tim Gregory who at that time was the Rangers captain, and throughout my time over 20 years playing I was influenced by Gene Duffy and in the end of my career by Joe Kernan. My school days were dominated by the brilliance of Ray Morgan in St Colmans, Gentleman Jim McKeever when at St Mary's College and then the tactical knowledge of Adrian McGuckin while in Maghera. While in St Joseph's Rory Kieran, Colin Quinn, Ollie Reel and John McMahon were ideal to coach alongside. I've been exceptionally lucky with the people that I've met and who got the best of my ability.
RM; You were a teacher for many years, a player, a manager, is there any advice you would give young people today?
OS; I only ever taught in two schools, in a career that spanned 35 years, oddly enough I only taught PE part time for a short period as I was mainly involved in teaching Mathematics. I can say that I taught many brilliant students in South Armagh and South Derry, when I say brilliant I mean gifted whether that was in bookwork, personality or sport. Being a Teacher is a privileged position, quite rewarding, often difficult as I'm sure many parents will attest to in these home schooling times. I think that my advice would be for both school authorities and pupils alike, everyone has a talent, it may not be books it could be theatre, it may not be Gaelic sport it could be other pursuits, give everything a try, don't worry about not coming first or second or even 400th. Just give life a go and realise that we all fall before we walk and there is always someone to support us. Not everyone takes the same path to their personal goals as others, but there is always fun, sometimes pain, on the way to where you want to be. Dare to be different, stand out, embrace everything.
RM; Oliver can you tell us what Crossmaglen Rangers means to you.
OS; For me the Rangers is like family, there are times you fall out but then they surprise you and you would do anything for them and they for you. The Rangers bring me joy and sometimes when I reflect sorrow, but mainly joy. I marvel at our club at the wonderful club members and committee members who have kept it alive and vibrant and meaningful over the last 100years and more, and during over 30 years of occupation our club stood strong and defiant. Members who coach teams, who sit on committees who work without any fanfare are the real heroes, being a player is the easy bit and titles or individual accolades would not be won without the unheard of heroes in our club and every club.
Michael Duffy is a mentor with North London Shamrocks and last week he contacted me after reading my article on Anthony Hearty.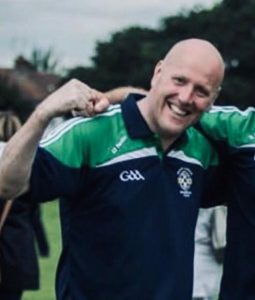 Pic Below; Michael, Clare, Michael, Patrick & Sean Duffy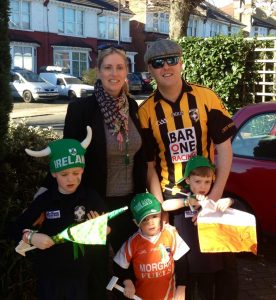 RM; Michael, you are loyal follower of Cross Rangers, you needed a few answers after you read the Cross Club notes two weeks ago?
MD; As always I read the weekly Cross club notes over here in London. The recent feature on Anthony Hearty celebrating his 93rd birthday was a great read and particularly interesting for me when his mother Catherine Duffy was recorded in his family history. My late father Michael Duffy was born in Crossmaglen in 1941 and knowing some of the Duffy family history dating back for over 200 years to Crossmaglen I was intrigued and excited to know if and how Anthony Hearty and his mother Catherine Duffy were connected to our Duffy's?
RM; Michael, I'm feeling  like Davina McCall, Long Lost Family! I put you in touch with the Hearty family in Liverpool, can you fill us in with the family connection?
MD; Thankfully this was all fairly easy to piece together and a quick look at the Duffy family tree showed that my Grandfather, Cornelius Duffy (born 1898) and Anthony Hearty's Mother,  Catherine were actually brother and sister and born in Newry Street Crossmaglen to Parents, Cornelius and Mary Duffy. Amazingly there are at least another 3 Cornelius Duffy's in the previous 3 generations beforehand all from Crossmaglen!! Catherine Duffy and Cornelius has 3 other siblings Mary, Annie and Margaret. So what a lovely surprise to discover the Hearty's and to celebrate Anthony's long happy family life and his great football achievements for Crossmaglen and Armagh. Well with this new information, we can confirm, Anthony Hearty and my dad Michael Duffy are first cousins who both left Ireland in the diaspora for work and made roots in Liverpool and London but never forgetting their proud roots from Crossmaglen.
RM; Michael, can you tell me about your Dad, Michael?
MD; Michael's early days in Cross were really happy ones and he would often recall those memorable days with great appeal. He would hold a captive audience telling stories of the triumphant Crossmaglen Rangers, the excitement of the horse fairs and even legendary prize fights…. everyone was always captivated and ready to listen. The Duffy family home was Creamery Road on the site of the Glencarron Nursing Home. Michaels Mum was Mary Hughes, Cullyhanna ) & Dad Cornelius and they had nine Children (Cornelius, Mary, Patrick, Thomas, Peter, Ellen, Michael, Anne and Olive) With a growing family and sadly a lack of work the Duffy family moved to Armagh City in the 1950's and my Uncles carried on the football with Pearse Og's. My Uncle Patsy became President of the Pearse Og's Club. My Dad was always very artistic and excelled in fine art portraits and became an accomplished musician.
RM; Music brought your Dad on an amazing journey Michael?
MD; After completion of his apprenticeship,  it was time to make plans for the future. The Showband Boom had taken over the whole of Ireland and at the age of 16 Michael was on the crest of a wave touring all over Ireland and England singing and playing guitar in various Showbands. One of the famous Armagh Showbands was led by Hughie Trainor and they had a juke box and dance hall hit with "The Boys from the County Armagh". It was here that Michael first met his future wife Gabrielle Trainor who was Hughies niece. Gabrielle's Father, Janes Trainor was a famous violin player.
Pic Below; Michael & Gabrielle Duffy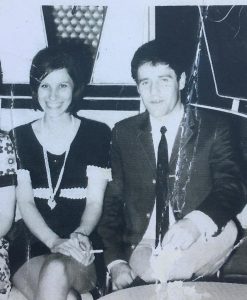 MD; Tours all over Ireland and the UK were topped off when Michael and his brother  Cornelius returned back to Armagh in a white American Cadillac bought in London from a stranded American who was stuck for cash heading back to the USA in a hurry. (the dealing men from Crossmaglen got a great deal that day!) The swinging 60's were calling and the romance of Michael and Gabrielle blossomed and together they headed off to London and shortly after they were married.

RM; North London is where you family settled and remain today.
MD; Michael continued playing music and entertaining the London Irish with the hits of the day. By now the music had to fit in with the day time job and family life. Throughout his time in London Michael became a respected tradesman and Master Builder. Crossmaglen was always with him wherever he went and he obviously was very proud of his family roots and never forgot where he came from. Sadly, Dad passed away in 2006 but my Mum, Gabrielle, still lives in North London today. Michael and Gabrielle had four children and nine grandchildren. Crossmaglen Culture & GAA has always been there in the Duffy family and is continuing well with the Duffy's at North London Shamrocks.
Pic Below; In recent years, Michael's Grandsons Michael and Patrick returned to their family roots with Crossmaglen Rangers .
Pic Below; In February 2020 Oisin McConville visited London for a training session with North London Shamrocks. Oisin is pictured with Michael Duffy who proudly played at Croke Park this summer representing London GAA.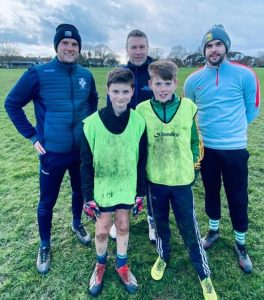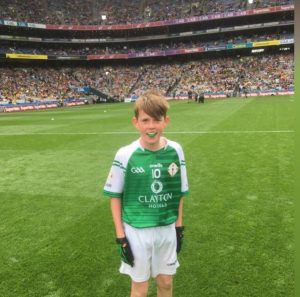 Congratulations 
Congratulations to Ross and Amy Kernan on the recent arrival of their baby boy, Seán Kernan.
Mass
Thanks to everyone who tuned into mass on Sunday morning. We never expected the audience we got! it was lovely to see people joining us from near and far.
With no internet connection,  it was a challenge but the main thing was, Fr Dermot and Fr Kevin celebrated a lovely mass in our beautiful church and all those recently deceased from the Parish were remembered. Thank you to everyone for the messages of support, one very uplifting  message in particular came from a gentleman, originally from Cross but living in the Philippines who hasn't stood in St Patrick's Church in fifty two years. We hope to do it again next Sunday and hopefully we will have a better connection.
DVD Collection
Update at the end of the week regarding the DVD's of our first three All Ireland wins.
Centra
We continue to work alongside Colm/ Centra, Cross. Anyone who needs groceries delivered, phone your order in the morning to centra and we will deliver in the afternoon.
Online Quiz
Thanks once again to Gene McGinn who set the questions for our online quiz on Saturday night . It was another great success and I was delighted to receive messages from participants from around Ireland and further afield. We will do it again next Saturday at 7pm.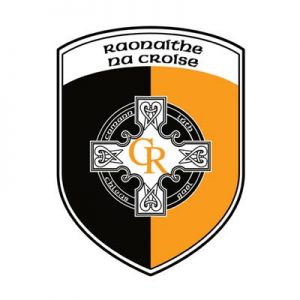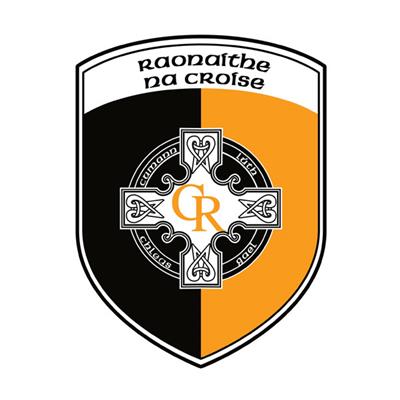 Posted: April 26th, 2020 under Club News.