Crossmaglen Rangers Club Notes 29/03/21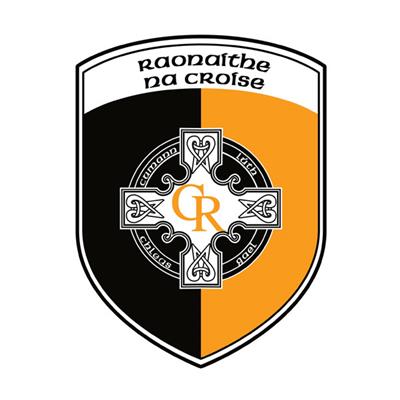 Cross Rangers Virtual Tour Of Ireland
We are on the home straight but still  plenty of steps/ miles/ kms to be clocked up! Thanks so much for all the messages of support we have received from near and far, it is great to see so many people out and active. Donation footballs are in a number of retail outlets or donate online via KlubFunder, selecting Virtual Tour from the drop down menu. All monies raised will go directly to our underage structure.
Below; The link to donate
https://www.klubfunder.com/Clubs/Crossmaglen%20Rangers/GeneralPayment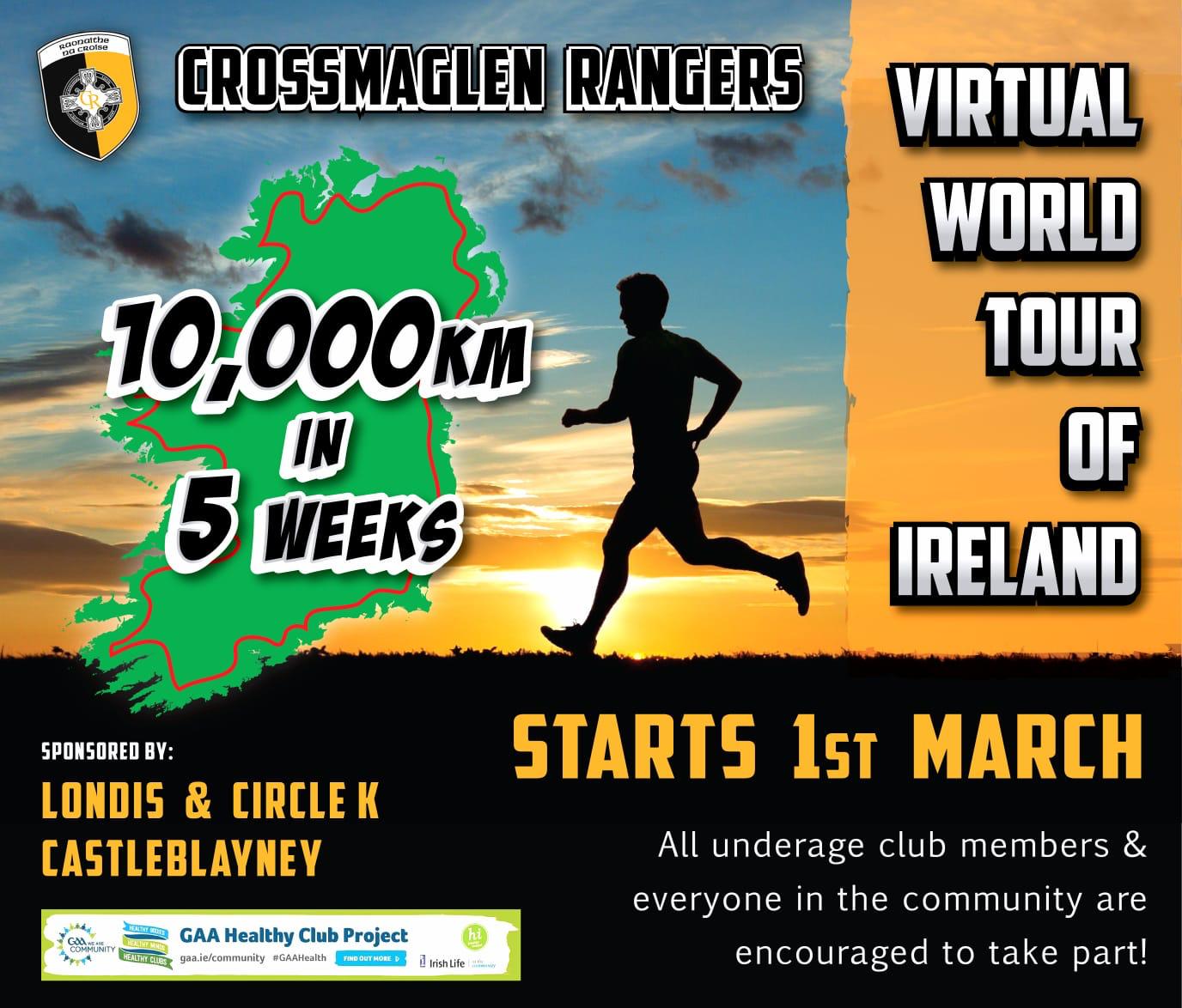 Cross Rangers Virtual Tour Spot Prize Winners Wk 4
Milo
U7.5  Samiya Hughes
U9.5  Ryan Savage
U11.5  John Gregory
U13 Coan Finnegan
U15 Aaron Haughey
U17 Bernard Haughey
Cross Castles sponsored £10 Valuland voucher;  Oran Lenaghan
Valu Land
U7.5  Kian Martin
U9.5  Odhran McEneaney
U11.5  Ciaran Mooney
U13  Ross Martin
U15  Conor McConville
U17 Pearse Hanratty
Well done to our winners & thanks to Valu Land, Cross Castles & Milo
U13;
Superbites voucher; Shay Bellew
Nanny Hughes Pizza; Coan Finnegan
Egg Voucher; Tommy Muldoon
LGFA prizes sponsored by the Donnelly family
U16; Caoimhe Dooley
U12; Lily O'Hara
U12; Aimee Faughey
Well done girls.
Rangers Colouring Time!
We have joined forces with Centra once again and we are asking all our little people to draw or paint us some pictures. To coincide with our virtual tour, we would like pictures associated with our travels, so you can draw a flag, a person or a place we visited while on tour! Everyone  who sends me a picture will get an Easter treat.  Thanks to Colm and the staff of Centra for their continued support.
Please WhatsApp your pictures Before Friday  to Róisín, 0876659126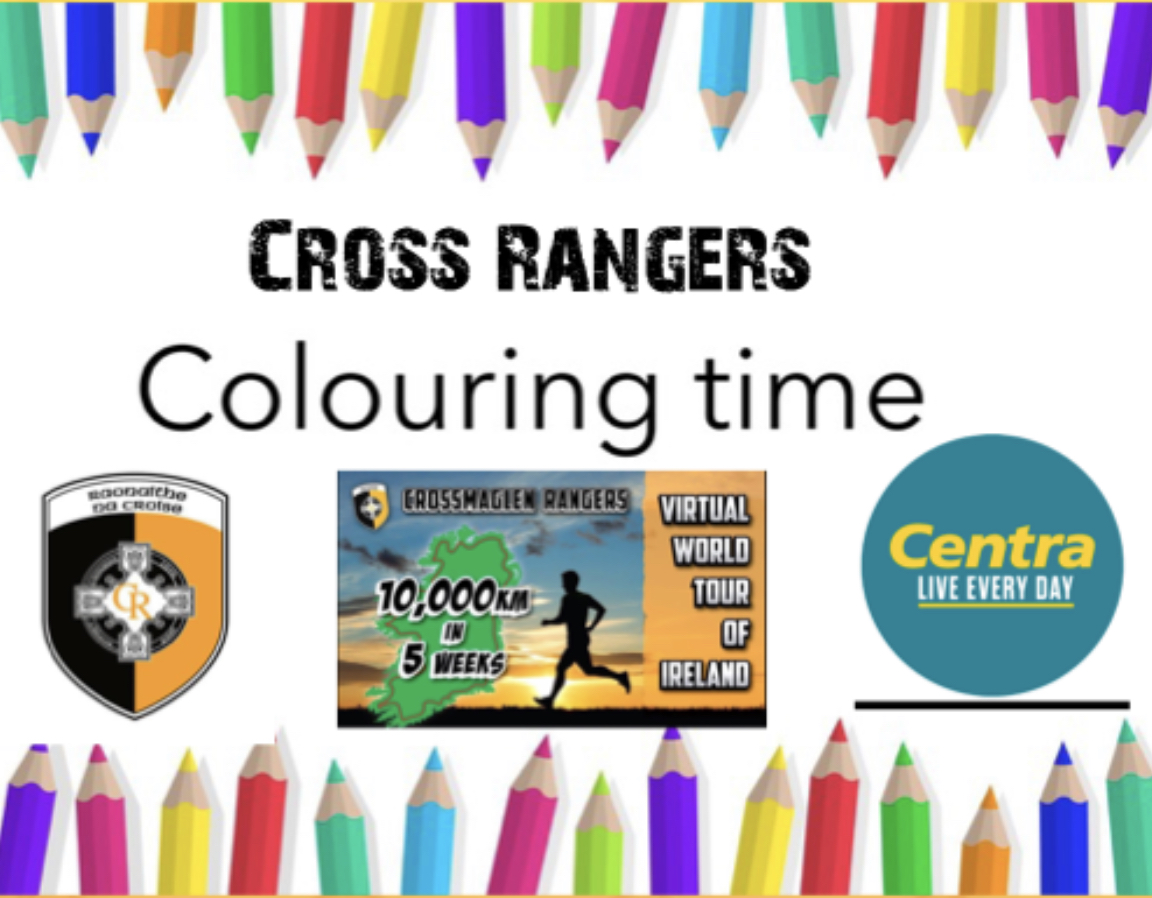 Crossmaglen LGFA Notes
We are really impressed with all our members who have been getting out and active in our club challenge. Keep submitting your steps in person our to your coach.
Lidl Jersey Competition
We are asking members who have been shopping in any Lidl store (NI or ROI) to help us win a set of jerseys. Simple visit www.Lidl-ni.co.Uk/serioussupport, and enter the code at the bottom left of the receipt. Any issues contact a member of the committee.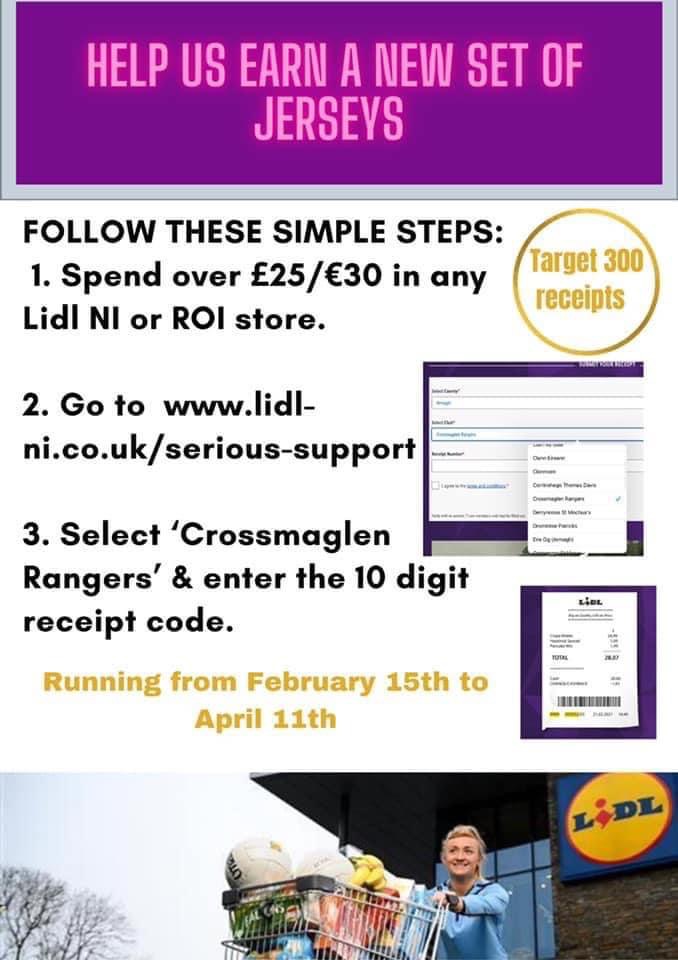 Return to Play
We continue to follow the GAA and Northern Ireland guidelines, and encourage players to keep active within their family circles.
U16 & U14s are encouraged to follow their pre-season injury prevention programme, which Paul and Frank have devised.
We are in the process of appointing coaching teams for the 2021 season, and we welcome anyone who is interested is coaching or assisting with a team this season to contact any member of the committee.
Draw Date; 28/03/21
Numbers Drawn; 4 6 17 20 
No Jackpot Winner 
5 match 3 numbers; Darina McConville, Lynette Moley, Luca McGrath, Brenda Early Whitelaw, c/0 klubfunder & Pauline Hanratty, c/o Klubfunder win £20 each. 
Jackpot; £4800/€5800
Next Lotto Draw; 04/04/21
For your chance to win a fab new children's GAA book written by Michael Egan, please see our Facebook page. Thanks to Michael for sending us a copy of his new book.
The book is available to buy online; www.thebookdepository.com
https://www.easons.com/Declan-Kirby-GAA-Star-Book-1-9780717190485 or download straight to your kindle https://www.amazon.co.uk/Declan-Kirby-GAA-Star-Championship/dp/071719048X/ref=pd_rhf_se_p_img_1?_encoding=UTF8&psc=1&refRID=V501123A0RTZSZT6G22S
John McQuillan, Tyholland
Crossmaglen Rangers send our deepest condolences to Pamela, Micheal, Aaron, Emily, Ailisha & Tommy King, Dundalk Rd, on the sad passing of Pamela's Father, John. Ar dheis Dé go raibh a anam..
Easter Ceremonies
A list of the ceremonies this week, Parish Of Upper Creggan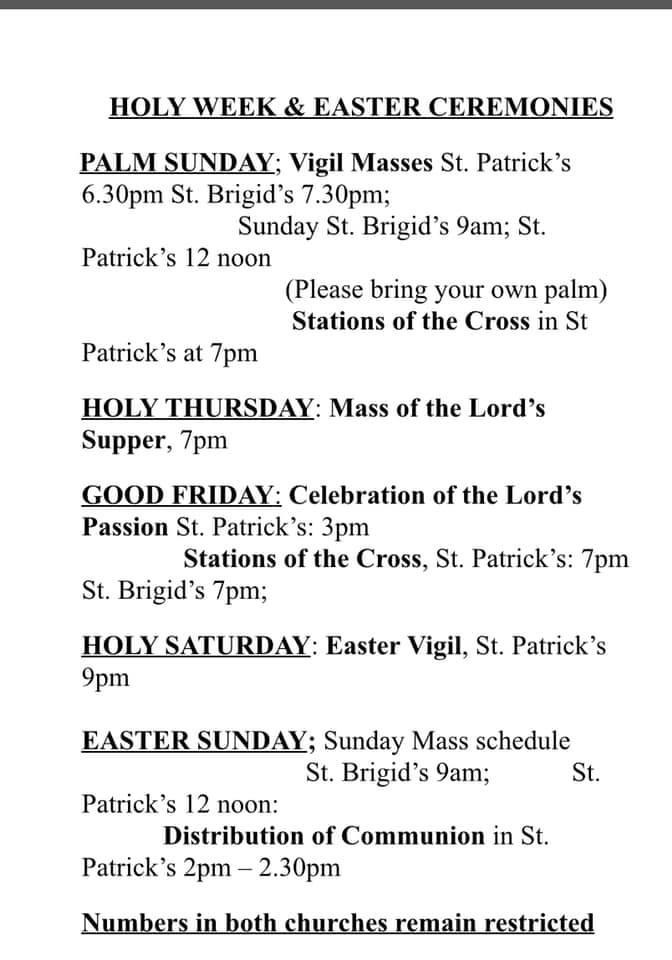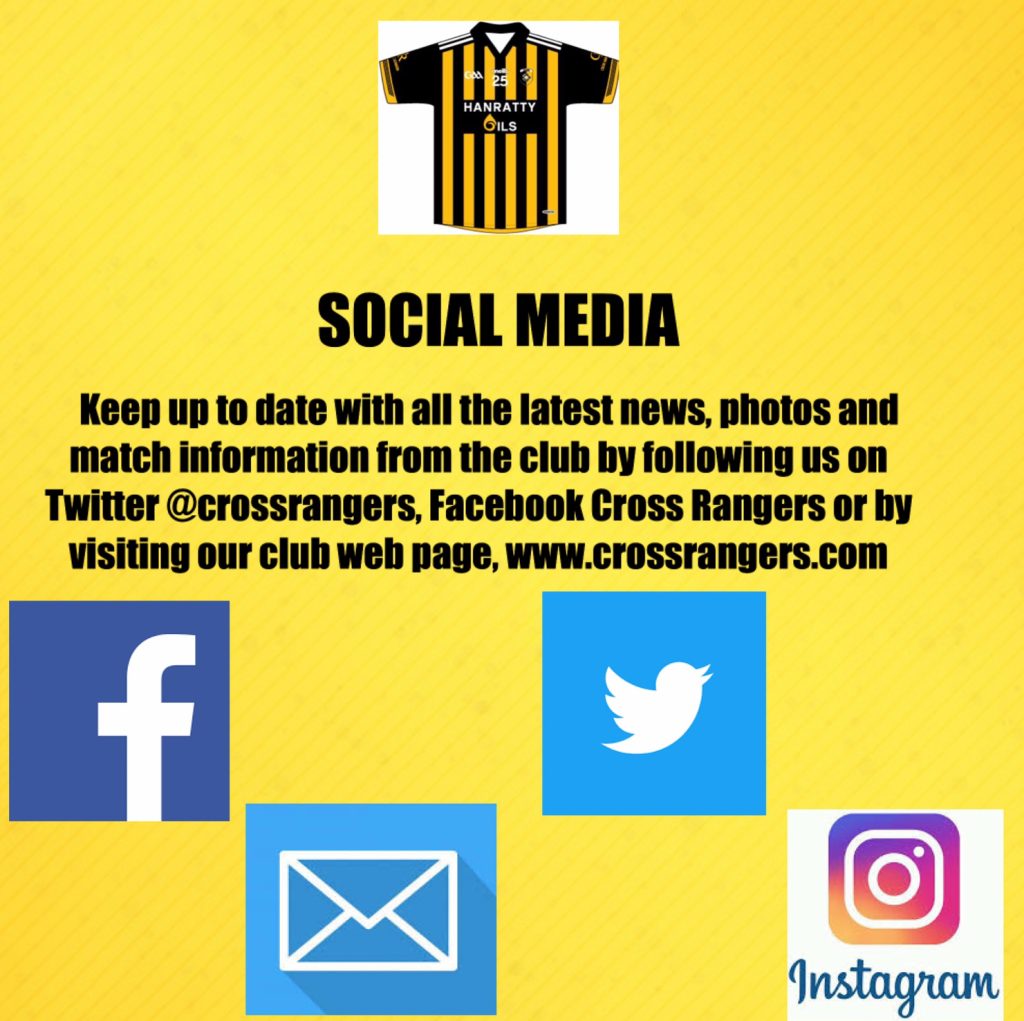 Posted: March 28th, 2021 under Club News.