Crossmaglen Rangers Club Notes 30/01/23
Cross Rangers Last Man Standing
Cross Rangers 'Last man standing' will  begin  on February 3rd.  £10 to enter with
£500 prize for the winner.
Unlimited Entries.
Select a team for each week before the given deadline.
If team wins you progress to the next round.
You can only select a team once.
If you fail to meet the deadline you will be automatically allocated a team alphabetically of the teams you have not already used to date.
If teams have two games that game week then only the first game may be selected. All proceeds will go towards club funds.
Please contact senior player Tiarnan McConville (07516253674) or Roisin (0876659126)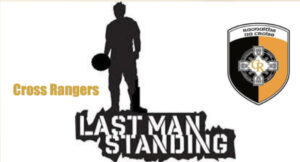 Vote For Tommy Og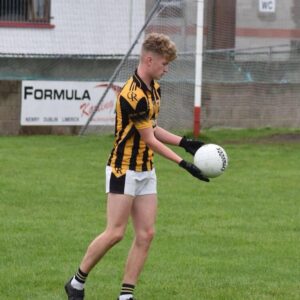 Thomas Og Duffy has been nominated for a Gaelic Life Club All Star. You can vote for Tommy Og using the link below;
Bingo
Bingo, Monday night, 8pm. We need some extra help at bingo, if you can spare an hour or two on a Monday night, please get in touch.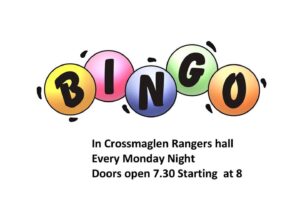 Armagh GAA Club Draw 2023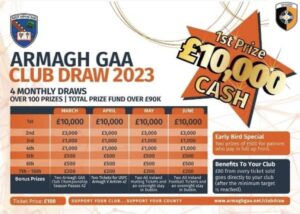 The Armagh GAA Club draw takes place over four months, March, April, May and June. There are sixteen prizes each month, ranging from the top top prize of £10,000, right down to £200. Tickets are £100 each with £80 from every ticket going directly to the club after we reach our minimum target. We are offering people the opportunity to pay over four months, £25 per month. Tickets can be purchased from any committee member.
Membership Morning
Peader will collect membership, on Saturday morning, from 10am-12pm, Rangers Hall.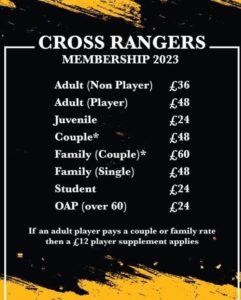 Official GAA National Draw 
Tickets are now on sale for the GAA National Draw. The tickets cost £10/€10 and are available from all committee members or you can buy online, Cross Rangers Klubfunder, general payment and selecting National Draw from the drop down menu. Our club personnel will begin selling tickets around the town/surrounding area on Monday.
We have added three bonus prizes;
Three meal vouchers for local restaurants.
Please support the draw as all funds raised will be retained by the club.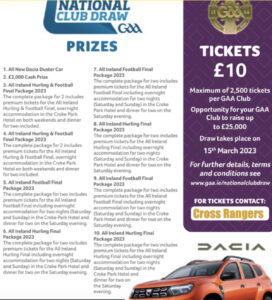 GAA4All Hats
Gaa4all hats, costing £12,  are now on sale. Payment can be made online via Klubfunder or by contacting me. All funds raised will go towards gaa4all.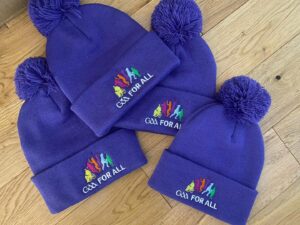 Cross Rangers Lotto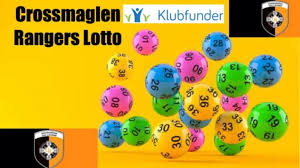 Draw Date; 29/01/23

Numbers Drawn; 2 15 20 23

No Jackpot Winner; 
5 matched 3 numbers; Ann Morgan, Klubfunder, Peter McMahon, Klubfunder, Roisin Rowntree, c/o Martin Harland, Seamus Traynor, c/o Seamus Murtagh & Paddy McNamee, c/o Peader who win £20 each. Well done to our match 3 winners.
Next Lotto Draw; 05/02/23
Jackpot; £1200/€2200
South Armagh Information Evening 
Elena Martin and I will host 'South Armagh Information Evening'  for our senior residents on Wednesday 15th February, 7pm, in the Rangers hall.
Outside agencies will be in attendance and will outline services that are available, covering  mental, physical and emotional support, as well as practical resources. Any agency who would like to attend, please contact, Elena, 07880496123 or Roisin, 0876659126.
Crossmaglen Darkness Into Light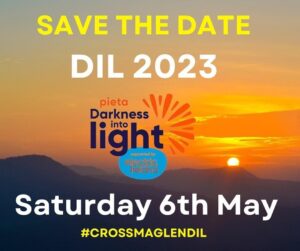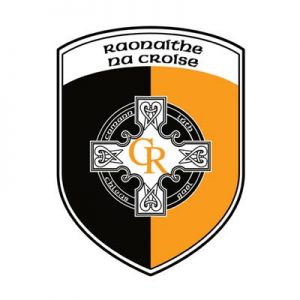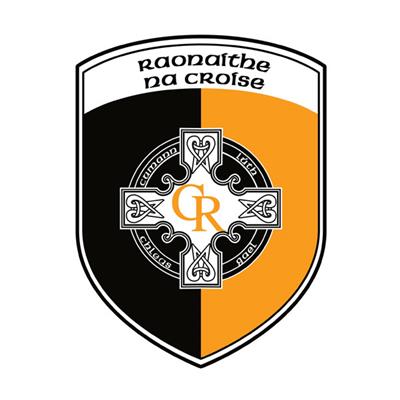 Posted: January 29th, 2023 under Club News.