Crossmaglen Rangers Club Notes 30/03/20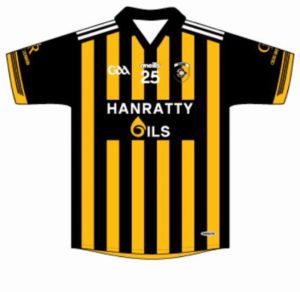 #Clubtogether
This week Uachtarán Cumann Lúthchleas Gael, John Horan launched #clubtogether in conjunction with Super Valu & Centra.
This initiative is where shops liaise with their local GAA clubs during these challenging times to support the elderly and vulnerable in our communities.
I'm delighted to announce that we have teamed with up with Colm Devlin, Centra, Crossmaglen to provide a volunteer led delivery service. Orders can be placed with centra in Crossmaglen, staff in Centra will assess and prioritise the order and volunteers from Crossmaglen Rangers will deliver the goods, all the time mindful of social distancing and aware of  protecting themselves and the person they are delivering the goods too.
It is fantastic to be able to support those in need in our community in these very unusual times.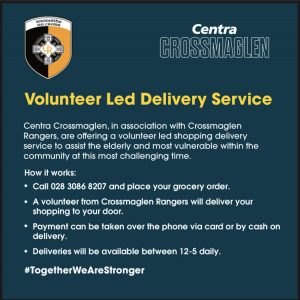 Valuing The Volunteer; Seamus Murtagh
At the end of 2019, Seamus Murtagh retired as kit man with Crossmaglen Rangers seniors. A position he held with commitment and passion for over two decades and in that space of time he saw first hand the many heights reached, battles overcome, triumphs achieved,  victories won and personal accolades our senior team accredited over the years. Seamus also featured in a GAA TV advertisement  in 2015 in which the GAA were highlighting and honouring volunteers across Ireland.
I asked Seamus a few questions about his time as kit man.
What year did you take over as part of the backroom team  with Cross Seniors?
I joined the back room team of the senior squad in 1993 when Joe Kernan was manager. I was there until 1995 when unfortunately my father died suddenly and I stepped down but was still a lineman.
I returned as kit man after we won first the first All Ireland and there I remained until I retired in 2019.

How many managements have you been involved with?
I have been involved with ten different management set ups. Each management takes something different to the table and I must say I enjoyed my time immensely with each management.
Did you ever think you would be part of a journey, a journey of success that earned Crossmaglen Rangers a place in the GAA history books as one of the greatest club sides of all time?
No never in my wildest dreams. I knew there was serious potential, what we achieved are what dreams are made of. Just like the team and management,  I took it one game at a time. The years went so fast.

Can you list the roll of honour and many achievements in your time as part of the background team?
Im delighted to say I was present for;
5 All Irelands, 10 Ulsters, 20 Armagh SFCs and numerous U21 Championship titles. It was a golden era and I feel very privileged to have been involved with the teams during this wonderful time. Memories I will treasure forever.
What is your best memory?
I think it would have to be 2007  because that was the year we saw the  combination of two teams, you could say it was the 'changing of the guard', young guns coming in along with the old stalwarts and what a perfect combination it was. Also on a personal level, my Brother, Donal along with Martin Califf were the managers in 2007 and my nephew, John played, so it was wonderful occasion for our family also.
Over the twenty plus years, you have been involved, who would you say was the greatest player?
There have so many great players over the years, Kernan Brothers, McEntee twins, Jim McConville, I could go on and on but for me the greatest player of his generation, If not the best ever who have played the game is Oisin McConville. Oisin was forever present and reliable. These two remarkable qualities and are what is needed to win matches.
Over the years we have had many a battle, which game in particular that stands out for you as the greatest and why?

The greatest game for me was the 2011 All Ireland SF, when we played Kilmacud Crokes in Páirc Tailteann, Navan. We were six points down on two occasions but the boys showed immense courage and hunger, they never give up, they dug deep and secured a  victory by  two points. It was a fantastic victory.
Unfortunately 2011 ended in a very bad way, we lost a good friend and valued team mate, wee James Hughes. There is no words to describe James's sudden passing and the huge loss we felt which affected each and everyone of us but it drove us on to achieve greatness again and we did it all for James.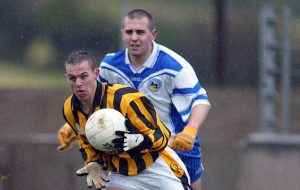 Out of all the teams we have encountered over the years, who would you have the most respect for ?
I would have to say Ballinderry. We had  some very memorable matches, tight encounters which went down to the wire and could of went either way. They were memorable battles.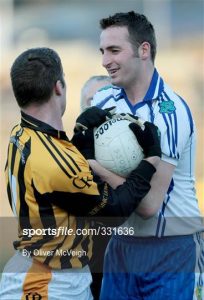 Every changing room has that special character who thinks he is funnier than the rest! Who would you give that allocade too?
Only one person for that, it has to be Hertz. The life and soul of the changing room, Paul Hearty thought and I mean thought he was a goalkeeper, comedian and singer all rolled into one.
Out on the field, on many occasions his kick outs were kicked out to me even though i was just the lines man!
I'm going backtrack now, Hertz was one of the best in the game.

I will miss being part of a close knit team and management, as the saying goes club is family but I'm looking forward to watching from the stands but I have a feeling I'll probably still be on the line with a flag in my hand.
What advice would you give a Seán your successor?
Well as I often tell Sean, to fill my shoes, he has two years done and just twenty three to go!  I wish him well for the future and please god he will experience the same successes I did.
On behalf of the senior squad, Aaron Kernan sent the following message;
"He was there throughout our golden Period and was always a valued & respected squad member by the players.
He was always there to keep an eye on boys and make sure everyone was happy and catered for. One of the best bits of championship day was Seamus handing out the jersey's individually and shaking players hands. It was a special moment for me & always made me realise how lucky I was to get the chance to pull on the cross jersey to represent him. That's one memory I really valued and I know the rest of the boys feel the same.
He'll be badly missed within our squad but no doubt he'll always remain a loyal Rangers supporter".
The entire Crossmaglen Rangers send our sincere thanks to Seamus for his loyal, hardworking and true commitment to the club. You never know Seamus, you may make another comeback!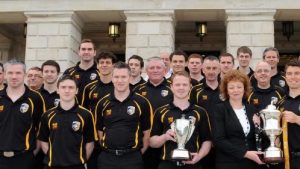 Reminiscing With A Ranger
Down through the years, there have been many talented players especially in the late fifties and sixties which was a highly successful time for Crossmaglen Rangers. Over the next few weeks, I'm going to speak to some of these fantastic players who shaped and made our club what it is today.
Eugene Hanratty Senior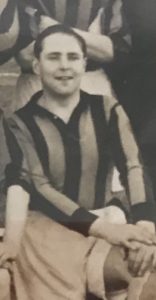 Eugene, your late Father, Gene in 1926 was the last Cross Rangers man who captain Armagh. Did he speak about this accolade and what it meant for him and the club?
Yes it was a great honour for my Father to Captain Armagh in 1926 but he didn't speak about it too often. The following year, Armagh were playing Cavan in Belturbet, it was a league match. During the match, Cavan player, Jim Smith accidentally collided with Jamsie Kernan. Jamsie was seriously injured and was removed to Cavan hospital where he died that night. This really knocked the bottom out of the players and football in Cross for a long time. My Father often spoke about earlier times in the club. Due to the troubles, there was no football in 1921. In 1922, there were two teams in Cross and great rivalry. The Plunkett's had players like Jamsie Kernan and Red Paddy Maguire, Rangers had players like Tommy Luckie and Jamsie Morgan. The championship was played like a league series, Plunkett's won their games, Rangers won their games and so the final would see both teams play. Rangers had him advantage, McConville's field on the Blaney Rd (near where Tommy Quinn's is today). Patsy McConville, the Undertaker owned the field. The Friday before the game, Red Paddy Maguire visited my Father to say they wouldn't be playing unless they got fifty percent of the gate. Discussions continued and Paddy said a tenner would be sufficient and the game could go ahead. He got £5! The game was played on the Sunday, £60 was taken at the gate and the Rangers won. Mass emigration the following year saw the Plunkett's fold, Rangers amalgamated and we went on to win the championship in 1923/24.
What position did you play?
I usually played centre half back but on a few occasions I was moved up to full forward

Is there any games in particular that stands out in your mind as special or significant?
When I was only 17, I played on the junior team. I vividly remember us going to play Dorsey in Dorsey and you would be afraid of your life, it was all very physical and Dorsey definitely were physical!
Then when I was turned 18, I lined out with the Seniors.
Late fifties, Carrickcruppen were the big team then. They played football nearly every night of the week, tournament matches and maybe two games on a Sunday.
I never forget playing them in 1958. My eyesight wasn't the best. There was a number of incidents in the match which was the norm then! Owen Crummy received a kick to the shin from one of his own after a tussle for the ball. I saw big Danny Kelly coming down the field, I tried to intercept the ball, drew the boot and missed him, immediately Kelly and Brannigan launched an attack on me and Patsy McConville came to my aid right away.
All hell broke loose. My father and two uncles, Frank and Joe jumped the wall. My Father broke his glasses in the process. The game resumed and we beat them. We were the up and coming team. We had classy footballers and this come to the fore when in the years that followed, we dominated football in Armagh.
When St Oliver Plunkett Park was officially opened in 1959, a selection of players from Armagh played a Monaghan selection. In Monaghan, Donaghmoyne and Inniskeen were the big teams. Well I was marking Persy McCooey. Persy was past his prime but in his day was a classy but ruthless footballer. Thank god, the  first ball he went for, he got injured and had to be taken off. I was lucky!
Eugene, who were the greats of the game in your time and what team were your greatest rival.
There were great players on the team, Morgan Brothers, Caseys, Patsy McConville Mick O'Hanlon, Gene Larkin, Tom McCreesh Patsy Kieran to name a few. The Morgan house was a fantastic footballing house. As I said, Carrickcruppen were the in team at the time.
Did you win much silverware?
I won four Armagh championship medals but when I was 27, I retired from playing after hurting my shoulder.


What was the training regime like in your day?
Training was you turned up to play and your practice was the warm up.
Do you think the game has changed for the better or for the worse?
I think there is far to much training involved in today's game. We have to remember it is an amateur sport and I think players are being pushed too hard.
Is there any advice you would give young players today?
Enjoy the game when your playing. One positive thing today is that it is less physical. In my day, games were regularly  abandoned and teams thrown  of competitionS.
Thanks Gene for taking time to reminisce with me about your playing days and special memories. It gIves us all a valuable insight into the clubs earlier days and we can pay tribute to those like yourself who brought great honour and glory to the club.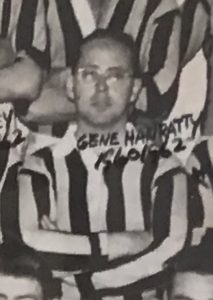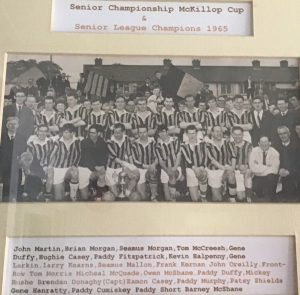 Many thanks to Oil4U.ie, (Carragher family)  for sponsoring a field sign in St Oliver Plunkett Park.
Sponsoring a field sign is an ideal way of supporting the club as well as promoting your business. A sign costs £400 for five years. (We will provide the sign). Please contact Joe Kernan for more details.
Pic Below; Garbhan & Kyle with Joe at new their new sign 
Due to the current situation we have had to cancel our upcoming trip to Glasnevin on Easter Monday. We now have a new date, Monday, 1st June 2020 (Bank holiday).
Hopefully things will have improved by then. The itinerary remains the same and we will stop on the way home at the Monsterboice Inn.

Happy birthday 
Happy birthday and best wishes to Conor Savage who was 21 during the week.
Thanks
Huge thanks to  quiz master Gene McGinn who sent me questions for our online quiz on Saturday.
We will do it all again next Saturday, Rangers FB page.
Thanks also to Dominic and the Barron family for the card and good wishes received during the week.
Mass
Unfortunately there is no webcam in St Patrick's but anyone who wishes to tune into mass or prayers, Fr Tremer, Lower Creggan Parish streams live, 9am mass, Monday to Saturday, Sunday at 11.30am and on Monday at 8pm (novena to the miraculous medal). Also this week, Fr will host a triduum to Padre Pio on Tuesday, Wednesday & Thursday evening, time tbc but all details can be found on Lower Creggan FB page. The link for the webcam is below;

Condolences 
Martin McKenna, Ardross
The entire club send our deepest condolence to Martin's Daughters, Chloe & Caitlin, Mother Margaret, Brothers, Sisters, Aunt Sally McEntee and the McKenna family on the sad passing of Martin.
Ar dheis Dé go raibh anam.
Toni Carragher, Silverbridge
Crossmaglen Rangers are saddened to learn of the passing of Toni. We send our deepest sympathies to Toni's Son, Peter, extended family circle and our fellow gaels , Silverbridge Harps.
Ar dheis Dé go raibh a hanam.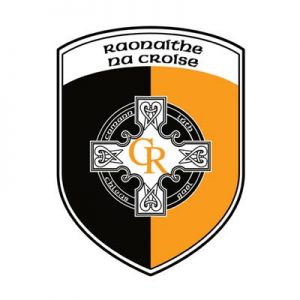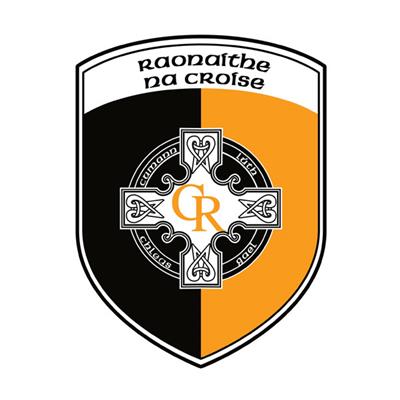 Posted: March 29th, 2020 under Club News.