Crossmaglen Rangers Club Notes 30/11/20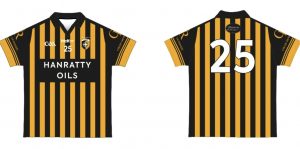 Hard luck to Aveen, Alex, Mairead and the Armagh ladies who were defeated by Dublin on Saturday in the All Ireland SF. It was a super performance by the Armagh ladies and we have no doubt they will be back even stronger next year.
We are honoured to have 3 girls involved in the All Ireland Premier Junior Final on 5th Dec – Aislinn McMahon, Caoimhin O'Neill & Faye Fitzpatrick. Ordinarily we would all be there to support them on the day, but in our absence we are showing our support by decorating the county with these 'Good Luck' signs (£30 each). We realise that it has been a difficult year for everyone, in many ways, but should you wish to support our girls by purchasing a sign then please contact Marie on 00447493884183.
Good luck Aislinn, Caoimhin, Faye and Armagh team/management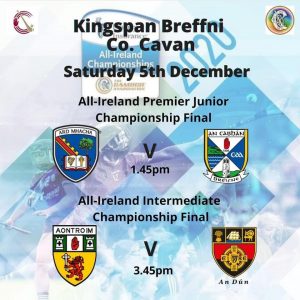 Cross Rangers Lotto
Draw Date; 29/11/20
Numbers Drawn; 8  10  15  20 
No Jackpot Winner 
6 matched 3 numbers;   Ruairi Shevlin, KlubFunder, Brigid McKeown, KlubFunder, Francis Martin, c/o Josie Gregory, James Duffy, c/o Malachy Duffy, Paaddy McNamee, c/o Peadar & Ruby Rose Murphy McShane, c/o Benny who win £20 each. Well done to our match three winners. 
Jackpot; £3200/€4200
GAA Healthy Clubs
During the week,  we received a letter  from An t-Uachtarán CLG, John Horan commending the fantastic work of the Healthy Club teams across Ireland , particularly during the Covid- 19 Pandemic.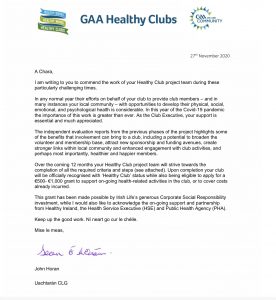 Club Scarves, Keyrings
We have a limited number of light club scarves for sale. The scarves commemorate the 6 All Ireland wins!
Scarves; £6 each or 2 for £10
Keyrings £3.50 or 2 for £6
Club badges; £3.50 or 2 for £6
DVDS; £15
Available to buy this Saturday, 11am, Rangers Hall Car Park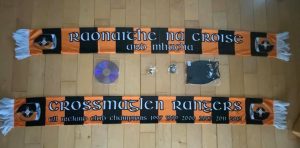 Congratulations
Congratulations and good luck to Tony Mc who has been appointed the Sligo football team manager.
Posted: November 29th, 2020 under Club News.