Crossmaglen Rangers Club Notes 31/08/20
Senior team sponsored by Hanratty Oils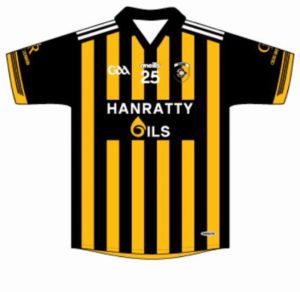 Armagh SFC SF;
Cross V Killeavy 
All roads led to the Athletic Grounds for our Armagh Senior Championship Semi Final clash against Killeavy with Jake Magill the referee. A bright calm evening left conditions ideal. We settled quickly, with three minutes played, we had scored three points from play, Stephen Morris (2) and Cian McConville. Killeavy's opening score coming in the 7th minute which was quickly followed by a point each from Cian and Rian (F) to stretch our lead. We had a number missed opportunities. As the minutes ticked down to the water break, a point from Oisin was followed by a point from the opposition.  to bring it back to a 3 point game before a super  score from Dara O'Callaghan brought it back to four at the first water break. As play resumed, a Killeavy point from play narrowed the gap once again. Oisin hit his second point of the contest before high drama ensued, a controversial decision to give Tony Kernan his second  yellow card resulted in us being reduced to 14 men in a game which was being played at a very fast pace and high intensity. Points from Cian and Stephen brought our scoring of the half to a close, a killeavy point from a free converted following by a point in injury time preceded the half time whistle.
Cross 0-10 Killeavy 0-5
We repeated what we did the start of the game, the second half less than a minute old when  Cian had registered a point on the scoreboard. Killeavy scored a point from play before two points from, Rian (1, '45 ) to give us a comfortable lead with twenty minutes to go.  A Kyle Mallon point from Kileavy started a scoring spree for them , in what was their best spell of the match, three unanswered points and at the second water break, they had narrowed the gap to 3. Killeavy engerised from their bright spell before the water break, continued where they left off, three points one after another to level matters for the first time and with only six minutes of normal time, we were in for an exciting finale. A tremendous response from young Dara O'Callaghan, two points in as many minutes and our lead was in reinstated. It was heart stopping stuff as Killeavy never give up, a fanatstic save from our number one,  Tiarnan McConville knocked the wind out of killeavy's sails and we hung on to book a place in the Armagh Senior Championship Final;
Cross 0-15 Killeavy 0-13
Well done lads and management, we are so proud of you all, you showed tremendous resilience and guts especially in the closing minutes
Traditionally, we host a big breakfast the week before County Final but 2020 has ensured nothing goes to plan! We have a number of ideas in the pipeline and more details will follow during the week. We ask all supporters and friends to show their support for the lads by proudly displaying the black and amber! Get those flags out!
Armagh JFL
Cross V Derrynoose game which was to be played on Saturday evening was called off.
Sponsor A Ball Armagh SFL RD 
Phil Duffy will sponsor the ball for our Armagh Senior Football league away fixture against Pearse Ogs which takes place next Sunday at 2pm. Many thanks to Phil for your sponsorship and ongoing support.
Pictured below; Phil presents the ball to Kyle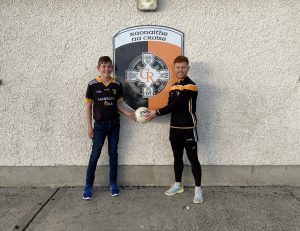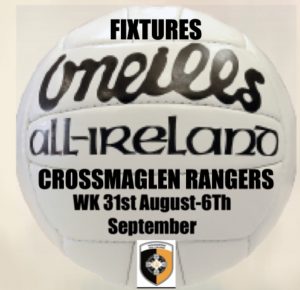 Tuesday 1st September;
U13 League Rd 6; Cross V St Patrick's, Cross, 7pm
U15 Div 1 Group 1 Rd7; Crrickcruppen, Carrickcruppen, 6.45pm 
U17 Div 1 Championship SF; Cross V Clann Eireann, Cross, 6.45pm 
Sunday 6th September; 
Armagh SFL A Rd 5; Pearse Og V Cross, Pearse Ogs, 2pm
Crossmaglen LGFA Notes
Safe Return to Play: We are all delighted to have all teams got back out training, and fixtures have been began with leagues. We encourage all our members to ensure the keep in touch with their managers to keep all information and records up to date as per the GAAs guidelines.
Reminder for all parents and players, please ensure that all players bring and wearing their gumshields to all football.  This is compulsory in the GAA.  Also players should have their own water and gloves with them to training to ensure everyone's safety at this time.
U10 & U12 training times this week:
The next U12.5 match will take place
on Sunday morning
 against Forkhill. This is an away fixture, and details will be shared via the group chat.
U14 & U16.5 training information: 
We are delighted to announce that our U16.5 squad will represent the club in the county final
on Sunday 6th September
. This is the 3rd consecutive year this squad have reached a county final and having won last year, we have every faith they will retain their title. This years final will see them take on the Harps of Armagh City.  Good luck to U16s Panel and their management, venue and time to be confirmed.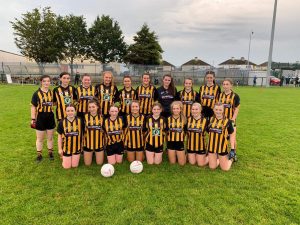 Meanwhile the U14.5 squad progress in their championship this week also.  They will meet Shane O'Neill's in the semi-final, on Monday 30th August in Forkhill
at 7pm
.
Registration information:
Registrations are now due and can be paid online or to your coach. All players need to be registered in order to train and play for the coming season. Thank you for your cooperation.
Draw Date; 30/08/20
Numbers Drawn; 8  17  21  30 
No jackpot winner 
4 matched 3 numbers; Patrick McConville, Online, Josie Ogle, Ogie Murtagh, and Luke O'Neill winning £25 each. Well done. 
Jackpot; £1900/€2900
Play online; https://www.klubfunder.com/Clubs/Crossmaglen_Rangers/lotto or tickets available in a number of local retail outlets.
Congratulations
Congratulations to Tony and Sinead Kernan on the birth of their Daughter, Emma, a little Sister for Dan and Anna.
Best wishes also to Conor & Gemma O'Neill who got married recently. Wishing you many years of good health and happiness.
Get Well Soon
The entire club send our very best wishes to Miceal Moley who is in hospital. Wishing you a speedy recovery Miceal.
Posted: August 30th, 2020 under Club News.