Crossmaglen Rangers Cub Notes 02/03/20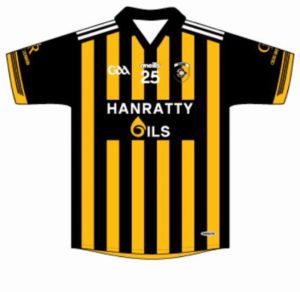 On Friday evening
we welcomed Grainne Hearty from Dundalk to the Rangers Hall. There are no adequate words to describe the truly inspirational, honest, emotional and courageous speech Grainne delivered about the nightmare that Grainne and her family found themselves in after her Son, Odi, who was attending a concert in Belfast made a split decision to take an ecstasy tablet which was laced with rat poison. Grainne and her Husband, Alan were attending a wedding in London when they got the phone call that no parent wants to get, Odi was in the resuscitation unit of the Mater Hospital in Belfast and the prognosis was very grim.
A frantic rush home which included a police escort from the airport to the hospital followed. Grainne and Alan were taken right away to their Son who Grainne said was so badly swollen he was unrecognisable. With only one percent chance of survival, Odi fought and fought. A specialised unit in England was not an option as he was too ill to travel and it was decided to transfer Odi to St Vincent's hospital in Dublin and this is where Odi remained for forty eight days. Again the fighting spirit in Odi came to the fore, baffling doctors and to the delight of his family, Odi  began to regain consciousness. Grainne believes the power of prayer was the main factor. Unfortunately during that time, Grainne and her family suffered another cruel blow when Grainne's Mother passed away. Odi's recovery is very tough. Life as he knew it has changed dramatically and he has a long, long road ahead of him, having suffered a brain injury, he had to learn to walk and talk again but he continues to amaze everyone and this was very evident recently when he returned to school on a reduced timetable. Well done Odi.
Grainne's message to young people is very simple, don't ever take any tablet or  substance you are offered. The consequences it will have on the person, their life and their family is devastating. Odi, she said was lucky, so many die from that one wrong choice to try a tablet or a substance. She also stated how important it is for teenagers to look out for each other and to be kind and caring.
When Grainne was finished speaking, she received a standing ovation and this was truly well deserved and an indication of how powerful her words were for the audience who attended
on Friday night
. Thank you so much Grainne for visiting us, to your friend Susan for her assistance and we wish Odi, Grainne , Alan and the Hearty family, good health and happiness for the future.
Thanks to Health and Well being Officer, Oisin McConville who opened the evening by briefly outlining the work he does everyday in addiction services. Oisin also spoke about services locally.
Admission was free to the event but all donations received were presented to Crossmaglen Community First Responders who provide an invaluable service in our community. The total donated was £103 and €81. Many thanks to everyone who donated.
Finally, huge thanks to Lizzy  and Gemma from The Magnet Centre, Newry who were also in attendance.
Pic Below;  Grainne with Lorraine, Thomas and Leon from Crossmaglen Community First Responders.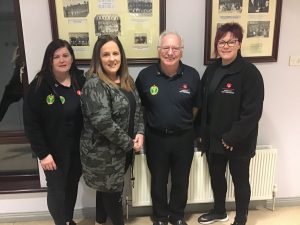 Pic Below; Grainne, Lizzie, Gemma and Cross Rangers Health & Well Being Team.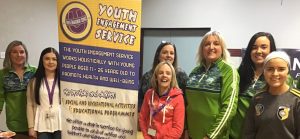 Pic Below; Oisin speaking at the start of the evening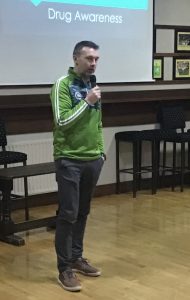 As a follow on to our drug awareness evening, Lizzy and Gemma will return to the Ranges Hall to host two interactive, drugs awareness educational workshops.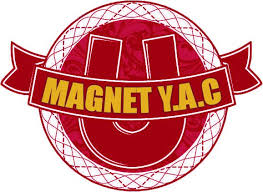 The schedule for both evenings is below;
Boys U13s
Girls U15s
Girls U13s
Boys U15s
We encourage all U13/15 teams to please attend these very informative workshops.
National Draw Bonus Prize Winners
Friday evening we held the draw for the bonus prizes in the National Draw.
Pic; Donal, Gene & Jonny at the draw for the bonus prizes in the National Draw.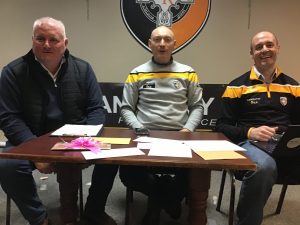 10 X €50 Vouchers
Martin hardware; Brenda Rushe, 6 Lismore
Lee opticians; Rory McMahon, Donaldson's Rd
Hanratty's Bar; Nuala Murtagh, Tullyard
Shape 'N' Style; Shea Campbell, Gilford.
Valuland; Moira Murphy, The Square
McConville's Chemist; Flash, C/O Gene Duffy
Keenan's Bar; Sean Hughes, 53 Lismore
Ballybay Pharmacy; Thomas McShane, Foxfield Rd
Short's Bar; Gerry Murray, Blayney Rd
Mac Fitness; Eileen McEntegart, Liseraw.
The GAA National Draw will take place on Thursday 12th March and we will post the results on all our social media platforms.
Crossmaglen LGFA Notes
Crossmaglen Rangers LGFA Pre-season 7s 2020–
Less than two weeks to go until our Annual Pre-season 7s tournament, which is now in its 11th year. The aim of this event is to promote the participation of females in our national games, and also provide an opportunity for us to showcase in our club and community. Each year we welcome 16-20 teams from across Ireland and the UK to our club, which means we have over 400 people involved in the day.
We are delighted to have local business, Playr-fit on board to sponsor our event, and we are looking forward to working partnership with them on the day,
We are looking for volunteers to help out, just get in touch with Marion, if you are available. #cantseeitcantbeit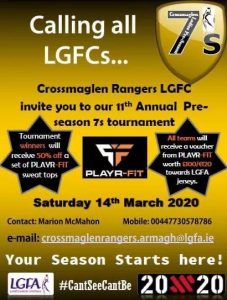 U10 &12 team information:
Well done to our 35 girls who braved the wild weather to participate in our first training session. We focused for functional movement and our hand passing this week. Remember everyone is P3/R3- 1st year is welcome, and we will be training from 6/7pm in St. Joseph's Sport Hall.
U14 & 16 team information:
We have entered a team into the feile competition, the dates of this competition is the 21st &
24th March
. Training will begin for the Feile team & U16s at the end of February. Management will be in touch with details soon.
Executive Meeting 
Dianchursa/ Intensive Irish Course
(Meán rang & Bun rang)
To celebrate Seachtain na Gaeilge The club are organising a Dianchursa /intensive Irish course which will take place
this Saturday 7th March
from  
9.30am-1pm
in the Rangers Hall.
The cost is £10. Refreshments will be served. To book your place email
[email protected]
.
Any individual or business who would like to sponsor a ball for one of our upcoming senior league matches can do so by contacting Róisín; Telephone/Text
0876659126
.
Sponsoring a ball is a great way of promoting your business as well as supporting our senior team.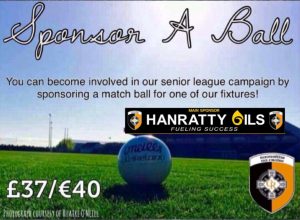 DIL
Crossmaglen Darkness Into Light takes place on Saturday 9th May, 2020. We will host the first of our registration evenings this Monday at 7pm in the  back room of the Rangers Hall.
You will need a credit/ debit card for payment and a valid email address. If you register in the next three weeks, you can avail of the early bird rate. All monies raised from this years event will go to Pieta House and the Samaritans. If you wish to register at home, the link is; https://www.darknessintolight.ie/register/crossmaglen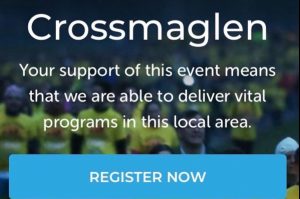 International Womens Day 2020
This years International Womens day is celebrated
on Sunday 8th May.
. We may tribute and honour all the ladies of our club from the executive, to our coaches/mentors, players and members who all play such an important role in the life of Crossmaglen Rangers.
Pic Below; Lady members Crossmaglen Rangers Executive Committee 2020.
Maura McAvoy; Lotto Rep,
Marian McMahon; Ladies Football Rep & Safeguarding Officer
Róisín Murtagh, PRO
Margaret McShane; Lotto Rep
President Margaret McConville
Patrica Hughes; Social Club Rep
Frances Rushe; Insurance Officer
Pic Below; Camogie Rep; Teresa Fanthorpe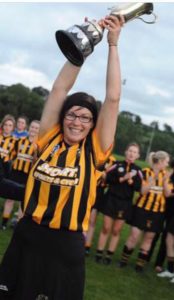 Crossmaglen Rangers executive committee are delighted, honoured and proud to have received an invitation from Áras an Uachtaráin for a tour which will take place
on Friday 24th April
.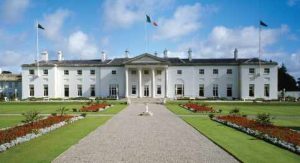 Get Well 
We all send our very best wishes and get well soon to James McAvoy who is in hospital. We hope it won't be long until your out and about again James!
South Armagh Celebrates International Women's Day 2020
Two events are taking place this week locally to coincide with International Women's Day.
Tickets available from  Eventbrite, Colleen Savage or Una Walsh.
A reminder to everyone who may have family away from home, you can play our lotto online by clicking on the following link;
Draw; 01/03/20
WE HAVE A JACKPOT WINNER; TONY KIERNAN, CULLOVILLE RD WINS £4400. HUGE CONGRATULATIONS TONY.
Numbers Drawn; 5  14  23  25 
1 matched 3 numbers; Aaron King, 107 Dundalk Rd wins  £100.  Well done Aaron.
Jackpot; £1000/€2000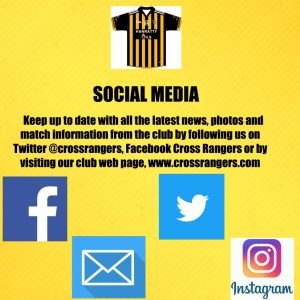 Posted: March 1st, 2020 under Club News.