Read more...

Ulster Club Championship QF
Cross V Clontibret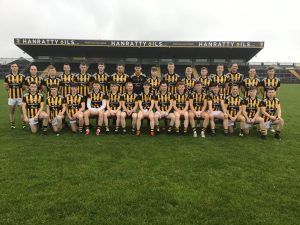 On Saturday evening
all roads led to the Athletic Grounds for our Ulster Senior Football QF clash with Monaghan Champions, Clontibret.
Persistent and heavy rain left conditions poor. Conditions deteriorated further when a draw in the Ulster Junior Championship game resulted in extra time and saw a delay of 15 minutes in the Cross Clontibret match.
It was the Monaghan men who settled quickly, two Conor McManus points, the opening scores of the contest. We had missed opportunities, Clontibret had added another two points to the scoreboard before our opening score, a point scored by Aaron midway through the first half.
As the minutes ticked down to the half, Clontibret were in control, they extended their lead scoring two more points, Kyle slotted over a point before both sides exchanged points (Rían) to leave the score at the break;
Cross 0-3 Clontibret 0-7 
The opening minutes of the second half saw a point each from Oisin and a superb strike from Tony to leave just two the deficit.
A fantastic save from Tiernan prevented Conor McManus from getting the opening goal of the game. Rían slotted over a point and we were down to the bare minimum as the game entered the last quarter. Two points for John MCs men, both from frees and once again three was the margin with seven to go. Rían converted a free to bring it to two. It was nail biting stuff. Conor McManus converted a free as normal time drew to a close. With four minutes of added time, we never give up, points from Oisin and Paul brought it back to a one point game  but it wasn't to be our night and it is Clontibret who proceed to the Ulster Club SF.
Cross 0-9 Clontibret 0-10
We wish John Mc and Clontibret the very best of luck.
Well done to Grace Fitzpatrick who sang Amhrán na bhFiann before the game.
Posted: November 3rd, 2019 under Club News.