Player Welfare


Alcohol and Substance Abuse Programme (ASAP)
The club's ASAP Officer is Oisin McConville.
Recently over 80 of our young people attended a session on Alcohol and Substance Abuse in the Clubrooms.  The event was organised by the club in association with Newry & Mourne Council and advisers from Cuan Mhuire in Newry.
Further information on this subject can be found by clicking on this link:

ACCESSNI
ACCESSNI is the new vetting service which replaced the old POCVA service from the 1st April 2008.  It provides criminal history information about anyone seeking paid or unpaid work in defined areas, such as working with children or vulnerable adults.
County Boards and Clubs are required to sign up to the Ulster Council terms and conditions for using the ACCESSNI vetting service.
As part of the code of best practice in relation to child protection and to comply with current child protection legislation Comhairle Uladh C.L.G.  decided to take the necessary steps to ensure that all personnel who are working with children at under age/Minor level within counties and clubs must be vetted.  From the 1st April 2008 new procedures are in place for vetting of personnel working with Children or Vulnerable Adults through ACCESSNI.  Comhairle Uladh is registered as an umbrella body with ACCESSNI, which allows them to carry out vetting checks.  It is policy of the Ulster Council that anyone working with children or vulnerable adults at Provincial, County or Club level must be vetted.
All coaches and mentors working with underage teams in Crossmaglen Rangers club have undergone the ACCESSNI vetting procedure through Comhairle Uladh.   For further information and vetting forms click on the following links:


Sports Nutrition
A vital component in any players preparation is proper nutrition.  The links below outline some very useful advice:
General advice on Sports Nutrition


Mouthguards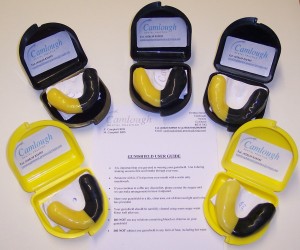 The club strongly recommends all its players to wear protective mouthguards during all training sessions and matches.
To further encourage the use of mouthguards the club has negotiated a special deal with a team of dental professionals (Billy Campbell BDS of Camlough Dental Practice and David Burke of CT Ortho, Dundalk) who will supply custom made mouthguards in club colours to any player in the club who would like to buy one at a fraction of the normal cost.
Wearing a gumshield is recommended by the Irish Dental Association for all those playing contact sports as they have been proven to greatly reduce incidents of mouth trauma, which is one of the only injuries that can be prevented.
We would encourage all our players to take advantage of this special offer.


Automated External Defibrillator (AED)
The club has purchased 2 Heartstart defibrillators (AEDs), one of which has been donated to St Patrick's Church Crossmaglen and is held in the Sacristy and the other is retained in the changing room complex at St Oliver Plunkett Park.   Every team in the club including Ladies Football and Camogie has a trained AED operator as coach or mentor.

Trained AED Operators
Ciaran McNamee
Seamus Morgan
Kevin O Neill
Gareth O Neill
Gerard Rushe
Kieran Donnelly
Dessie Rooney
Fergal Quinn
Paddy O'Donnell
Tim Gregory
Thomas McShane
Gareth Rooney
John Hand
Tony McEntee
Gabrielle O Neill
Elaine Hughes
Yvonne McDonnell
Martin Traynor
Josie Gregory
Marion Murray
Eilis Mc Creesh


Cardiac Screening
All teams in the club have been given an information and awareness talk on cardiac risk and all players have been asked to complete a cardiac screening questionnaire.  The cardiac screening programme is overseen by Tony McEntee, a qualified Cardiac Officer and Dr Pat Fee.
For further information on this topic click on this link: The Cormac Trust
A copy of the screening questionnaire is available to download below for anyone who may have missed the screening programme.
[dm]4[/dm]