Crossmaglen Rangers Club Notes 01/06/20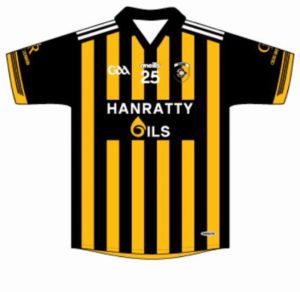 Reminiscing with a Ranger

This week, I spoke to one of the  toughest men ever to don the black and amber, Benny Cassidy.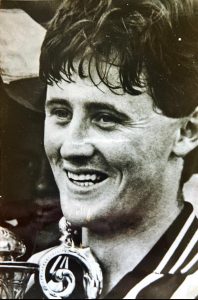 Pictured Below; The Cassidy men.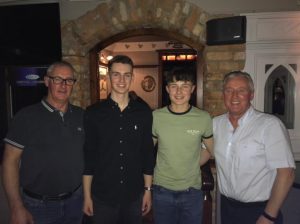 RM; Benny, can you tell me about your early years and at what age you started playing and who was your biggest influence on you footballing career?

BC; Roisin, I started playing football at U14 level, Tim Gregory was manager at the time, the biggest influences on my footballing career would have been my father Benny and my uncle Tommie both now deceased. Neither played the game but gave me and Thomas endless support and encouragement as did my late mother and my sisters. Tommie was a former Club President who was addicted to Cross Rangers, it didn't matter if you went to school or worked as long as you played for the 'Rangers'!! As I got older my biggest influences came from Joe Kernan, my brother Thomas and Paddy Duffy.
Pictured Below; The Cassidy family when Benny's Mother retired from St Patrick's Primary school in 1986.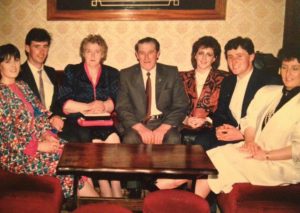 Pictured Below; Joint presidents, Tommie Cassidy & Cardinal O'Fiaich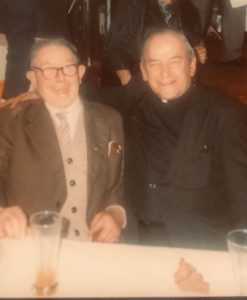 RM; You were known as one of the toughest and most reliable backs ever to wear the black and amber, is  there any game that you participated in that sticks out in your mind as very special?
BC; There are many games that stick out in my mind:
1977-We got to and won 3 County finals; Minor, U21 and Senior.
Our captain Tim Gregory got injured early on in the Senior match and I replaced him, I had just turned 17.
Also in '77 myself and Hank Kernan RIP one of the best Rangers whose career was sadly cut short too soon won an All-Ireland Vocational School's Title in Croke Park.
We had to wait until 1983 to win another Championship after being beaten five years in a row by Carrickcruppen. We had to work very hard to win this title-all worth it in the end however!
That same year we played a very memorable Ulster Club match beating the Monaghan Champions Scotstown in a very bruising game in Monaghan town. We won the game with a last minute point from a free kicked by Aidan Short.
The 1986 County final is also memorable as I was very fortunate to be Captain that year.
Pictured Below; 1986, Armagh County Champions captained by Benny Cassidy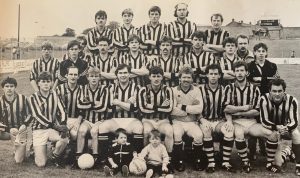 Pictured Below; Celebrating County success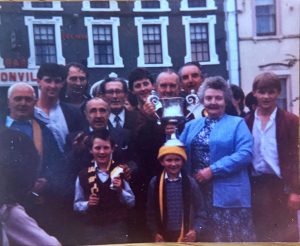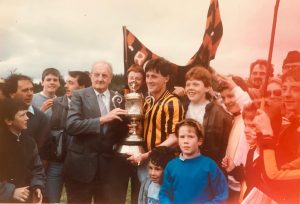 Pictured Below; Bernard McIntyre, Bank Of Ireland with Captain, Benny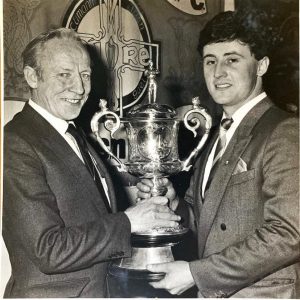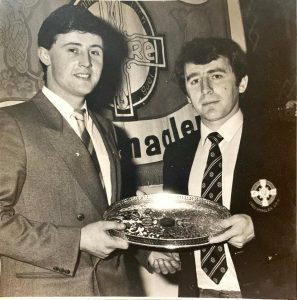 RM; In all the men you marked on the field, who was the tightest to keep an eye on?
BC; I marked a lot of good players during my career. My toughest opponents were;
Peter Loughran-Carrickcruppen
Ray Mc Carron-Scotstown
Danny Fox-Maghery
Andy Mc Callin-St John's Antrim
Training games at home were never easy. I TRIED to mark Jim Mc Conville a few times at training-Almost Impossible!
RM; Can you outline all you have won?
BC; Medals I won playing football were, 1 U14 Championship, U16 Runner-up, 1 Minor Championship, 2 U21 Championships, 3 Senior, 5 League Div.1, 1 League Div.2, 1 All-Ireland U19 with Newry Tech and another as Runners-up captaining that team.

Pictured below; President Cardinal O'Fiaich & Benny (1986)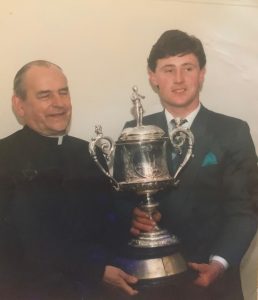 RM; If you were to play the game today, who would you like to mark?
BC; If I were to be playing the game today I would like to measure myself against the likes of Oisin Mc Conville and Diarmuid Connolly (Just to know!!)
RM; Would you like to be playing the game today?
BC;  The game today versus my time, both eras have pros and cons. Training regimes and methods today are much more advanced but I do feel there has to be a happy medium, it shouldn't take over your life.
RM; In your opinion, do you think the game is better today or when you played?
BC; There are too many cards nowadays to suit my era of players, I doubt very few of us would finish a game!
RM; Benny, can Dublin keep the winning ways going or who do you think has the capability to stop them?
BC; 5 in a row for Dublin is an unbelievable achievement. I think Kerry are getting closer and I believe they're the only team equipped to push the Dubs. Galway managed by Pádraic Joyce look to be improving.

RM; As your Son and Daughters follow in your footsteps, do you think the game will remain  an amateur sport or will turn professional?

BC; I am not in favour of the game becoming professional as inevitably players would come from the County panels which would result in their clubs getting less game time from them, therefore the heart of the GAA-the clubs, would suffer. Watching Bernard, Eva (and hopefully Annie) come up through Underage football and Camogie, my hopes for them are that the games remain amateur and they continue to get as much enjoyment, rewards and fulfilment and make as many friends within the GAA as I did during my football career. Your opponents might not always be your friends on the pitch but I'm a firm believer you don't carry your differences off the field.
Pictured below; Benny and his Son, Bernard at the Golden Oldies match in 2007 in memory of the late Hank Kernan.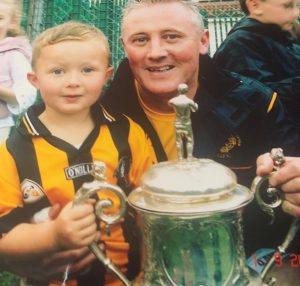 Pictured below; Benny and his Daughter, Eva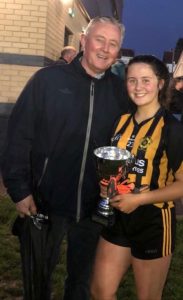 Pictured below; Captain Bernard Cassidy lifts the Charlie Grant Cup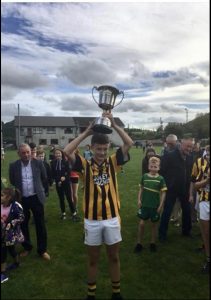 RM; Benny, Anything else you like to add?
BC; It was an honour and a privilege to be part of Crossmaglen Rangers Club. I look forward to supporting all the players at all levels in the future when games can resume once all current restrictions are lifted. Thank you Roisin.
Thanks Benny for reminiscing with me and for sharing great memories.

Club pin/Key ring 
A batch of club pins and key rings  have been ordered and will be available to buy in a couple of weeks. No pre ordering. I will post online details of when and where you can buy them.
Club lotto
We hope to resume our weekly club Lotto in the next couple of weeks. The funds raised from the club lotto are vitally important for the everyday running of the club.
Please check out our social media  sites for updates, information, puzzles, quizzes, trips down memory lane, recipes and much more. As I said before, social media is the most important tool we have at the minute, it's both connecting and engaging people in our community and beyond. We continue to deliver groceries from Centra daily and any club member or member of our community who need any assistance at these difficult times, please get in touch. #inthistogether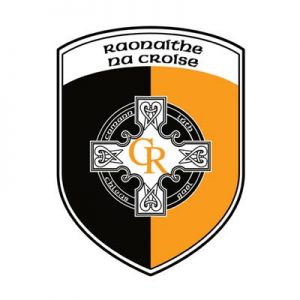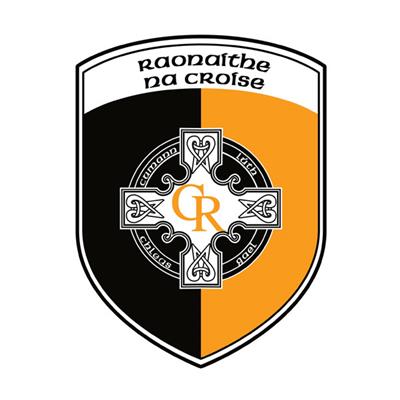 Posted: May 31st, 2020 under Club News.