Crossmaglen Rangers Club Notes 20/09/21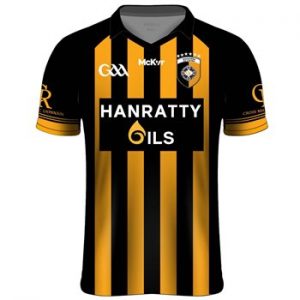 Congratulations
Congratulations to our U13 team and management who beat Killeavy in the U13 Division 1B league final. The game was played in Dromintee on Sunday morning. It was a fast moving, entertaining encounter which was played in a very sporting manner with some super scores from both sides. Well done lads!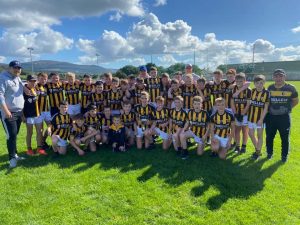 Good Luck
Good luck to our senior team and management, who play Madden in the Armagh SFC. The game will be played in the Athletic Grounds next Saturday at 5pm. Once again, it will be an all ticket game and tickets will be for sale on the MyTicketApp.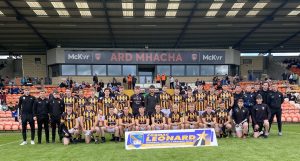 Rangers Sponsor A Ball; Armagh SFC 
Master Bobby Carragher will sponsor the ball, SFC V Madden. Thanks to Kyle, Dearbhla and Bobby for your sponsorship and ongoing support.
Bobby presents the ball to Uncle Garvan.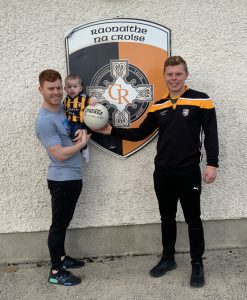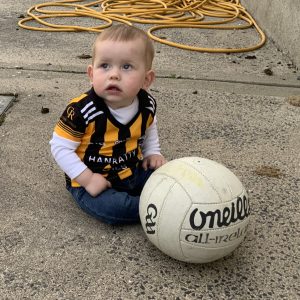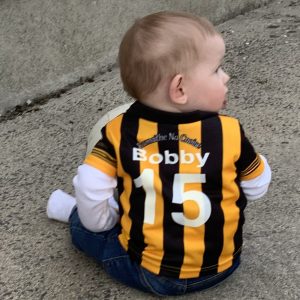 Club Lotto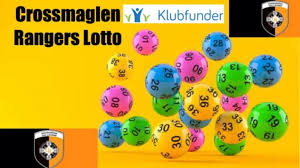 Draw Date; 19/09/21
Numbers Drawn; 3 9 11 20 
No Jackpot Winner; 
7 matched 3 numbers; Malachy Nixon, Adele Hatzer, Anne Kelly, c/o Bernie Hughes,  Aaron Kernan, Paddy Moley, Klubfunder, James McAvoy, c/o Maura Jason Kieran, c/o Murtagh's Bar who win £15 each. Well done.
Next Lotto Draw; 26/09/21; Jackpot; £2100/€3100
Best Wishes
We send our very best wishes to our seconds player, Jamie Carlisle and Danielle who are getting married on Friday. Wishing you many years of good health and happiness.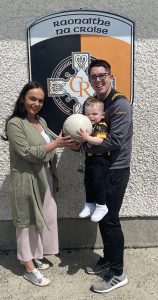 London Virtual Marathon 
Patrick McEneaney is busy training for the upcoming London virtual marathon which takes place on the third of October. Patrick is raising money for both our club and the southern area hospice. If you would like to donate money towards the event there is a sponsorship card and bucket in Egg and also a "just giving " link online on Eggs Instagram page.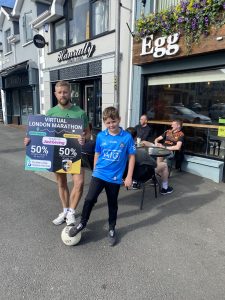 Aaron's Mission To Walk
Aaron, Son of Patrick & Lisa Walsh, Brother of camog, Megan and footballer, Oisin. Aaron was born at 32 wks, spending his first month in neonatal intensive care. He did not meet any of his mile stones, raising a red flag. Aaron was subjected to lots of tests where the out come was diagnosed as cerebral palsy. Aaron is nearly 5 years old and the family have the opportunity to attend surgery in America that will give him the chance to walk unaided or at least relieve his pains. Aaron like all other little boys wants to be a firefighter and an army man. Please see Aaron's mission to walk Facebook page to donate or any family member.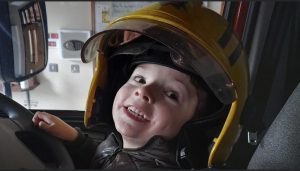 Condolence
Joe Clarke, Rathview Park
Our sincere condolences to Tony and Mary Clarke and the extended Clarke family on the sad passing out former player, supporter and friend, Joe. Ar dheis Dé go raibh a anam.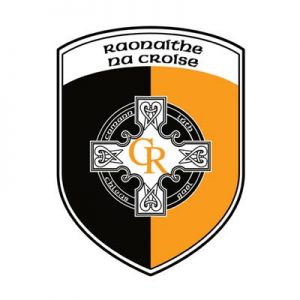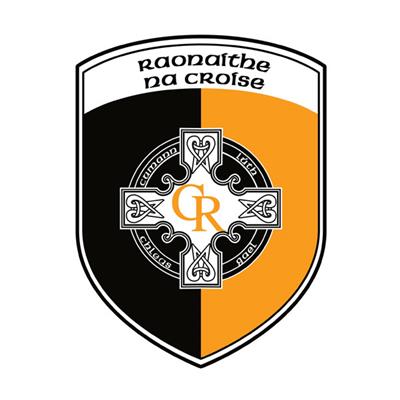 Posted: September 19th, 2021 under Club News.