Crossmaglen Rangers Club Notes 21/08/23
Pitch Rota Wk 21/08/23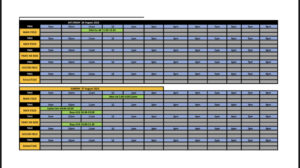 Fixtures
Tuesday 22nd August
U14 Div 1 Championship SF
Cross V Pearse Ogs, Silverbridge, 7pm
Thursday 24th August
U16 Division 1 Championship Rd 5 
Cross V St Peter's, Cross, 7pm
Sunday 27th August
Intermediate Football Championship Rd 2 
Cross V Culloville, Cross, 1pm
Senior Football Championship Rd 2 
Sarsfields V Cross, Sarsfields, 6pm
Good luck teams/managements.
Both the Senior & Intermediate games are ticket only. Tickets can be purchased online;
Cross Rangers Sponsor A Ball Senior Football Championship Rd 2
Delicious Delights will sponsor the ball, senior football Championship versus Sarsfields. James Gregory presented the ball to Aaron Kernan. Thanks to the Gregory family for your support.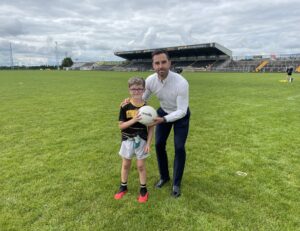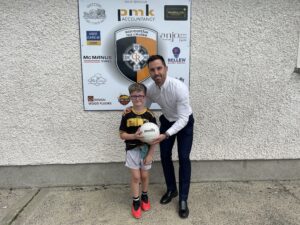 Cross Rangers Sponsor A Ball Intermediate Football Championship 
Martina Carlisle will sponsor the ball versus Culloville. .Thanks Martina for you sponsorship and support.
Martina presented the ball to her Son, Jamie.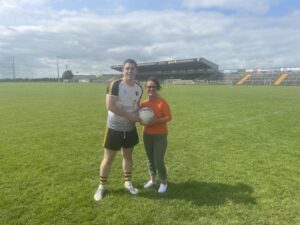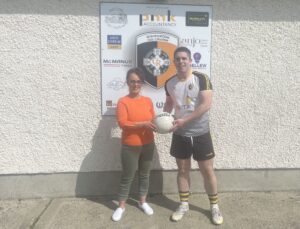 Cross Rangers LGFA
Championship preparation are going strong in our Senior camp. Packing in lots of training sessions both on and off the field.
Plus we had our inaugural LGFA fun day in Lough Ross this week. It was a fantastic, fun packed evening. Thanks so much to everyone involved in making it happen.
Also a huge congratulations to all our A & AS level students who got their results this week.
Big BBQ at Loughross
On Wednesday night, we took some time off training, to have some fun. Over 200 players, siblings and parents gathered to enjoy our local beauty spot, Lough Ross. We enjoyed a BBQ, toasting mashmallows, making s'mores and many even braved it and took to the water. We had swimming, paddle boarding and kayaking.  On the night we took the opportunity to get a photo of all out underage team members, G4M&Os group and founding members Brenda Clarke and Patricia Hughes.
This event would not have been possible without the support of our amazing underage coaches.  Special thank you to Conor Martin and Colm Caherty for assisting with the water safety on the night.
U14.5 Championship Division 1 Final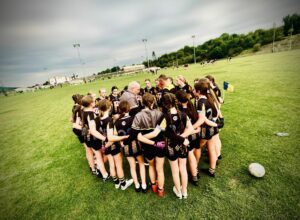 Taking on a strong Clann Eireann side, they girls worked hard as a team and went in at half time down by 3 points. They decided that they would not hand it easy to Clann Eireann, and continued to put Clann Eireann under pressure. However, the Clann's had brought their scoring boots and unfortunately came away with a win.
 While our players were initially disappointed, we are unbelievably proud of our U14.5 squad who have qualified for the county final.  This squad were promoted from Division 2 to Division 1 this season, and impressively made it to the final.  This is a further sign of development and progression for this cohort of players
U12.5 Championship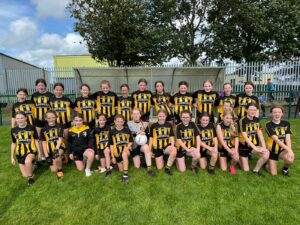 Our squad have had issues all season with injuries but we were glad to have everyone back and ready for action in the championship this weekend, against Armagh Harps.
The wind was against us in the first half, which put us under pressure. Our backs step up to the challenge push Armagh Harps out wide, and making sure there were no easy scores. Aoibhe, Myla and Katie held the full back line, while Makenzie, Alesha and Caomihe ensured that every ball broken down was brought out and down the field. This was of course supported by our amazing Goalie, Lauren, so pulled off a number of an impressive saves.
Our Midfielders, Carragh Donnelly and Carragh McShane had to push hard to contest every ball, and we wouldn't have asked for more from them. They challenged hard and got the ball up to our forwards, who made use of it!  We have lovely scores created and supported by Katie, Caitlin, Kaitlin, Zara. Laurisa, Makenzie and then out subs Sophie and Rachel.
Unfortunately we didn't come away with the win. We do have one more competition this year, the Owen Reel Blitz, and we will be preparing for this the next few weeks.
Training continues on Wednesday 6-7pm.
Gaelic for Mother's & Others: The G4M&Os squad have been out representing the club again at the local blitz held by Dromintee this time. They participated in round robin games, the final game ended up in a penalty shoot out. Well done to all involved.
We are in full preparation for the Championship, and part of that will involved some team bonding activities. Keep an eye on the WhatsApp groups for more information.We would like to remind all members that it is essential to be registered with the LGFA through Foireann. For more information contact Shannon Clarke.

Cross Rangers Lotto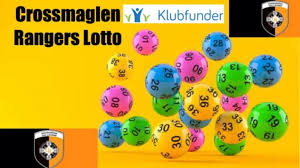 Draw Date; 20/08/23
Numbers Drawn; 7  15  19  25 
No Jackpot Winner; 
1 matched 3 numbers; Thomas O'Hanlon, Cairde, who wins £100. Well done Thomas.
Next Lotto Draw; 28/08/23
Jackpot; £1900/€2900
Important Dates
James Hughes Memorial Tournament (U12.5) will take place on Saturday, 2nd September.
Michael McConville Festival Of Football will take place on Sunday, 3rd September.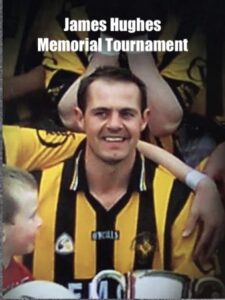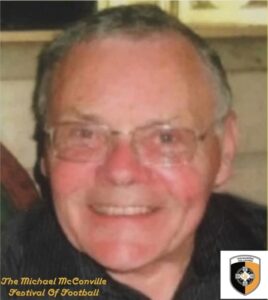 Art for All 
Art 4 All will take place in the Rangers Hall on Friday 25th August from 7 pm – 9 pm. Hannah will be hosting an evening of drawing and painting. All monies raised will go towards Gaa4all & Youthclub4all.  All materials will be provided, you need no previous experience and the bar will also be open!
Limited tickets costing £25 are available via Klubfunder;
https://www.klubfunder.com/Clubs/Crossmaglen_Rangers/TicketSales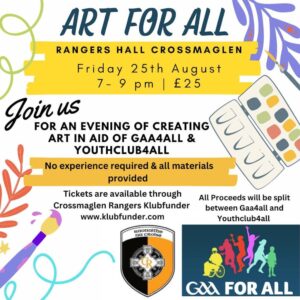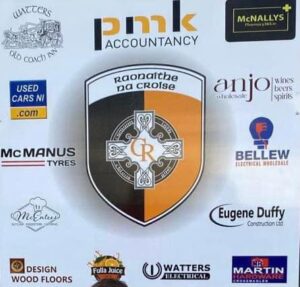 Posted: August 20th, 2023 under Club News.