Crossmaglen Rangers Club Notes 24/05/21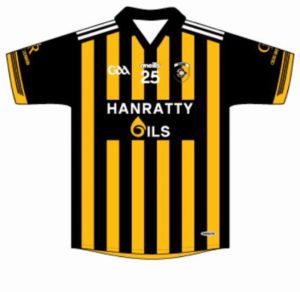 Armagh SFL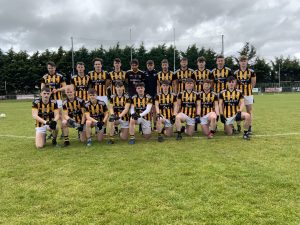 Pearse Ogs V Cross
Our seniors first outing of 2021 was on Sunday afternoon when they travelled to Pearse Ogs. Our starting fifteen captained by Stephen Morris included two debutants, Ronan Fitzpatrick and Caolán Finnegan. We got off to a dream start, Dara O'Callaghan had the ball in the back of the Ogs net when the game was only minutes old followed by a point from the goal scorer to give us an early lead. Both sides had missed opportunities. The home side's opening score didn't come until the midway point of the first half. The second quarter saw both sides score two points a piece to leave the score at half time;
Pearse Ogs 0-3 Cross 1-3
The second half Pearse Ogs were quick off the blocks, seven points without reply and they were now in a commanding position. Substitutions made saw two more young players  make their senior debut, Thomas Og Duffy and James Teelan. Just before the water break, Pearse Ogs added a goal to their tally and as the game entered the last quarter, we had a battle on our hands. Points from Ronan Fitzpatrick and Tony Kernan (2) reduced the deficit. An Ogs point was matched shortly afterwards by a Cian McConville. We had number of missed chances in the closing minutes but Pearse Ogs hung on, scoring the last score of the game, a point in injury time to leave the score at full time;
Pearse Ogs 1-12 Cross 1-7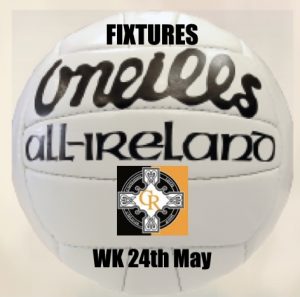 Monday 24th May
U17 Div 1 Rd 2
Clann Eireann V Cross, Clann Eireann, 7pm
Tuesday 25th May
U13 Div 1, Rd 3
Carrickcruppen V Cross, Carrickcruppen, 7pm
Reserve  Group 4 (1)
Cross V Mullaghbawn, Cross, 7.30pm.
Thursday 27th May
U17 Div 1 Rd 1
Cross V Killeavy, Cross, 7pm
U15 Division 2 League Rd 2
Silverbridge V Cross, Silverbridge, 7.00pm
Friday 28th May
Madden V Cross, Madden, 7.30pm
Granemore V Cross, Granemore, 2pm
2020 JFL Rd8
Cross V Belleek, Cross, 2pm.
Mac Fitness will sponsor the ball for our senior league game V Granemore. Thanks Paul for your sponsorship and support and we wish you every success in your new premises in Newry St.
Paul presents the ball to Conor Deery.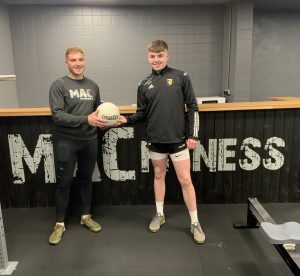 Micko will sponsor the ball for our junior league game V Belleek. Thanks Micko for your sponsorship and ongoing support.
Micko presents the ball to Conor Savage.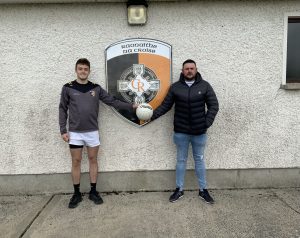 Senior & Junior League Fixtures
To sponsor a ball for either leagues, please contact Roisin; WhatsApp 0876659126 or email [email protected]
Senior League; £40
Junior League; £25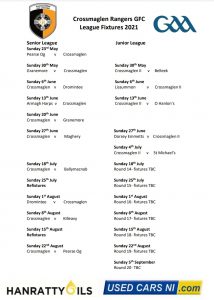 Crossmaglen LGFA Notes
Cross Square 100 is back!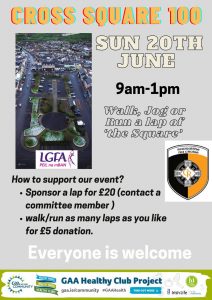 We are delighted to announce that we are putting a date in the diary for our annual fundraising event.
Come along & help us complete 100 laps of Cross Square. Sign up outside the hotel & join in at any stage. Do as many laps as you wish or even just the one!
For those who count the Kilometres :
9 laps = 3km
14 laps = 5km
28 laps = 10km
100 laps = 36km
Ways to get involved :
* Sponsor a lap for £20
( contact a committee member )
* walk/run a lap or a number of laps with our lead runners £5 per person
Team News! 
Under 10.5s-
This group is for P/R3 to P/R5, the focus is on fun, and building confidence with the ball. Training is every
Monday 6pm-7.15pm
, on Pairc Na Og. We are working hard to arrange some games in the next few weeks, and we know the girls are looking forward to this.
They had their first challenge match on Saturday, against Whitecross. All girls really enjoyed the opportunity and are looking forward to more game experience.
Under 12.5
This group is for P/R6 to 1st year of secondary school.  Training is every
Monday 6pm-7.15pm
, on Pairc Na Og
What a start these guys are having to their league campaign!! They have played two games and come away, winners of both. The first game was against Mullaghbawn, and it was a very tight match, coming down to the final score. The second match was against Carrickcruppen 2, and it was a very competitive and physical match. The girls had to fight hard for every ball. However, their strength and determination, won the game for them. This week they have a bye, so no game at the minute.
Under 14.5 & 16.5
This session is for all secondary school players. Training is every 
Wednesday  6pm-7.15pm
, on Pairc Na Og and
Saturday 4-5.30pm
on the Back Field.
U14.5s played Armagh Harps on Thursday, unfortunately they didn't come away with a win. This week, they will play Shane O'Neill's, this will be an exciting match, as these teams have a history of meeting in finals.
U16.5s had a Strong first outing in division 1, against Silverbridge. The final score
4-11 to 1-15
, which was only 5 points in it.  They take on Clann Eireann
on Monday night
.
Good luck to both teams and management.
Seniors
This week seen them draw with Dromahill, which was could've easily been a win, as it was an injury time score which secured the draw for the away side.  There are three sessions per week for our senior crew. They are training
at Monday 8pm
;
Thursday 8pm
 and 
Saturday 6pm
. For more information contact Maria or Peter.
A reminder that all players must be registered with the LGFA, in order to train or play. If you are unsure how to do this, just contact a coach or committee member.
Calling all Mothers & Others!!!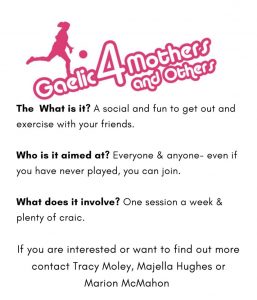 Following our meeting  by during the week, we have been putting out the feelers to gauge interest in this new initiative. We have over 40 members hoping to get involved.
Training continues
on Monday at 6.15pm
, in Pairc Na Og. Everyone is welcome!
Club Membership 2021
‼️Last call for membership‼️
The deadline for Club Membership is on the 31st May. All members must be registered by that date. Anyone training or playing needs to be registered NOW or you are not insured. Please contact any committee member to pay membership or pay online via KlubFunder Cross Rangers.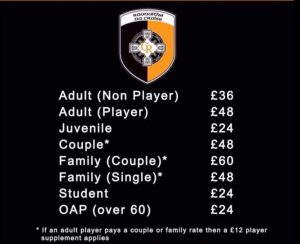 Club Lotto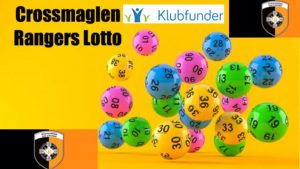 Draw Date; 23/05/21
Numbers Drawn; 7 11 14 29
No Jackpot Winner 
10 Matched 3 numbers; Lena McCoy, John Carragher, Maura McAvoy, Tricia McAvoy, Patrick McEntegart, Gene Duffy, Sean Og Hand, Tom O'Hanlon, Donnacha Hughes and Geraldine Murtagh win £10 each. Well done to our winners.
Jackpot; £5600/€6600. Next Lotto Draw; 30/05/21
Get Well
We send our very best wishes and get well soon to Shane Murphy.
Happy Birthday
Happy birthday to Teresa Hanratty, Newry St who is celebrating her birthday on Monday.
Condolence
Brian McGahon, Inniskeen
Crossmaglen Rangers  GFC  send our deepest condolences to  Christine & Pete Lenaghan and the extended McGahon family following the recent sad passing of Brian, Husband of Noleen and Father to Shane and Lauren. Ar dheis Dé go raibh a anam.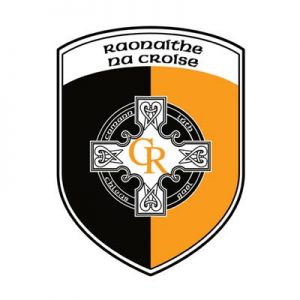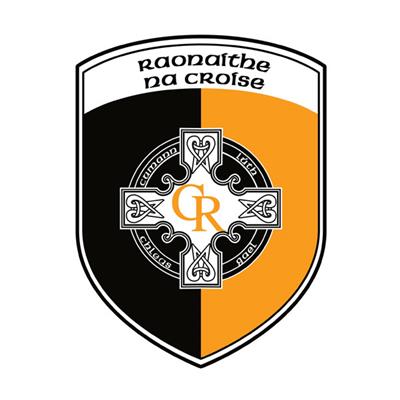 Posted: May 23rd, 2021 under Club News.