Crossmaglen Rangers Club Notes 03/02/20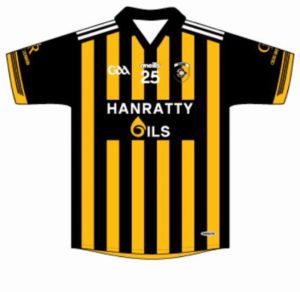 Juvenile Academy 
We are delighted to announce that McManus Tyres, Dundalk will be the main sponsor for our juvenile academy.
The entire club send our sincere thanks to Shane and Brigid McManus and family for their generous support for the underage structure in our club.
Shane and Brigid have two children playing , Fionn with the U9.5 team and Ríona is with the U7.5 squad.
Brigid who is the coach of our U5.5 team said;
"Shane and I are extremely proud and honoured to sponsor the juvenile academy.
It is very rewarding to see first hand the tremendous effort the club puts into the underage structure especially the little Rangers who are the stars of the future.
I am delighted to have the time now to help out at training with the younger children and we are all looking forward to an enjoyable season ahead".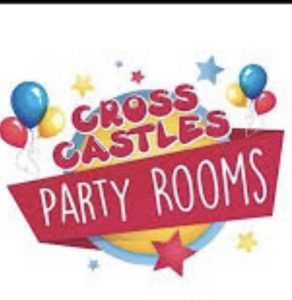 Registration
We had a double registration
on 
Friday evening
, U13 and U15. We welcomed Gabrielle Fitzpatrick from Aware Ni. Gabrielle spoke to the U15 team, mentors and Parents. Gabrielle's engaging presentation was both enlightening and informative for the juveniles and the adults. We thank Gabrielle for taking time out of her busy schedule and it was lovely to welcome a Kilcoo woman to the Rangers Hall!
Thanks to all the parents/guardians who attended.
Registration evenings continue this week with U7.5 down to nursery  
on Wednesday
and U9.5 Registration on Friday, both in the Rangers Hall
at 7pm
.
There will be a chance for Parents to meet and speak to the Mentors.
Anyone who wishes to pay their membership can also drop in.
Club Mass  
Deceased members and friends of Crossmaglen Rangers and in particular two great Gaels, Gerry Moley and Joan Shields will be remembered at a club mass on Tuesday at 7.30pm in the Rangers Hall. Refreshments will be served afterwards.
Everyone welcome.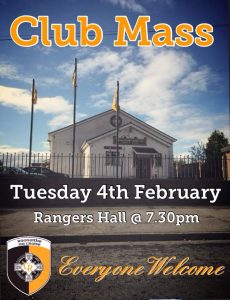 National Healthy Clubs Orientation Day 
On Saturday, Crossmaglen Rangers Health And Well Being Team 2020 visited Croke Park for the National Healthy Clubs Orientation Day. Under the support and guidance of the club health and well being officer Oisin McConville, who was unable to attend, Róisín Murtagh, Danielle Morris, Michelle and Aiobheann McConville completed two steps of a seven step journey which will culminate in the club receiving full heathy club status in October 2021. We are delighted to embark on this adventure where our main focus will be to continues to bring different health and well being initiatives to our club and community especially around the areas of mental health, nutrition, social inclusion and community events. We will also liaise closely with outside agencies and link in regularly with the health and well being team in Croke Park.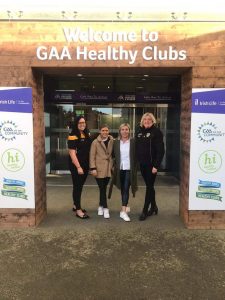 Congratulations
On Friday night, our LGFA & camogie clubs held their presentation night in the hall. Congratulations to all on your fantastic achievements in 2019 and we wish you continued success in 2020.
Crossmaglen LGFA Notes:  
LGFA & Camogie joint presentation night  
The LGFA came together to hold their night of celebration with our Camogie club
on Friday night
past.  With over 150 people in attendance, it was great to see the Rangers Hall full of buzz and excitement, as all the players from U12 up to Senior were recognised for their achievements.  On the night Marion McMahon and Aiobheann McConville presented Championship runners up medals to the U12 girls.  While the U14s received this league and championship medals from Frank Shields.  Paul Duffy and Shannon Clarke took an opportunity to present championship medals to the U16 squad.  The final presentation of the night was to our senior squad, they received their runners-up medals from Maria O'Donnell and Peter McMahon.  Individual awards were also presented to Clodagh Conway, for her versatility and dedication, joint U14 players of the year went to Caitlin Lenaghan and Eimear McMahon, while Grace Fitzpatrick was award U16 player of the year.  The senior player of the year awards went to Alexandra Clarke and Aveen Bellew (Donaldson).
Maria O'Donnell, also took an opportunity to highlight the importance of this year for all women in sport, and spoke with great passion on our role in promoting involvement, commitment and support for all females in our club.  She especially thanked our club PRO, Roisin Murtagh for the coverage she gives our whole club.  She asks everyone to get behind the 20×20 campaign and remember "If she can't see, she can't be".  Thank you to everyone who attended, and lets hope 2020 is as successful as 2019.
Cross Square 100
The annual challenge of completing 100 laps of our town square, will take place
on Sunday 16th February
.  We are delighted to host this inclusive event, for our whole community for the 3rd year.  It is aimed at all levels of fitness, so everyone can get involved.  Whether you wish to run, jog or walk a lap, just come along and do your own distance at your own pace.  The Square will be set up for participants
from 9.30am to 1pm
.  Individual's or businesses can support this event by sponsoring a lap or making a donation on the day.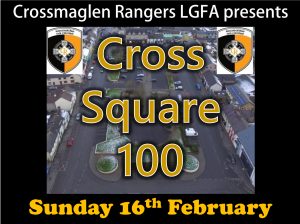 Crossmaglen LGFA Annual Pre-Season 7s
It's that time of year again, we are contacting all LGFA clubs and inviting them to participate in our seven a side competition, as a season opener.  Our 7s will take place
on Saturday 14th March
.  This is an opportunity for clubs to get out of the field, and give their players plenty of game time.  We are lucky to have had great support for the LGFA community, annually welcoming teams from across Ireland.  So we are calling on our volunteers to put this date in the diary, and give us an hour or two on the day.  Please get in touch with any committee member if you are available.
U12 & U10 News
Well done to Alesha Haughey and Coaimhe O'Neill, who represented the club on Sunday in Silverbridge, when Armagh took on Tyrone.
Indoor training will commence
on Monday 10th February
, in St. Joseph's High School.  All girls from Primary/Rang a 3 upwards are welcome to attend.
Camogie Presentation
U12 Armagh Camogie Div 1 Runners Up 2019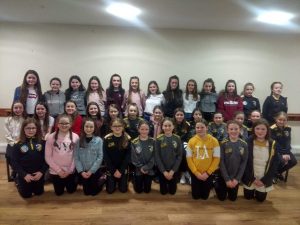 U14 Armagh Feile Cup Winners 2019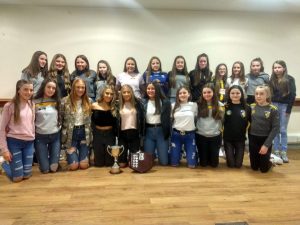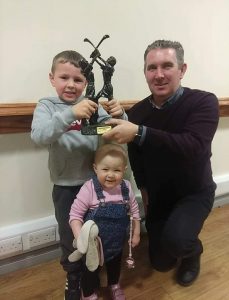 Congratulations to Melissa Hughes who was awarded minor POY.
Crossmaglen Rangers Coaches 2020
U5.5 Brigid Mc Manus
U7.5 Ronan Byrne, Joe Brannigan, Jason Martin & Derek Morgan 
U9.5 Oisín McConville, Aidan Meegan & Sean Hughes
U11.5 Shane Murphy, Jonny Savage, Anthony Donaldson, Kevin Hughes  & Pete McGeown 
U13 Tony Brady, Mickey Finnegan & Ruáirí O'Neill 
U15 Tony McEntee, John Hand  & Brendan McEntee 
U17 Tim Gregory, Leo Blessing & Gene O'Callaghan
Well done to all the coaches to took part in a coaching workshop on Saturday led by Shane Lennon, Louth (morning session) and Gareth Thornton, Ulster (afternoon session).
Glasnevin trip
Only ten places left for our upcoming trip to Glasnevin cemetery for the general history tour on Easter Monday.
Operation Transformation 
With the weather very favourable
on Thursday night
, 183 people registered for week four of Operation a transformation 'Ireland Lights Up'. Last week 21,000 people took part in 'Ireland Lights Up' across Ireland.
There is still time to purchase GAA national draw tickets. Please contact any club member. All funds raised from ticket sales go directly to the club.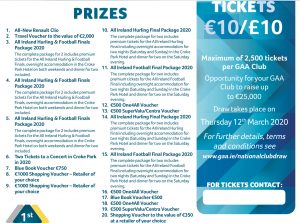 Executive Meeting 
Executive meeting, Tuesday evening after mass.
Cross Rangers Pancake Breakfast
This juvenile  teams fundraiser will take place on Sunday 23rd February, 9am-1pm, Rangers Hall.
Delicious pancakes served like you never saw them served before! The perfect start to your Sunday.

Crossmaglen Rangers Golf Classic 2020
Crossmaglen Rangers Golf Classic 2020 will once again take place in the prestigious Concra Wood Golf Club Castleblayney on Friday 10th July.
Book your slot today in Ireland's largest golf classic by contacting Gene Duffy, Joe Kernan or Eugene Hanratty.
A super day's golf is guaranteed in the scenic surroundings of Concra Wood!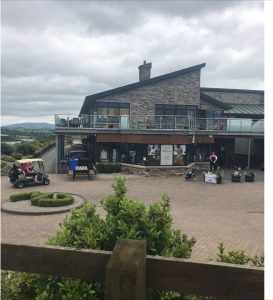 Sponsor A Ball!
Any individual or business who would like to sponsor a ball for one of our upcoming senior league matches can do so by contacting Róisín, telephone 0876659126.
Sponsoring a ball is a great way of supporting our senior team.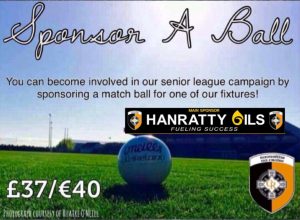 The All Ireland Senior Football Championship 1887-2019 Book
For the first time, a complete record of the All Ireland Senior Football Championship from 1887-2019 all together in one book. Plus county by county analysis, an updated list of provincial and county titles won (based on archival research for the early years). And much more.
The book retails at £15 but you can order copies through the club for a reduced price of £12.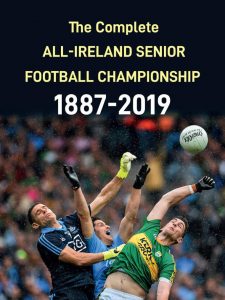 We are very excited to announce that over the next few months we will be updating our website. Thanks to Wibble Web Design Ltd (Paudie Fearon) and RK Marketing (Ross Kernan) who will carry out the work.

Good Luck 
Good luck to Ryan Duffy, Liam Finnegan, Thomas Cassidy and the Southern Regional College team who play Liverpool's John Moore's University in the Electric Ireland HE GAA Corn na MAC SF which will be played in DCU sports grounds on Friday at 2.30pm.
Good luck also to Riona McConville, Faye Fitzpatrick, Aislinn  McMahon and the Sacred Heart School, Newry who play Colaiste Mhuire from Kilkenny in the All Ireland Senior Camogie D Semi Final which will be played next Saturday  in Mayobridge at 2pm.
Condolences
Mr Brigid McShane, Donaldsons Rd
We send our deepest sympathies to the McShane family on the recent sad passing of Brigid, Grandmother of underage player James Brogan  and Alisha Hill.
Ar dheis Dé go raibh hanam.
Mrs Rosetta Walsh, Newry
Crossmaglen Rangers GFC send our deepest condolences to Selena, Shane, Joseph, Eimear, Charlie and Shauna McCoy and the extended Walsh family on the sad passing of Selena's Mother, Rosetta.
Ar dheis Dé go raibh hanam.
A reminder to everyone who may have family away from home, you can play our lotto online by clicking on the following link;
Draw; 02/02/20
Numbers Drawn; 7  12  20 26 
No Jackpot winner
1 matched  3 numbers; Eimear Hughes, C/O Paudie Hughes wins £100.Well done Eimear.
Jackpot; £4100/€5100