Crossmaglen Rangers Club Notes 03/08/20
Senior team sponsored by Hanratty Oils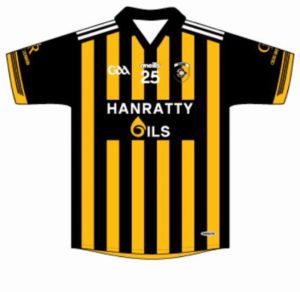 Armagh SFL A Rd3; Cross V Armagh Harps
Friday evening, we welcomed Armagh Harps to Cross  for our third outing in the Armagh senior football league. Despite being a warm bright sunny evening, the conditions were slippy following the heavy rain which had fallen earlier in the day. Philip Conway was the man in charge of proceedings. Shortly after the ball was thrown in, we had on our first score on the scoreboard, a Dara O'Callaghan point, was quickly followed by points from Rian and Oisin to give us an early lead in the opening minutes.  A free converted by Harps got them off the mark in the seventh minute. We were very much on top of the game, two super scores from Rian and Dara stretched our lead. Harps scored a point from play Which was followed quickly by two unanswered points from the home side, (Rian  and Coilin O'Connor) and at the water break we were in a comfortable position. Seconds after the game resumed, Rian slotted over a point from a free to leave it a six point game. Harps moved the ball well up the field and a goal looked like the likely outcome, but a fantastic save from Tiernan kept our lead in tact and the momentum remained with the Rangers! With minutes remaining until the break, both sides scored  two points a piece. As the half drew to a close, points from Dara (2,1F) and Oisin brought the scoring of the half to a close;
Cross 0-12 Armagh Harps 0-4
Harps started the second half the brightest, two points registered (1F)  and our lead was reduced. Substitute, Cian McConville got his name on the scoresheet with a tremendous point in the 39th minute and this triggered a scoring spree, 2-4 without reply, Oisin and Paudie the  goal scorers and with less than ten minutes to go, we were in a commanding position but Harps didn't throw in the towel, scoring three points in quick succession. Patsy Finnegan slotted over a point,our last score of the contest, before Harps added two points to their tally to leave the score at full time;
Cross 2-18 Armagh Harps 0-11
Well done lads and management. We send our best wishes and good luck to the team and management, Armagh SFC Rd 1 V Silverbridge.
We will post on our social media platforms information regarding Sundays match as soon as it becomes available.
Sponsor A Ball Armagh SFC Rd1
Antoin Murphy sponsor the ball for our Armagh senior football championship fixture against Silverbridge which takes place in the Athletic Grounds on Sunday. Many thanks to Antoin for your sponsorship and support.
Pictured below; Antoin presents the ball to Rían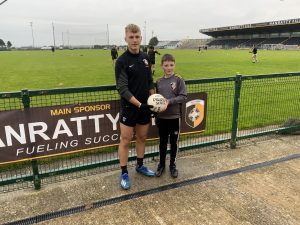 Sponsor A Ball Junior Football League
Benny Doyle, will sponsor the ball for our junior league fixture against Eire Óg  which takes place in Eire Óg on Saturday evening. Huge thanks to Benny for your support.
Pictured below; Benny presents the ball to Son, Oisin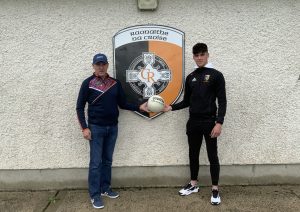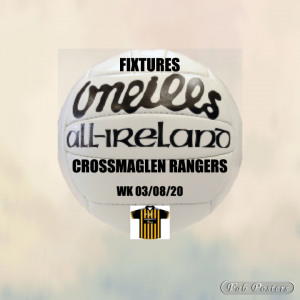 U17 South Group 1 Rd2
Cross V St Patrick's, Cross,  7.15pm
U13 League South Div 1 Rd 2
Mullaghbawn V Cross, Mullaghbawn, 7.15pm
Cross V Killeavy, Cross, 7.15pm
Granemore V Cross, Granemore, 7.15pm
Saturday 8th August
Go Games South Armagh U9.5 Rd1
Killeavy V Cross, Killeavy, 12.00pm
Eire Óg V Cross, Eire Óg, 6pm
Sunday 9th August
Armagh SFC 2020 Rd1
Cross V Silverbridge, Athletic Grounds, Armagh 1.30pm
Crossmaglen LGFA Notes
Safe Return to Play: We are all delighted to have all teams got back out training, and fixtures have been began with leagues. We encourage all our members to ensure the keep in touch with their managers to keep all information and records up to date as per the GAAs guidelines.
Reminder for all parents and players, please ensure that all players bring and wearing their gumshields to all football.  This is compulsory in the GAA.  Also players should have their own water and gloves with them to training to ensure everyone's safety at this time.
U10 & U12 training times this week:
Monday 6.15-7.30pm
: All players who have just completed P5/R5 to 1st year are welcome to attend. This training is open to players old and new, so whether you have played football before or you would just like to give it a go.
Saturday 10.30am
: All U10.5 players will train on Pairc Na Og.  We are encouraging all girls for P3/R3 and up to attend this training.
The next match is scheduled for
Sunday 9th August
, it is away to Forkhill
at 5pm
. There will be more details on the game during the week.
U14 & U16 training information: 
The U16s had a fantastic game against Mullaghbawn
on Monday evening
 past, and came away with their first win in this season's league. The will play Corrinshego
on Monday 3rd August at 7pm
. This is an away fixture and players will be required to travel to the venue and meet there. Good luck to the girls and their management.
Wednesday 6pm to 7.15pm
: All players,  including those who have just completed 1st year of secondary school should attend this training session.
Minors & Seniors
 met Mullaghbawn in their next league match and had an impressive win.  This is a strong start to their league campaign and we wish them well with their next match, against Lissummon. This game is scheduled for
7pm on Saturday 8th August
.
They continue to train together with Maria & Peter. They will keep in touch with you on arrangements.
Registration information:
Registrations are now due and can be paid online or to your coach. All players need to be registered in order to train and play for the coming season. Thank you for your cooperation.
Pitch Rota 03/08/20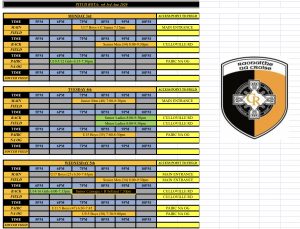 Draw Date; 02/08/20
Numbers Drawn; 14  18  23  26
No jackpot winner 
1 matched 3 numbers winning £100; Francie McVerry. Well done Francie
Jackpot; £1500/€2500
Play online; https://www.klubfunder.com/Clubs/Crossmaglen_Rangers/lotto or tickets available in a number of local retail outlets.
Condolence
Mr Barney Hughes, formerly Drumacon 
The entire Crossmaglen Rangers club send our deepest condolences tothe Hughes and MccConville families on the sad passing of Barney.  Ar dheis Dé go raibh anam.
Posted: August 2nd, 2020 under Club News.