Crossmaglen Rangers Club Notes 06/04/20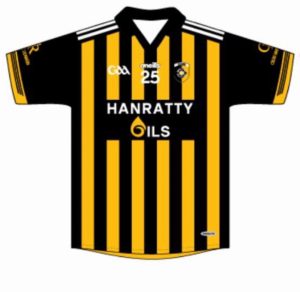 Reminiscing With A Ranger
This week for reminiscing with a Ranger, I spoke to our Honorary President, Gene Duffy.
Gene, a former player, manager, secretary, treasurer, chairman, supporter, sponsor, Armagh County Chairman, Ulster Council delegate and various positions, Central Council, Croke Park for twenty four years.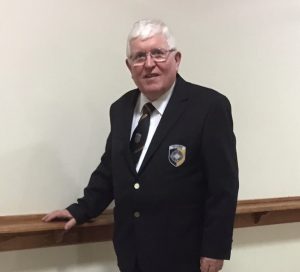 Can you tell us what it meant to you to wear the black amber?

I was honoured to wear the black and amber in memory of great administrators who may of been small in number but did colossal work.
The fifties wasn't a great time for the Rangers on the playing field but off the field, club officials like Tommy Cassidy, Hughie Casey, James Duffy,  Paddy & Con Short, Jemmy McEntee, John Martin, Paddy Cumiskey and James Donaghy worked tirelessly in challenging times. There was a rule in the GAA that you could not run dances, just Céilís. To get around this and in order to fundraise and keep the club afloat, as well as the executive committee, a second committee was set up, an Amusement committee. This committee led by Tommy Cassidy, Hughie Casey, Micheal McConville and his Father, Patrick, Colman Hearty and my Father Pat, would oversee the running of dances. The normal Rangers football meeting would be held upstarts in the old loft in the hall and immediately afterwards, everyone would change seats and the amusement committee which consisted of the same seven or eight men would hold their meeting. At that time Eddie Richardson had a dance hall in Mobane but to show his support for the Rangers, he would close when the Rangers held a carnival in Courtbane and dances were also held in the Rangers Hall.
The Dramatic class was another fantastic group that existed in the fifties, Frankie McKenna, Pat Duffy, Joan Duffy, Eileen McKenna, Paddy Eardley, Margaret & Patsy McConville and so many more were all members and they hosted and performed many plays which also helped the club fundraising. I also played a part in the dramatic society, I was a member of the skiffle group along with Paddy Fitzpatrick and others.
Pic Below; Crossmaglen  Skiffle Group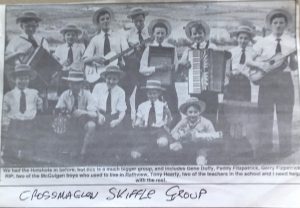 All this fundraising culminated in an enormous occasion in the history of Crossmaglen Rangers, in
1959, Blessed  St
Oliver Plunkett Park was officially by the President of the club, the late Cardinal Tomas O'Fiach who was a tremendous devoted and loyal club man.
It was a big, big event. Two games were played that day, an Armagh selection played a Monaghan selection and the big match was Derry V Meath. Derry had contested the All Ireland the previous year. Three thousand people attended the opening of St Oliver Plunkett Park in what was a very joyous occasion and I can honestly say the proudest men on the field that day were Tommy Cassidy, Joe Fitzpatrick and others who were the driving force and whose hard work and dedication had come to fruition.
If you look at the men who did great work in the '50s and 60s and you look at the names of the people doing great  work today, you will see many repeat names.
Gene, you were part of the golden years in the 60's, it was unprecedented what was achieved.
Can you tell us briefly about those years?

The 1960's were marvellous years.
There was five championships won between 1960 and 1968. Cross won the championship in 1947 and it was thirteen long years before we won it again in 1960 but not without a struggle.
Having reached the final to play Clan Éireann, we were given six days notice which we felt was not long enough. We refused to play, the County board awarded the game and cup to Clan Éireann. We appealed to the Ulster Council which we won and the final was refixed. The game ended in a draw and the replay took place on 8th January 1961 and we won on a score line of 4-8 to 3-3.
It was great to be back in winning ways.
'62 saw us beat Clan Éireann again, 3-11 to 0-4.
In 1964, huge drama ensured, we traveled to Killeavy to play Armagh Harps in the QF championship which we won comfortably, 1-13 to 0-4 but during the course of the match, three men got their marching orders, Tom McCreesh, Hughie Casey and my Brother, Paddy Duffy.
We traveled back to the hall, club and players decided that we would withdraw from the championship if the three men were not reinstated, there wasn't a blow struck during the match and we felt it was the wrong decision by the Lurgan ref. All players representing Armagh quit and club officials didn't cooperate with the county board.
There was a lot of  bad felling at the time, Mullaghbawn went on to beat Wolfe Tones in the final and win the championship.
The  situation was resolved in late '64. The late Gerry Arthurs was secretary of the Ulster Council, his Brother Archbishop Arthurs was home on holiday from Australia and he agreed to mediate between the two sides. A resolution was reached, the three players were absolved from any blame and they each received an apology along with the club. We went on to win the championship in '65 beating Clann Éireann, '66 beating Carrickcruppen and '67 beating Wolfe Tones. Only for the controversy in 1964, I believe we would of achieved four in a row.

Who were the managers

There  wasn't managers as such in them days compared to today but I played under John Martin, Paddy Short , John Reilly. There was no physio or set ups like today and your training was usually the games you played in tournaments during the week but if there was a final coming up, you would gather in the field, kick the ball in and out to one another, twelve laps around the field  and that was training completed.

Pic Below; Gene (Back Row, 4th from R) with his teammates in 1965.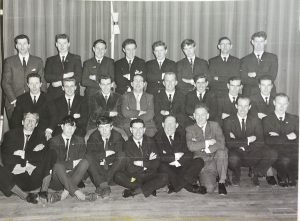 When you were a young player who were your idols?
When I was playing panels were small compared to today, you be lucky if you had eighteen players. When I was playing my idols were players like Gene Larkin, Larry Kierans,, Tom and Micheal McCreesh, Kevin Halpanny, Brendan Donaghy, Jack McEntee, Paddy Duffy & Paddy Fitzpatrick  I could go on and on. They were inspirational leaders.
On a national level, I would of looked up to a Mick O'Connell of Kerry and Armagh's Jimmy Whan who was an exceptional player and has been a close friend of Cross Rangers for many years and still takes part in our annual golf  classic.

Gene, can you tell me the positions/roles you have held in the club?
Yes, in 1969, I was secretary but I stepped down from that position in 1970 as I was getting married to Una Donnelly from Clonalig. The Donnelly's were big Culloville people (Kieran Donnelly's Grandfather &  Father Mickey & Micheal were both big Culloville men). I believe my union with Una  was to heal the division and any bad blood between Culloville and Cross!
Una and I had decided to have our wedding on the 15th August but because it was a church holiday, the local priest wouldn't allow our wedding to be held that day. At the AGM in '69, I was speaking to Monsignor Tomas O'Fiach and he said he would marry us on the 15th August. Una and I were so thankful to him as he rescheduled his appointments, he was due to attend a lecture in Paris that day.
The day I returned from my honeymoon, 30th August, Cross were playing Clan Na Gael of Lurgan in the County final. Cross were the underdogs, Clans were a superb team, had won Ulster championships and had mighty players like Jim McKerr, Colm McKinstry and Jimmy Smith.
I landed into the dressing room not expecting to play but after some discussion between John O'Reilly and Paddy Short, I was handed the no 14 jersey and against all the odds we won on a score line of 1-6 to 0-6.
In 1971,  I was back secretary and this was the year the British Armagh arrived and occupied part of our ground for the next twenty years which  caused immense trouble for the club. As a result, there were  many meetings in Croke Park and the Irish embassy in Dublin. This was a really bad time  but maybe in hindsight, this adversity made us stronger and possible helped to create the success we enjoyed in later years.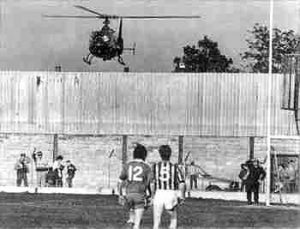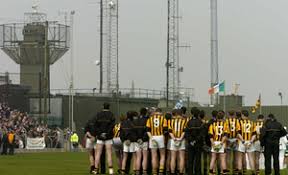 The situation really deteriorated in the mid eighties, there was a strong possibility going on advice from the Irish Government that a complete take over was very possible.
A committee was formed in Croke Park led by Cardinal O'Fiach who selected the committee members.
President Con Murphy from Cork, Ulster President, Peter Harte (Brother of Mickey), Donal Whelan, Waterford, Aidan McGowan, Leitrim, Tommy Walsh, Liverpool, Myself and Gene Larkin were the committee members.
The committee's main agenda was to hold on to the field and some very high powered meetings took place. In 1986, a public meeting was held in the hall and at that time it was difficult to get young people to play as they were  being harassed and intimidated up at the field. At the meeting we appealed for help, the hall was packed and our call was answered. In the evenings, adults came to the field not to coach but to be a presence and we needed that. There was a great fight back from the community and we got to hold on to the field. All credit must go the committee formed by the late Cardinal and in particular the GAA President at the time, Con Murphy who made regular trips to Croke Park and Cross to raise awareness and to fight our corner.
I held the position of secretary  until 1978. I was treasurer from 79-81, Chairman 85-87.
In the early eighties I was living in San Francisco and I managed a team when I was there, the Sean McDermotts. I enjoyed living in the US but unfortunately due to a family bereavement, we moved home
When I returned at the end of '82, Gene Larkin was chairman and he said to me, I have a job for you, will you manage the seniors. I agreed and along with Ollie McEntee who was the trainer, we took the job and I'm proud to say we won the championship in 1983. The final was played in Keady and we beat Maghery, 2-9 to 1-6 . This was another great occasion as we hadn't won the championship from 1977. I was also County Chairman from 92-97, was Ulster Council delegate in 98, 99 & 2000 and I was on various committees in Cork Park for twenty four years including Charman National Finance Committee, Chairman Overseas Development Committee and the biggest job I had in the GAA was when I was  appointed GAA trustee, this was an elected position where two trustees would serve with the President who at the time was Christy Cooney.
Pic Below; Gene &  Una with President Nicky Brennan. In 2010, Gene was presented with an All Ireland medal for services to the GAA.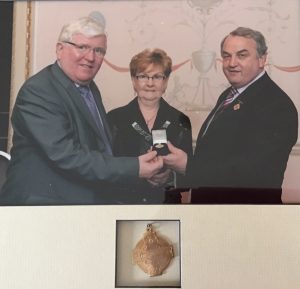 Pic Below; Gene pictured with the management  of the Irish International Rules team, Mickey Whelan, Dublin, Pete McGrath, Down and Larry Tomkins, Cork.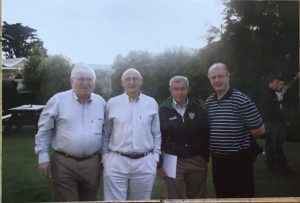 If you were playing the game today, is there anyone you would like on your team?
I'd like them all!
On a serious note, I would definitely have Oisin McConville. Oisin was a born winner and you were guaranteed he would get you across the line. There are many others like John and Tony McEntee, Aaron Kernan and Francie Bellew, there have so many fantastic footballers over the years.
Gene, can you tell us about your special friendship with the late Cardinal?
Yes, Una  and I were had a great relationship with the late Cardinal. As I said earlier, he married us and he also christened Caroline and Paul.
He was a fantastic GAA man, a true Gael.
In July, 1979 when he was President of the club, he was conferred with the red hat which was a marvellous and memorable occasion for the club and the Fee family.
About forty people from Cross travelled to Rome for the ordination and after his ordination, we met him in St Peters Bascilla.
Cross were playing Ballyhegan in the quarter final of the championship that day in keady, he asked me could I find out the result and he gave me his number in the Irish College to ring him when I found out. Well it was a super victory, 10-14 to 0-2 , it was as if  the luck of the Cardinal was with us that day. We all went for a meal that night to the Irish College, the new Cardinal made a speech about how it had been a great day and that Cross Rangers had also won and that had made his day!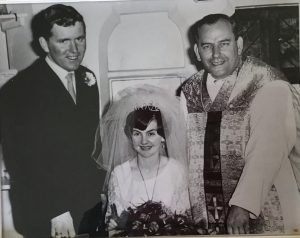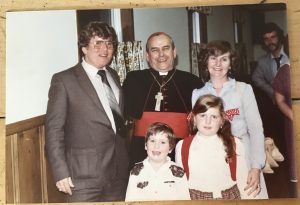 Gene you saw first hand the golden era in the 1960s, did you ever envisage we would have another golden era  but on a larger scale?
No I wasn't surprised, Joe Kernan had finished playing, he came into management and there had been a number of fantastic players who had come  through the underage structure with coach, Tim Gregory. I saw their potential and knew what they were capable of. They were a phenomenal team and as the man says the rest is history.
Gene, your were recently Inaugurated as honorary president alongside Margaret McConville, can you tell us what that means to you ?
With regards to the club today, it would do your heart good, there are super committee structures in place and powerful workers, so you have to be very proud to be a Rangers person. Rangers are known all over the club and we are known as one of the best clubs in Ireland, it is great to be still involved at this stage.
Initially I felt I was too young to be President!
I was absolutely delighted, honoured and very humbled to be asked to be honorary President alongside Margaret McConville who is a legend in the club, a lady who has given years of devotion and hard work. The McConville and Morgan families have a long affiliation with the GAA and in particular, Crossmaglen Rangers where both families involvement goes back over one hundred years.
It is an immense privilege for me to be President and thankfully I'm still very active in the club behind the scenes.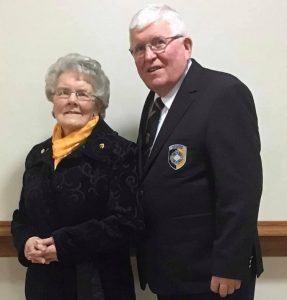 I'd like to thank Gene for this marvellous insight into his past and ongoing association with Crossmaglen Rangers and the GAA. Gene epitomises what a true Gael is.
We wish him continued good success in all his roles and we thank Gene and the Duffy family for their generous sponsorship, support and dedication to Crossmaglen Rangers.
Best Wishes 
We continue to keep Jim McLoughlin in our thoughts and prayers. Thinking also of Beatrice and all the McLoughlin family at this very difficult time.
Colouring Competition
In conjunction with Centra Crossmaglen,  we are delighted to announce we are running a colouring competition. We would like all our young artists to draw their favourite footballer or camog. There are three age categories;
U6
7-12
12 plus
Please take a screenshot of your picture or a photo of you holding your masterpiece and send your entries
Throughout next week, I'll share your drawings on our social media platforms and on Good Friday, Colm @Centra, Danielle and I will judge all the entries and the winner in each category will win a delicious Easter Egg and their posters will be displayed in Centra.
It's open to everyone in the community. So, get drawing boys & girls!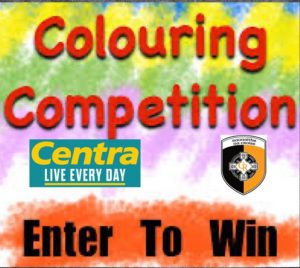 Our inaugural 'Rangers Got Talent'  took place on Sunday evening, there are no words to express how proud we are of all the boys and girls who took part. Well done again, your were all amazing. If there is enough interest, I will have part two next Sunday night at 7pm.
Easter
Saturday at 9pm
, the Shine Your alight call invites the country to shine a light, be it light a candle in the window to pay tribute to those keeping us going through these dark times.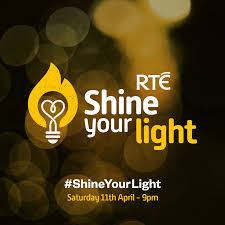 Thanks
Thanks to everyone who assisted this week with delivering groceries from Centra. Anyone who wishes to avail of this service, please contact Centra with your order (if possible, please pay with card) and members of the club will deliver them .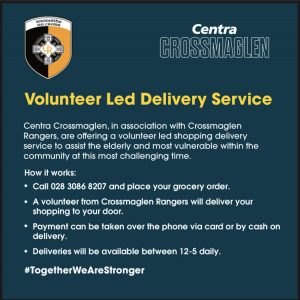 Thanks again to Gene McGinn who set the questions for our online quiz on Saturday evening. It was a tremendous success. We will do it all again next Saturday at 7pm.

Gala Evening Honouring Teams Of The 70's 
Unfortunately we have had to cancel our gala evening which was scheduled to take place in May. It will now take place in the autumn.
Family Acknowledgments 
Due to the ongoing situation, the examiner is temporarily closed. Any family who would like me to include a family acknowledgment following a recent bereavement can email

Condolence

Thomas McVerry, Newtownhamilton 
Crossmaglen Rangers GFC send our deepest condolences to Francie, Ann and the extended McVerry family on the sad passing of Francie's Brother, Thomas.
Ar dheis Dé go raibh a anam.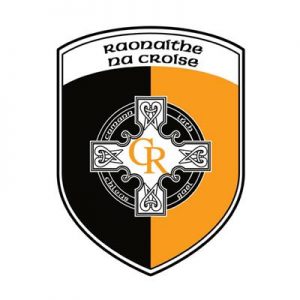 Posted: April 5th, 2020 under Club News.