Crossmaglen Rangers Club Notes 25/11/19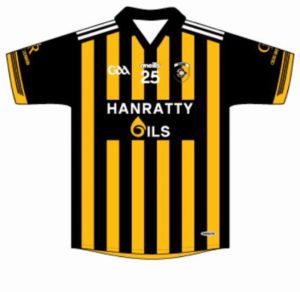 Armagh GAA All Star Awards 2019
On Saturday night
, we attended the Armagh Club All Star Awards which were held in the Canal Court Hotel, Newry.
It was a fantastic night for the club.
Huge congratulations to Callum Cumiskey, Paul Hughes, Rían O'Neill, Oisin O'Neill and Cían McConville who each received an Armagh Club All Star.
Rian was awarded both the Club Player Of The Year and County Player Of The Year.
Well done Rian.
We are delighted to announce that we won Armagh Club Of The Year 2019. We thank all our players, coaches, committee members, club members, sponsors, supporters and friends for their support, hard work and dedication which culminated in us receiving this award.
Pic Below; Our magnificent five 
Pic Below; Chairman  Eugene receives The Club Of The Year  Award From Armagh PRO, Claire Shields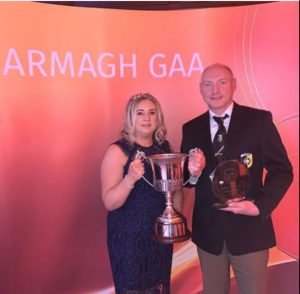 Pic Below; Chairman Gene, President Margaret & Róisín with The  Club Of The Year Award.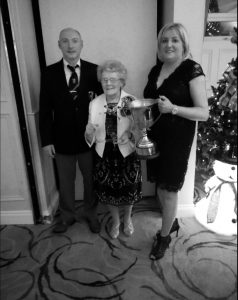 Pic Below; A proud moment, Dora with Sons Rían and Oisin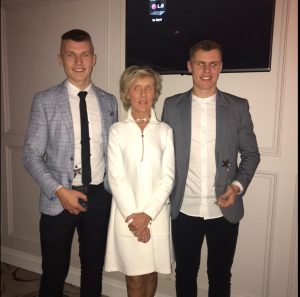 Pic Below; Paul & Aimee at the Armagh Club All Stars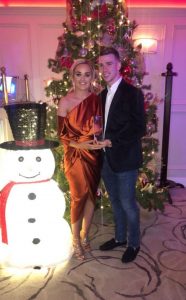 Pic Below; A lovely pic of  Callum with Granny Bernie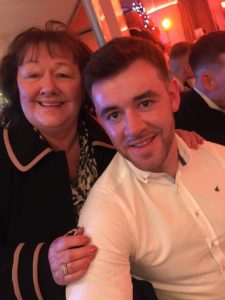 Pic Below; Cían with Sister, Aoibheann, Mum Michelle, Granny Margaret and Dad Jim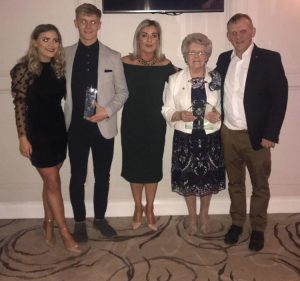 Scór Ard Mhacha Final took place in Killeavy on Sunday. The club had a strong representation at the final. Comhghairdeas Pearse Larkin,
winner  Solo Singing.
Pic Below; Pearse with County Chairman Mickey Savage and Barra Ó Muirí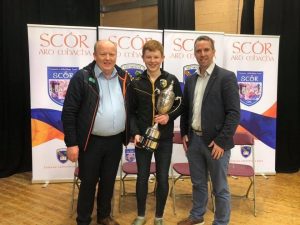 Pic Below; Two quiz teams. Well done boys and girls.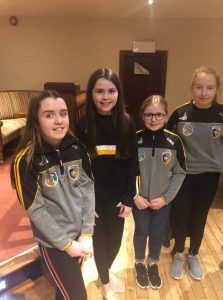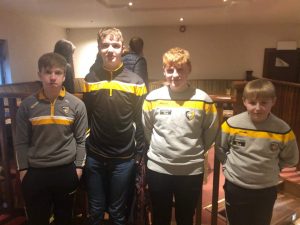 Crossmaglen Rangers LGFA
Saturday seen our club representatives attend the second club together session. The focus of this session was to learn more about club structures.
Annual General Meeting
Friday 6th December 8pm
– This is a dare for our diaries. We will have a short meeting to wrap up the year, and prepare for 2020. All senior players and parents are asked to attend.
Amhrán na bhFiann Workshop
A very enjoyable evening was held in the Rangers Hall on Wednesday, an Amhrán na bhFiann workshop. Thanks to Coleen Savage and Pearse Larkin who led the workshop with their beautiful renditions of the national anthem. Colleen and Pearse also explained the meanings and proper pronunciations of the words of the song.
Thanks very much to Réamonn O Ciaraian who give a short talk on the history of our national song.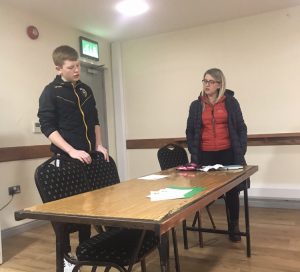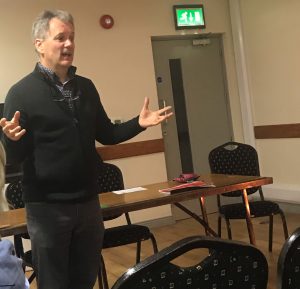 Christmas Fayre/Market 
This Friday
our annual Christmas Fayre takes place
from 5 to 9pm
. As well as the stalls in the hall, we will also have stalls outside (weather permitting).
Santa will leave from the hall to switch on the town's Christmas lights.
It promises to be a fantastic evening. An opportunity to start your Christmas shopping where there will be something on offer to match everyone's tastes.
Presently all stalls are booked out but there is a cancellation list in place, please contact Sarah Jane Carville McGrath for more details.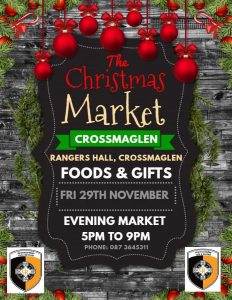 Quiz
On Friday night
, we held a table quiz in the Rangers Hall. It was a mighty nights craic! Thank you to all the teams who participated.
Well done to the winning team led by Paddy Kindlon, enjoy the chocolates!
The winners of the raffle at half time were;
£50 Voucher Cross Square Hotel; Margaret McConville
£50 Voucher; Garvey's Bar & Restaurant; John Fearon
£50 Voucher; Garvey's Bar & Restaurant; Margaret McShane
Well done to our raffle winners. Thanks to Brendan Garvey for donating to the raffle.
The night could not have happened without one man, renowned quiz master, Gene McGinn. We send our sincere gratitude to Gene for facilitating the quiz and for keeping us on our toes! A special word of thanks also to his assistants, Frances Rushe  & Ruáirí Shevlin who ensured everything ran smoothly.
The total raised on the night was £550 which will go towards field maintenance.
Pic Below; Winning team  led by Paddy Kindlon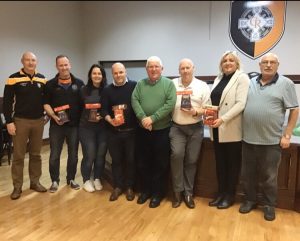 Cúla4 C.L.U.B
I think everyone would agree, C.L.U.B, TG4's children's tv programme which featured  Crossmaglen Rangers this week was phenomenal.
If you missed the episode, you can view it by clicking the following link;
Well done Teresa, Cían, Mel and all the boys and girls, you were all brilliant.
A dvd of the show will be available to buy, more details to follow.
Festive Christmas Party Night
There is still availability for our Festive Christmas Party Night which takes place 
on Saturday, 7th December
. Prosecco/mulled wine reception, followed by a delicious four course meal. The fabulous Timekeepers will entertain our guests.
No group too big or too small, everyone very welcome.
Tickets cost £30/€30. Book your place today;
Watch out online this week for a chance to win two tickets to our festive Christmas party night.
Meeting on Wednesday evening at 7.30pm, back room, Rangers Hall.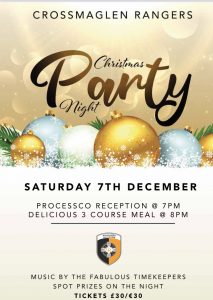 Geraldine O Hanrahan GAA, New Ross
A huge event, Gaels With Tales 'The Sequel ' will take  place this weekend in the Wexford town of New Ross. This fundraiser for the hurling club will see a number of giants from the world of Gaelic Games come together to share some very interesting tales. We will have strong representation at the event in the form of our very own Oisin McConville who is one of the panelists. It was great honour for me to be asked to write a short tribute about Oisin for the programme and I thank Chairman, Pat Wickham for giving me this opportunity.
Oisin McConville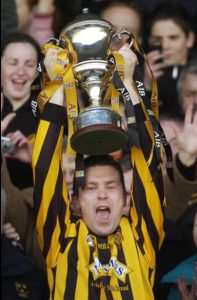 When Pat asked me to write a piece on Oisin, I was honoured and delighted and immediately agreed but no matter what I write, it won't be enough or do justice for someone who will remembered as one of the greats who ever played Gaelic football.
Oisin Paul Mcconville, a player who tormented teams, left observers in awe, children spell bound but above all someone who showed immense courage both on and off the field.
Oisin Mcconville was born on the 13th October 1975. The youngest child of the late Patsy and Margaret (nee morgan). Oisin's Dad Patsy died in 1999 and left a huge void in his life.
Both his paternal and maternal families were and still are involved in Gaelic games. His Mother Margaret is currently the President of Crossmaglen Rangers and is as well known as Oisin across the island of Ireland. I think it is fair to say that Oisin was born into football and was destined to play.
Oisin has won every accolade in the game and from an early age he showed immense talent and the heights he reached were no surprise to those who were close to him, his family, friends and club mates.
On the field, the football helped Oisin face the tough battles he encountered off it, this never interfered in his playing career and I think this is a true refection of what a special person he is. With the help of his family, especially his Mother Margaret, Sister Dora and her husband Gareth and Cuan Mhuire Addiction Services, he overcome his personal struggles and remains committed, dedicated and devoted to helping those most in need especially those who suffer from addiction. Oisin's frank and honest story about his own journey has helped and continues to help so many and has brought hope to people where hope no longer existed.
Today Oisin is a pundit on the BBC and RTÉ, writes a weekly column in a Belfast newspaper, is an  addiction councillor, active charity worker, is an underage coach but his heart truly lies with his family, Wife, Darina, Sons  Ryan and Conall, the apple of his eye, baby Daughter Freya, Mother Margaret, Brothers and Sisters.
Oisin McConville, a winner, a legend, a true Son of Crossmaglen Rangers.

St Pat's TOW 
Cross Rangers members did really well at The Irish Provincial Rowing Championships which took place in Limerick at the weekend.
Altogether they amassed an impressive 6 Gold and 4 Silvers. Oliver Short won Gold 500m, 1k and 2k, Shane McEntegart got a Silver in the 1k and Gold in the 2k while Patrick McEntegart and Gareth O'Neill achieved an amazing Silver in their 1k and 500m respectively.
Congratulations and well done to another magnificent five and the other members of St Pats TOW on all their achievements.
Pic Below; The Crossmaglen Rangers representatives on the St Pat's TOW rowing team at the Irish Provincials with Hugh Mor Conway
Good luck to former player, Damian Cunningham and his Daughter, Caitlin who are both part of the Bredagh squad (management and player) who play Kilgarry of Cavan, Ulster Ladies Minor Final
next Sunday
.
A reminder to everyone who may have family away from home, you can play our lotto online by clicking on the following link;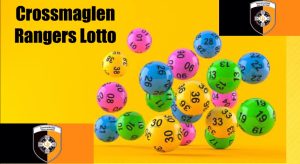 Draw; 25/11/19
Numbers Drawn; 10  11  21  25 
No Jackpot winner
1 match 3 numbers; Rosemary Quinn, C/O Mrs Gogarty wins £100. Well done Rosemary.
Jackpot; £3400/€4400
Next Draw; 24/11/19

Condolence
Mrs May McKeever, Dorsey
Crossmaglen Rangers GFC send our deepest condolences to May's Daughters, Eileen, Agnes, Eilish, Siobhan & Noreen, Sons Seamus, Sean, Peadar, Bernard, Mícheál & Cathal, the extended McKeever, Traynor, Rooney and Dooley families on the sad passing of their Mother/Nanny, May.
Ar dheis Dé go raibh hanam.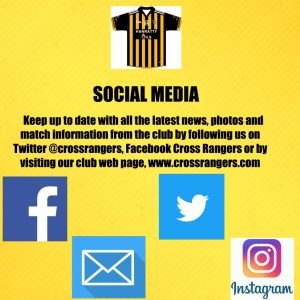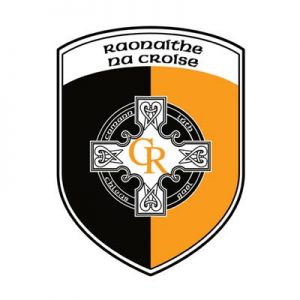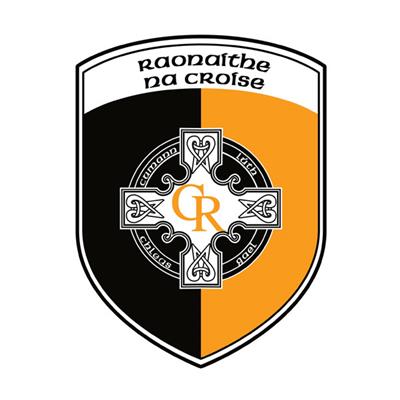 Posted: November 24th, 2019 under Club News.